8 stationery trends you need to know about for your wedding day
Whether it's your own big (or small) wedding day on the horizon or you're designing for a client, there are some key wedding trends you need to know for the season ahead. So get scrolling for a host of our top themes for 2021.
Oh and if you're looking for all things wedding print related, why not visit our Wedding Print Boutique? It's your one-stop shop for all things advice, inspiration and of course, print.
An Eco-friendly Wedding Day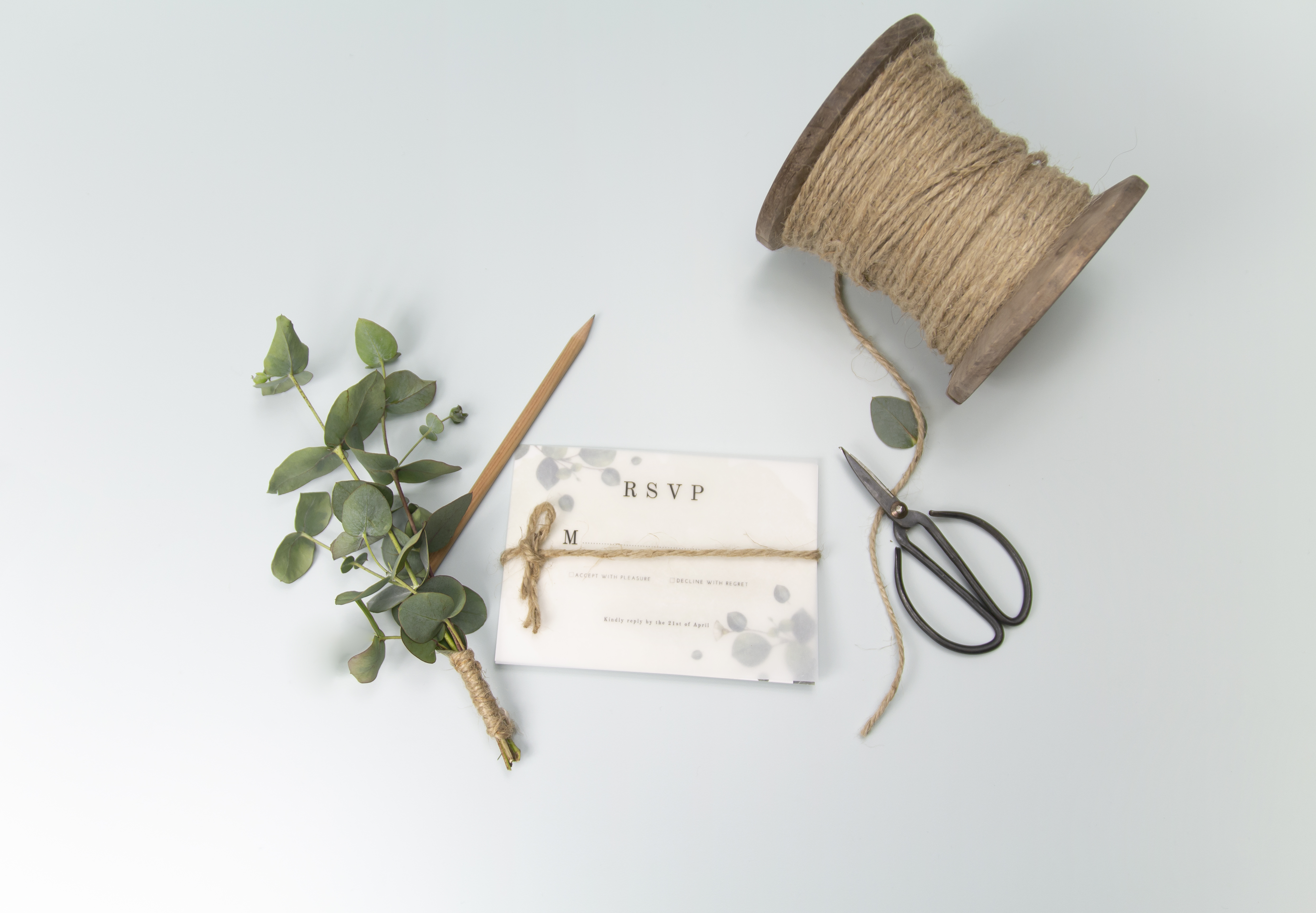 We all love a wedding, but it's no secret that they can impact the environment. Organising greener celebrations is a top trend for the coming season, and this includes making eco-friendly stationery choices.
Paper is a huge part of any wedding day, from the initial Save the Dates and Invites, to the Order or Service and Table Plans. Stationers and indeed couples will be looking to source more sustainable materials, such as recycled paper, vegetable-based inks and compostable packaging.
A lot of couples will choose to go entirely paper-free – which is great! But if you're looking for the best of both worlds we have a host of sustainable printing options available. But of course stationery isn't the only way you can make your big day greener, with couples keeping is sustainable in an number of other areas too. Check out our blog here for a few more tips and ideas.
Minimalist design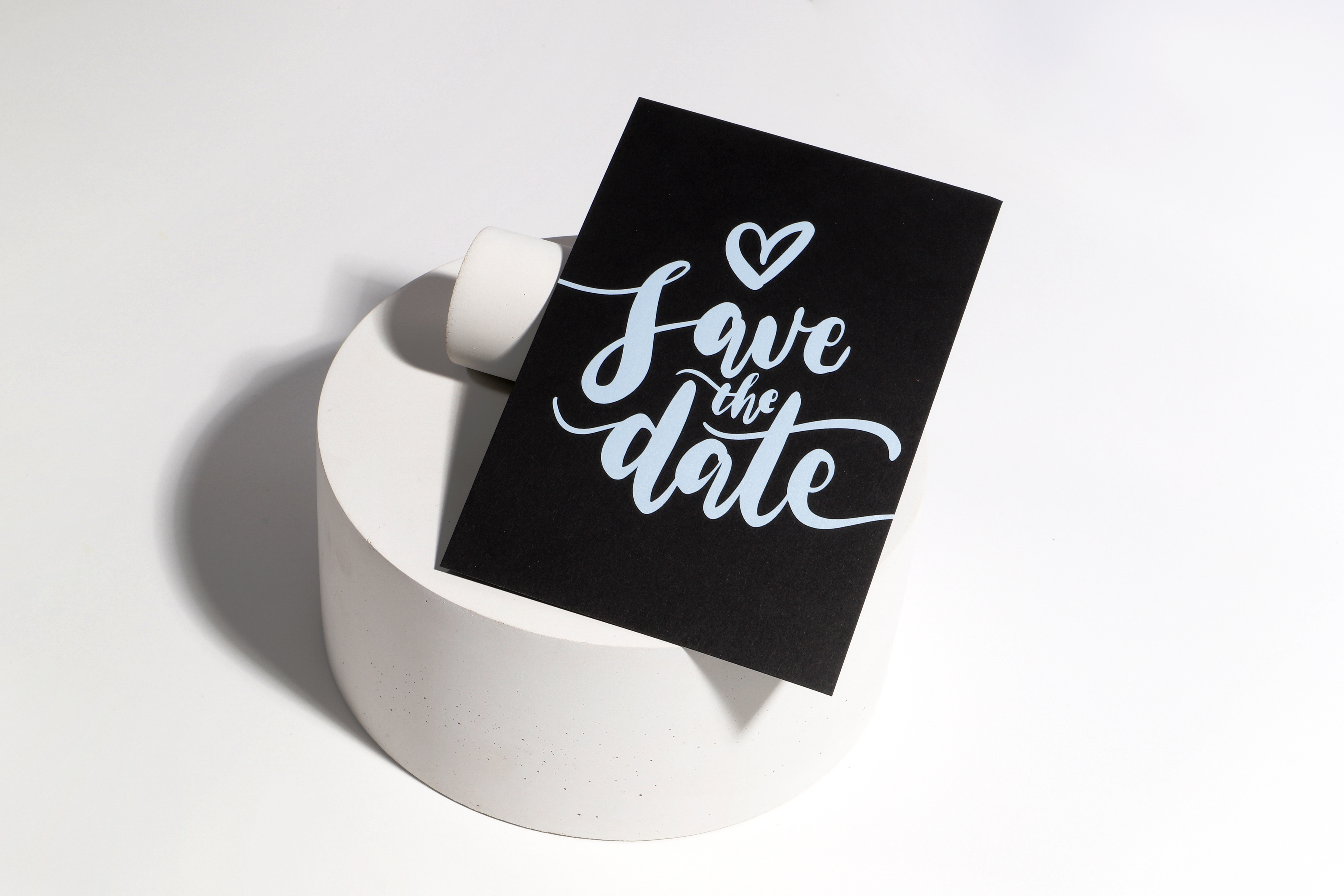 After the events of the past year, there's been a shift towards simplicity when it comes to wedding stationery. Covid-19 presented the opportunity for 'less is more' to really come into its own, and this minimalist trend continues to rise in popularity.
Subtle, clean designs (without the frills!) have become much more the norm, delivering essential information without going overboard on colour and composition. Expect to see neutral colours and simple typography throughout the rest of 2021, with a core focus on the day itself.
If you're really looking to make sure your wedding day is on trend, you can also check out our rundown of the Top Drawer 2021 trends forecast here.
Subtle textures and embellishments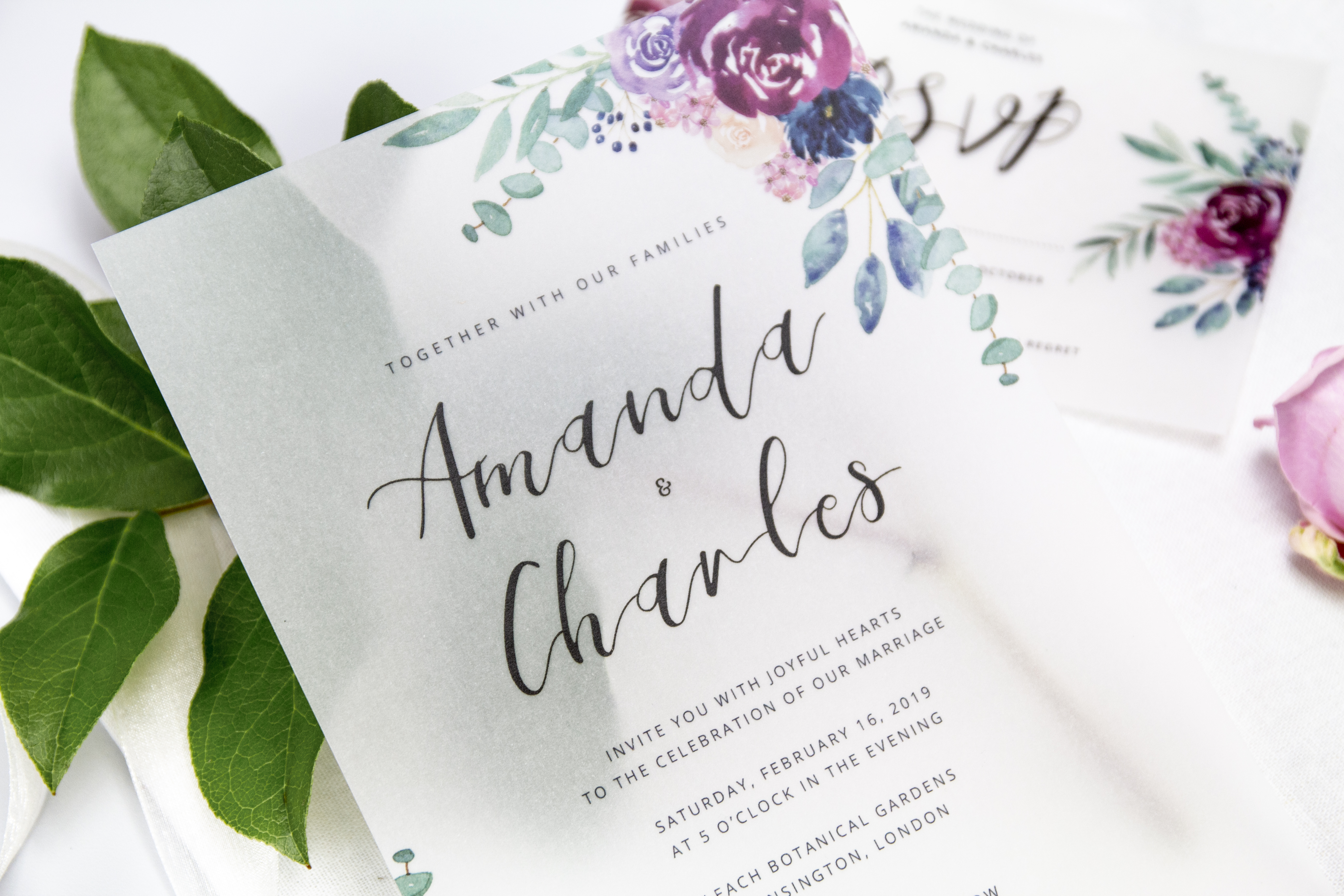 At the other end of the trend spectrum, we've seen stationers and couples experimenting with creative materials. Whether achieved through luxury paper stocks, Foiling, Laser Cutting (or even a DIY experiment!) – adding another dimension to your wedding suite can really add to the experience.
But we're not talking about giant bows or garish glitter, instead the 2021 mood encompasses a more delicate approach. Pastel wax seals, textured papers, illustrated envelopes and translucent Vellum are all materials we see rising in popularity. These subtle additions look to elevate your stationery as opposed to overwhelming it.
Can't decide if it's for you? For a little extra wedding inspiration, head to our wedding papers blog to explore your options in more detail.
Art Deco revival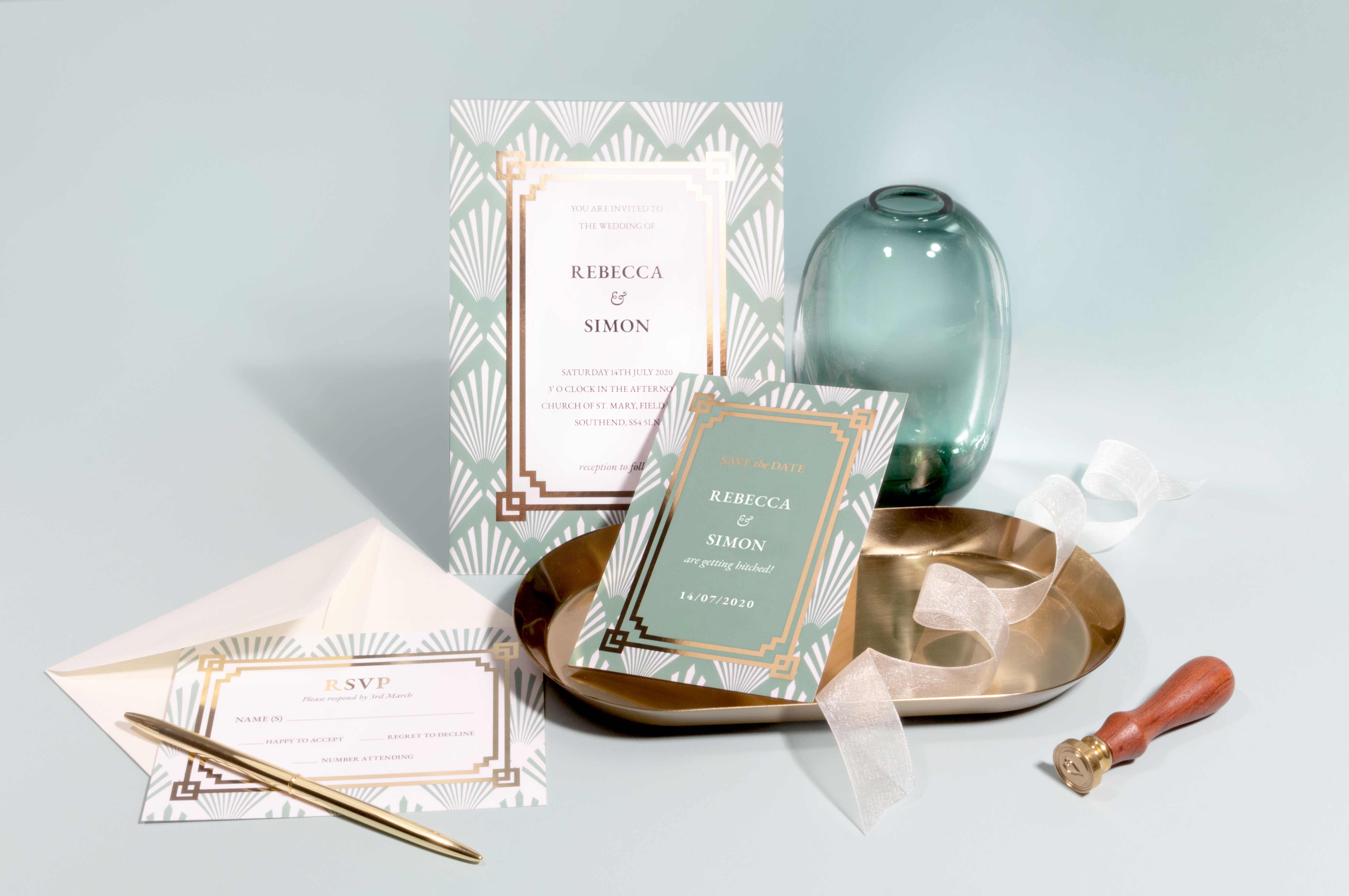 We're no stranger to the Art Deco trend, and back in 2019 we created this stunning FREE Wedding Stationery suite download for our customers.
Fast forward to 2021, and this iconic style is going nowhere. Nothing quite screams luxury and glamour like the designs of the 1920s. Combining sleek patterns and dazzling finishes, the simple shapes and textures give print an opulent elegance that's guaranteed to leave an impression.
With rich greens and golds perfect for spring and summer and darker monochrome colour schemes bringing a richer tone in autumn and winter, this versatile trend is perfect for any season.
Was it love at first site? Download the full suite above here for free!
Moody watercolours
While watercolour wedding stationery designs are usually associated with pastel shades, we've seen a shift to moodier hues. From dark navy, to burgundy and even black, this trend exudes richness with a contemporary yet soft feel.
Celestial watercolour suites are also on the rise, tying in elements of nature to the overall composition. Having spent a lot of time indoors lately, bringing in the outdoors provides an sense of escapism, a welcome theme for your guests to associate with your big day celebration!
When it comes to your wedding stationery on the day, having a style that ties all your elements together is key. Don't forget to check out our Wedding Bundle option to save yourself a cheeky 10% when you order 3 products.
Adorned envelopes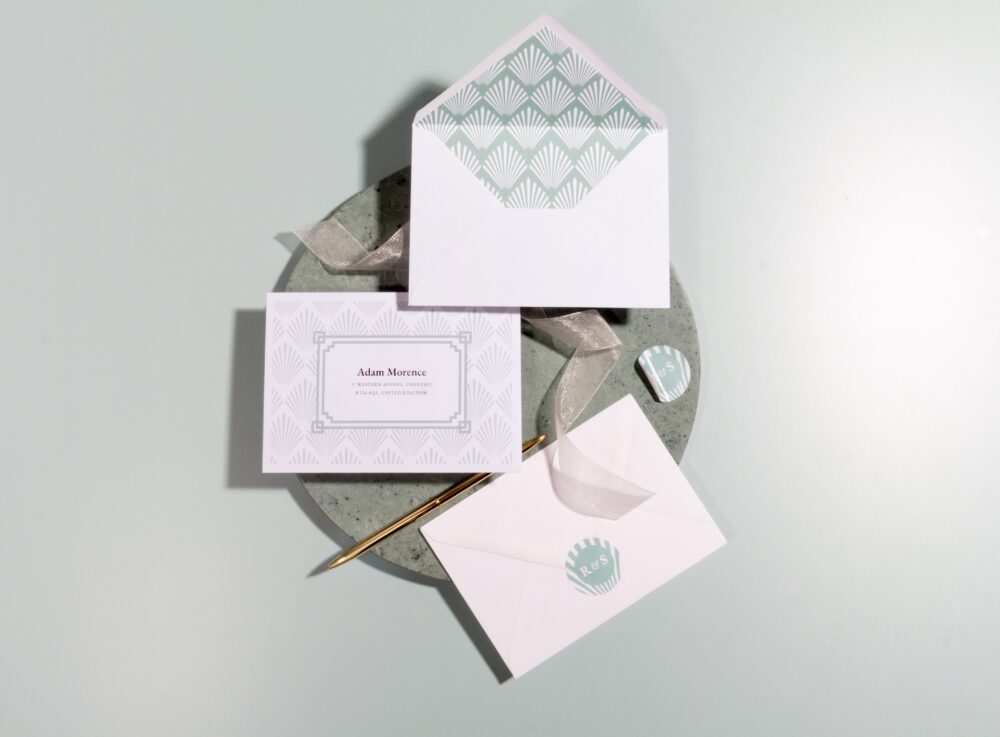 Envelopes can often be an afterthought when it comes to wedding print, but they can be just as versatile when crafting your perfect suite. Customers are again experimenting with bespoke materials such as Vellum and even going 'all out' with Envelope Liners too. This essential piece of stationery can be used to create unusual and delightful expressions of individuality, and we only see this trend growing throughout 2021.
In a nutshell? Don't neglect your Envelopes. They can help build excitement before you're guests have even opened your Invitation, with something as simple as a pattern or monogram. Or if you're feeling extra fancy, a Foil Sticker and a wax seal. (Because, well you only get married once don't you?).
Telling a love story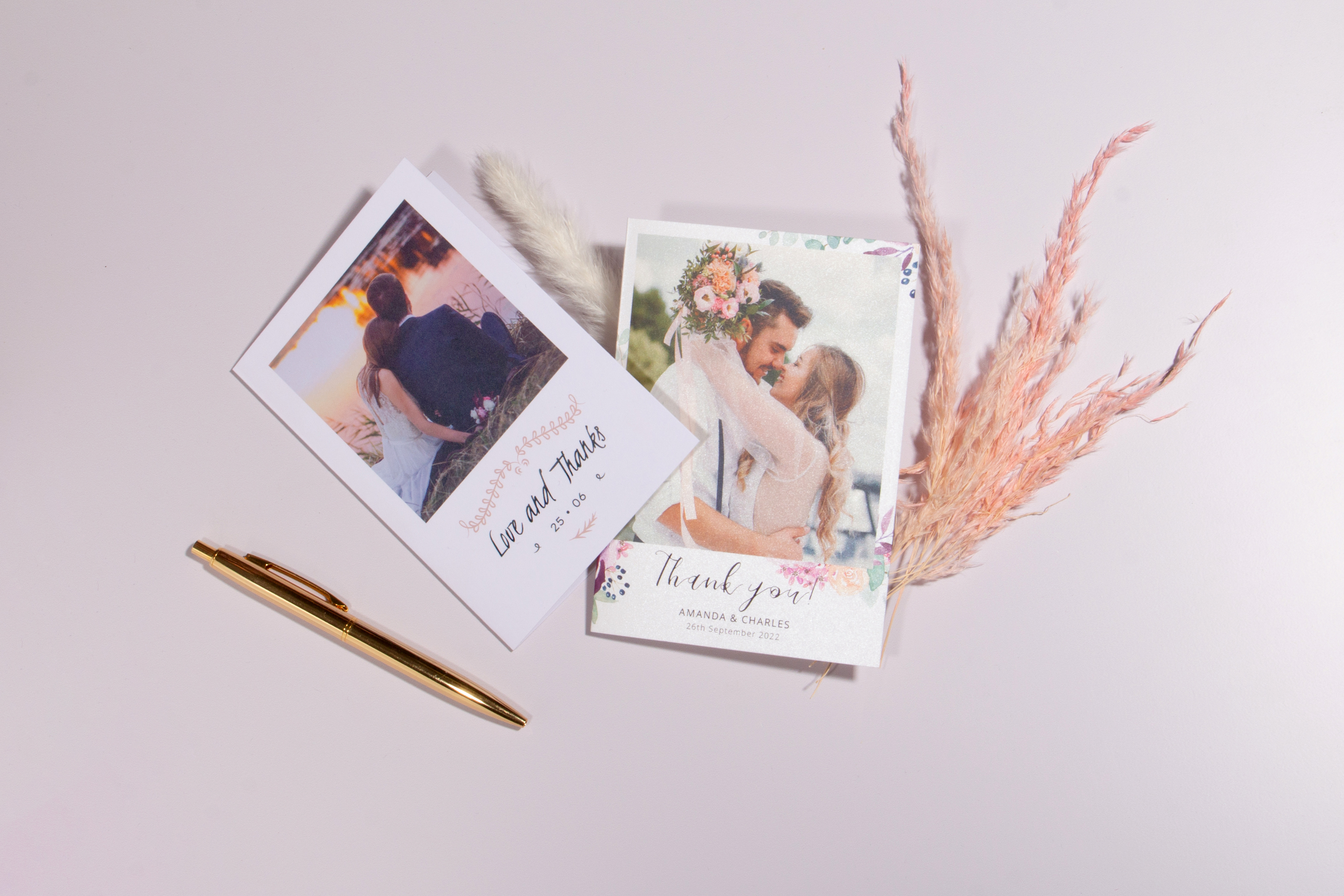 Whether you met at school, work or even online – every couple has a story to share. Wedding stationery isn't just an opportunity to communicate the logistics of your big day, it's also a way to share your love story. This could be by including personal touches such as a bespoke portrait, or sharing a special place, photo or quote that means something to you both.
It's all about the sharing in 2021, so embrace the cheese! Showing your guests just how much you love each other helps build connections ahead of the big day. Your guests will feel instantly closer to you, and it's also a good way to help you focus on what your wedding day is really about. (Spoiler alert, it's about love).
Custom sizes and personalisation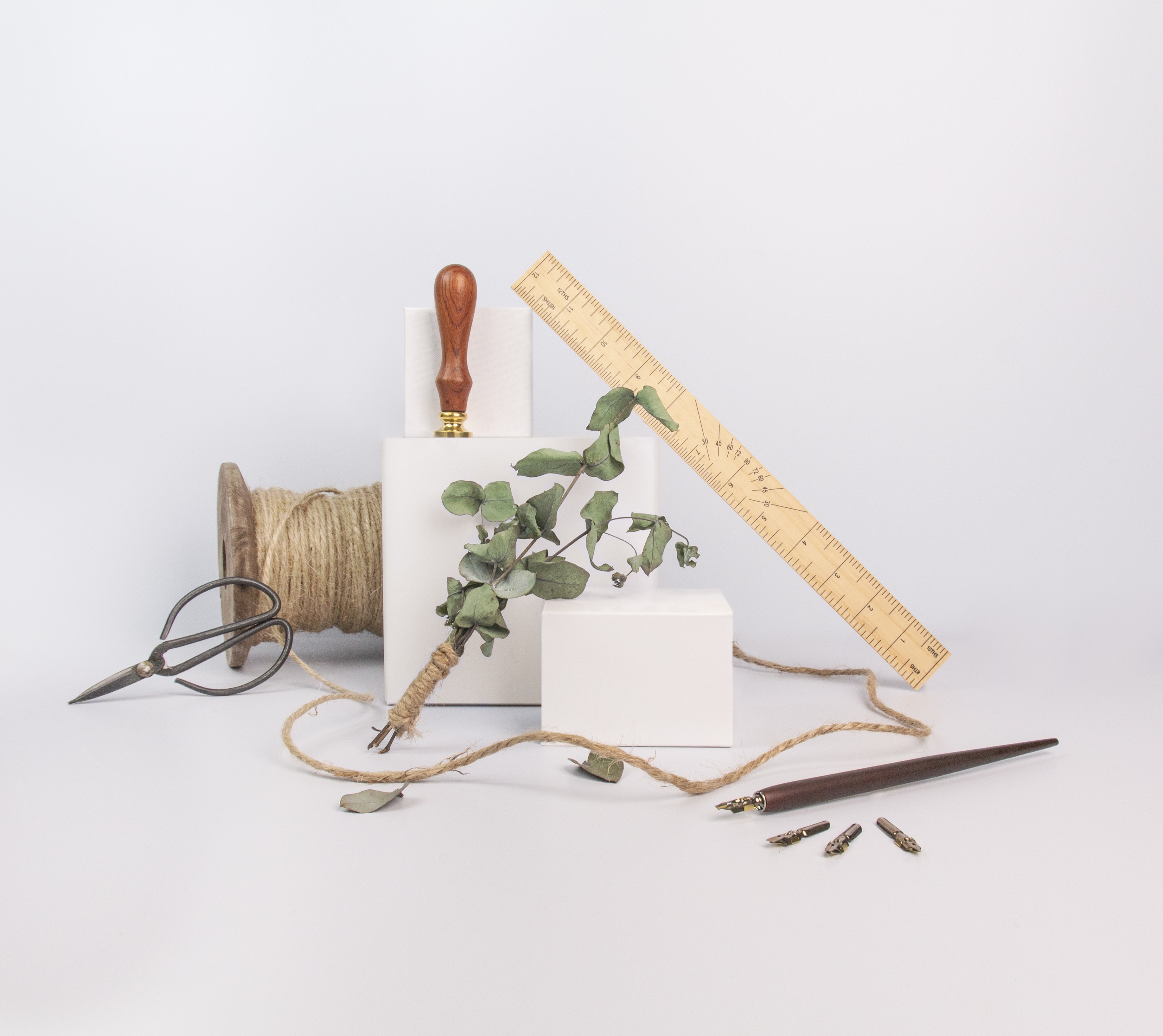 For a lot of brides and grooms, a unique wedding is the dream. Following on from the 'storytelling' element of your wedding day, we predict that personalisation will continue to feature as a trend in 2021. This could extend to decorations showcasing your chosen emblem, or Menus that include 'your story' on the back page. The best part about personalisation is that you can dial it up or down, but having a few little extra surprises is certain to delight your guests.
In additional to personalisation, couples are also branching out from the traditional 'A5 Invites'. To create extra stand out when your RSVP flops onto the doormat, why not experiment with bespoke geometric shapes through Laser or Die-cutting? Crafting something unique can take a bit of time and investment, but when it guarantees you that top spot on the fridge it's all worth it no?
There really are endless possibilities for your wedding day print, with the only limit being your imagination. Luckily, we offer a Bespoke printing service, and absolutely love bringing your ideas to life. So if you've got a totally unique request, we're here to help! Tell us what you need and we'll get you a quote within 24 hours.