Get inspired with free downloadable Art Deco wedding templates
Inspired by the glamour of the 1920s? It's time to jump into the world of Art Deco Wedding Stationery.
It's the 20s again! And it's time to celebrate. While 2020 is full of all sorts of possibilities, nothing quite screams luxury and glamour like the designs of the 1920s. Combining sleek patterns and dazzling finishes, the simple shapes and textures give print an opulent elegance that's guaranteed to leave an impression.
With rich greens and golds perfect for Spring and Summer and darker monochrome colour schemes bringing a richer tone in Autumn and Winter, this versatile trend is perfect for any season- the possibilities are almost endless.
Plus, for the first time ever, we've created a free set of wedding design templates so you can easily experience this trend for yourself!
Let's explore.
Simplicity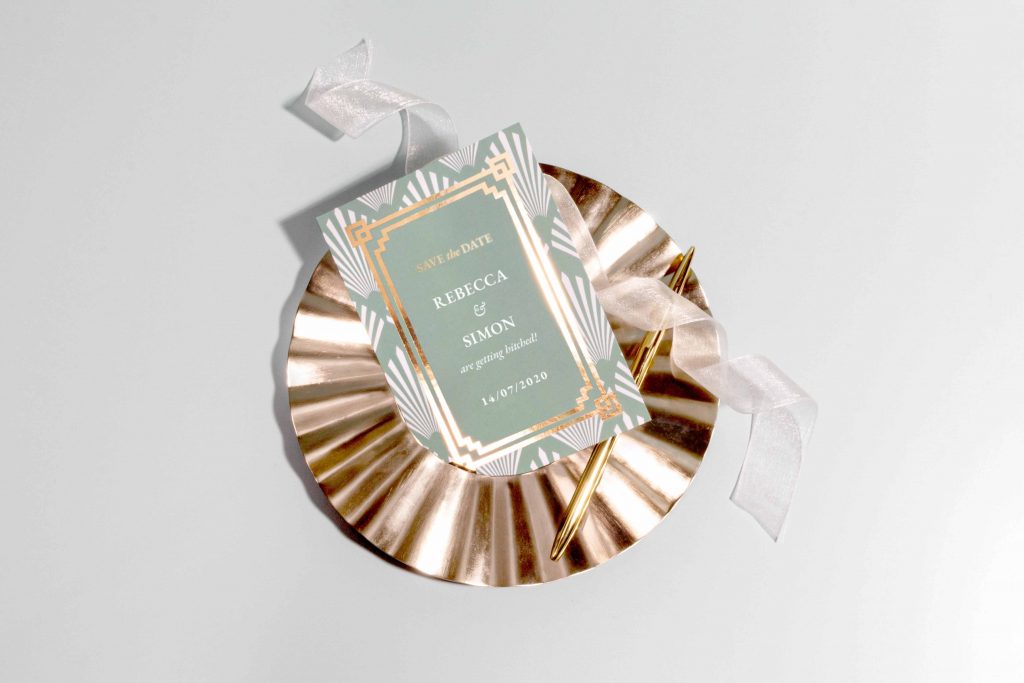 While the 1920s is a decade remembered for its extravagance and success, a key feature of Art Deco wedding designs is simplicity.
Most of these designs focus on one pattern and use it to compliment the rest of the design. It's a common misconception that you have to stick to rigid geometric shapes, but that's only one type of Art Deco. Other popular patterns include, scallops, fans and diamonds which are either artfully placed around the edge or used as a background pattern.
Colour with Chrome
For a classic Art Deco wedding design, make sure to choose a bold monochrome colour scheme. The standout feature of these designs should be the pattern, so the background colour should compliment that. Shades like white, navy, black and green all work well and create a bold canvas for the rest of your design. It can also work well with pastels and is surprisingly versatile, so it's a good idea to experiment and see which colours work best for you.
Bold and Gold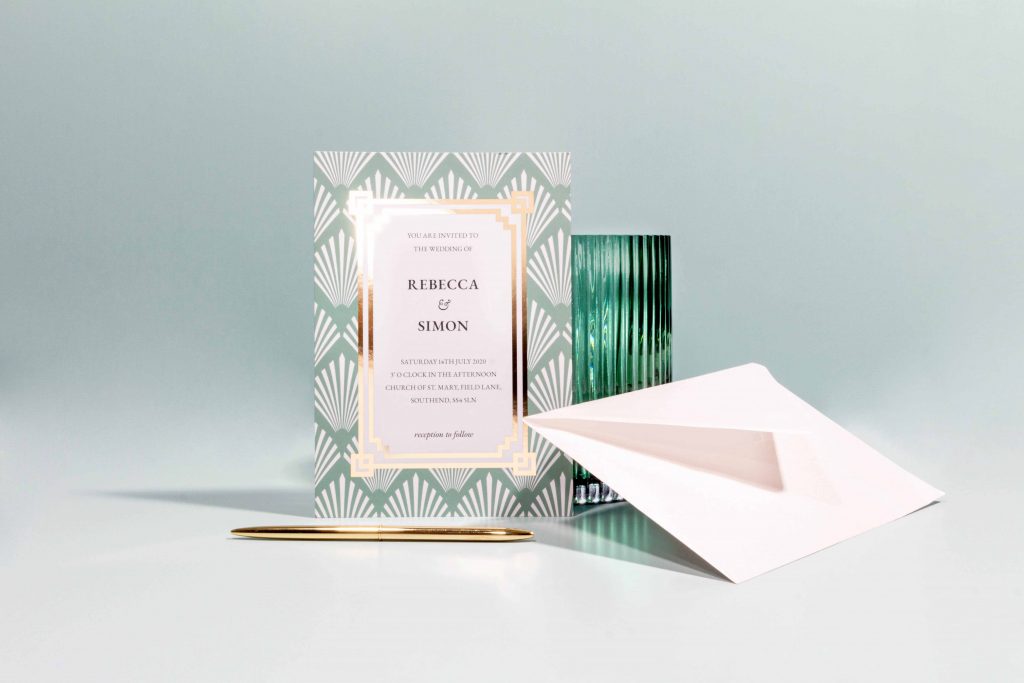 From your Save the Dates to your Thank You Cards, if you're looking for opulence, shiny metallics are the perfect choice. Since Art Deco invites favour monochrome shades, gold, silver and copper accents really pop. For Wedding Stationery that really catches the eye, a touch of Foil will bring these metallic colours to life and capture the shimmering lights of parties past.
Make sure to check out our Foiling Tutorial so your artwork can hit the presses without a hitch.
Art Deco wedding details
Art Deco designs often have small intricate details and Laser Cutting is a great way to achieve that.
Utilising (you guessed it) lasers to cut shapes into your print, you can really get creative with the shape of your print. From adding lace detailing to the edges to creating scalloped flourishes to just cutting out something as simple as your own name- it's the perfect way to add interesting elegance to your wedding suite.
Brighten your Envelopes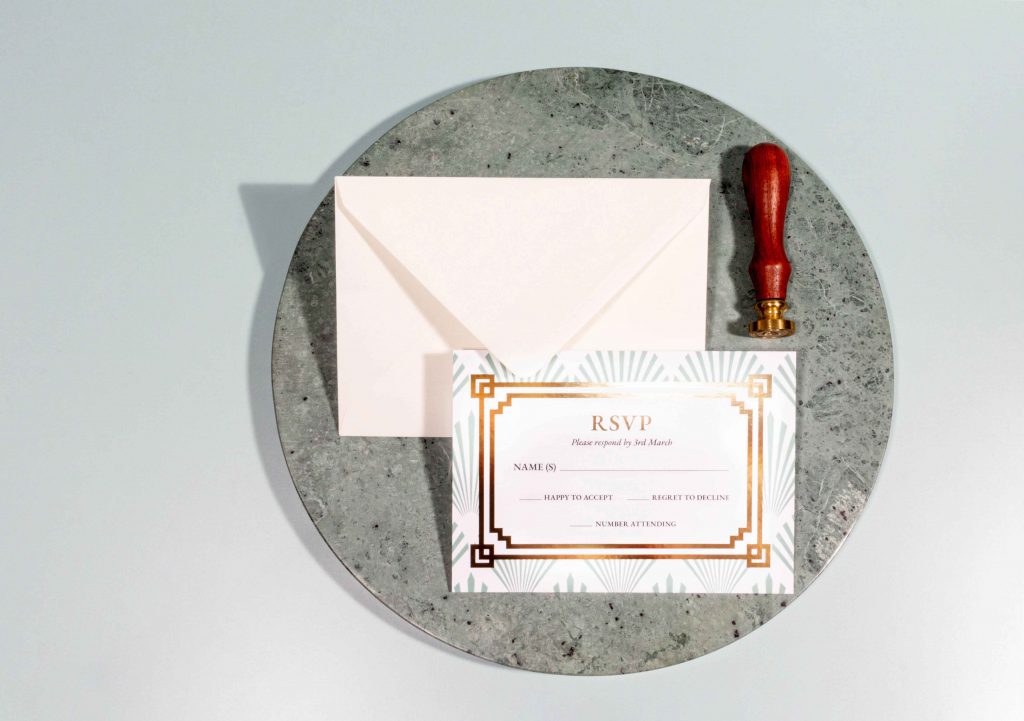 Don't forget your Envelopes!
When sending Invitations and RSVPs, you can build excitement before they're even opened with a Printed Envelope as part of your Art Deco wedding suite. Adding something as simple as a pattern or a monogram will really make your Envelopes look special. Plus, it'll guarantee that they stand out against the welcome mat.
Envelope Liners also make a glamourous surprise and really cement your designs as high-end and special.
For a final touch, you can even add a Sticker or a wax seal to the back.
Discover our brand new free wedding templates
You've been asking, so we provided!
If you're inspired to create your own Art Deco wedding designs but don't know where to start, you can now download our free wedding template pack.
It includes a free template for: Invitations, RSVPs, Envelope Liners, Belly Bands, Stickers and a Save the Date.
We've even included a handy guide so you'll be ready for print before you know it.
DOWNLOAD FREE WEDDING TEMPLATES
We know that a wedding is so much more than a day. It's more than a dress or a venue- it's the start of a journey and precious memories that will last a lifetime.
If you'd like to get up close and personal with our full wedding collection, make sure to order a free Sample Pack.
Or explore our wedding print boutique to find your perfect print match.
DISCOVER OUR WEDDING PRINT BOUTIQUE
Make sure to tag your designs with #ProudlyPrinted for a chance to be featured on our Instagram!