Our favourite printable Christmas Card designs
We're seeing printable Christmas Card designs left, right and centre… and there's zero complaints over here. We love it.
Whether your design is traditional or quirky, we've got the perfect papers and special finishes to help spread the festive cheer for as little as £10. To help get those creative juices flowing, we've handpicked some Christmas Card designs that have put a smile on our faces.
Stitched Christmas Cards
We're starting off strong with one of the most unique Greeting Cards we've helped create this year. Kerri Awosile has a range of embroidered cards, where you can get crafty and finish the design yourself. Looking for the perfect activity for a cold, dark and cosy evening? Thank us later.
Monochrome Christmas Cards
Printed on our textured Tintoretto Gesso paper, these Christmas Cards are a monochrome dream. Stepping away from the traditional Christmas colours, Lauren Marina's cards spread the festive cheer like no other. We captured the behind the scenes of how we created them – check it out here.
Vibrant Christmas Cards
'Tis the season to add foiling to your print like Claire Paul Draws! Christmas is the time to sparkle and lucky for you we have 7 shiny shades to choose from, including our new Holographic Foil. If you are using foiling, be sure to check out our top 5 artwork tips for this fancy finish.
Illustrated Christmas Cards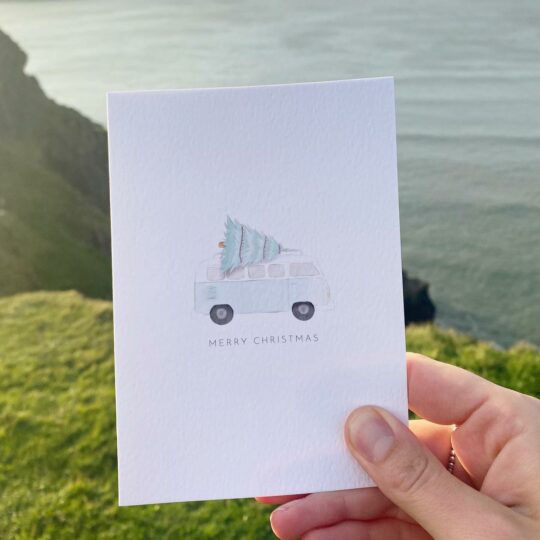 We all know someone who dreams about owning their own camper-van. Well, the search for their perfect Christmas Card is over.
When you opt for a thick, textured paper you have the luxury of keeping your design simple (yet chic) like Lucy Anderton. Why not test out our range of papers for yourself by ordering a free Sample Pack.
Maximalist Christmas Cards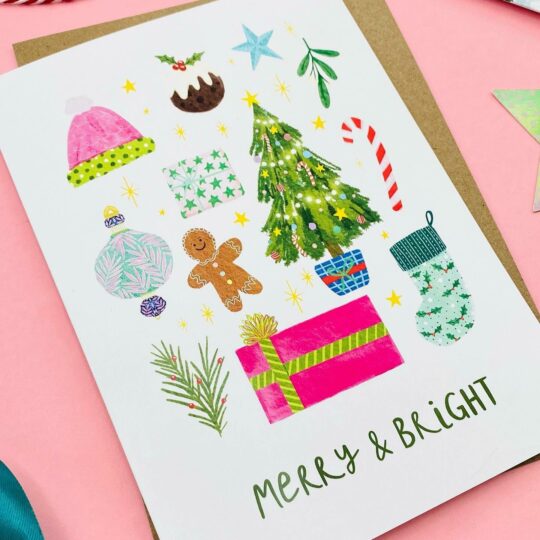 Filled to the brim with some of our festive favourites, we're ending on a high with this Ellie Cartlidge design. If this colourful Christmas Card doesn't give you all the feels, then we don't know what will. From only 7p each, we love that each card is paired with a contrasting Kraft Envelope.
Show your friends, family or clients that you're thinking of them with your own printable Christmas Card. All you need is a design, and we'll do the printing for you!