7 Personalised Gift Ideas That Stand Out
Need some gift-giving inspiration? Whether you're buying for family, friends or a work colleague, we've found a gift that can quite literally have their name on it.
When it comes to printable gifts, we've truly got our fingers on the pulse — so you can count on there being something suitable for your hard-to-buy-for dad, pregnant pal, and everyone in-between…
What occasions are ideal for giving personalised gifts?
Birthdays, anniversaries, Christmas, weddings, graduations…the list could really go on and on. That's the beauty of a custom gift, it will suit every occasion!
What makes personalised gifts stand out from traditional gifts?
Personalised gifts are one-of-a-kind. Requiring a little extra thought and creativity, personalised gifts make the most special kind of presents. Whether it's a Hardback Notebook with their initials on, or a Canvas Print featuring their favourite photos, everybody loves an added personal touch.
Here at Printed.com, there's personalised gift ideas for everyone on your list…
Personalised gift ideas for the family
Whether it's a special occasion or a pick-me-up, we've got a gift idea the whole family will love. Starting strong with a present they'll reach for daily…Ceramic or Enamel Mugs.
Their kitchen cupboards may be home to a mug or two (or ten). But what about a mug that's been designed especially for them? Featuring family photos or even an inside joke, say goodbye to boring cups and hello to their new favourite morning companion.
If you're looking for an option for a family member that is always on the go, you can also create a custom Water Bottle. Staying hydrated at work, school or the gym has never looked better!
For the business owner
We know your favourite entrepreneur is probably too busy brainstorming their next genius idea to send you their wish list, so here's an affordable idea for that busy person in your life.
From scheduling to goal-setting, our 2024 Diaries and Hardback Notebooks are the perfect organisation tool. Customise the front, back and even the book spine with their initials, branding or an inspirational quote for a gift that will keep on giving.
For your partner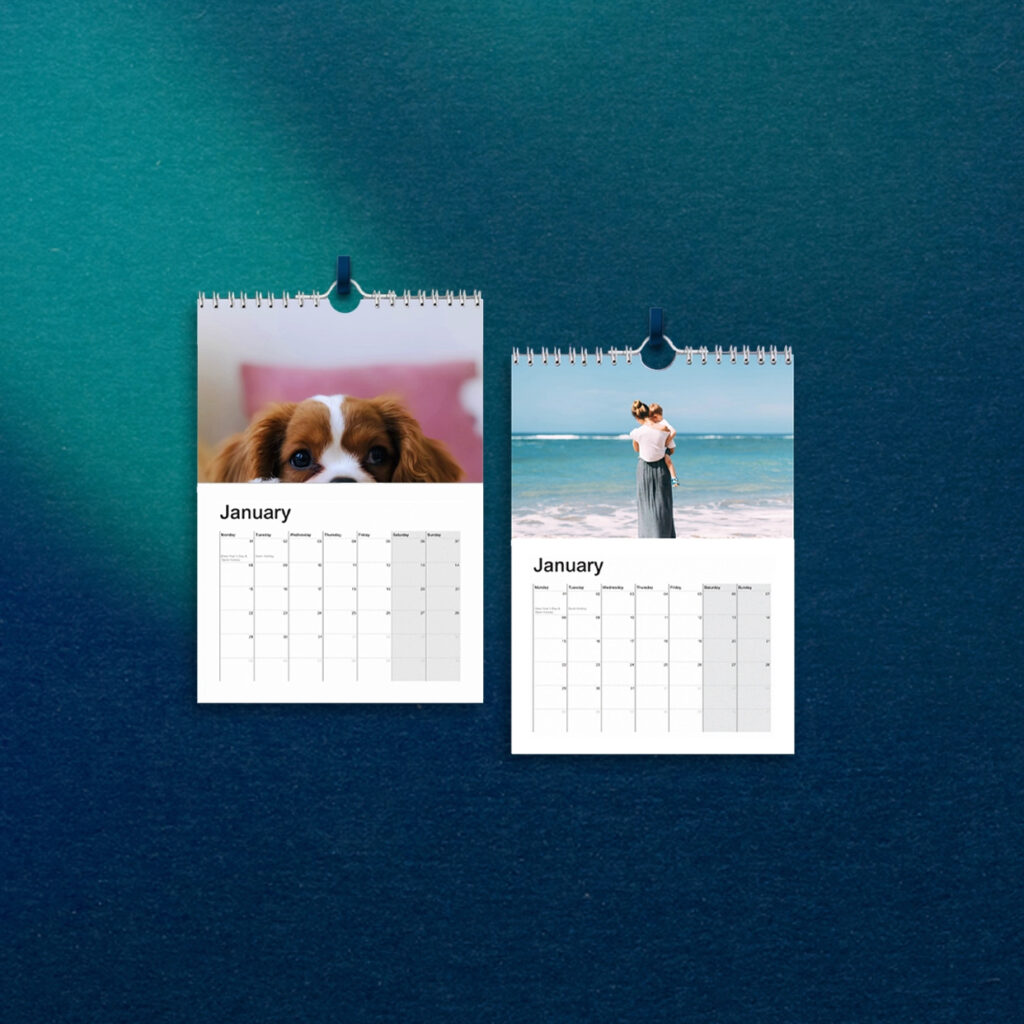 We can't make your schedule any less chaotic, but we can definitely help to make it look better! Treat your partner to a custom Calendar filled with 12 months of holiday snaps, family pics and more. You can even label special dates, like a birthday or anniversary that is personal to you!
Choose from a Desktop Calendar (free-standing) or three variations of Wall Calendars. Spoiler…you'll be in the good books for a long time with this thoughtful gift.
For the bookworm
Avid readers are hard to buy for. Buying them a new book is risky because, let's be real, they've probably already preordered it. To play it safe, why not create a one-of-a-kind Bookmark? You can get creative with the design and incorporate their favourite book series, colours or even a photo of the two of you.
You'll definitely want to bookmark this idea (see what we did there?)
For the fashion lover
We all have that one friend who always shows up to every event dressed to the nines. This holiday season, your most stylish friend deserves their own custom fashion accessory. Our 100% Cotton Tote Bags can be customised with their favourite quote, illustrations or even a photo from as little as £9.20 a bag.
If you're looking to go all out, you can also personalise a T-Shirt or Hoodie. Available in black or white, you have the perfect cosy canvas to get creative with.
For the photographer
Looking for a gift for your snap-happy friend but getting lost in the world of lighting, lenses, and complicated gear? Keep it simple and turn their favourite photos into art with our Canvas Prints. Printed onto our white Polyester Canvas, family portraits, silly snapshots and pet pics will stay vibrant year after year.
For everyone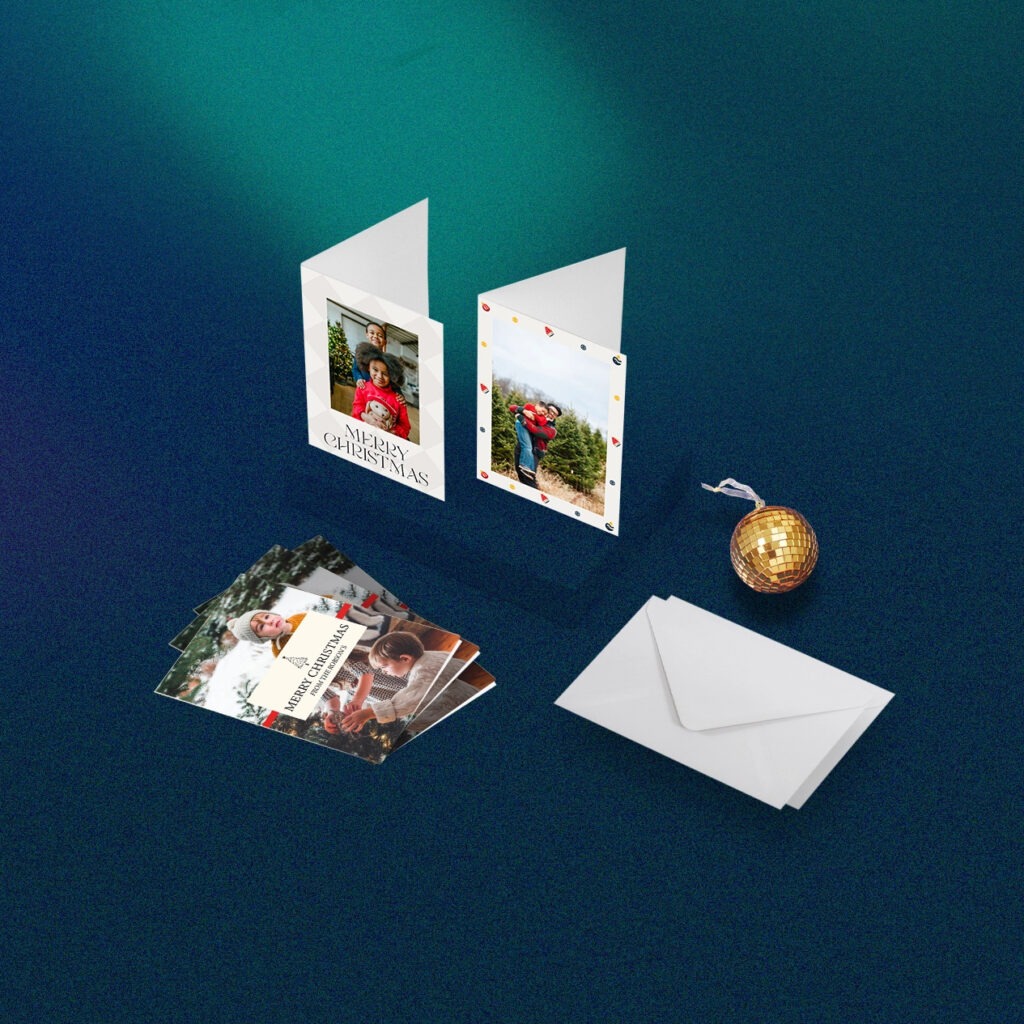 Now that you've secured some pretty impressive personalised presents, it's time to consider the finishing touches. Printing your favourite designs and photos onto Wrapping Paper, Gift Tags and Greeting Cards is a great way to add a creative spin to your gifts.
Whether you want to make your Christmas Cards shine like a Christmas tree with our shimmering foils, offer a luxury experience with a textured Gift Tag paper, or gift wrap your own smiling selfie, you can spread the festive cheer for as little as £10.
And that's a wrap on our personalised gift ideas! Shop our collection and become a pro gift-giver…