How to print on Vellum Paper
Want to print on Vellum Paper but not quite sure how? We've got you covered.
Being the friendly bunch that we are, we've pulled together a guide that answers some of the most common questions surrounding this beautiful paper stock.
Ready to get inspired? Just keep reading to find out!
"What is Vellum Paper?"
Sometimes mistaken for tracing paper, vellum is a translucent, frosted-looking paper with a smooth almost waxy finish. While thin and seemingly delicate, it's still strong enough to stand up to cutting, scoring, writing and can be used in a whole host of printed projects.
Once made from thinly stretched calfskin, these days Vellum is 100% vegetarian with our stock sourced from industry experts and printed with the utmost care so we can guarantee a crisp finish to all your designs.
"How do I print on Vellum?"
While it can be used on its own, Vellum is normally wrapped around or layered over other types of print in order to enhance the design. With that in mind, you'll have to create a Vellum overlay for your design and make two separate orders- one with your base print and then another with your vellum layer.
Don't worry! It's a super easy process. Added to our Wedding Stock like any other paper, all you have to do is create the overlay in one job and then select the other layer of paper you'd like as a base in another. If you ever feel unsure, our dedicated Customer Service team is always on hand to walk you through any problems you might have.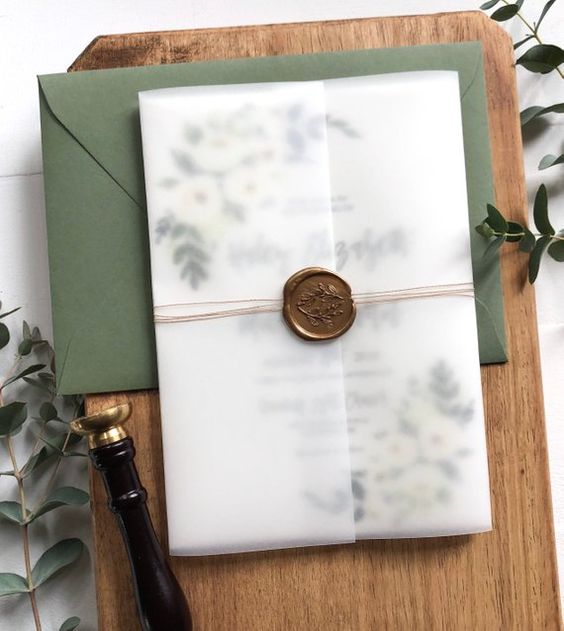 Image Credit: Pinterest
"What can I print on Vellum?"
Ideal when paired with additional paper layers, it's always been a favourite choice for soft, romantic Wedding Stationery or any other kind of luxury Invite.
Vellum can also be Block Foiled if you want to add that extra shine to your designs. Just use our Bespoke Service.
"Is there anything else I should know about Vellum?"
Before you go ahead and create your design, keep a few more things in mind:
Vellum is only available for single-sided print
If you're creating an overlay, unfortunately we don't offer any type of accessories like pins, or wax seals. You'll have to add those yourself.
Vellum isn't an optional extra. You MUST create two separate jobs.
If you want envelopes as well, remember that you only need to choose them on one of the jobs or you'll end up with twice as many.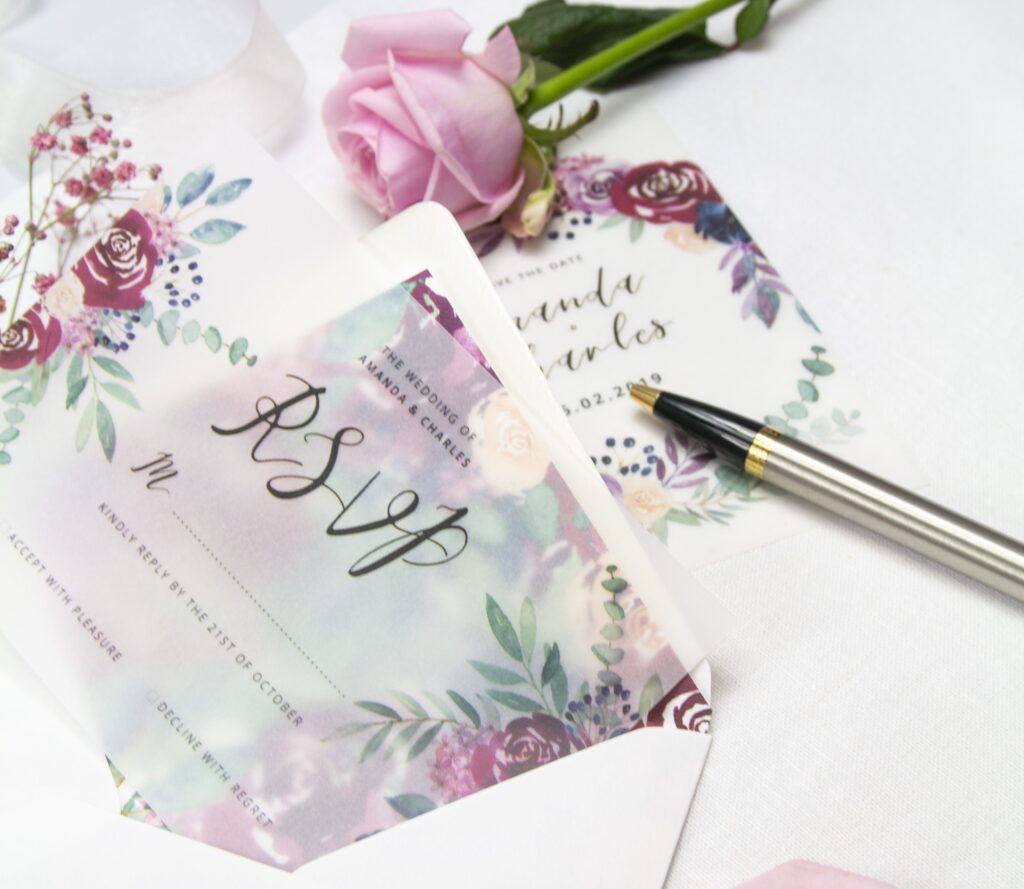 Here at Printed.com, we're committed to reducing our impact on the environment. From innovative packaging and sourcing
carbon-neutral and eco-friendly papers to minimising and recycling our waste, we're dedicated to doing good for our planet.