GBEA – An interview with Simon Biltcliffe of Webmart
Here at Printed.com, we're on a mission to help and encourage entrepreneurs to thrive and grow. With innovative technology, specialised services and cost-effective business print solutions, we've got the tools you need to succeed. That's why this year, we're proud to support the Great British Entrepreneur Awards (GBEA).

The awards celebrate entrepreneurs; championing spirit and highlighting talent – from all kinds of businesses, all over the country.

With our very own CEO featuring on this year's judging panel, we reached out to see who else would be joining him in helping decide on the nations next Great British Entrepreneurs.
First up, we're talking to Simon Biltcliffe of Webmart…
Simon Biltcliffe is an award-winning CEO, international public speaker and business expert; widely acclaimed for his talks on his Marxist-capitalist business model, as well as talks on employee motivation and running a thriving organisation in the 21st century.
An IoD Director of the Year, he is the founder and CEO of national print services agency, Webmart and the world's first digitally driven print platform, Trade Print Management. From starting Webmart with just £10,000 of his own savings, Simon has turned the business into a £25 million turnover organisation with just 39 employees whilst implementing his unconventional business model and maximising everyone's I.E.F (Intellectual, Emotional and Financial) return.
With a business similar to ours, (with both of us rooted firmly in print) we couldn't wait to hear about Simon's journey, and get his views on becoming an entrepreneur…
Watch the video Simon recorded for us here, or read the questions and answers in full below…
Hi Simon! Tell us a bit about WebMart and the kinds of services you offer your customers?
Well, I've run a Marxist-capitalist business for the last 23 years, based on principles of capitalism to create value, and Marxist principles of redistribution – to share it out with the people who create the value.
As the CEO, I have quite an easy job really, because we're all pulling together, working together and benefiting from each other – intellectually, emotionally and of course, financially (the IEF), which runs through every interaction we have with our clients, our suppliers and with ourselves.
We're based in Barnsley (where I'm from) Bicester, East Kilbride – £25 million turnover and there are 39 of us. And, we've never borrowed any money, not a penny, from anyone.
You have a really interesting business model; can you tell us about that? What made you go down that route?
It's fairer – it's better. It works with people, not against them. We're all pulling together. So, we have inverted the management structure, which means I am at the bottom – supporting, mentoring and challenging the senior team, who are doing the same with their teams.
Innovation comes down through an inverted pyramid and we quickly iterate in two-week cycles of improvements all the time.
As a fellow peer in the print industry, we'd love to hear your thoughts on the idea that 'print is dead'… how is Webmart challenging this notion?
We are a print management company, which means that you give us your brand, and we'll turn it into beautiful, physical products, from building wraps, all the way through to Business Cards – with consistency, tactility and beauty of print through data-related services – making it very personal to you.
Print is dead?! Actually, print is coming through a renaissance, working with digital media. As digital media is not seen to be a universal panacea – it's very expensive in terms of things like AdWords costs going through the roof, and Facebook deleting over 3 billion fake accounts (click farms and what have you) – with all the data richness that we've got now, we can turn that into a physical one-to-one communication with a customer. It becomes more relevant, it has integrity, provenance and we can also do data capture from this – offering a closed-loop of digital engagement, through from acquisition all the way through the lifecycle of the customer, online and offline. I think there's a great future for print. And also, it's full of nice people!
It's a £13 million business, print in the UK. In India, print is growing at 15% a year. Globally is worth 800 billion. It's a massive marketplace – and it ain't going anywhere!
When you started out, what was your biggest challenge?
There are so many different challenges! When I first started out, my daughter, who was 3 months old, had oesophageal atresia, which basically means the oesophagus was not formed – which meant she couldn't lay down. This meant I'd do a full day shift, then pull a night shift as 'daddy' – so that was my biggest challenge, as I didn't actually get any sleep for the first six months of Webmart. Thereafter, everything that Webmart has been involved in has a been a doddle, compared with that six months!
What pieces of advice would you give to your younger self, knowing what you know now?
Never employ selfish people.
They can be driven – get people who are selfless. People who care about other people. If you get people who care about other people, then you're all pulling together – with the redistributive model that we've got, when everyone is driven for the greater good, not for individual gain, it's happy days. It doesn't matter how good they are, how much money they're bringing in, if they've got the wrong DNA then don't have them.
Overinvest in young talent. Give them every opportunity, as early as possible. Never forget that Alexander the Great had conquered most of the known world by the age of 21 – and yet we often think that young people do not have the capability. Far from it!
What was your key aspiration when you began this journey? Has it changed? Why?
My key aspiration, to be honest, was that back in 1993, I saw the first-ever Kindle in Kyoto in Japan. When I saw this, I thought 'my god, the world is going to change'. I saw this as an opportunity for my old company, however, they didn't want to get involved. So, I thought, 'I've gotta give this a go myself'. As a consequence of that, I've always wanted to be aware of what's coming next around the corner.
Next around the corner, of course, is artificial intelligence – it's here now; every day you are using it, it's in our cars and our phones – and because of this, everything has changed. With the inception of the internet, it has disintermediated a lot of what we used to do, but it's empowered us too. Personally, I think commercial curiosity helps you keep it fresh.
I have what is called a DIY MBA. I'll get lots of bits of paper, lots of articles, lots of blogs and podcast and I spent half a day every week studying things that are coming around the corner – it keeps me fresh and interested and engaged. It gives me something to talk about with peers and helps to futureproof Webmart too.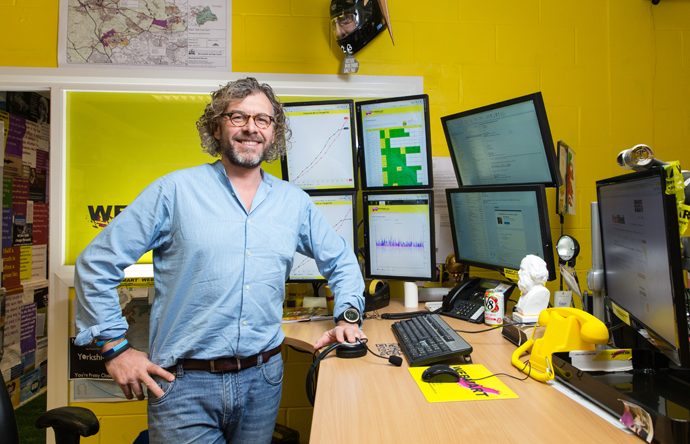 What is the most important piece of advice you can give to us, to pass on to our customers when it comes to starting their own entrepreneurial journey?
Get a mentor that you can trust. Somebody that is still in business, ideally. Not someone who has 'made it' – because what helped them make it (minus the human element) and how they did it, is changing so quickly.
Try and get some peers who you get on with, and who are ahead of you – it's so powerful having people to bounce ideas off. They can also introduce you to new people and contacts too.
Tell us about a mistake you made, and how you would encourage people to learn from it?
I came from many companies that borrowed loads of money off banks – I didn't ever want to borrow money, so I built up cash in the business. But, what I should have done earlier is invest in talent, and get the right person. Every person counts. From the person who cleans your office to the receptionist, all the way through to you – and your own personal development. Be open, honest and transparent – and trust people. They'll very quickly show you who they are… I always say that people in business are snakes or ladders. If you trust people early enough you'll see whether they are a snake or a ladder early enough. 90% of people are ladders, and they'll help get you there faster – and avoid snakes.
What's next for you in your own journey?
Politics! I cannot bear watching the news! IT's driving me round the bend! And watching these entitled… anyway… That's the next thing.
Finally, tell us who inspires you?
I love history! Gustavus Adolphus was an amazing person. Frederick the Great – incredible. Boadicea! These are people who are particularly inspiring for me. But if I'm honest, most people inspire me one way or another.

If you'd like to hear more from Simon, follow him on LinkedIn, here.
We'll be chatting with more GBEA judges just like Simon and sharing their tips, advice and stories over the coming weeks. To make sure you don't miss out, follow us on social!