Wedding Print Boutique- Amanda Michelle Design and Stationery
Our next Wedding Stationer feature is the lovely Amada Michelle!
With weddings bringing some of the greatest joys and stresses in life, we at Printed.com know that finding the perfect wedding stationer for your big day can be a tall order. Luckily, we've gotten to know some of the best in the business, so have taken the time to highlight these dedicated people in our new Wedding Stationer Directory
Amanda Michelle are a multi-award-winning wedding stationer based in the North-East. With a passion for paper and a love for all things pretty, we were lucky enough to have a chat and get all the details on what makes their business so special.
Tell us a bit about yourself and your stationery business!
I am a newly married stationery geek with a passion for pretty paper and a love of keeping busy!
Amanda Michelle Design and Stationery was first established in 2015. After graduating with a First Class Bachelors degree in Graphic Design, I was left struggling to see where my design style would sit in a traditional design studio. So after much hard work and research Amanda Michelle was born. A few years on and I'm so grateful and proud of the little award-winning team we've become!
What is it like to work with brides/grooms on a daily basis?
Amazing! Being a wedding stationer is a lovely industry to work in. It is a very exciting time exciting for our couples and it really is an honour to be a small part of that. It can also be a stressful time so it's nice to be able to reassure customers that their stationery is in good hands!
What does a typical day in the studio look like to you?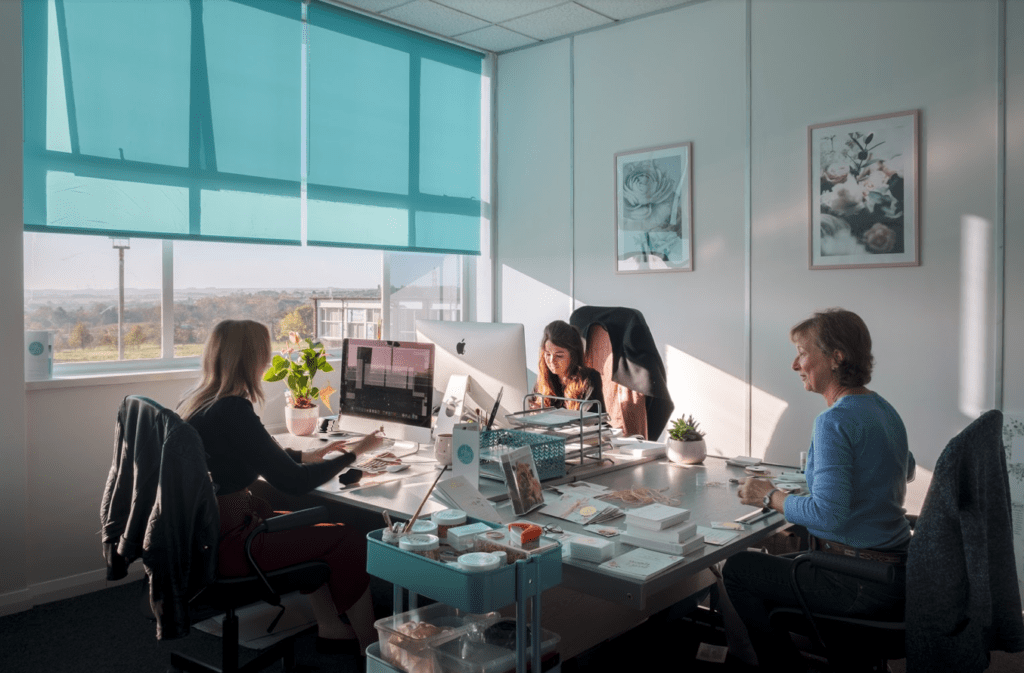 I am normally in for 7.30am. The first job (as well as having a coffee!) is to scan through emails and start writing the daily to-do list. By the time the other staff get in at 9.30am, I will have worked out everyone's tasks and goals for the day.
My time is predominantly spent on the computer dealing with emails, clients and doing wedding stationer design work. My assistant, Michelle, works alongside me on processing orders and doing design work on the computer, whilst my lovely Mum is in charge of all the finishing touches (ribbons, gold leaf etc) and packaging. We normally get our Printed order around mid-morning so once this comes in we can start planning ahead for the next few days. Our courier collections are mid-afternoon so we ensure everything is packed and ready to go for then.
Our customers are from all over the world but sometimes we're lucky enough to work with local ones too, so if I have any customer meetings they are normally in the evening to get around their working hours. We always have such busy days, so even though they are quite long, they always fly by!
Where do you find your inspiration?
It can come from anywhere! Sometimes it's a painting I've seen, a place I've visited or even just the colour of the sky one evening but above all, it comes from my customers. Taking a genuine interest in their wedding ideas and themes, and asking them what they want to see me produce. This engagement really helps me to stay on trend, and above all else, connected with those that matter.
Do you have any favourite pieces?
I may be biased but my favourite pieces probably came from my own wedding a few weeks back. Printed helped me create the most perfect stationery for my day featuring hot foiled concertina invites, vellum confetti cones and an abundance of large format signs!
As a Wedding Stationer, what's important to keep in mind?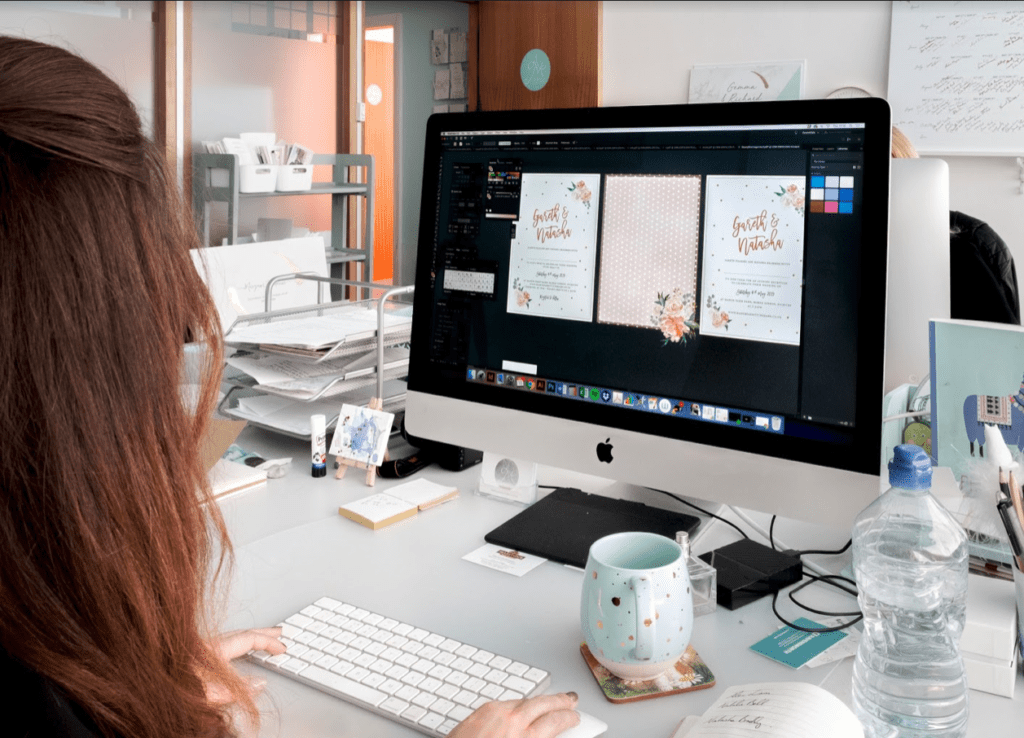 Trends are always changing so it's important not to get too settled in what you produce, even in the short few years I've been in the wedding stationer industry I've seen such a shift in what is popular so it's always good to keep experimenting with special finishes in order to keep designing something different for the market.  
What is the most extravagant/unusual thing you've ever been asked to design by a client?
Probably the most unusual was a recent table plan. The couple loved my hand-drawn portraits so wanted these to feature on their plan. Their surname was 'Bruce' so they decided to name the tables after famous Bruces! From Bruce Lee and Bruce Willis to Bruce Bogtrotter, it was definitely an unusual one to work on!
The most extravagant was probably macaron boxes. This particular couple were having a French-themed wedding and asked me to create them bespoke macaron boxes for their 'save the dates'. Inside the box were 4 french macarons and an illustrated leaflet which told their love story. Certainly more extravagant than a regular postcard!
What's next on the cards for your business?
I have so many dreams and plans for myself as a wedding stationer, it's just hard to find time to do everything!
Stationery-wise I'd like to continue developing new ranges, focusing more on special finishes such as hot foiling and laser cutting. We also recently launched a new gift and print side, so I'd like to continue to develop this.
Not stationery related, but my ultimate goal (perhaps a long way off but it's good to have a dream!) is to renovate a barn to turn into a wedding venue and move my studio on site! My husband works in the construction industry so I might need to get him on board first!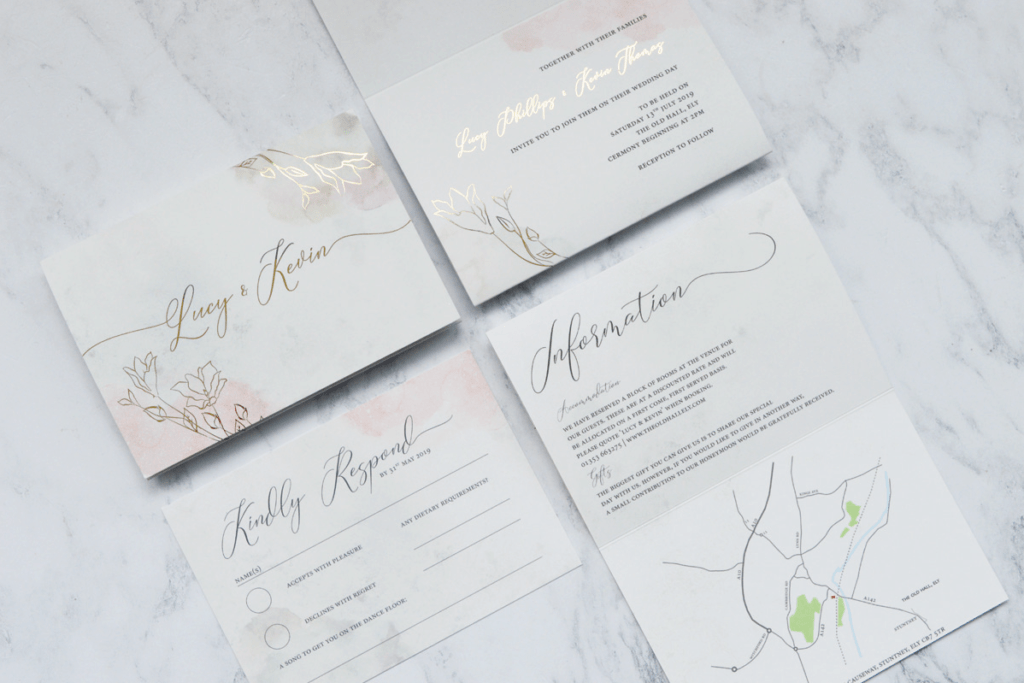 Find Amanda Michelle on: Facebook, Notonthehighstreet, Their Website
A wedding is so much more than just a day. It's more than a dress, an invite or a venue. It's the start of something special – a treasured memory that will last a lifetime and a moment that can never be forgotten.
Make sure to shop our Wedding Print Boutique for more information.
Here at Printed.com, we're committed to reducing our impact on the environment. From innovative packaging and sourcing carbon-neutral and eco-friendly papers to minimising and recycling our waste, we're dedicated to doing good for our planet.
Find out about our greener pledge