3 businesses you should follow on TikTok
Are you on TikTok? Here's who you should be following.
We spend a lot of our downtime (too much to admit) perusing content on TikTok, and finally took the leap and joined last year. To our surprise, 3.5 million people became completely fascinated by one of our videos in particular, showing off our guillotine (the machine that cuts your prints). We're now 100% addicted to the app and love showing off some behind the scenes fun at Printed.com.
Associated with the latest dance crazes, there is also a place for people on TikTok who aren't rhythmically inclined (phew). From BookTok to PlantTok, there is a neck of the TikTok woods for everyone to discover.
In particular, TikTok is changing the marketing landscape for small business owners and this is the side of TikTok we're utterly obsessed with. Keep scrolling to discover 3 of our small business customers that we just can't get enough of.
Mallows Beauty
Mallows Beauty is a beauty brand based on real babes, real skin and real bodies. Founder, Laura Mallows first joined TikTok in 2020. Fast forward a few years and Mallows Beauty have an incredible 5.4 million likes on the app!
From behind the scenes in their warehouse to the oh-so satisfying videos of their face masks being made, we love watching this business grow.
Mallows Beauty Top Tip for TikTok:
Make sure your videos are short, snappy and you get the interest of the viewer straight away. Watch the video objectively and ask yourself would you be captured in the first few seconds?
Also be as transparent with your audience as possible. Especially if you're a small business your audience wants to get to know you – the real you. They want to invest in you the founder, understand what your business stand for and keep tabs on your day to day progression. Both the good and the bad!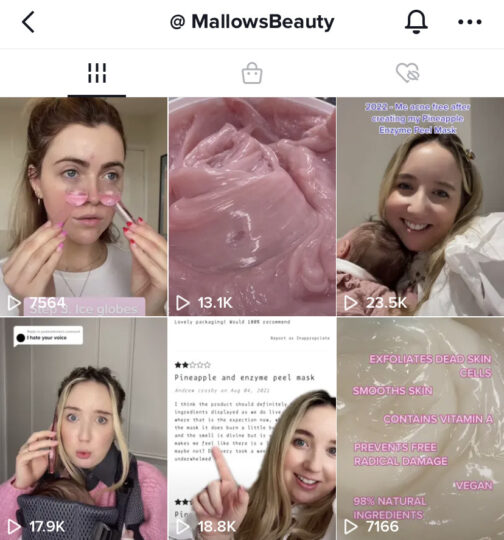 Wildflower Design Co.
Wildflower Design co. is a female-led branding and design studio which transforms beauty and lifestyle businesses into the 'it' brand.
Led by founder, Katie, we're been huge fans of her Instagram Reels and TikTok videos. Jam-packed with useful design tips, Katie is definitely one to follow if you need colour palette inspiration or help scouting down new fonts!
Katie's Top Tip for TikTok:
My top tip is to post content that you truly love, even if you don't think it will get lots of views because ultimately social media should bring you joy.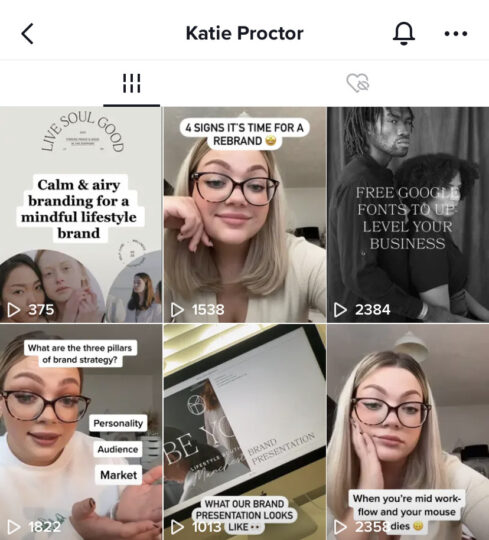 Baked By Steph
Apologies, you're about to get very hungry. Baked By Steph are an East London bakery obsessed with all things cookies, macarons and cakes.
Ever dreamed of having a baby Yoda or Kimmy K in cookie form? They've done it. Documenting how they skilfully decorate, their incredible cookie creations never a fail to put a smile on our faces!
Steph's Top Tip for TikTok:
Jump on trends. TikTok is all about what's trending so find a popular audio on the discover page and tailor it to your product. You'll be surprised how many trends you can jump on!
So, now you've got this lovely lot firmly situated in your follower list, you're in for a treat. Consider your evening scroll, sorted.
And if you're looking for one more account to follow, we're unashamedly plugging our own channel right here. We love showing you how your prints are made, so get in touch if you'd like to collaborate together on a video!