Print fine art (the Giclée way)
If you want to reproduce your artwork, photography or illustrations to the highest standard, a Giclée Fine Art Print is ideal for the job.
But what is a Giclée Art Print, exactly?
"The word Giclée was adopted by Jack Duganne around 1990. It refers to the technical way in which these types of artwork are printed."
At Printed.com, we offer a range of print solutions to suit your needs and budget. Our standard digital printing options use a four-colour process (known as CMYK), and we build your print based on these four colours.
Giclée prints use a different type of printer, which has 12 colours – so that we can match your artwork or photography colours exactly, with no loss of vibrancy. This gives you the confidence that you can reproduce your designs and illustrations perfectly.
What's the difference between Giclée Prints and regular prints?
A regular digital print, like a Poster or a Flyer, for example, will be printed on an inkjet printer using the four-colour method we mentioned above. Cyan, magenta, yellow and black are utilised, in the form of tiny dots, to build your artwork.
When you print using a Giclée method, more ink colours are used, which means that you can get greater colour accuracy. Giclée Prints are often printed onto specialist paper stocks which avoid degradation and yellowing, ensuring that they stay crisp and bright throughout their life.
At Printed.com, we source our Giclée Print paper stocks from experts Hahnemühle. You can choose from their Fine Art Pearl, Photo Rag Pearl, Baryta FB and German Etching paper for your print. Get to know them below!
Hahnemühle Fine Art Pearl
Hahnemühle Fine Art Pearl paper is a heavy weight paper with a semi-gloss finish. It has a triple-coated surface which provides excellent resistance to aging. This paper works well with both black and white, and colour photographic prints.
Hahnemühle Photo Rag Pearl
This is a smooth, natural white photo paper. It has a unique pearl-coating for a low surface shine and is 100% cotton, giving it excellent age resistance. If you're printing black and white photography, make this your paper of choice.
Hahnemühle Baryta FB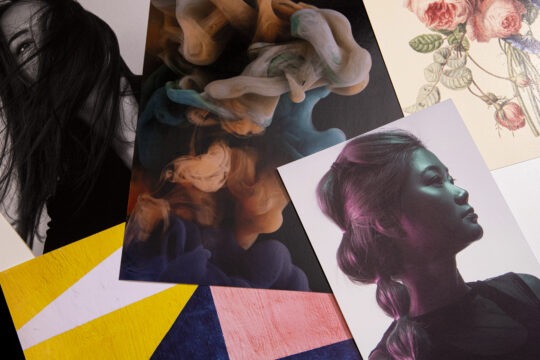 Hahnemühle Baryta FB is a robust, thick paper with a super smooth, glossy finish. It is a fibre-based paper coated with baryta for increased image definition. Choose this paper for bright colours and stunning detail with a high-end edge.
Hahnemühle German Etching
Hahnemühle German Etching paper is a natural white, uncoated paper with a texture much like Tintoretto Gesso. It is acid-free, mould-made and ideal for Fine Art Prints and photographic imagery with a high level of detail.
Why not get a feel for our Giclée Fine Art Print papers yourself? Order a free Photography Sample Pack below!