Feeling fancy? Get inspired with our luxury paper stocks
Need to add something special to your print? Our selection of luxury paper stocks are here to help.
Continuing on with our paper guide series, this month we're looking at our range of lux papers and how you can use them to add a high-end quality to your next project. Chosen specifically for their unique textures and finishes, give your Greeting Cards, Wedding Stationery or Business Print an extra dose of opulence with these stocks.
From the pearlescent delights of Pearl Polar to the textured charm of Tinteretto Gesso, read on to discover the perfect paper type for your project.
Pearl Oyster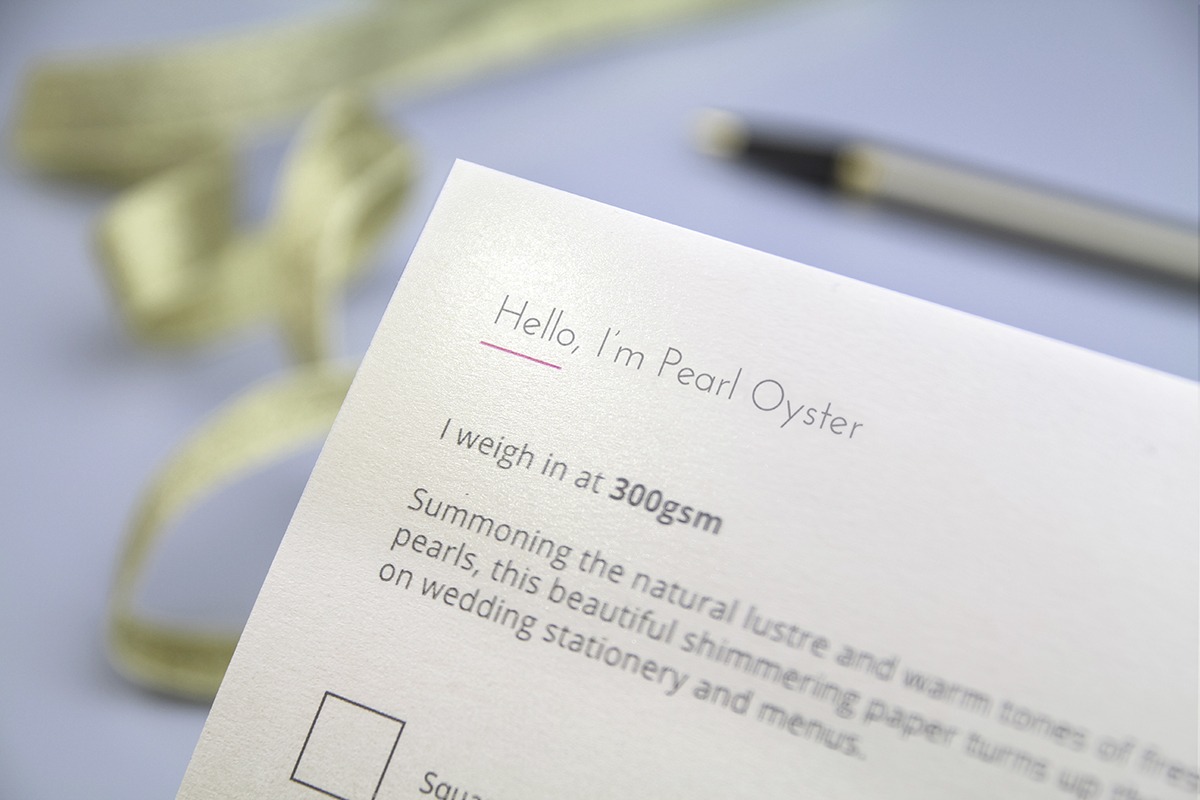 Let's start with our shimmering paper stocks.
These papers capture the shine of the finer things in life, letting your print dazzle as it catches the light in any room.
Think about the things that exude luxury: diamonds, rubies and, of course, pearls. Pearl Oyster is one of our most popular shimmering papers for its unique cool undertone as well as its versatility. Whether you're creating a full luxury printed suite or have one design that deserves that Hollywood treatment, this stock has got you covered. Create everything from iridescent Invitations to Greeting Cards that will stand out on any mantlepiece.
Want to wow with packaging? This shiny stock can also be used for Printed Envelopes too.
Pearl Polar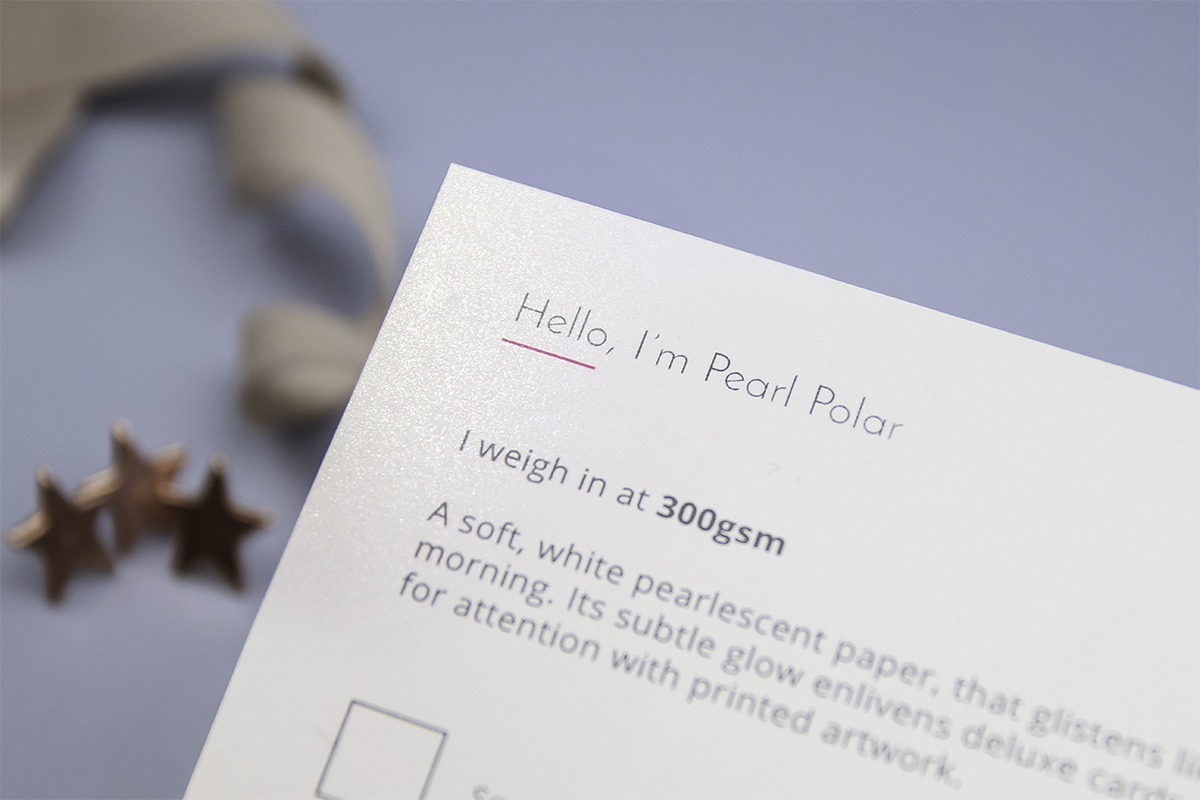 Love Pearl Oyster, but looking for something a little brighter? Pearl Polar is the luxury paper choice for you. This white pearlescent paper adds a cool glisten to all kinds of print and is another favourite for designs that need some sparkle. Plus, thanks to its lighter base it gives artwork a more subtle glow. It's popular for Wedding Suites but is just as versatile Pearl Oyster. It can be used to zhush up any stationery that needs a dash of luxury!
Cream
Dreamy Cream stocks have been a customer favourite for a while. Because it's picture-perfect for the big day, it's also especially popular for Wedding Print. It's a classic choice when white is too simplistic and gold is overboard. Uncoated, our Cream paper is ideal for adding a touch of class and an understated yet premium feel. Ink absorbs into the paper to give it a flatter, softer look; ideal for Business Cards, and Bespoke Gift Tags too.
Conqueror Gold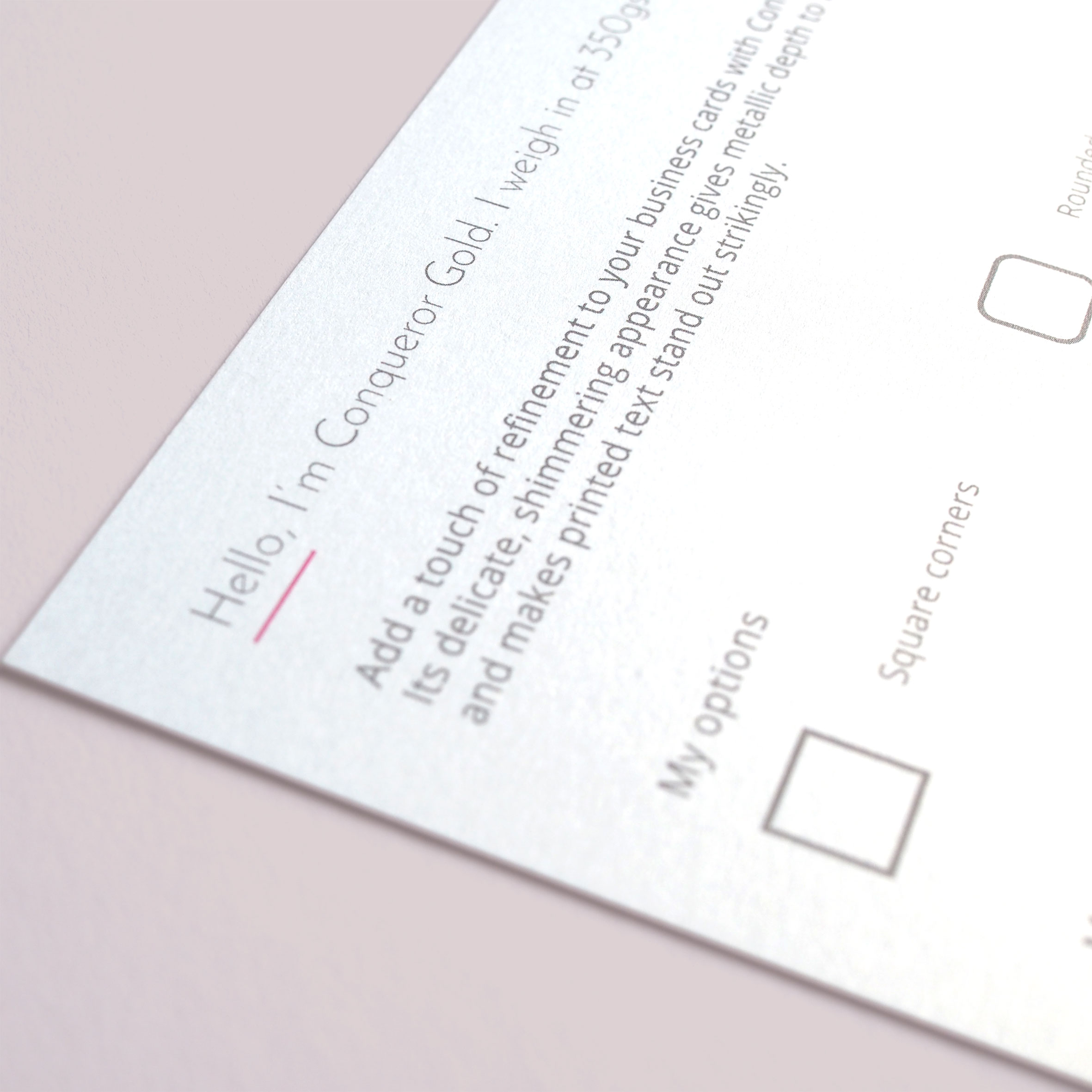 What screams luxury more than gold? This bright white paper is infused with subtle golden tones and makes inks stand out with a shimmery hue. Perfect if you're looking for a warmer tone for your luxury print.
With more of a gentle shine, Conqueror Gold is subtle but still a favourite for high-end Business Cards. What could leave a more lasting impression than handing over a Business Card infused with golden undertones?
Ice Gold
Thought we were done with gold papers? Think again!
This luxury paper is something of a paradox. Despite its icy name, the combination of a white base and pale golden shimmer actually infuses designs with a gentle warmth. Partner your print with Ice Gold and enjoy artwork that takes on a subtle shine and text that is bright and defined. A great choice for luxury stationery, Business Cards and Invitations, it's coated surface means that printed inks stand out and won't get lost in the shimmer.
Nettuno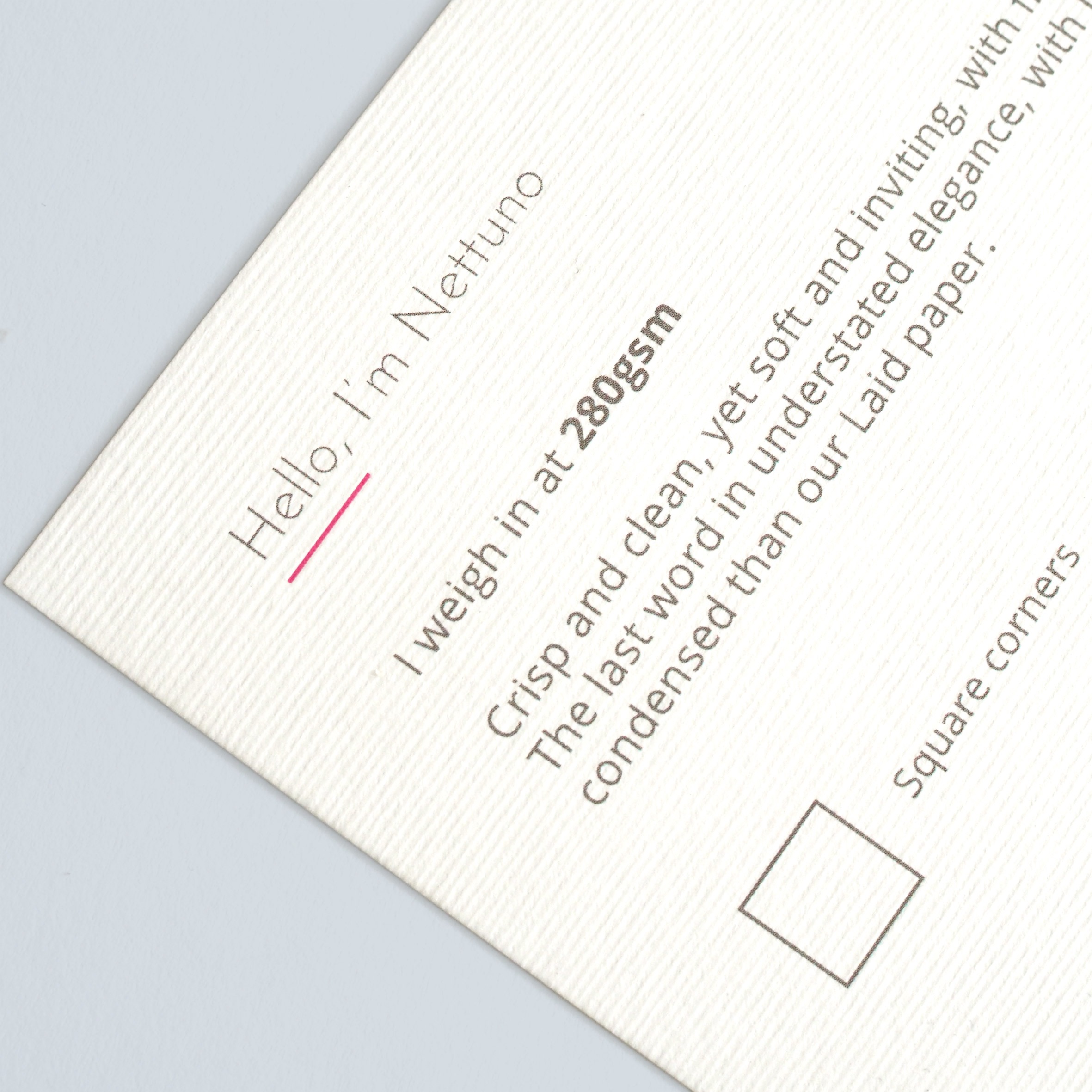 Let's talk texture. Luxury papers aren't just about wowing with shine, the experience can also be heightened with more tactile qualities.
For example, our Nettuno paper stock is a popular choice because of its soft fine lines. It's the ideal choice for prints that get handled a lot, like Business Cards, Greeting Cards, Postcard prints and Leaflets. While the overall design is important for grabbing attention, it's the texture that can add more depth.
Tintoretto Gesso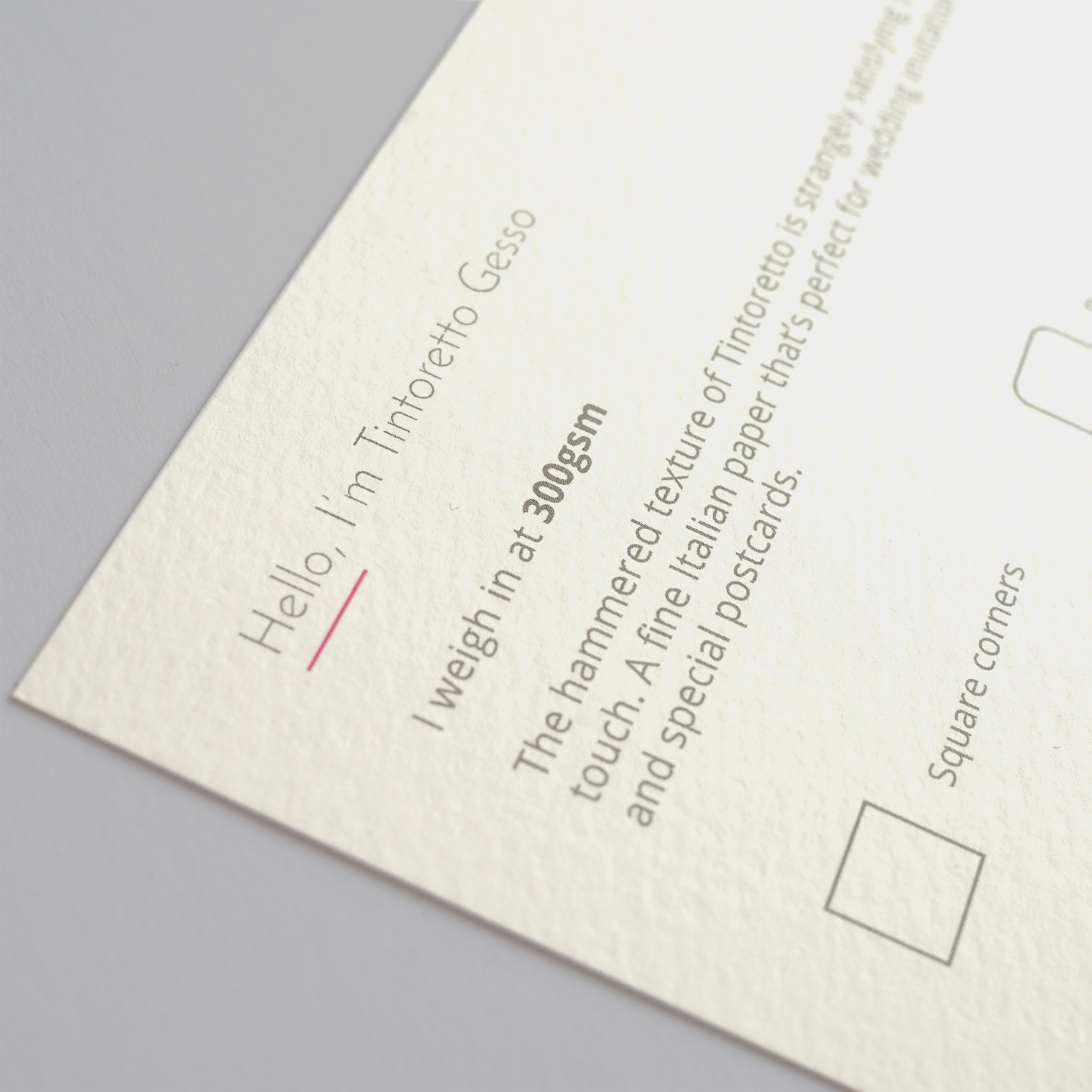 Let's move on to a classic.
This fine Italian paper has been a favourite stock for many years now. With a soft honeyed hue, Tintoretto Gesso is an uncoated paper with a lightly hammered surface texture that's ideal for luxury marketing print, Greetings Cards and Postcards. Illustrative, watercolour and calligraphic designs love a textured paper stock, so this kind of paper is perfect if you're keen to evoke a more hand-crafted feel to your prints.
Fresco Gesso
If you love texture but want to create something with whiter tones, try out Tinteretto Gesso's sister paper: Fresco Gesso. It has all the same features but won't affect the finish of your colours.
These charming textured stocks can also be great to create standout Brochures or even Branded Notebooks, which can be a great corporate gifting option for VIP clients.
Rives Shetland
Rives Shetland is a cool white paper with an unusual texture running across its surface, like the weave of a fine fabric. It's one of our more subtle textured papers and gives printed inks a more muted, understated appearance. With a cool white base, it's uncoated finish better absorbs printed inks and gives a heritage vibe to print.
This paper stock also a fantastic choice for spicing up your marketing! Think about how many promotional Flyers you see hitting your doormat every day. If you want to make sure your lovingly crafted Leaflets and Vouchers aren't instantly thrown in the bin, choose a tactile paper and show just how much thought has gone into your latest campaign.
Laid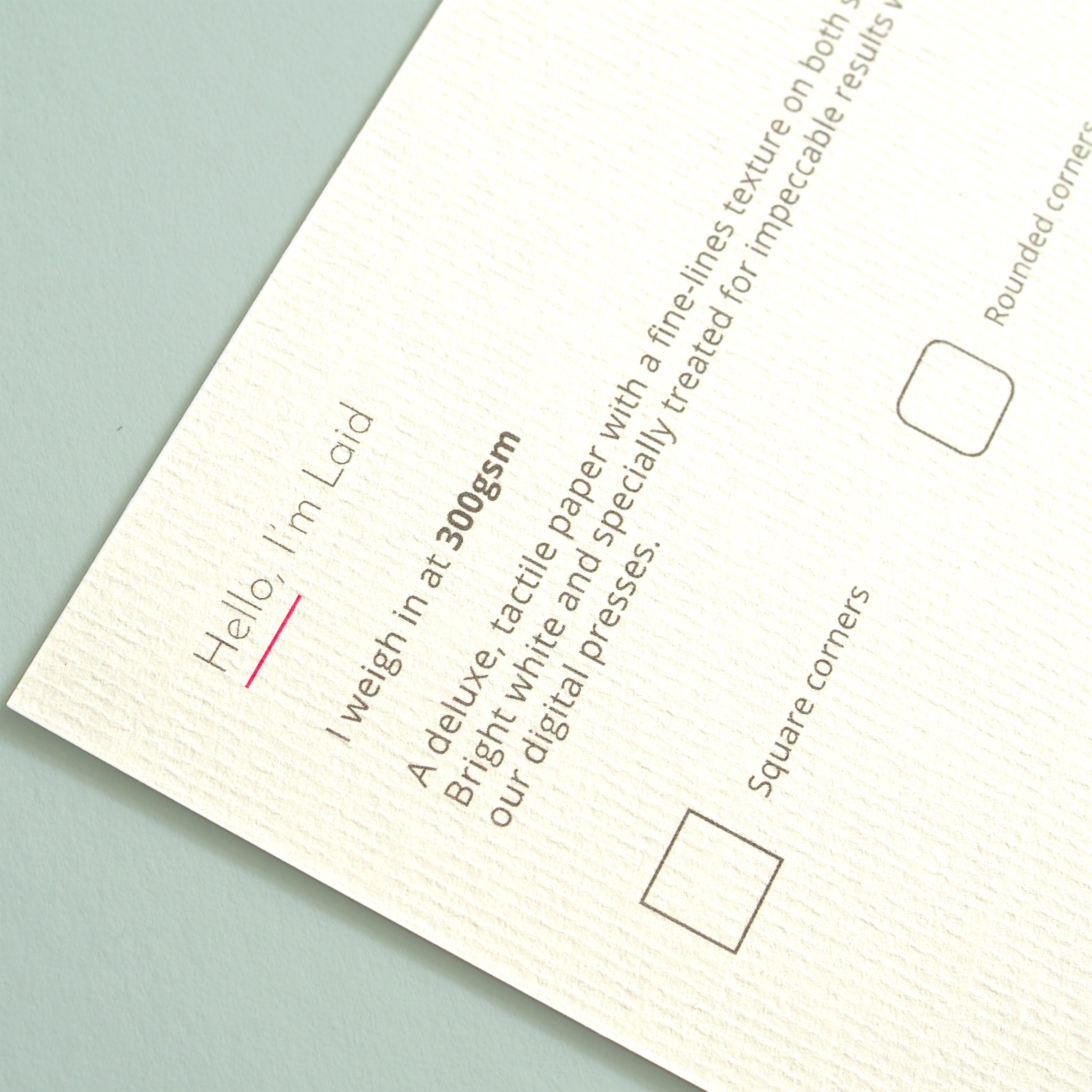 For a vintage feeling print, the fine lines of our Laid paper stock are ideal. With a texture that harkens back to a time of hand-penned letters, this paper is great for writing on. There's a reason it's a popular choice for luxury Greeting Cards, Postcards and RSVPs.
And if you're looking for something a little cooler, Bright White Laid has all the same qualities but has a lighter and more subtle finish. So you really do have a paper for every occasion.
Top Tip: Be aware that textured paper can affect the finish of your printed colours slightly. Because of all their unique lines and bumps, full block colours will occasionally look speckled.
Ready to get creative with our luxury papers? No matter what your next project is, explore our full range and find your perfect match. Want to feel them for yourselves? Order a free sample pack at the link below.