An interview with wedding planner Georgie Mitchell
We love a good wedding here at Printed.com, and luckily our customers do too! We recently chatted to wedding planner and TikTok extraordinaire Georgie Mitchell to find out all about her recent wedding. Georgie designed all her Wedding Stationery from scratch herself, and is testament to going all out DIY on the big day.
Read on to discover her top tips for brides and grooms to be.
Hey Georgie! Firstly tell us a bit about yourself and your job as a wedding planner.
Hello! I'm Georgie, I'm 31, mother of one and newly wed! I love all things weddings, am an over-user of exclamation marks and enjoy all things social.
I started my wedding planning business in January 2020 after spending the previous decade working in the wedding industry. For obvious reasons 2020 wasn't great for the business however it has grown hugely ever since. Last year I coordinated 80 weddings – oh, and got married myself.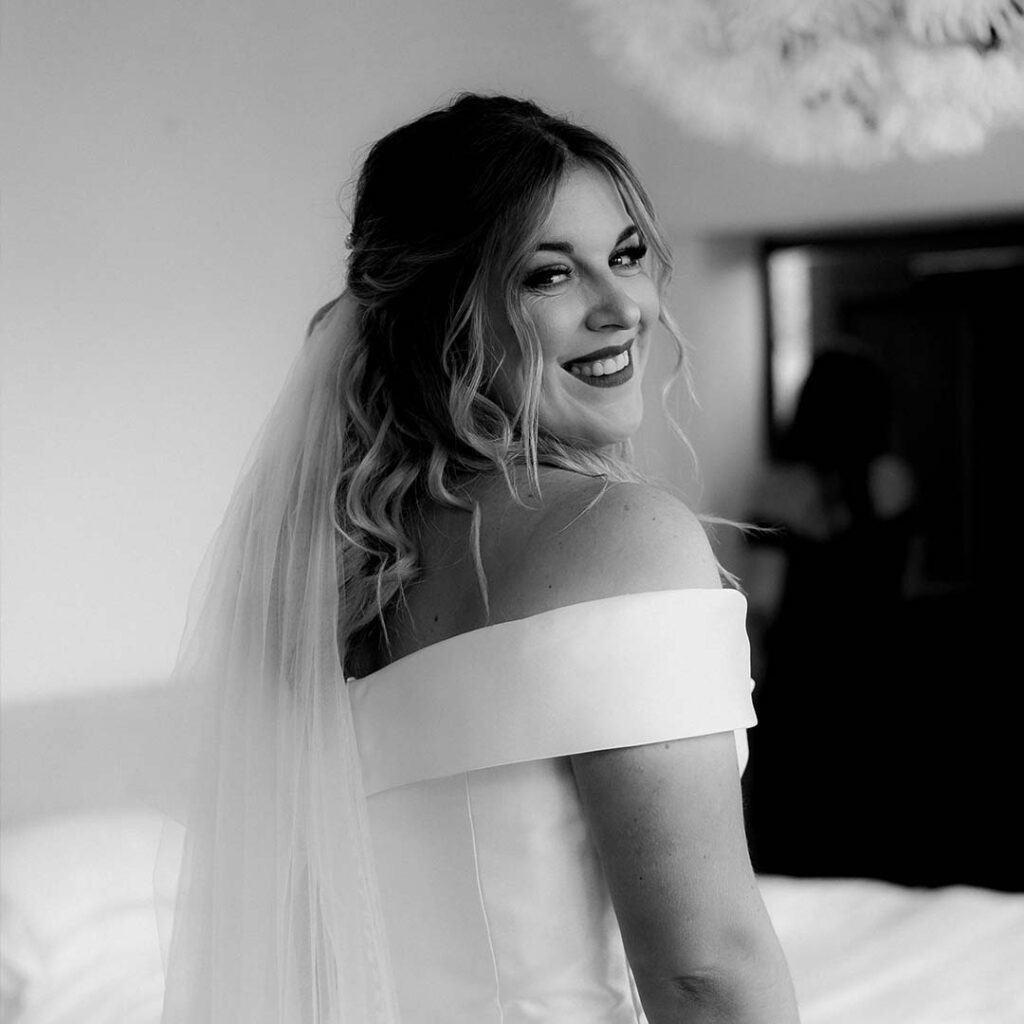 What got you into the wedding industry and what do you love most about it?
I am the typical cliché and knew that I wanted to be a wedding planner since I watched Father of the Bride. I don't know why I was so obsessed, but I do love everything about weddings – the soppy bits, the alcohol, the music and memories. How could you not want to do that for a job!
How do you use TikTok for your wedding planning business?
TikTok has transformed my business! I started my page in lockdown doing funny content and voiceovers (they were all the rage back then). The main reason I did it is because I didn't have any weddings to do, so putting my face out there was my only form of marketing. Fast forward to 2022 and I decided to start doing a daily tip whilst doing my makeup – a habit I could be consistant with.
The videos have been crazy every since and I have built an amazing following of couples. I genuinely love knowing that I'm helping people and being able to give free advice makes me feel like I'm giving back to the industry!
The nearlyweds podcast found me on TikTok and invited me on, twice – and the BLOWME TikTok went viral so it's all been pretty amazing since.
You printed all your wedding stationery with Printed.com, tell us a bit about what you ordered?
I ordered loads! I really love personalisation at weddings and being able to make your own signs is a really good way of doing this. I had signage for everything including the pizza's (which I named funny things). I got Stickers, Welcome signs, Order of the Day, Strut Cards, Table Talkers – what didn't I get from Printed.com!
What was your favourite piece of wedding stationery and why?
If I have to pick I'd have to say 2 things. My Order of the Day sign was pretty cool (and very me!). I made it into a to-do list and had my bridesmaids tick off things throughout the day. I am very organised so this was a lovely little nod to my work.
The second would be the Place Cards. I used my laptop to draw an outline of every guest (yes it took ages) and then had them printed onto gorgeous little cards to use as their name place. Everyone absolutely loved them and talked about them for ages after.
Tell us a bit about how you used wedding signage at your venue?
I put our Welcome Sign in our ceremony room, which was a great photo spot for guests. I then had the Order of the Day sign in the venue so guests knew what was happening. Strut Cards were literally everywhere (cocktail sign, mezze sign, whisky and cigar sign, donations for the free bar, beer pong, New Year's Eve prop shop and more!). I put Table Talkers on each table with the Menu, drink details and a speeches game. I also added Table Talkers on the bar with the Menu and a photo link for guests to upload.
I had Place Cards on each setting and finally Round Stickers on the beer pong cups and midnight snack boxes!
Tell us a bit about how you dressed your tables for the wedding breakfast?
Our tables looked gorgeous! The theme of the wedding was scandi, so very minimal, cosy, textured and beige! Controversially, I decided to have square tables, which I'm so glad. The main feature of the tables were the Place Cards. I wanted them to be quite big and sit alongside the napkins, which looked gorgeous. We then had the Table Talkers – this was because I didn't want each person to have a Menu as it would go away from the minimal vibe. The Table Talkers also had a fun speech game and also the drinks details (basically go to the bar!)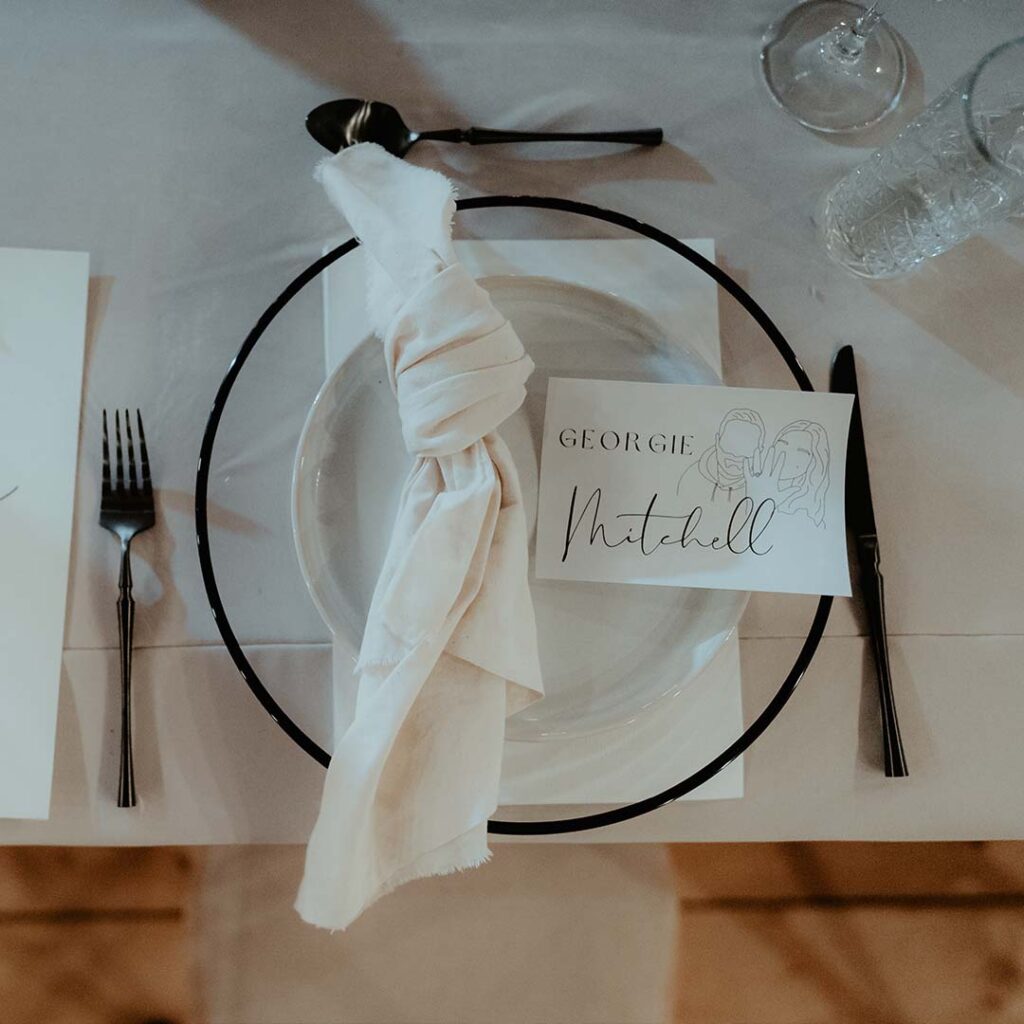 How did you use print in a unique and fun way?
Personalising a wedding is super important to me! So I used the print to do this. I wanted every single element to mean something to us. I designed Round Stickers for our beer pong cups, they had our faces and with team Brian (my husband) and team Georgie and they worked really well!
I also made little boxes for guests to take home at the end of the night, these were little hangover boxes and the Stickers said "But did you die though?". Guests grabbed these on their way out.
P.S. I added my wedding logo onto absolutely EVERYTHING.
For anyone else designing wedding stationery themselves what is your top piece of advice?
I would start by playing around with Canva and see what styles you like and if you are able to do them yourself. Once you've got that sorted the world is your oyster. Then I would 100% get a paper Sample Pack from Printed.com. I am the type of person who needs to touch it, so this really helped me.
I then spoke to the Printed.com team to find out the best way to do things and they were so helpful.
I think sometimes you just need to order something to see how easy it really is!
I am so glad I did it all myself as it made me feel like I put a lot of effort in and DIY'd stuff, but equally, Printed.com did the hard bit.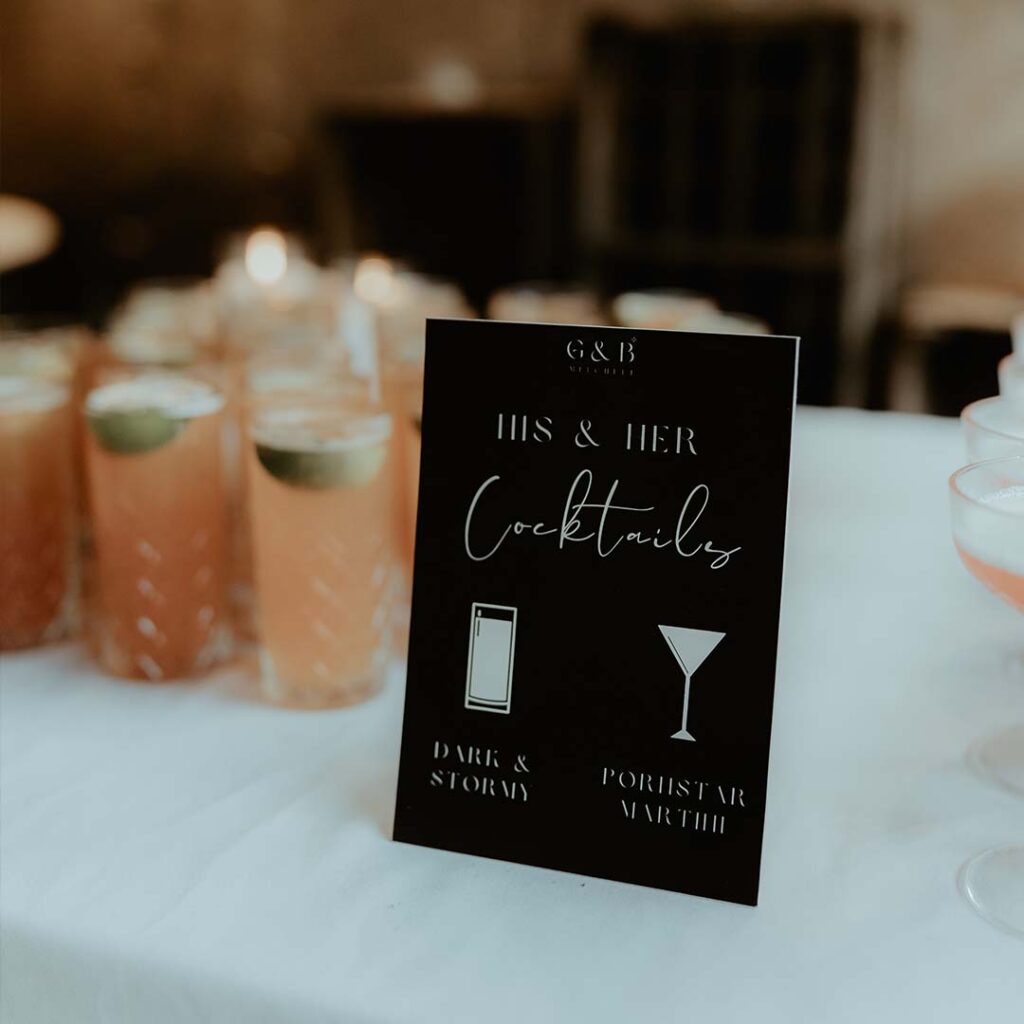 Lastly, where can people find out more about you if they need a wedding planner?
I highly recommend giving me a follow on TikTok (little plug!) that way you'll see all my daily tips. You can also find me on Instagram and also my website if you need a wedding planner or coordinator.
We loved helping Georgie bring her big day to life, as we do for all our bride and groom customers. And if you're ready to get planning for the big day we're here to help. Check out our full Wedding Stationery collection below, or get in touch and chat to our lovely team today.