How to create your own DIY Wedding Invitations
Ready to create your own DIY Wedding Invitations?
Not only will they be totally unique to you, but you'll get the added satisfaction of telling everyone that you made them yourself as part of a do-it-yourself wedding (it's not boasting if people ask, we promise).
If you know your way around a design programme but still want a little extra guidance, we've got the advice you'll need to get the job done. Take a read through our top tips below…
Finding inspiration for your DIY Wedding Invitations
The hardest part of creating your own DIY Wedding Invitations is getting started. We think that the best place to start is to sit down and make a list of everything that has been special or sentimental to you during your relationship. Things like the location of your first date, the place you first met or where you got engaged are all great starting points for a workable wedding stationery theme. Once you have a list of different things to work with, you can start exploring!
Pinterest is a great jumping-off point for wedding stationery designs – even professional designers love it as a source of inspiration! You can search for some of the items on your list to see how other designers have interpreted them and create a mood board of designs that suits your style.
Other designers are also a great place to look if you're stuck. Who better to give details about the latest trends and ideas than people who do it for a living?
Creating a colour palette for the occasion is next on the agenda. Most people choose to match their Invitations and stationery to the theme of their wedding, so make sure you both love the colour scheme enough to want to carry them through every aspect of the big day. There's a number of free websites out there like ColorSpace and Coolers that let you explore trending shades as well as letting you build your own custom colour palettes.
Getting designs ready for print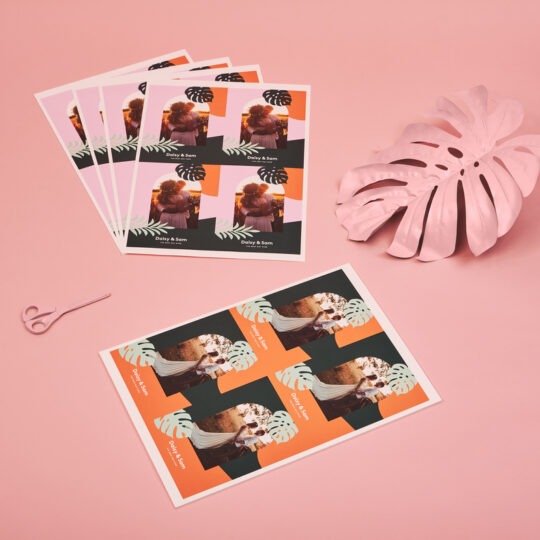 Now it's time to get your designs print perfect.
Design software: Not using Adobe to design your wedding stationery? No problem (this is a DIY blog after all). There are a whole range of free design programmes out there that you can use to create stunning Wedding Invitations. Some even come with their own free templates and guides. We've pulled together our favourites and have even explained how to set up your designs for print with each one.
Templates: Unless you're a print pro, you'll definitely want to use one of our free templates to get started. You can search our collection for the product, size and orientation that you want to print, to make sure that everything is where it needs to be. When it comes to DIY Wedding Invitations we offer a multitude of shapes, sizes and folds – so you're sure to find something to suit.
Exporting print-ready artwork: When you send your designs to print, it's crucial that you add bleed and export your file as a PDF.  If you aren't sure how to do either, you can check out our video tutorial page if you're using Adobe or our free design software blog if you want to try out an alternative.
Choosing the right papers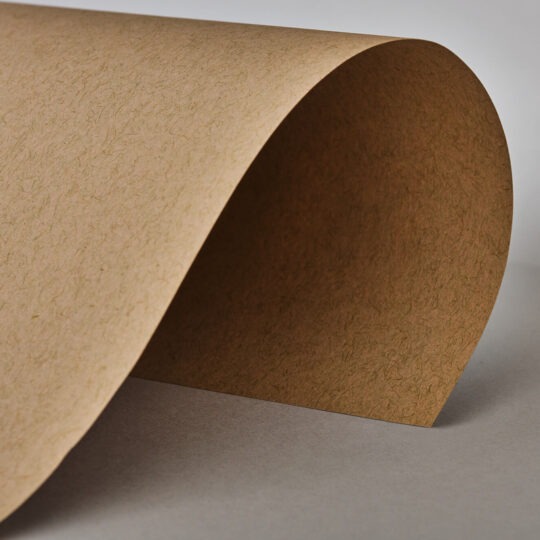 Another crucial aspect to consider is how your DIY Wedding Invitations are going to look with the different papers and finishes.
If you have worked on more earthy, natural and organic designs, our Kraft paper is going to really complement your theme. Classical and retro designs look authentic on our textured papers, and our shimmering papers like Ice Gold and Pearl Polar simply ooze glamour. If you want your designs to speak for themselves, or fancy a more modern tone, Silk and uncoated papers are a solid choice. We also have a whole range of eco-friendly paper options if you want to have a greener wedding which you can check out here.
If you have strict colours you want to stick with, you'll need to bear in mind that some papers will alter how your printed colours appear. 
Our wedding paper guide gives a full rundown of every single one of our options so is a great place to start if you're unsure. And if you want to get a feel for the papers yourself, you can order a free Sample Pack right here.
Adding finishing touches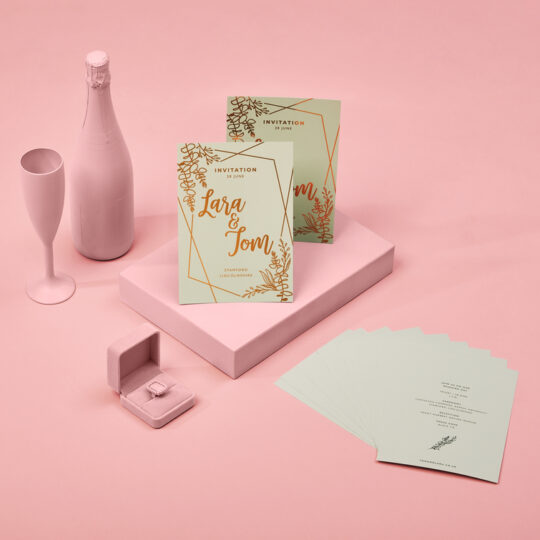 Your Invitations are designed and now it's time for those all-important finishing touches. You can add matching Printed Envelopes to your order for post that'll stand out. If you really want to push the boat out, we recommend adding some Wedding Stickers to your order, for a classic seal that shows you value the smaller details. Why not delight guests with Envelope Liners or matching Belly Bands as well?
For something truly handcrafted, you can order your invites on Unfinished Flat Sheets and trim, fold and finish them at home. Perfect for adding those tailored, personal touches only you can give. (And, they're available with Foiling too!)
Voila, those are our tips! Now you should be ready to create your own DIY Wedding Invitations. Whatever you decide, make sure to check out our full Wedding Stationery collection below.