Free design software: Our top five Adobe alternatives
Discover our top picks for free design software and get your artwork ready for print.
The Adobe suite is most seasoned designers bread and butter, however for many, the hefty price tag and complex features can be a little daunting. If Photoshop just isn't your thing, don't worry – there are other alternatives out there. We've rounded up our top free online design tools below, plus some additional insights into getting your artwork completely print-ready.
Ready to get creative? Let's take a peek.
1. GIMP
If you've ever searched the phrase 'free design software', GIMP probably popped up at the top of the list- and for good reason…
GIMP is an acronym for GNU Image Manipulation Program and is a great choice for photo retouching, image composition and manipulation. Once you've downloaded the programme, there's a full suite of editing tools at your fingertips including paint tools, colour correction, resizing and image enhancement. While it's set up quite differently from Photoshop, it does have a version that closely mimics the feel. Perfect if you've trained with Adobe or just want to make a switch.
If you're completely new to graphic design in general, this type of design software might feel a little daunting. (No one likes looking at a blank canvas after all!) Luckily GIMP's website offers a range of free tutorials that cover everything from converting images to black and white to changing file sizes.
Getting your design print-ready
First things first, consider the size of your print. While some of the programmes we'll mention will have size built in to their templates, for software like GIMP this will need ot be done manually. Make sure to check out our own templates for reference.
Before exporting your files, it's crucial that you remember to add bleed. Bleed is an area outside the document that's trimmed after printing and is there as a precaution to make sure there's no white space left on the document. It's also really important to make sure that your artwork extends right to the outside edge of the bleed area and that any text is set at least 3-5mm from the trim line. Don't want anything important getting cut off after all! To add bleed, simply change the dimensions of your document to mm and add an extra 6mm to the width and height and then extend your design over this area.
Once that's all done and your design is ready, simply click File, Export and select PDF under File Format. Then select 'Apply Layer Masks Before Saving' and click Export again. Your file is now print-ready and can be ordered on Printed.com.
2. Canva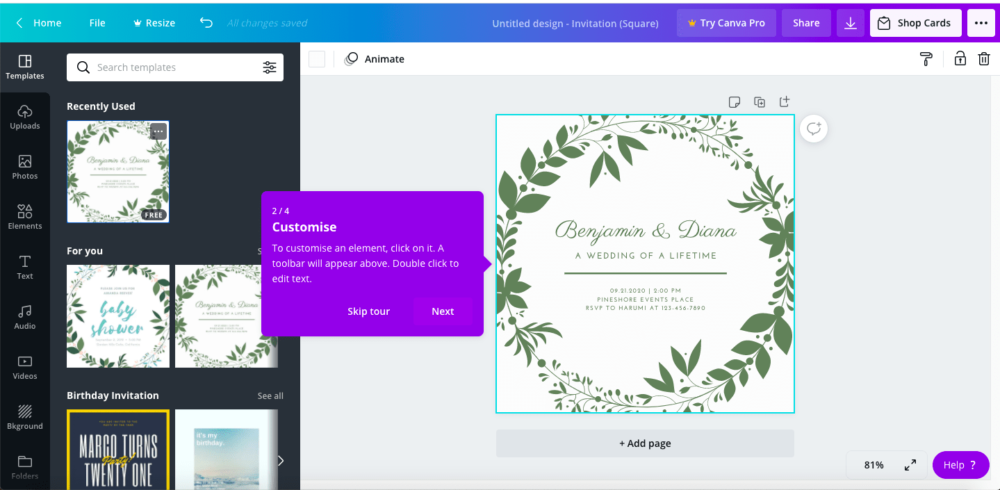 One of the most famous free online design tools out there, Canva is perfect for simple editing jobs or if you have no design or image resources of your own. Plus, no download required!
Free to use but with premium options, it has a range of templates and editing tools available. So it is best suited for anyone new to the design game. Its interface is extremely newbie-friendly as when you sign up it'll recommend you some features. While you can build your designs from scratch, the appeal of Canva is its enormous library of free customisable templates. With everything from social media optimised posts, to print such as Invitations, Posters and Flyers. You can easily edit the background, colours, text, borders and more. You'll find everything you need to customise your project in the lefthand toolbar.
Getting your design print-ready
Since all the templates are ready-made, you must remember to add bleed before you start designing. To do this, choose custom dimensions and change from 'px' to 'mm'. Enter the correct size for the print item you want to design, plus 6mm to include bleed and then make sure extend your design over that area. Then you can choose from the templates and add images. Once your design is done, simply click Download in the corner and select PDF print.
3. Krita
When it comes to free design software for drawing, Krita is the ultimate choice for many.
Created by artists for artists, this software is great for creating and editing concept art, texture and matt paintings as well as illustrations. The programme itself boasts a range of artwork tools and brushes to start and even more available to download free from their website. With a much simpler interface than Photoshop, it's become a popular choice for creatives and designers who may be daunted by the steep learning curve that comes with Adobe programmes.
Once you've opened a canvas, the left toolbar will have everything you need to start designing, so it's best to familiarise yourself with that first before you get started. If you need any extra help, their website is packed with design resources such as tutorials, references, textures and even some user-made plugins to help add extra depth to your artwork.
Getting your design print-ready
While the programme itself currently has no capability for exporting PDFs, their website offers some solutions here. PDFs are the best files for printing so we would recommend exporting your design to another programme to make it print-ready or use Krita to focus on your digital designs and assets.
4. Crello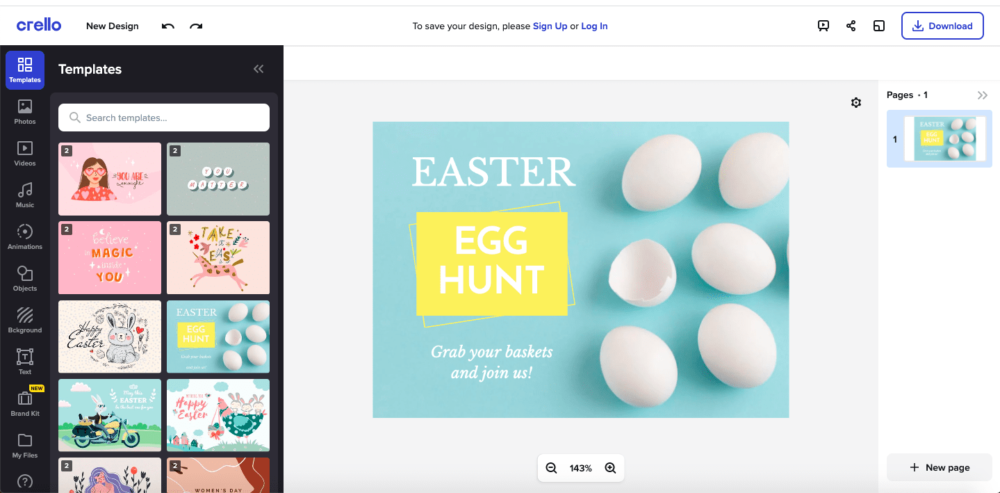 Like Canva, Crello is a free and completely online design tool that's perfect for quick edits or if you're lacking design experience. Specialising in marketing-based print, it has a range of free to use templates for Flyers, Posters, Brochures and more as well as a library of images for free and premium users. Plus, the handy design tool lets you add any additional colours, text or designs.
If you're looking to make the most of the free features, Crello also has a range of tutorials such as 'designing backgrounds and logos' to 'quick start guides' for creating things like Business Cards and Invitations. Just keep in mind that the number of designs you can download per month is limited with Crello's free option, so make sure to keep track of the number of projects you're working on.
Getting your design print-ready
Getting your Crello designs ready for print is simple. Once your design is done, click Download in the top right corner and select PDF Print. Also, make sure to check Crop Marks and Bleed underneath so your design will be exported with the bleed area. Remember that it must be 6mm.
5. Gravit Designer
Gravit Designer is another easy-to-use piece of free design software. It comes with a number of easy editing features in its free version. Much like Canva and Crello, everything you need is completely online but you can also download the programme if you'd prefer to edit out of your browser. You can build your design from the ground up or select from a number of available print templates. It has everything from Business Cards to Flyers to Posters as well as a range of standard paper sizes: A0-A10.
It too has a range of free to use imagery, shapes and icons that are perfect for adding on to designs. For example, it's simple to add social media icons to your Business Card followed by your Instagram or Facebook handles. Just remember that if you're editing in your browser that autosave is a pro feature. You don't want to lose your hard work after accidentally closing a tab!
The best place to get started is with its range of YouTube tutorials as well as its blog which has a number of helpful articles from both staff and designers in the community to help you make the most of its basic features.
Getting your design print-ready
There's a handy section under the Inspector tab on the right that lets you add bleed. When printing with us, please add an additional 6mm. While this won't be visualised on the canvas, it will be added to the exported file. Once you're finished with your design, simply hit File, Export and select PDF.
And there you have it! That's our guide on free design software. We hope that you find these tools useful, and if you do end up moving over to Adobe in the future we have a host of free tutorials for that too.