Our commitment to eco-friendly printing
At Printed.com, we've always been committed to eco-friendly printing and reducing our impact on the environment. From innovative packaging to sourcing carbon-neutral papers and recycling our waste, we're making sure that we're doing our bit for the planet.
Ready to go greener? Let's dive into our sustainable printing options.
Recyclable and eco-friendly papers
Eco-friendly printing begins with the right paper and do we have a selection for you! From money-saving options to luxury stocks and Large Format substrates, we have a whole range of greener papers that don't compromise on quality.
Kraft: With an earthy texture and a retro feel, Kraft paper is manufactured from 50% post-consumer waste fibre, FSC certified, carbon neutral and produced with wind power.
Recycled Silk: Our most budget-friendly paper, Recycled Silk is made with 100% PCW fibres in a chlorine-free process. All materials are non-carcinogenic, mutagenic or reprotoxic and it's completely recyclable.
Recycled Uncoated: Our classic recycled paper has an uncoated, course texture and is a great choice for everything from wedding stationery to letterheads. It's also FSC certified, completely chlorine-free and recyclable.
Lux: Our ultra-thick Lux paper is the ultimate choice for Business Cards that look good, feel good and do good. It's FSC certified and manufactured with wind power from Green-certified wind power projects
Acquerello: Virtually chlorine-free, shimmery Acquerello paper is FSC certified and produced using environmentally friendly ECF pulp. Great as a green print choice for wedding suites.
Laid: This deluxe fine-lined paper is here to add a little textured luxury to your print. Laid papers and boards are made with virgin fibre, are recyclable, FSC certified and made with chlorine-free pulp.
Cream: The perfect choice for when white is not enough, but gold is too much. Its FSC certification, 100% chlorine-free pulps and ISO 14001 accreditation make Cream paper a top choice for its eco-credentials.
Tintoretto and Fresco Gesso: Two firm favourites when it comes to cards and sustainable print, these uniquely textured papers are recyclable, FSC certified, and made with environmentally friendly ECF pulp.
Ice Gold: This bright ice-white paper is infused with subtle tones of pale gold and another green choice for print that needs a dash of luxury. Crafted from ECF certified wood-free pulp it's also FSC certified.
White Ink, Guardsman Red and Navy Blue: Our specially formulated White Ink paper stocks are proudly ECF wood-free, from virgin pulp, made with 30% post-consumer fibre, and they're FSC certified.
White Ink Black, Cosmo Pink and Urban Grey: Our black, pink and grey papers for White Ink also boast eco-credentials. They're recyclable and made with ECF virgin pulp too.
Rives Dot, Shetland and Tweed: All of our unique textured papers from the Rives collection are recyclable, made with ECF wood-free virgin pulp and they're FSC certified.
Magnetic: We're proud to stock Digital MagneCote – it's the only non-rubber based magnet coated on FSC certified base stock, delivering a truly environmentally friendly magnetic option. Perfect for eco-friendly print that you can stick on the fridge.
Eco Board: Our Eco Board is 100% plastic-free and a lightweight solution for your temporary displays. Completely recyclable, the exposed sides mean less product wastage as well as bringing a more natural feel to your Indoor Signs and advertisements.
Eco-friendly print packaging
Looking for an eco-friendly way to package Greeting Cards, Postcards or smaller prints? Meet our compostable Cellophane Bags.
Made with renewable corn and other sugar starches
Fully compostable, 100% biodegradable, 30-micron film
Shelf life of 12+ months if stored correctly
We also offer eco-packaging as standard for our most popular print product, Business Cards. These boxes feature:
Recycled card
Vegetable-based inks
Water-based glue
Not only are all our products packaged in recyclable cardboard when posted, but they're also sealed with eco-friendly paper tape. 100% plastic-free, recycled and biodegradable, this tape is made from fibrous Kraft paper and does not contribute to pollution or waste in any way. Thanks to its strength, we also use less tape in general.
Reusable and sustainable print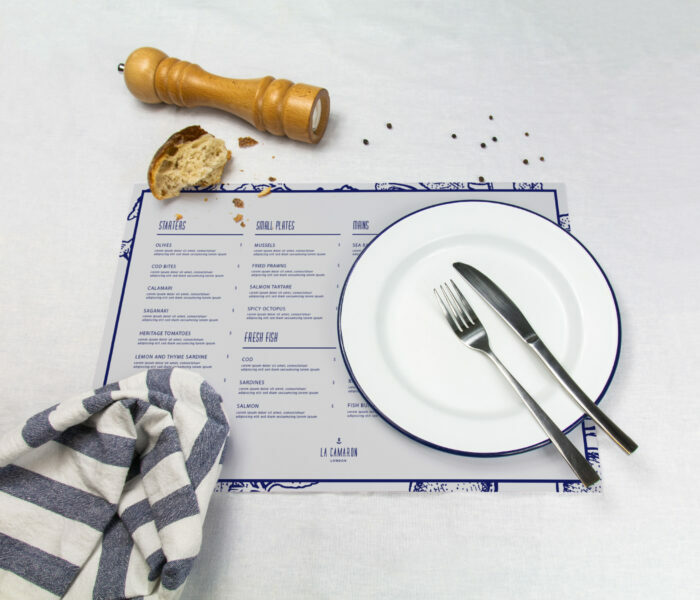 Making the switch to reusable print is also a great way to reduce the environmental impact from printing.
For your daily print, consider ways you can make it last longer. For example, Menus can be extremely versatile if you choose the right finishes. If you print them on tearproof paper and finish with either matt or gloss lamination, you won't have to worry about them getting crumpled or torn. Plus, they can then be sanitised after every use. We've even got a handy guide for creating the perfect Menu for your business.
Products like our Clear Roller Banners and Table Talkers can easily be reused for events and reduce the need for extra handouts as your information will be clearly displayed for everyone to see. Our Face Masks are also washable and can be used again and again. Check out our guide here on how to help them last even longer.
And that's a wrap on our eco-friendly printing! If you'd like the full scoop on our certifications and our own environmental policy, you can check them out here.
Got any ideas or suggestions for how we can improve our sustainable print offering? We'd love to hear from you. Drop us an email using theteam@printed.com or chat with us on social
Discover eco-friendly printing