Say hello to Card Catch Stickers
Card Catch Stickers. The new kid on the Printed.com block.
Our Product Team are always keeping a close eye on trending products in the paper and stationery world, and Card Catch Stickers are the latest to turn their heads. Favoured by many major retail outlets and Greeting Card sellers, let's discover why.
What are Card Catch Stickers?
Essentially a Card Catch Sticker is a small, easy-peel Sticker which is used to hold a card and it's accompanying Envelope together (because Greeting Cards need hugs too).
This Sticker has a weaker adhesive which means it can be removed from the card and Envelope without damaging either the material or print. Commonly used to showcase your brands logo, or as pricing labels, these low-tack Stickers are ideal for short-term advertising on shop shelves, at exhibitions or to display in your studio space.
Not only is this packaging a great way to brand up your Greeting Card designs, they're an eco-friendly alternative to plastic packaging. Although the Sticker material isn't recyclable, huge amounts of single-use plastic can be removed from waste streams. It's a win-win!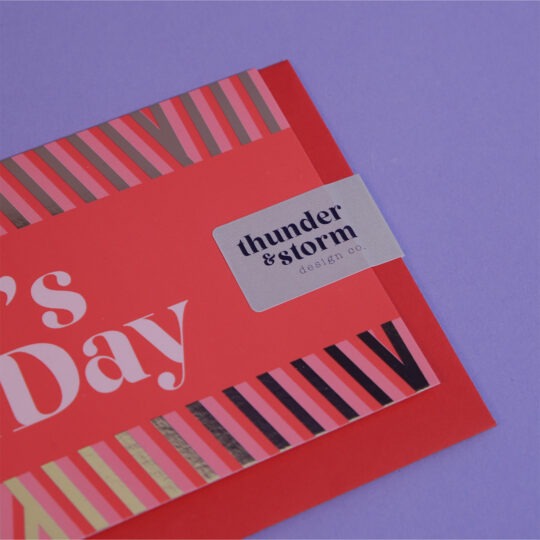 How to create your Card Catch Stickers
Lucky for you, this is one of the simplest products to design, upload and order. Available in two different materials and two sizes, you just need to consider your design and required quantity.
Here's a quick run down of the most important product details:
Size: 25mm x 76mm or 25mm x 51mm
Price: From £12.50 (for a sheet of 70 or 42 Stickers)
Material: Removable White Gloss or White Uncoated
Orientation: Single-sided landscape
Turnaround: 48hrs (delivery received on the 3rd day)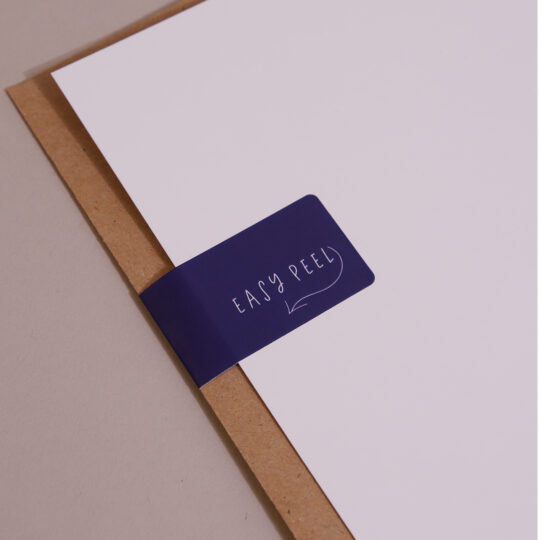 Card Catch Sticker tips
Once you've opted for our new alternative to single-use plastic, you'll need to consider the paper stock of your Greeting Cards and Envelopes. We don't recommend Card Catch Stickers for use on textured papers or Envelopes. Just like most Stickers, these removable versions adhere best to smooth surfaces including:
Greeting Card Stocks: TruCard, Silk, Uncoated, Recycled Silk and Recycled Uncoated.
Envelope Stocks: White, Recycled, Kraft, Silver, Gold and Red.
If you can't decide which paper stock to opt for, one of our free Sample Packs can help you make up your mind.
When it comes to designing your Card Catch Sticker, we also recommend avoiding thin borders around the edge of your design. As these Stickers have slightly rounded corners, it's best to avoid putting any important elements of your design there so they don't get chopped off!
Card Catch Stickers are wrapped around both the front and the back of your Greeting Card, so bear this in mind when designing yours. Make sure to stay clear of any awkward name or pricing cut-offs! And if in doubt, check out our downloadable template right here.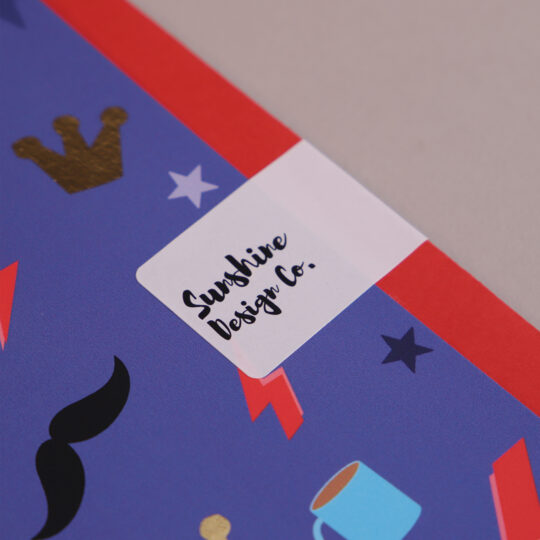 Finally, please bear in mind that the glue on the Stickers can be affected by conditions such as heat, light and the amount of time they're left on your cards. We recommend applying the Stickers right before sending them to your lucky stockists or customers, and if you're testing them out, sample them on 1 or 2 cards (not your full collection!).
So, now you've had the 101 on Card Catch Stickers. Don't let your Greeting Cards go naked. Discover this exciting new product today.