Win a Top Drawer exhibition space plus a £1,000 print package! – Creative Springboard 2021
COMPETITION NOW CLOSED
Are you looking to take your stationery and print business to the next level? And have you always wanted to exhibit at Top Drawer? Then listen up!
We're giving three talented designers and artists the chance to win the ultimate small business prize package – including:
A sponsored spot to exhibit at Top Drawer this September
£1,000 towards your print for the show, including lookbooks and new product samples
Valuable marketing, sales and PR support to help you secure new stockists
So here's the deal…
We're on a mission to help small businesses like yours thrive and grow (especially after the events of the last year!). That's why we're giving you the chance to do just that. So if you're an ambitious, UK-based business, this could be the perfect fit for you.
Interested? Our entry specifications require that:
You design and sell your own unique artwork as stationery or printed products (you'll need to have at least eight designs for the exhibition)
You print your designs with Printed.com and have been a customer of ours for at least 3 months
You have never exhibited at Top Drawer or any other major UK based trade exhibition before
Still interested? (We thought you might be). Keep scrolling!
Our awesome prize package includes:
A sponsored spot to exhibit alongside Printed.com at Top Drawer in the Stationery and Greeting Cards area
Exhibition stand build and pack down support
An exhibition printing package worth £1,000
'PR Starter' membership with our friends at PR Dispatch
Exhibition and wholesale mentorship from designer Lorna Syson
Marketing support from Printed.com experts on how to leverage exposure from the exhibition
Entry categories
At Printed.com, we've always been proud to put small businesses and creatives at our core. We've also witnessed first hand the challenges that have been thrown at the creative sector over the last year.
For this reason, applications and overall winners will be split into two categories:
Category one: 'Spotlight' Applicants
One prize winner will be selected from our 'Spotlight' entries. They will be selected from 10 shortlisters, who will be put to a public vote and whittled down to 4 finalists. The overall winner will then be chosen via our internal judging panel at the end of June.
To qualify as a 'Spotlight' level business you will have been running your business for over 12 months
Category two: 'Rising Star' Applicants
Two prize winners will be independently chosen from our 'Rising Star' applications. These winners will be selected by our internal judging panel only at the end of June, without being put into the public vote.
To qualify as a 'rising star' level business you will have been running your business for less than 12 months.
The above application categories are in place to ensure that every business, no matter the size, has a chance at winning the grand prize to exhibit at Top Drawer 2021. We want to acknowledge businesses of all types and hope that this encourages you to enter, no matter where you are on your journey.
*Please note that all businesses entering the competition must be registered with Printed.com at the time of launch. No newly registered businesses after this date will be eligible to enter the competition.
About Top Drawer
Top Drawer is the UK's leading design-led trade show, carefully curated with buyers in mind. Each year they welcome a community of creative buyers through the doors of Olympia London ready to source for the season ahead. It is the perfect platform for UK lifestyle brands to showcase to the most successful creative retailers and contracted buyers from across the UK and beyond. It's an opportunity you really don't want to miss out on!
This year, the event will be running between Sunday 12th and Tuesday 14th September, so make sure to check you're available before submitting your entry to the competition.
How to enter
If this sounds like the opportunity for you, then all you need to do is fill in our online application form. This details a few basic questions about your business and also gives you the opportunity to upload some examples of your creative work to really show us what you can do.
The competition dates are as follows:
24th May: Entries open!
14th June: Competition closes (at midnight)
16th June: Ten Spotlight applicants shortlist announced
17th – 24th June: Public voting period for Spotlight shortlisters
25th June: 4 Spotlight finalists announced
30th June: 1 Spotlight winner and 2 Rising Star winners revealed by our judging panel
Please ensure that you complete and submit your application before midnight 14th June to make sure that your entry is counted.
All winners will be contacted via email to arrange the organisation of their prize once the competition has come to a close. How exciting is that?!
The Judging Panel
If your business is lucky enough to make it through to the final voting round, our 4 carefully selected judges will be making the final decision on who will be joining us at Top Drawer this year. Let's meet them!
No stranger to the world of print is our Founder, Nick Green. Nick has been involved in the print and marketing industry since 2002. His main aim has been to always to make print available to everyone, and encompass a huge range of products across a wide variety of stocks – all at a good price. And it's a mantra he's followed ever since.
Nick is excited to meet the Creative Springboard winners at Top Drawer in September, having really missed the 'face to face' element of working with valued Printed.com customers.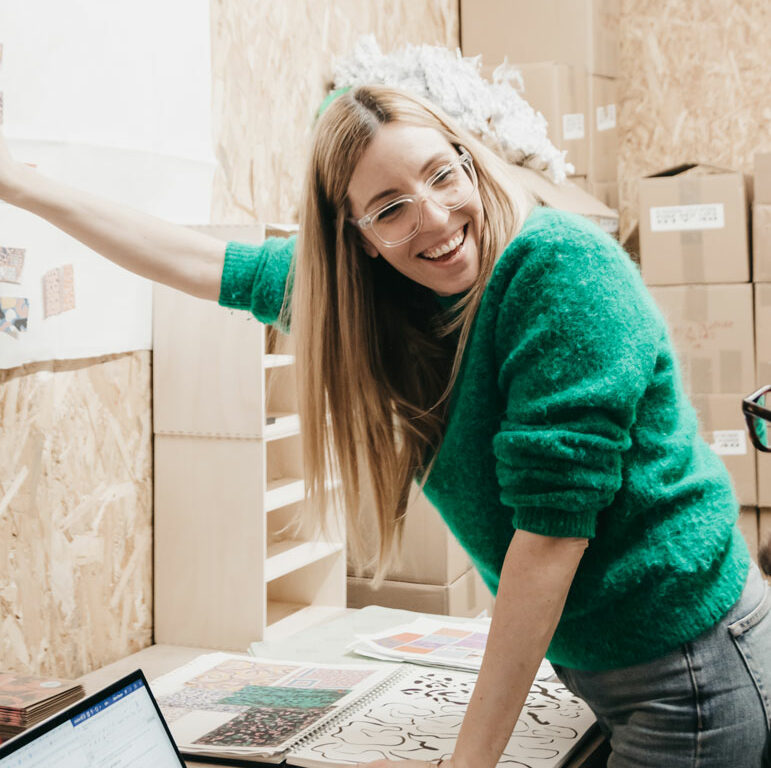 Meet judge number two! Specialising in bold, bright designs and tongue in cheek messages, The Completist launched back in 2017. Jana (the brains behind the business) was one of the first winners of our Top Drawer competition back in 2018, so we're very excited to have her back as a judge in 2021.
Since launch, the business has grown rapidly and now has an enviable list of stockists across the world, including Selfridges, Papersmiths and the Museum of Contemporary Art in Chicago. Jana can't wait to see your artwork submissions this year and will be a great mentor for our winners.
Up next on our panel is the ever-talented Veronica Dearly. Based just outside West London, Veronica runs a design studio dedicated to spreading happiness and developing an antidote to stuffiness.
Veronica is a light-hearted designer who believes in pouring personality and quirkiness into everything she creates. With a fine art background, Veronica has all the skills necessary to create beautiful design, whether it be Wedding Invitations, Greeting Cards or Business Stationery. As a returning judge from our Top Drawer competition in 2018, she is the ideal person to help us choose our worthy winners this year.
Last but not least – meet Lorna Syson! Lorna started her business as a pattern designer for interiors in 2009 with help from the Princes Trust and moved into stationery in 2014. Over the last 12 years in business Lorna has attended over 30 trade shows in the UK, Europe and North America selling to independent shops and multipuls internationally. She has won a number of awards with her interiors business and has been a finalist in the Henries 'Best Gift Wrap' in 2019 and shortlisted in the 'Exciting use of Colour' in the Paper Awards.
Lorna has been a mentor to a number of exciting new businesses over the last few years and is passionate about sharing knowledge and helping independent British business thrive. She can't wait to work with our winners to help them grow their own brands in 2021 and beyond!
Terms and Conditions
We know it's a little boring, but please give our full terms and conditions a read before you submit your application:
The closing date for your entry submission for our Creative Springboard Competition is midnight on 14th June 2021. After this date no further entries will be accepted for judging.
All entries must be submitted via our online application form. We are unable to accept entries via email.
To be eligible to enter you must be located in the UK and be a customer of Printed.com for a minimum of 3 months with at least 1 order placed.
All businesses must be registered with Printed.com at the time of launch (24th May). No new registered businesses after this date will be eligible to enter the competition.
As a business you must be selling printed goods. Additionally, you will have a minimum of 8 stationery and/or printed products available to showcase at Top Drawer 2021. This will also be your first time exhibiting at Top Drawer. You cannot have exhibited at Top Drawer or any other major UK based trade exhibition before.
A collection of at least 5 designs of stationery and/or printed products for sale such as Greeting Cards, Invitations, Art Prints etc. need to be submitted with your application in JPEG format. This does not include clothing, accessories, jewellery and homewares.
One entry is permitted per company. Anyone trying to circumvent this rule by using alternative details will be disqualified from this promotion. A full name is mandatory with all competition entries.
Open to 18+ and UK and Ireland based entries only.
All entries agree to the use of his/her name and artwork and associated business contact information in any publicity material. Any personal data relating to the winner or any other entrants will not be disclosed to any third parties.
For 'Spotlight' applicants, the top 10 entries as picked by the Printed.com team will be shortlisted.
From the shortlist of 10, 4 finalists will be chosen by public votes.
From the 4 finalists, one winner will be chosen by our panel of industry experts.
The two 'Rising Star' winners will be selected at the same time as the 'Spotlight' winner
All shortlisted entrants will be contacted in advance of the finalist vote (25th June 2021) to notify them of their shortlist status.
All finalist entrants will be contacted in advance of the winner's vote (30th June 2021) to notify them of their finalist status.
Voting for the finalists will be open from 17th June 2021 and close on midnight 24th June 2021.
All three winners will be notified via email on 29th June 2021 and will be announced on 30th June 2021. If the winner cannot be contacted or does not claim the prize within 28 days of notification, we reserve the right to withdraw the prize from the winner and pick a replacement.
Printed.com's decision is final regarding the choice of winners.
The winning entrants will be sponsored by Printed.com to exhibit at Top Drawer 2021 with them in the Stationery and Greetings area
The prize also includes exhibition and wholesale mentorship, PR membership, £1,000 of exhibition print, and marketing support/consultation from our Printed.com experts
The prize of £1,000 of exhibition print is to be used towards full price, non-discounted print for use at the exhibition only. This is not redeemable against any other purchase and can only be used at Printed.com.
No cash alternative to the prizes will be offered. The prizes are not transferable. We reserve the right to substitute any prize with another of equivalent value without notice.
We reserve the right to verify all entries including but not limited to asking for address and identity details (which must be provided within 14 days) and to refuse to award a prize or withdraw prize entitlement and/or refuse further participation in the promotion or disqualify any individual who tampers with the entry process or otherwise where a participant has gained unfair advantage in participating in the promotion or won using fraudulent means.
Printed.com shall not be liable for any failure to comply with our obligations where the failure is caused by something outside our reasonable control. Such circumstances include, but not be limited to, weather conditions, fire, flood, hurricane, strike, industrial dispute, war, hostilities, political unrest, riots, civil commotion, inevitable accidents, supervening legislation or any other circumstances amounting to force majeure.
Any question concerning the legal interpretation of the rules will be based on English law and the Courts of England and Wales will have exclusive jurisdiction.
If any of these clauses should be determined to be illegal, invalid or otherwise unenforceable then it shall be severed and deleted from these terms and conditions and the remaining clauses shall survive and remain in full force and effect.
Any entrant submitting an entry into this competition promises to us that;

they or a member of their organisation are agreeing to be present at Top Drawer 2021 for the duration of the event (Sunday 12th – Tuesday 14th September) including set up (a day before) and pack down. Should they be unable to attend you need to provide Printed.com at minimum of 2 weeks' notice of your withdrawal.
they own and have created the designs. or have rights to the submitted designs (on behalf of the designer) and that it does not infringe the intellectual property rights of a third party; Designs submitted cannot be licensed or the intellectual property of a third party.
the submitted design is not false, inaccurate, misleading, fraudulent, unlawful or defamatory.
in good faith, by being sponsored by Printed.com to exhibit at Top Drawer 2021 you agreed to have the orders filled at the exhibition printed by Printed.com.
Printed.com are not responsible for any travel and/or accommodation requirements.
Printed.com reserve the right to amend or alter the winning designs if necessary.
This competition is not endorsed or administered by or associated with Facebook, Twitter or Instagram. You are providing your information to Printed.com and not to any other party. The promoter is Printed.com, whose registered office is Threeways House, 40-44 Clipstone Street, London, W1W 5DW.
This competition is not in association with Clarion Events or Top Drawer 2021.
The promoter reserves the right to cancel or amend the competition and these terms and conditions without notice. Any changes to the competition will be notified to entrants as soon as possible by the promoter.
Employees of Printed.com or their family members or anyone else connected in any way with the competition shall not be permitted to enter the competition.
And that's it! Ready to submit your entry? If you need a helping hand or require any further info you can get in touch with us at topdrawer@printed.com. If you have any questions about the event itself, you can get in touch with the Top Drawer team directly here.
Good luck!