Talking catalogues with Rebecca J Mills Design – #InspirationPrinted
We're back with another #InspirationPrinted! And this time, it's all about multi-page marvels. We recently caught up with Rebecca of Rebecca J Mills Design after her vibrant catalogue came through our press and caught our eye (see our video below for a sneak peek!).
We figured, what better opportunity to get to know her better? Read on for a dose of creative inspiration for your small business.
Hi Rebecca! Firstly, can you tell us a bit about yourself and your small business?
I'm a print designer specialising in creating contemporary prints, that I use in homewares, fashion and gifts. I launched my online business in 2018 and I've been going for 2 years now.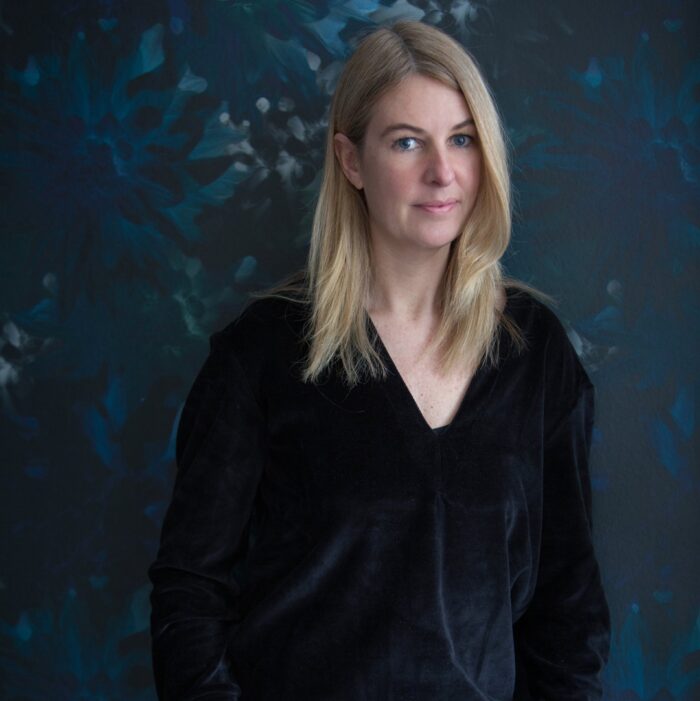 I have a background in fashion and home: from buying to product development and also licensing. While working I retrained to become a print designer, which was always my dream. When I felt ready, I took the leap and left my job. I found this quite a difficult step to take after being in the corporate world for nearly 20 years!
I started with my homewares collection and launched this at Top Drawer in January 2019. Since then, I've also developed a gifting collection and, more recently, a fashion collection. My passions are prints and product development- I love pulling the two together as there are endless possibilities.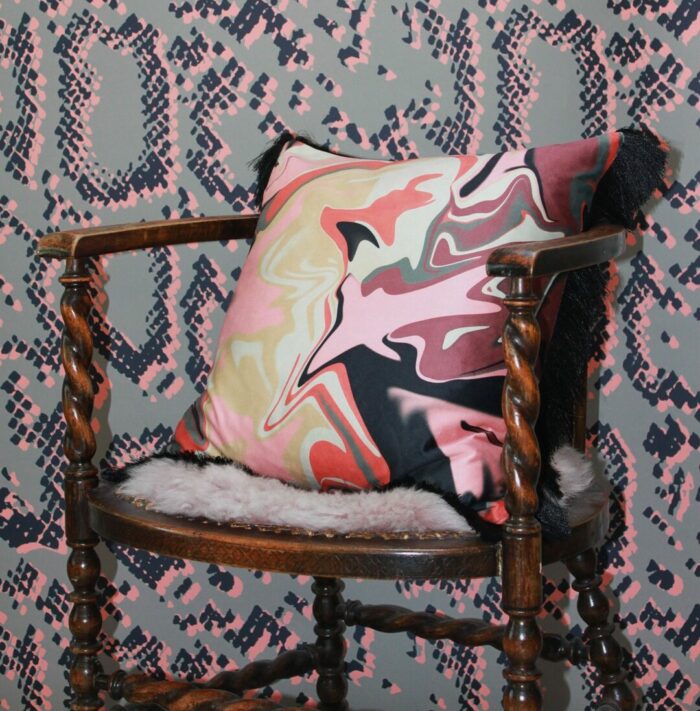 Over the past two years, I've grown an amazing network of makers and creators and they are a big part of my inspiration. I now share a shop in Teddington with Floral Designer Cassandra Flowers and Pattern Cutter The Pattern Mistress. It's a brilliant way to connect with customers and understand their requirements.
Your latest catalogues give us a real insight into your creative flair! How did you go about creating these?
Firstly, I pulled all my existing photography together, particularly of my homewares collection, but I then had to plan two photoshoots to showcase my fashion collections. I worked with an amazing photographer, Rebecca Brooker Photography, who adapted the shoots to the restrictions at the time. Instead of the planned indoor luxe shoot, we took it outside to enable social distancing.
I'm so pleased with the results. They feel so fresh and different!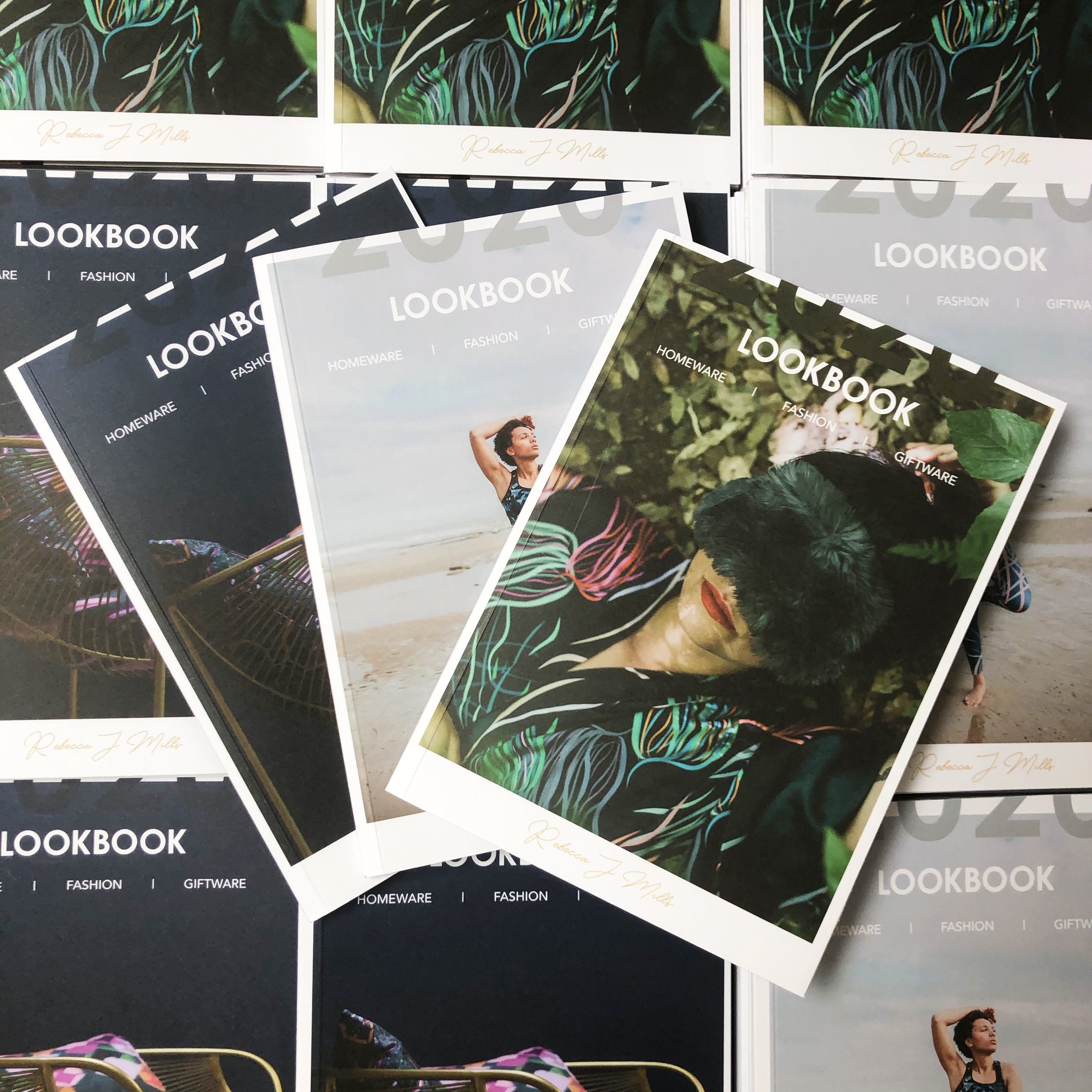 I was aiming to compile the catalogue myself, but after putting it off for so long a good colleague My Story Marketing put me in touch with Graphic Designer Joe Ward. I already had a good idea of the look and feel I wanted to create so he worked on bringing it all to life in a great way. I'd worked with Printed.com previously on my old look book and Christmas cards, and I knew how good the service would be.
It took me a little while to work out what type of Brochure I wanted while still keeping it all cost effective. I contacted the Printed.com team beforehand, to run through the spec and the print files and they were brilliant at getting back to me. The turnaround time from sending my artwork to the finished catalogues arriving was only a few days. I was over the moon when I opened the box!
How important is this catalogue for your business right now?
We all know business is challenging and brands both big and small are trying to find their way at the moment. This catalogue enables me to showcase my collections to both retailers and customers and to also use for PR.
Even though a lot of marketing is digital right now, I think it's still really important to have something physical you can send out to customers. It's something they can keep and refer to it over time, even if they're not ready to buy straight away. People are much more likely to remember you from a something they can touch rather than an email attachment.
What tips can you offer to other online retailers looking to refresh their own catalogue?
I'd say it's absolutely worth creating a catalogue or brochure at this time. You need to be able to stand out from the crowd and to showcase your brand so people really understand what you're all about, now more than ever. There are cost-effective ways of doing it and Printed.com definitely offer some fantastic options.
How did you keep busy during lockdown?
Lockdown was such a busy period for me. I managed to update my website thanks to the brilliant web designer Yas Designs, and plan for the two photoshoots I spoke about.
I decided it was a good time to work with a coach to really focus on both my personal and business challenges. This was hard, but absolutely brilliant. Plus, once things had settled a little and people wanted to start doing up their homes, my online business started to pick up. Processing and fulfilling orders then took up quite a chunk of time!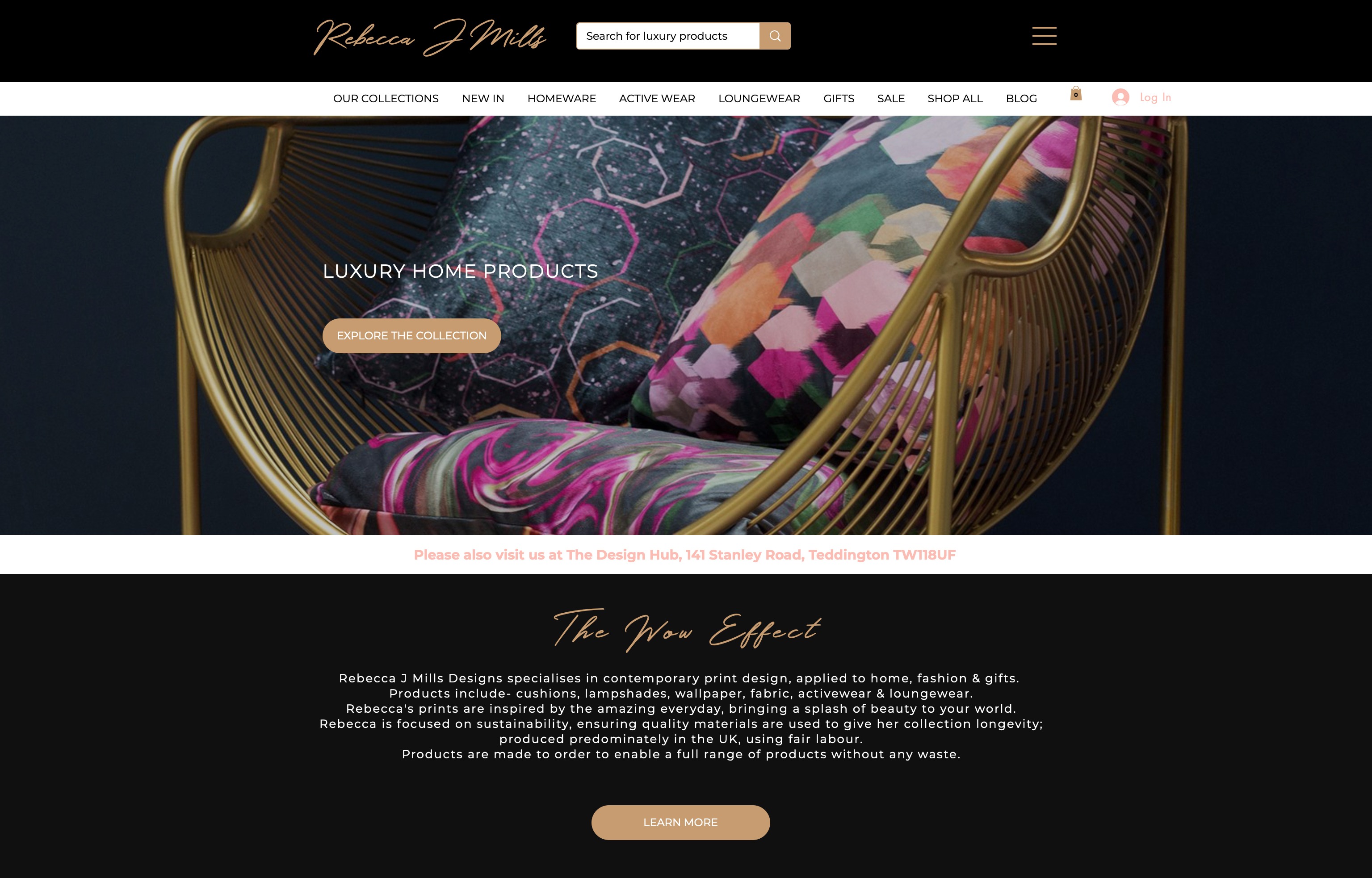 What's more, I was also juggling work with homeschooling. I've definitely learnt that teaching is not my forte…
How did you come across Printed.com?
I came across Printed.com in a google search initially, when I was prepping for Top Drawer and I wanted to create my first look book. I remember it being such a quick and easy process for someone like me who was just starting out. For my second photoshoot, I used some foam boards with my prints on them as backdrops, which I still use now. I've also printed Christmas Cards with them and am currently thinking about a Folded Leaflet that I could add in with my online orders.
Tell us more about the sustainability credentials behind your range!
I've always been aware of sustainability in my personal life, but since starting my business, it's opened my eyes to how much damage can be created on a larger scale. I now recognise that all businesses have a responsibility to address this fast.
I have two daughters who are extremely eco-conscious, so they keep me in check and have really inspired me to make changes. I've taken a lot of steps to reduce waste, by ensuring that offcuts are used for other products and not thrown away.
I've carefully selected my makers and suppliers on their sustainability credentials. 95% of my collection is produced in the UK, most very locally, not only to minimise my carbon footprint but also to use fair labour. I've looked closely into packaging options and as I use up what I've got. I'm also switching to environmentally friendly versions. Most of my products are made to order, which also helps prevent any waste.
It's important to me to create products that last. When I'm creating new prints, I think about how they will coordinate and clash with what's existing. I want my customers to be able to build on their collections, not replace what they have and give each purchase longevity- whether that's a cushion or a kimono.
Your designs are 'inspired by the everyday'- how do you see this changing in a post-Covid world?
That's a really interesting question. Although these are stressful times, I've been surprised at how creative I've felt. I have many ideas for new prints, some very colourful and expressive and others that are very calming and neutral. We're all on a rollercoaster of emotions and perhaps this is why I feel two extremes are flowing- I just need to think about how to bring them together!
At first I was very against making Face Masks. I didn't feel it was right for my brand and I didn't want to be seen as capitalising on a pandemic. However, as our shop has now reopened we've decided to launch some! There will be a cotton and silk mix version in selected prints, with any profits donated to a good cause.
Finally – how can people shop from you or find out more?
My online store is right here! I'm also stocked in Wolf and Badger, Not on The High Street and some selected small independents shops.
Instagram: https://www.instagram.com/rebeccajmillsdesigns/
Pinterest: https://www.pinterest.co.uk/rjmdesigns/_created/
If you'd prefer to see my products in person, my shop is in Teddington at 141 Stanley Rd, TW11 8UF, and is open Tuesday-Saturday 10 am- 5 pm. Come and say hello!
If you've been inspired by Rebecca's catalogue design and want to create your own, make sure to check out our handy guide for which bound brochure is right for you.
Explore Brochure printing options