#ProudlyPrinted: The Lockdown Edition
Welcome to the Lockdown Edition of #ProudlyPrinted.
It's been a weird few weeks, but that hasn't stopped productivity levels from our customers. We've loved seeing your lockdown-inspired designs pop up on our feed – so here is a #ProudlyPrinted round up dedicated to your amazing efforts to inspire positivity.
Sarah Nolloth
With apps like Zoom and House Party taking over as digital communication channels, we're talking to our friends and family more than ever! Sarah Nolloth has cottoned on to this trend with this fab Greeting Card design. Have you had a lockdown party yet?
Drawn by Emma Designs
Due to social distancing measures, we've all had to put in that extra bit of effort to keep in touch over the past few weeks. This thoughtful Greeting Card design by Drawn by Emma Designs is all the distant love we need right now. Sending it right back Emma!
Flo Cadd
We wish Flo Cadd was our neighbour so we could own one of these lovely Postcard designs. There is something so special about receiving a letter in the post, especially during lockdown. Bravo Flo. (And bravo to our Postmen too!).
Rodo Creative
The rainbow has truly become a symbol of hope and strength during Covid-19. This Greeting Card design by Rodo Creative just says what we're all feeling right now. Who is at the top of your cuddle list?
Ellie Hooi Illustration
It's no lie that we all got pretty emotional when the Queen recently addressed the nation during lockdown. And just when we'd pulled ourselves together, illustrator Ellie Hooi released this "We will meet again" Greeting Card design, complete with Mouse Queen. We're not crying, YOU'RE crying!
Abbi Udell
What could cheer us up right now more than root vegetables? Not much, that's for sure. This veggie-inspired Greeting Card by Abbi Udell has provided the perfect pun to bring us out of our lockdown slump.
AV Typography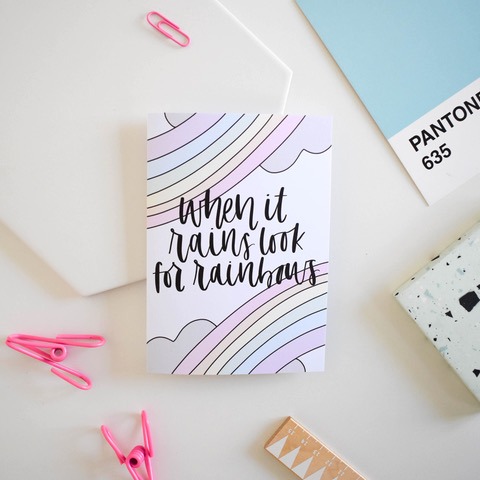 Rain = rainbows. It is one of the few positives we can take from the unpredictable British weather! This pastel-perfect Greeting Card masterpiece by AV Typography reminds us that the storm will pass eventually.
Dippy Fish Cards
It can be difficult to find humour during tough times, but luckily Dippy Fish Cards has got the tone just right with her new range of lockdown-inspired Greeting Cards. A perfect selection of designs to cheer up friends and family during Covid-19.
Aim Studio Co.
Last but not least we have Aim Studio Co, who has created a range of uplifting prints that can be downloaded via her Etsy page. Whether you choose to frame them, pin them up or use as notecards to send a friend, Mia hopes that these can spread a little cheer. She also recently donated a beautiful Sticker design as a free downloable template which you can find here.
Remember, if you'd like to featured on our feed, just tag us at @printed.com and use the hashtag #ProudlyPrinted so we can see you!
While you're here, why not check out some other #ProudlyPrinted creations like our Positivity and Big Wedding edition?
With COVID-19 having a knock-on effect for us and many of our customers, we've pulled together a list of our resources and guides to help you through these difficult times.
Looking for Health and Safety essentials for your business? From Countertop Guards and Vinyl Floor Stickers to Face Masks, our comprehensive selection of display products include free downloadable artwork, plus a 20% discount for charities, educators and Key Workers. Explore the full range today!