With COVID-19 having a knock-on effect for us and many of our customers, we've pulled together a list of our resources and guides to help you through these difficult times.
Company updates
We're still open and printing, but we've adjusted the way that we work to better align with new government legislation and are ready to adapt to any other suggestions made by health officials. You can find out all about any COVID-19 company updates here.
Health and Safety essentials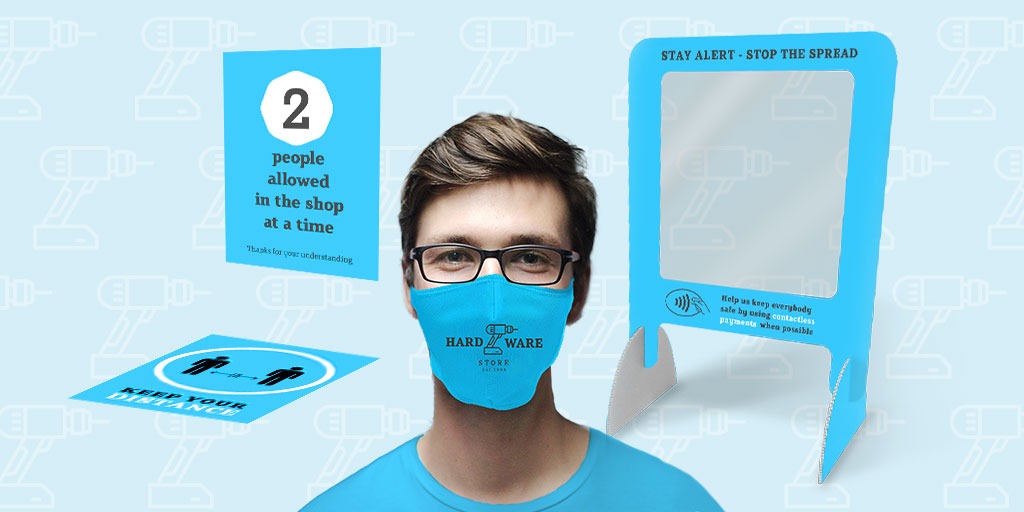 Looking for Health and Safety essentials for your business? From Countertop Guards and Vinyl Floor Stickers to Face Masks with free patterns available, our comprehensive selection of display products include free downloadable artwork, plus a 20% discount for charities, educators and Key Workers. Explore the full range today!
Shop our Health and Safety essentials
50% off wedding reprints
If you or a client has unfortunately had to reschedule the Big Day due to COVID-19, we're here to help. Just send an email to theteam@printed.com and we'll sort 50% off any wedding reprints.
15% discount for education and charity customers
During these times, we know just how hard charities and educational facilities are having to work to help the people and students around them. That's why we have our charity and educational discounts that give you 15% off all orders for life.
Plus, as a registered charity or education organisation, Printed.com customers can donate their Printed Points to you! They just have to head to My Account, Rewards and then choose the Donations section of the page!
Back to work advice
As the UK continues to ease lockdown restrictions, many businesses are continuing to adapt the way that they function. While the future remains uncertain, there are a number of Health and Safety considerations that everyone should take. We've pulled together our top health and safety tips for returning to work safely.
Adapting your business
With everyone having to adapt during COVID-19, we've also put together some of our best tips and advice for your business in these ever-changing circumstances. We've also sourced some great advice on the best ways to work from home too!
We will keep you updated on the situation across all our communication channels. If you would like more detailed information on the wider situation regarding COVID-19, please visit the government website.
We appreciate your patience and understanding while we manage this complex situation, and thank you for your continued support as a customer.