#ProudlyPrinted- The Big Wedding Edition
Welcome to the Big Wedding edition of #ProudlyPrinted.
As you may have noticed, we love to talk about all things wedding.
From our huge range of print covering everything from Invitations to Thank You Cards, to our Wedding Print Boutique that's chocked full of all the inspiration you could possibly need… we're here to help you find the perfect match. And with wedding season looming ever closer, we've been seeing more romantic designs than you can shake a bouquet at.
Since it's once again time to highlight some of our favourite customer creations, this month, we decided to take a closer look at all things big and beautiful. From Table Plans to Signs and Welcome Boards, there were all kinds of Large Format wedding print that blew us away- so let's take a closer look at some of our favourites!
Want to be in with a chance of winning £100 of Printed Points? Tag us on social using #ProudlyPrinted!
London Row Studio
To kick things off, we've got this beautiful Wedding Table Plan from the fantastic Rowena of London Row Studio. Created for her very own wedding, this tropical design is both minimal and modern and perfectly matches the outdoor flavour of the rest of her wedding print.
The tables take inspiration from the couple's life, all named after walks they took together. It's a great example of how to inject something fun and personal into your wedding print.
PS Weddings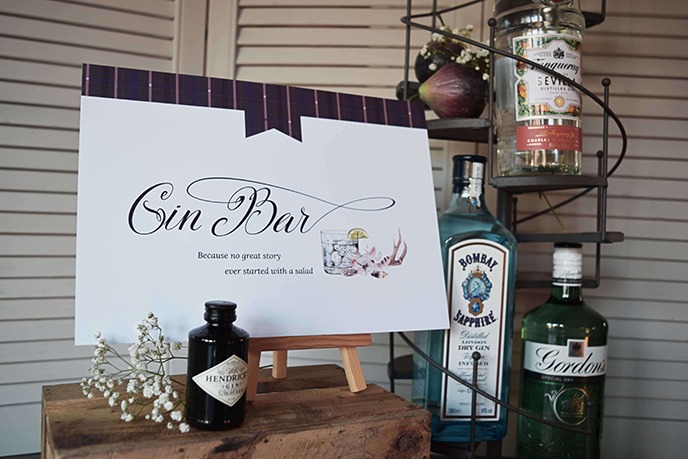 For a party that loves a tipple, you can't go wrong with a Sign pointing towards the booze. We're in love with this Welcome Sign crafted by the ever-lovely Paula of PS Weddings– and not just because of our fondness for gin. Printed on sturdy Foamcore, this design sure to weather whatever craziness the guests could throw its way.
Simple and fun, the looping typography and standout graphic show how minimal designs can sometimes make the most impact.
KM Stationery and Design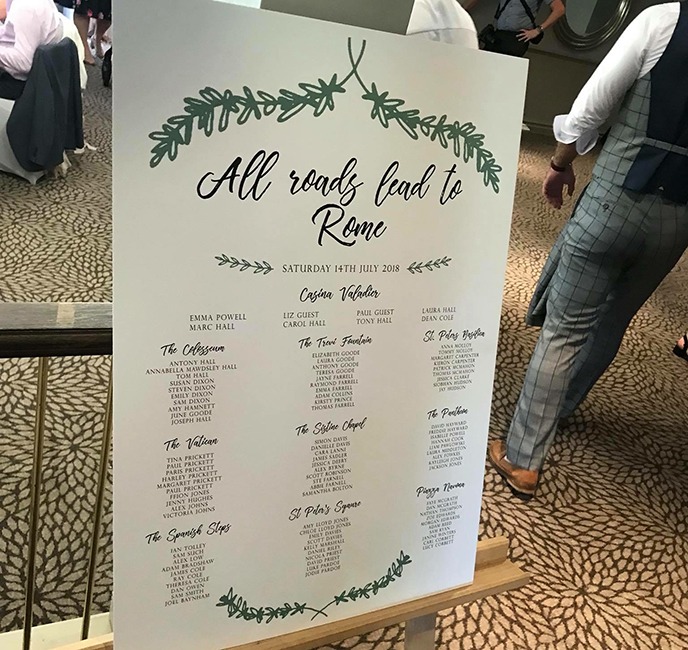 Who needs a destination wedding when your wedding print can take you there? Designed by Kirsty of KM Stationery and Design, the simple laurel wreath detailing perfectly complements the table names- all beloved places in Rome.
Personally, we'd love to have a seat in the Trevi Fountain while tucking into the wedding cake.
The Design Hut
Who says flowers are just for the bouquet? We can't get enough of the beautiful floral border around this wintery Welcome Board- great for injecting some rich colour into a festive ceremony. Created by amazingly talented Scarlett of The Design Hut, this striking design matched perfectly with the couple's Invitations and Booklets. The cherry on top of what was already an amazing wedding collection.
Tribal Ape Designs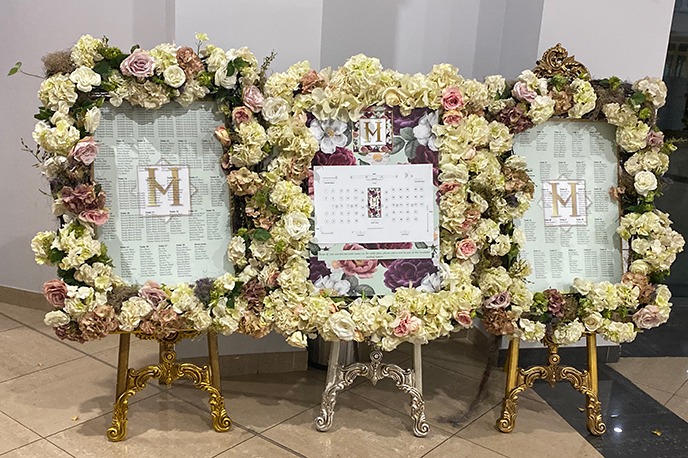 Rounding things off, we've got this stunning series of Table Plans by Tribal Ape Designs. With a lot of tables to list, good use of space was crucial so guests could find where they were seated. The soft green background compliments the floral design perfectly- plus we're loving the thick border of roses around each plan. Coupled with the gold and silver stands it certainly creates a standout sight!
If you'd like to get up close and personal with our full collection for the Big Day, make sure to order a free Sample Pack or explore the rest of our wedding print.
EXPLORE WEDDING PRINT BOUTIQUE
We hope you enjoyed #ProudlyPrinted- the Big Wedding Edition
Remember, if you'd like to featured on our feed, just tag us at @printed.com and use the hashtag #ProudlyPrinted so we can see you!
While you're here, why not check out some other #ProudlyPrinted creations like our Save The Date and Foil editions?