Thank you very much- making your printed packaging stand out
Want to improve your packaging? You've come to the right place!
How much thought do you put in your brand's packaging? With online shopping only getting more popular, oftentimes we wake up to more than a few parcels and packages littering our doorsteps. What are you doing to make your orders stand out?
A good packing strategy can sometimes be the difference between a one-time deal and a repeat customer, or the small difference that leads to a bigger order next time! From adding a few extra decorations to your boxes to adding a personalised note or offer inside, there are plenty of simple things you can do to add a bit of charm to your postal orders and give your customer's that little extra 'wow' when they receive them.
Don't know where to start? Read on to find out.
Thank You Cards
When was the last time you sent a Thank You Card to anyone? And we don't just mean a quick note to your Grandma for the jumper you got at Christmas.
Including a Thank You Card in your packaging is a real tangible way to show that you value your customers. It's a simple act, but a great way to stand out from a sea of faceless businesses by adding a little personal touch to your marketing.
With a huge range of papers and special finishes to choose from, there are a plethora of ways you can make sure your gratitude really shines.
Add deals inside your packaging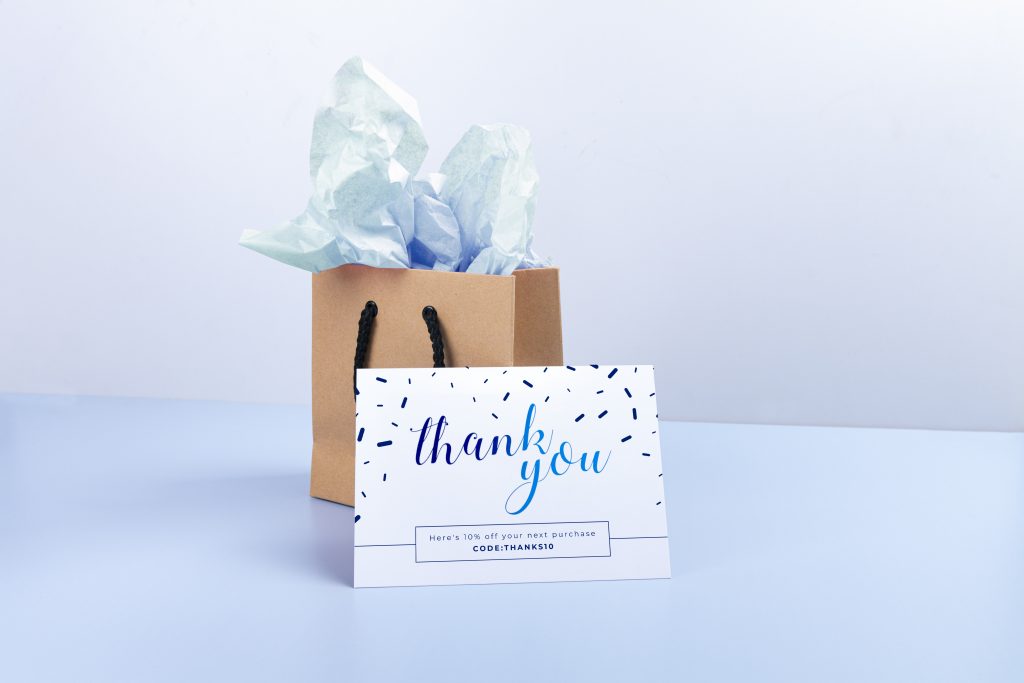 In an age where we all have the internet in the palm of our hands, it's all too easy for your customers to come across your competitors. If you want to keep them in your playing field, then you need to show them exactly why they should keep choosing you.
One way to give a little thanks, is to offer some exclusive deals. For new customers, giving them a one-time offer for their next purchase is a great incentive for them to come back. You can print it out on a Leaflet or Flyer and tuck it securely in your packaging so they can see it easily.
If you already have a pool of high-value repeat customers, then think about how to keep them that way. You could post exclusive early access deals or special discounts so you can highlight how valuable they are to your business.
Get creative with decorations
Once your products are packaged, you can always add a little extra by putting on some decorations. Sticking a Foiled Sticker to a Letter or Package is a great way to add a little sparkle to your post. If the contents of the order are romantic or you're just feeling sweet, why not add a Heart-Shaped Sticker instead?
And if you're sending Envelopes, why not add a Liner with your own design to add a little surprise when they're opened!
Retargeting with your Packaging
Just because someone hasn't ordered from you in a while doesn't mean they're a lost cause!
Whether it's a note, a new deal or just a quick hello, make sure to let your old customers know that you're still thinking about them with some postal marketing. If it's been a while, make sure to update them on what's changed since they last shopped. Don't forget to highlight all the new products/services you have available! If they've left products in their basket, make sure to remind them! Sometimes a little nudge is all someone needs.
If you really want to make an impact, why not send a Leaflet or Flyer? Perfect if you want to stick in their mind a little longer.
Plug your other channels!
You can add extra information about you and your business inside your packages as well. This can include: a brief history of the company, a small catalogue of other products or just a printed reminder to tag and follow you on social media.
Don't forget to add a Business Card too! Small but mighty, they tend to stick around so are a great way of keeping your business front-of-mind. Make sure to check out our other article on how to make a Business Card that stands out here.
Ready to get packaging?
Here at Printed.com, we're committed to reducing our impact on the environment. From innovative packaging and sourcing carbon-neutral and eco-friendly papers to minimising and recycling our waste, we're dedicated to doing good for our planet.
Find out about our greener pledge