Christmas print for 2022: Discover our Christmas Store
Hear that? The sound of jingle bells ringing ever so faintly in the distance? Yep, it's official. Christmas is coming and that means it's time to get Christmas print ready…
It's a great feeling to be super organised ahead of time, and we're here to help you get everything ready way before Santa even sets off.
Whether you're running a seasonal sale, are looking for ways to spice up your packaging or are just ready to get the festive feels, read on for our essential Christmas print product checklist.
Christmas Card printing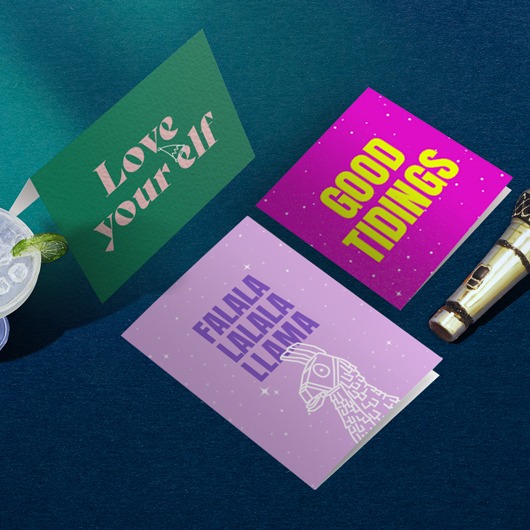 Nothing beats the simplicity of receiving something handwritten in the post. Show your friends, family or clients that you're thinking of them with your own creative Christmas Cards.
Whether you want to make them shine like a Christmas Tree with our five shimmering Foils, offer a luxury experience with textured paper, or send your own smiling selfie, there are almost infinite ways to add a little extra to your festive post. If you need helping setting up your artwork, check out our handy guide here.
Wrapping Paper
Printing your favourite designs onto Wrapping Paper is a great way to add a creative spin to your gifts this year. You could incorporate your company logo for corporate gifting or add seasonal themed packaging to your online orders. You might even decide to add a gift-wrapping service to your offering! The possibilities are endless.
If you're looking to be more eco-conscious, you might opt for our range of Recycled Wrapping Paper. However, if you find yourself with paper that can't be recycled, don't fret! From creating unique Art Prints to shredding leftovers to use as gift bag filler, there are so many creative ways to keep your paper away from landfill. Check out our Wrapping Paper recycling guide here.
Create your 2023 Calendar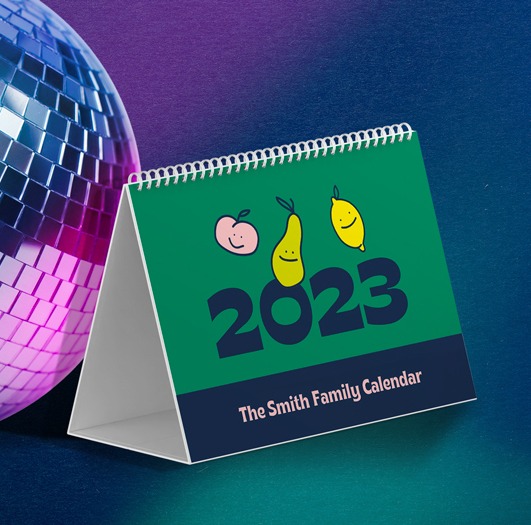 A printed Calendar is the perfect accompaniment to the rest of your Christmas print. Whether it's for corporate gifting, presents for friends and family or for resale, it's time to get yours printed.
Calendars are an easy way to keep your brand front-of-mind all year long, and we've got more printing options than you can shake a tinsel covered stick at. From Desktop Calendars to wall hanging options, gather your twelve best designs or photographs and see how creative you can get. You might even choose to add a unique foiled cover with our Bespoke Service.
Stick on the joy with Stickers
When it comes to the festive season, the humble Sticker is one of the most versatile pieces of Christmas print around.
When sending your Christmas Cards and gifts, sealing your Envelopes and packages with a branded Sticker or Label will really make them look the part.
Round, Square and Rectangular Stickers are all great choices for product labels or for pricing seasonal items, with larger A-Size Stickers perfect for promotions and packaging with their strong adhesive backing. And if you're looking for something extra chic, a Foil Sticker lets the quality of your items speak for themselves.
Finish with a Gift Tag
Need a sale label? A mini promo? Want to create a Christmas discount voucher? There's so much more you can do with Gift Tags than first meets the eye.
First things first, a Gift Tag is a great final touch to your Christmas print. If you're more of a brown paper and string type of person when it comes to wrapping, a thick Kraft tag will tie your rustic aesthetic up nicely. Maybe you can't get enough glits and sparkle for your gifts. If that's the case, a shimmering paper like Ice Gold or a Foiled Tag will have your presents shining brighter than Rudolph's nose!
If you're a retailer, why not see how you can infuse Gift Tags into your promotions? Not only do they make great price tags but when tied with a ribbon or string it can add a much more personal feel to your products.
Ready to get Christmas print ready? We thought you might be. Click below to go shopping! And don't forget to tag us in all your glitzy designs on Instagram using #ProudlyPrinted.