Top five Greeting Card trends for 2021
Looking for some design inspiration? We've rounded up all of the best Greeting Card trends for 2021 to help get those creative juices flowing.
Being stuck inside for months on end has meant that staying in touch has been more important than ever. Styles in print are ever-changing and at Printed.com we're dedicated to keeping you in the know. So whether you're creating a new collection or are a complete design newbie, let's take look at what's going to be big this year.
Eco-friendly Greeting Cards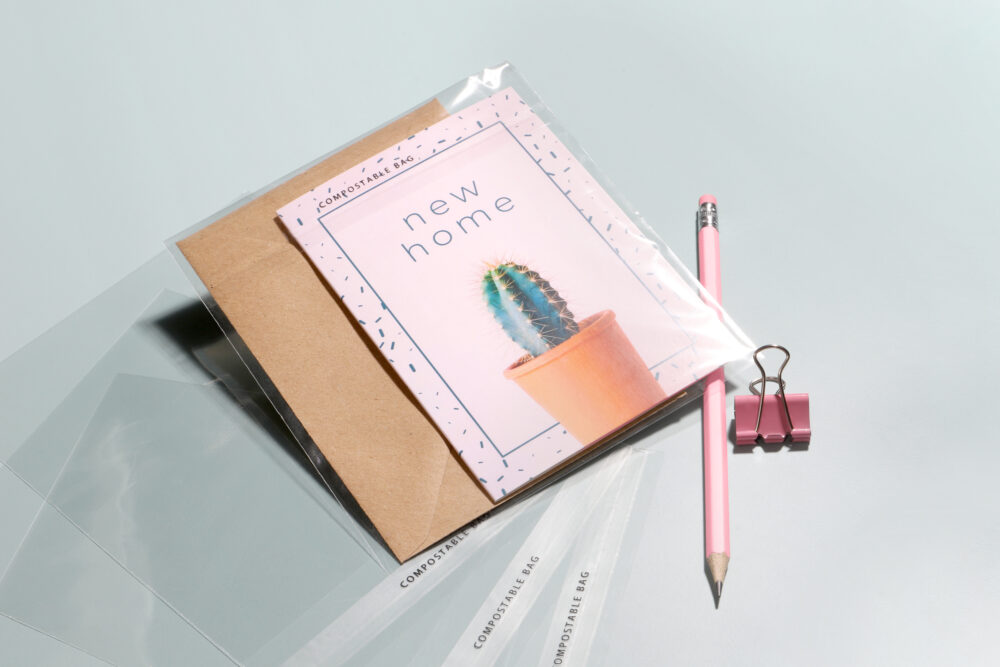 Environmentally conscious Greeting Cards are a trend we hope we'll be seeing for a long time yet. We're committed to sustainability within our own range of products, and it's great to see our customers choosing eco-friendly Greeting Cards prints. Creating eco-friendly print can seem daunting at times, but a good place to start is with greener paper choices. From recycled versions of our most popular papers such as Silk and Uncoated to the earthy tones of carbon-neutral Kraft paper. All of our eco-papers give a quality finish every time. Even our textured paper Acquerello is FSC Certified so you can add a dash of luxury to your environmental efforts.
For that final touch, why not choose Compostable Cellophane Bag to accompany your Greeting Card or wrap them in a Belly Band made of Recycled Silk or Kraft paper?
Find out about our green pledge here and explore our range of green paper and print options.
A handmade effect
In this day and age, it's never been easier to print your own Greeting Cards. However, perhaps it's thanks to all this instant high-tech wizardry through companies such as Moonpig and Thortful, that has seen a growing appreciation for handmade cards.
As much as we'd like to, not everyone has the time (or patience) to hand-make their Greeting Cards. However, there are plenty of simple things you can do to give a hand-made feel to your designs.
The first thing to think about is texture. A textured paper gives a less machine-perfect finish to designs with the unique feel harkening back to a time of homemade papers and hand-painted designs. Calligraphy, illustrative and retro designs love a textured paper with stocks like Nettuno and Laid especially popular for Greeting Cards thanks to how easy they are to write on. For the full rundown on our textured papers, check out our latest guide here.
You can always finish your designs by hand before you ship them as well. Whether that's penning a message, adding a finishing touch such as a Sticker or ribbon, or even printing your designs on Flat Unfinished Sheets so you can cut and fold them yourself. There are so many ways to craft your own hand-finished look.
A Foiled finish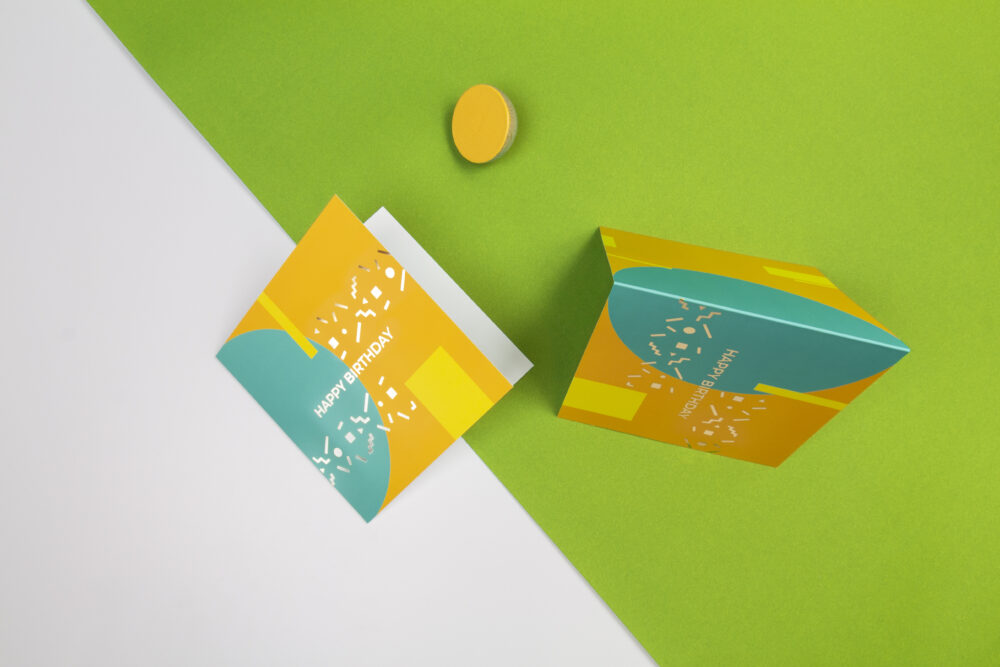 If you've been on our blog for more than ten minutes, then you may know how much we love a Special Finish and it seems the Greeting Card designers of the world agree.
Foiling is one of the most versatile finishes out there simply because of how it can be used to elevate almost any design. From adding shine to a Thank You Card to capturing the sparkle of festive lights for a Christmas Card, whether you use a little or a lot, this shimmery Greeting Card trend isn't going anywhere soon. And since it's available in six shiny shades, it can be used to complement almost any colour scheme.
If you need a little help getting set up for Foil printing, make sure to check out our handy video tutorial here.
Folds, Cutouts and 3D elements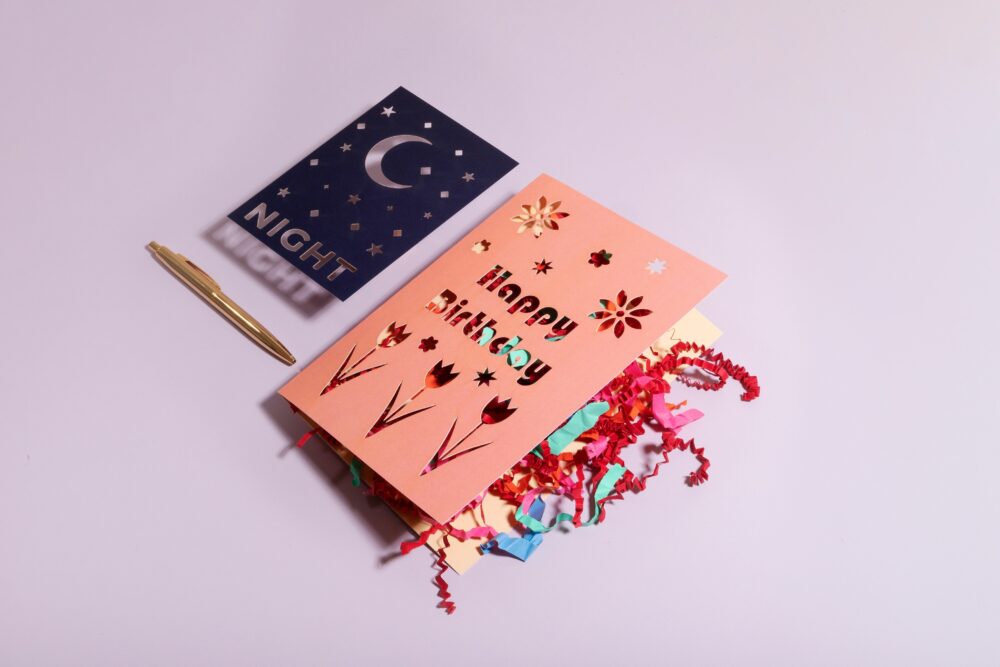 When creating your own Greeting Cards, don't think you're limited to the classic vertical or horizontal fold. If you're looking for more space, why not experiment with Gate Folds that open out to showcase a hidden design or longer greeting? Or how about a Z fold that gives your design a more 3D effect?
Unique cutouts and 3D elements have been popular choices on Greeting Cards recently and creating a more eye-popping design doesn't have to be complicated. Whether it's a simple as adding thicker, standout elements to the front of your card or getting creative with Laser Cutting your own unique pattern or 3D finish, thanks to our Bespoke Service, the only limit here is your imagination!
With over 40 years of bespoke printing experience, our team is here to help bring your wildest design fantasies to life. Just fill in our quick form to get started.
The personal touch
Every Greeting Card design is as unique as the person who created them, so more and more creatives are adding their own personal stamp on their cards. From a reoccurring design element to unique monograms to something as simple as finishing each Greeting Card with your own hand stamp or signature, there are literally thousands of ways to put a personal mark on your designs. So what's your special touch?
You could even take it a step further and let customers add their own personal elements like names and addresses. We can even help you out with that! Check out our video guide on how to set up personalisation here.
Or, if you're looking for a quick and easy way to grab some personalised Greeting Cards, make sure to check out Wrap me. No designing required here! All you have to do is pick a template and add your own photos and text.
That's it for our top Greeting Card trends for 2021! If you've been inspired, make sure to share your creations with us on Instagram by using the #ProudlyPrinted hashtag.
Check out our full range of Greeting Cards today or download a template to get started.