2023 Wedding Stationery trends
Another year of weddings is upon us! And at Printed.com, we like to think we know a thing or two about the 2023 wedding stationery trends that are going to make it big. 
You might be celebrating your own wedding in 2023, or helping your client create their suite of prints. Either way if you're looking to plan an unforgettable one for 2023, here are some top wedding stationery trends to keep a close eye on.
Custom-shaped Invites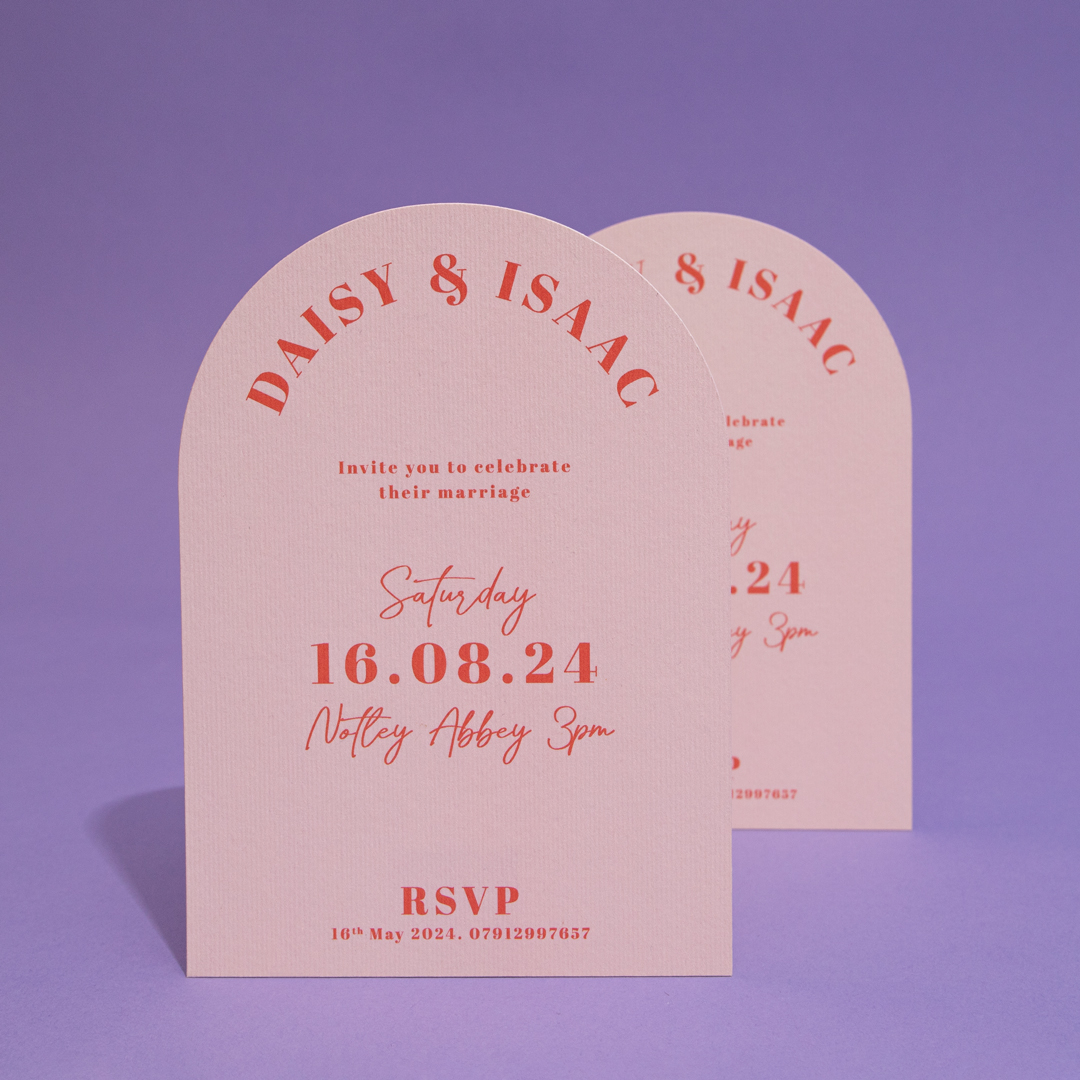 Whilst there will always be a place for the humble rectangular Wedding Invite, in 2023 we're predicting a huge surge in demand for custom-shapes. Think circular, arch, and full-on weird and wonderful. With brides and grooms looking to make their day truly unique, who said you should be limited to 4 corners?
Whilst you can shop Arch Shaped Invites and more at Printed.com, we also love creating something truly bespoke with our customers. And luckily we have a dedicated team on hand to help with just this. So if you're looking to branch out from the norm, get in touch and we'll help you make it real.
Discover Bespoke wedding print
Extravagant Envelopes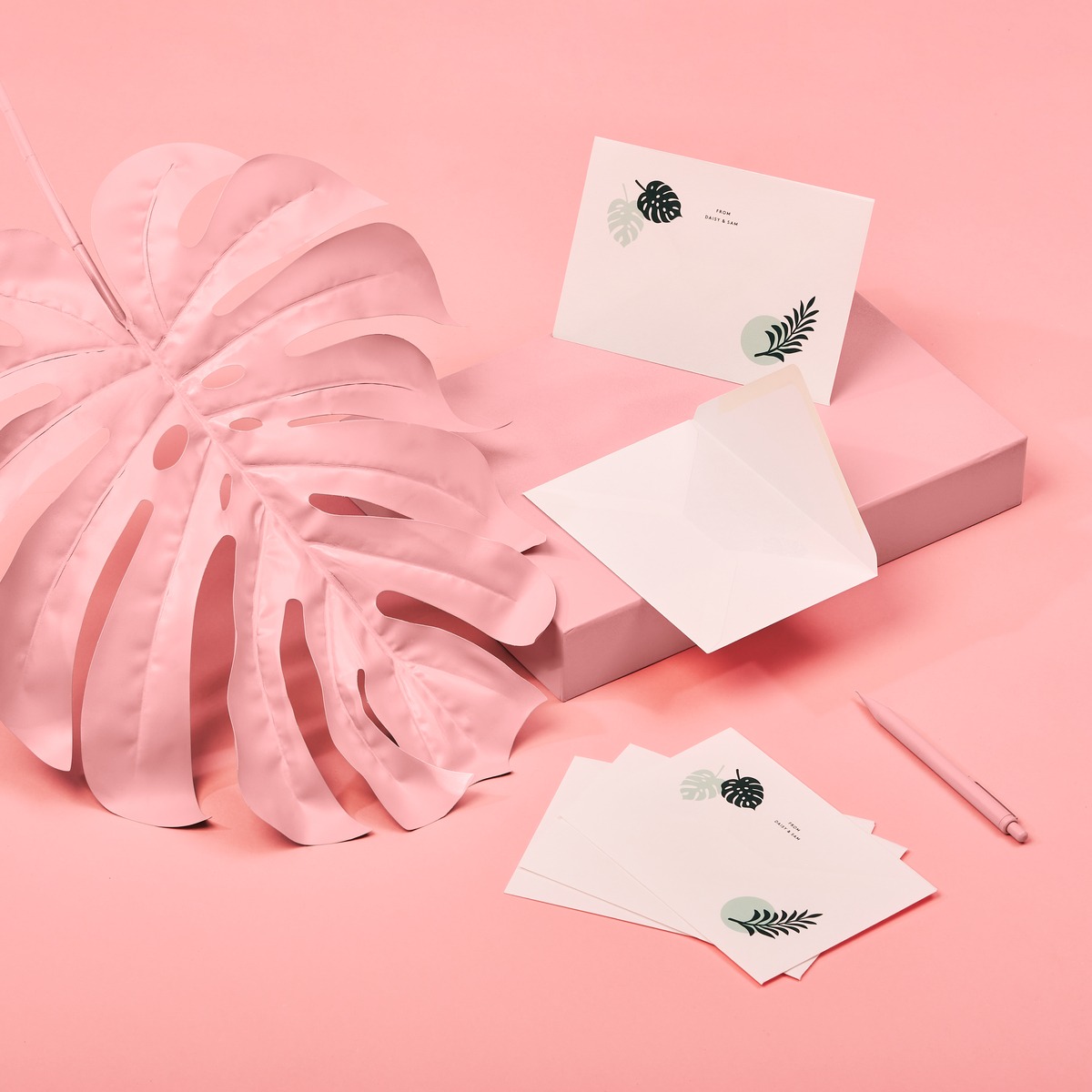 We're no stranger to Envelopes, and over the last year we've seen these (often under-valued) print staples used in new and exciting ways for weddings. From themed Printed Envelopes, Enveloper liners and personalised wax seals. It's safe to say your Wedding Invitation packaging needn't be boring in 2023.
And it's not just about being creative with your designs. With multiple different paper stocks to choose from, texture can also play a huge part in the impact your Envelopes make. From coloured and metallic paper stocks to luxury papers such as Pearl Polar and Tintoretto Gesso – Envelopes really can add that missing element. Trust us (we're the experts!).
Vellum forever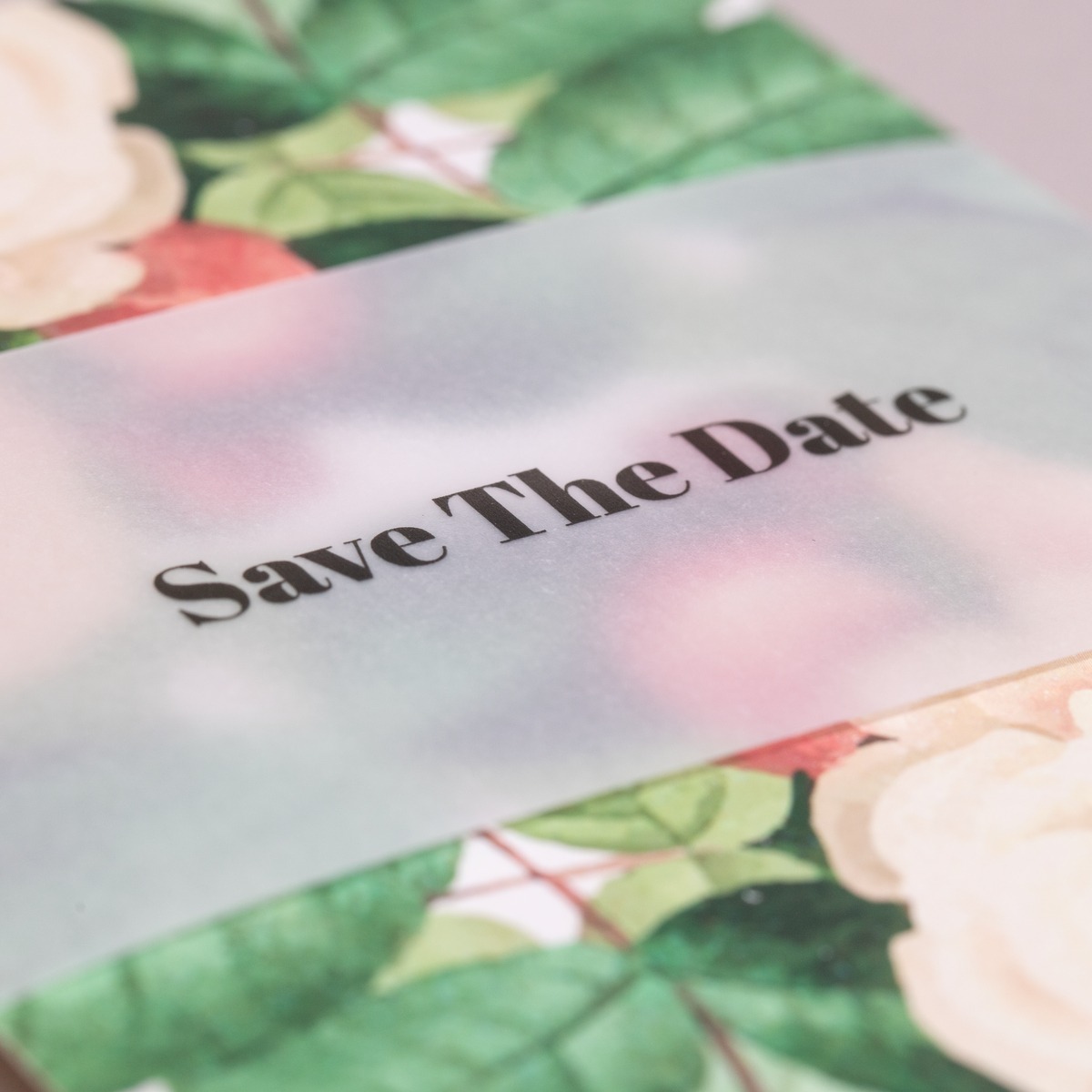 Vellum, (whether used for the invitation itself or as a Belly Band to hold your invitation suite together) is definitely on trend for 2023. It brings a modern but soft vibe to any suite. It's slightly waxy finish and marble-like construction works wonderfully to create a layered effect.
Whether you're a recent Vellum convert or this is the first you've heard of it, we've got a handy blog article which takes you through how to get the make the most of this 2023 trend.
Make it personal
Personalisation will be a big wedding stationery trend for 2023 as couples strive to create 'surprise and delight' for their guests. From individually named wedding favour Gift Tags or drinks tokens, to Foiled Wedding Place Cards designed with unique illustrations for each guest. The level of detail that brides and grooms are willing to go to will only be heightened in 2023.
We're lucky enough to witness so many unique wedding stationery suites come off our press every day, so if you've got an idea in mind for something special – get in touch (we love a good wedding!).
Be bold
Goodbye muted colour palettes, hello uplifting pops of colour! We see 2023 as a huge opportunity for brides and grooms to explore vibrant stationery for their big day. After all, your wedding is also an excuse to party, and bold, colourful designs are the way to go to evoke excitement.
And it doesn't just need to be your 'before the day' stationery – your bold colour palette could easily extend to 'on the day' prints such as Table Plans, Welcome Signs and Strut Cards. Because if you're going to be bold, you may as well go all out!
Explore our Wedding Stationery Collection
Belly Band finesse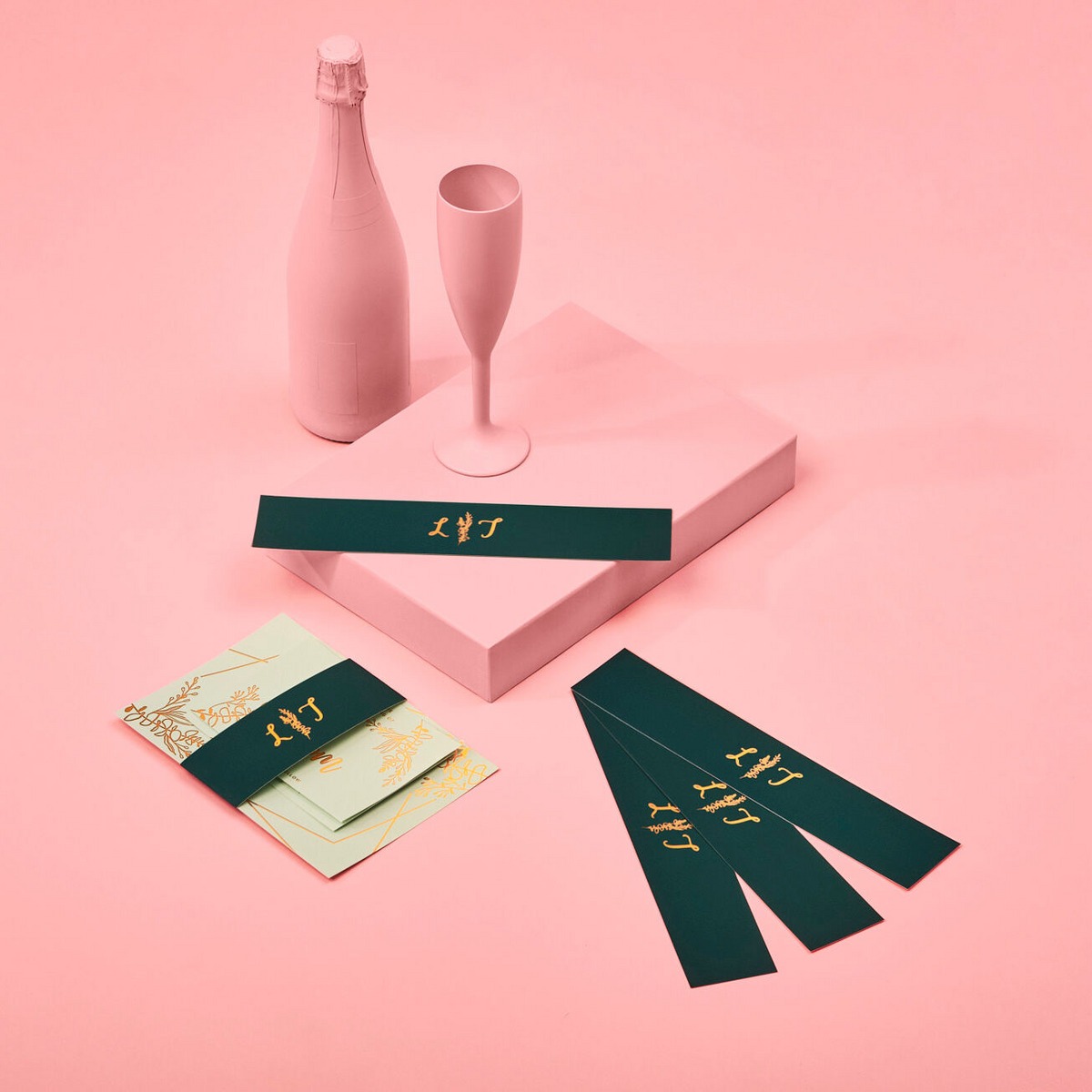 Despite their rather unusual name, Belly Bands are fast becoming the perfect accessory to add an elegant finishing touch to your wedding stationery. Designed to secure your Wedding Invitations and RSVP's, there are so many other ways you can use these simple strips of paper.
Why not incorporate them into your table spread by adding them around guest's napkins. Or decorate them with your choice of names, initials or even the food Menu! What's more choose from a range of luxury papers including Vellum, or opt for an elegant foiled design to really make an impact.
Keep things sustainable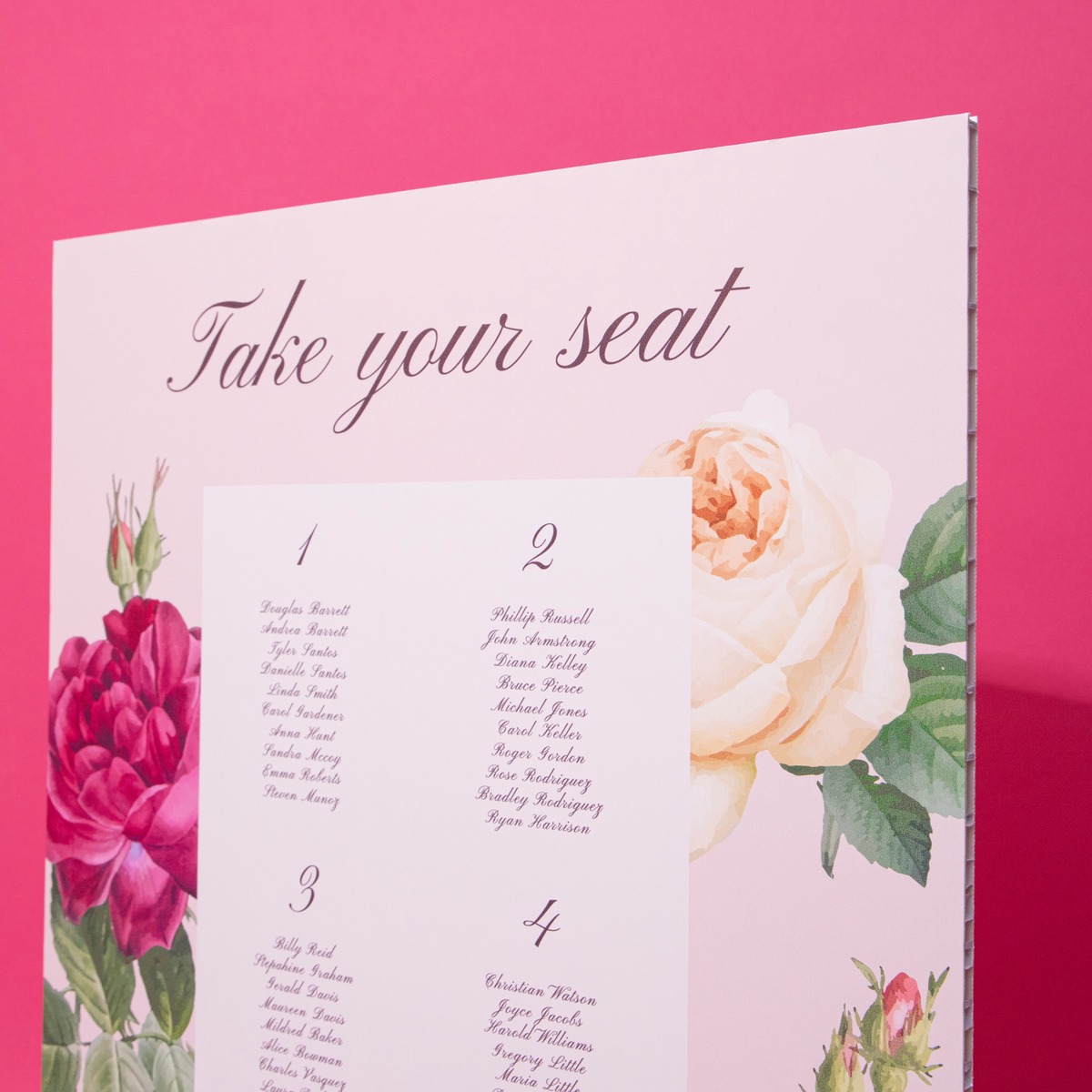 It can be said that often weddings aren't the greenest of events. From the sheer amounts of décor to the food waste and travel necessities – it all adds up. However, more and more couples are trying their best to make their big day more environmentally friendly.
With Printed.com you can enjoy greener choices without compromising on quality. Our range of eco-friendly products now also include Recycled Display Boards (used for Welcome Signs, Table Plans and more) and Recycled Round Stickers (the perfect embellishment to Invites, Envelopes and Thank you Cards).
To discover more ways to make your wedding greener, you can check out our blog for some more top tips.
Don't forget the extras
With every passing wedding season we're always seeing something new come off the press. As a bride, groom or stationer – it's important not to feel restricted by the standard list of traditional wedding print products. Why not think outside the box? From reserved seat signage, to personalised coasters. There really is no idea too big or too small. And the little extras really do make all the difference.
So there you have it, our wedding stationery trends for 2023. We'd love to know how you're using them, so don't forget to tag us with #ProudlyPrinted on Instagram so we can see what you're up to.
And in the meantime – happy wedding planning!