Talking e-commerce and new products with Works Beautifully- #InspirationPrinted
2020 has certainly been a rollercoaster of a year. And while it's had it's ups and downs our creative customers have battled on and continued to create awesome new products. We salute you!
One of our most colourful creatives, Kirsty of Works Beautifully, has been VERY busy in 2020. It's been a whole year since we last spoke to her, so sit back, grab a cuppa and get inspired by her hard work.
Kirsty – hi! It's been a whole year since we last spoke. How have you been?
2020 has been a massive year for me! Personally, I have had an incredible year, becoming pregnant with our rainbow baby in June after a round of IVF being cancelled due to COVID. Our little boy is due in March, so that has been something really lovely to focus on and look forward to in a time that has been very uncertain.
I'm an illustrator and designer and run my own business which includes an online gift shop. It's filled with colourful homewares, accessories, clothing and stationery and I offer illustration commissions of people, pets and houses.
If you had to choose one word to sum up 2020 what would it be?
Life-changing! Finally becoming pregnant after struggling with infertility for 6 and a half years has been such a happy event for us. It's given us all something to focus on and celebrate in a time that has meant not being able to see each other and be physically around our loved ones. Professionally, it has also shown me how blessed I am to be able to work from home and that I was able to continue to run my business online and create new products when others were having to close their physical stores.
I was so glad to have my creativity to get me through such a hard time and I hope some of the creativity that I shared online have others a sense of happiness and hope.
What new products have you been working on in 2020?
One of the new products I created to sell in my shop when lockdown began was my Thinking of You Gift Boxes. The aim of these boxes was to give people the opportunity to send a little box of goodies from my shop to people they were missing. They included a Greeting Card, an enamel pin, a Print and a Sticker sheet. It was so lovely to get reviews from those who sent them as well as those who received the boxes!
Which is your favourite new product that you launched this year and why?
I launched a new summer collection this year that was inspired by a fruit salad. It comprised of 6 repeat patterns, featuring bananas, pineapples, strawberries, lemons and watermelons. It's such a fun collection and was a burst of colour that I felt like we all needed! The collection is available on tote bags, makeup bags, mugs, cushions and Sticker sheets.
How important is e-commerce to your small business?
So important! e-commerce is the main reason why I've been able to continue trading this year. I have my own online shop at WorksBeautifully.co.uk which I opened in June 2018 and an Etsy shop which I opened when I first started my business in April 2016.
With my own online shop, I can tailor the layout of the store to look exactly how I want it to. I use the large banners at the top to promote certain collections and new products, and rearranging the different sections is super easy! I can also link my mailing list to it to send lovely newsletters to my customers, and google analytics to track how people find my store, what they look at and what they buy. Etsy is more of a marketplace, so the main benefit for me is that it puts my product in front of a lot of potential customers! As long as you keep your listing up to date and take advantage of the tags and keywords, you can run a really successful business through it.
Find your own e-commerce inspiration
What are your top tips for selling online?
Make sure you have well lit and high-quality photography of your products. Take lots of photos of your items, including studio and lifestyle shots.
Take advantage of keywords and use descriptive language that your customers would use when searching. I would recommend a course on SEO as this will help your reach.
Make buying from your store easy. Try to buy something from your store as a potential customer, and see how easy it is. You don't want something like a slow website or a faulty payment option to stop a customer being able to buy from you.
Don't rely on social media! Start a mailing list so you can directly talk to your customers. This is a great way to share new products and offer exclusive offers.
When it comes to new product innovation, where do you start?
It normally starts with a spark of inspiration. This could be a colour palette, an experience or something that I wish was for sale. I will sketch out ideas, which I then take onto my iPad to draw up. It's then a whole lot of playing with colours, designs and ideas until I've got a new product idea formed.
I then usually take it to my customers. I ask them what they think, allow them to be involved in the design process and get some feedback. Then I contact my manufacturers to discuss the production. Sometimes this will involve ordering samples to choose fabrics. I then start to design packaging that compliments the products, such as a floral patterned backing card that will be used for a daisy enamel pin. It's all about bringing the collection together with a cohesive design.
How important do you think it is to try new products?
Trying new things can be scary, especially if you are putting your money and time into it. But nothing amazing has ever come from hesitation or fear.
There are things you can do to ensure new products are something you are proud of. For example, you can order samples. Before I printed anything with Printed.com, I ordered a few sample packs, which include lots of different paper types. It made it so much easier to be able to touch the cards and see how inks looked on them before committing to one for my project.
It's also important to involve your customers in your process. Finding out who your ideal customer is and what they are looking for will help you design items that they will love and therefore will result in a successful launch.
What are your top three pieces of advice for other creatives looking to succeed in 2021?
Start a mailing list. I use Mailchimp which is super easy to use. You can easily create templates and you can use their segment tools to send to specific customers.
Create a special offer that people will receive when they sign up to your mailing list. My subscribers get 6 digital colouring pages for free when they sign up.
Invest in your business. If there's something that needs your attention but it's not something you're skilled in, hire someone or book onto some training to improve your own skills. This could be for things like photography, SEO or copywriting. As small business owners, we take on every role, and sometimes we need help to brush up our skills or just need to start delegating.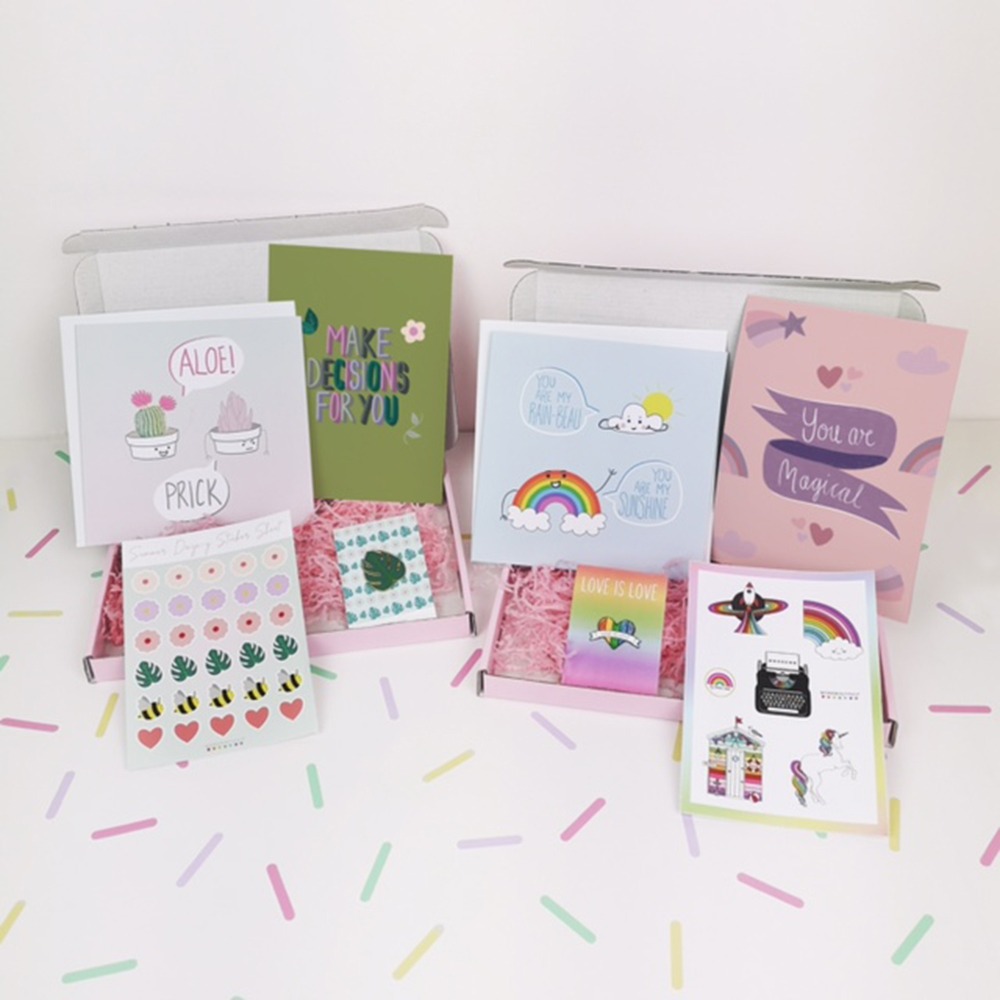 You're currently expecting – huge congratulations! How are you balancing everything right now?
Thank you! The first 12 weeks of my pregnancy were pretty rough and I had to take some time away to cope with nausea. Once this settled I was able to get back to it, but I was very aware that I needed to take things easy. I didn't push myself to be 'on' the whole time.
After one particularly busy day, I had to take a trip to the maternity ward as I was having some stomach pains. Everything was fine but it made me realise that I couldn't do the same amount of work as I could before! My plan became that I would still maintain my business, but I wouldn't commit to launching anything new before the baby was due. Through it all, I just kept reminding myself that my health is more important than anything else and should absolutely always come first.
How can people shop from you, or find out more?
My shops are currently closed for Christmas, but I will be reopening on the 1st January with a month-long clearance sale before I go on maternity leave in February!
You can find me here:
We've always been proud to put small businesses and creatives at our core, so we'll take any excuse to shout about the amazing work they do and the great print they produce.