#InspirationPrinted- Kickstarting your dreams with WorksBeautifully
It's time to find out all about WorksBeautifully!
We've always been proud to put small businesses and creatives at our core, so at Printed.com, we'll take any excuse to shout about the amazing work they do.
Today we're talking to colourful creator Kirsty, the hands and brains behind WorksBeautifully. Known for her bright designs and love of animals, we're here to learn all about her passion for illustration and what makes her business so unique.
Read on to find out all about it!
Kirsty – hi! Tell us a bit about your illustration and design business and how you got set up?
Hey! WorksBeautifully is my online shop which is filled with lots of colourful and unique gifts such an enamel pins, homeware, accessories and stationery. I also take commissions and I'm quite happy to draw most things- especially portraits!
I have always been creative and I first started drawing during my emo days at school. Back then it was Billie Joe from Green Day and Noel Fielding, and lots of dark pencil drawings! I went to uni to study Fashion graphics, so illustrating took a back seat for a while. In 2016, I really got into One Direction after a friend suggested I listen to their new album. I absolutely loved it and it inspired my to start drawing again! First, I pulled out my old Wacom tablet and started doing simple line drawings of the band. I only shared them on my Tumblr, but eventually people started asking if they could buy them. So I set up an Etsy and began to sell digital copies of the illustrations. Since then, I've launched lots more products inspired by the things I love, the people I'm inspired by and the stories that I want to tell.
In those three years, I've managed to turn what was a very small side project, into my full-time job!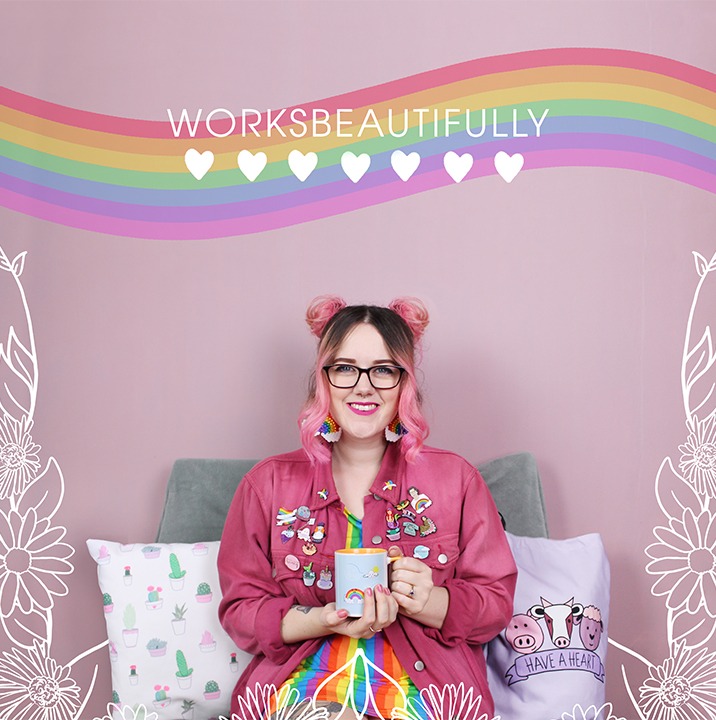 You label yourself as a 'vegan illustrator and designer' – could you tell us a bit more about that?
First and foremost, I am vegan for the animals. I don't believe humans need to take anything from animals to live a happy and healthy life and I believe that animals have every right to be treated with love and respect, no matter what the species! Growing up, I became a vegetarian for a while but went back to eating meat. I always felt bad, but ignorance is something I admit to succumbing to! Just over two years ago, I found out I was lactose intolerant and, since my husband had been vegetarian for over 10 years, we decided to go vegan together. We started with meat and dairy, and then eggs and then started focusing on clothing and cosmetics. It's not something you can be perfect at overnight but society's awareness of the issues surrounding eating meat makes it easier to find alternatives.
It is also something I have to be aware of in my business. I ensure that all my packaging and products are vegan and I have a vegan inspired collection that promotes my ethics of animals being worthy of love and compassion!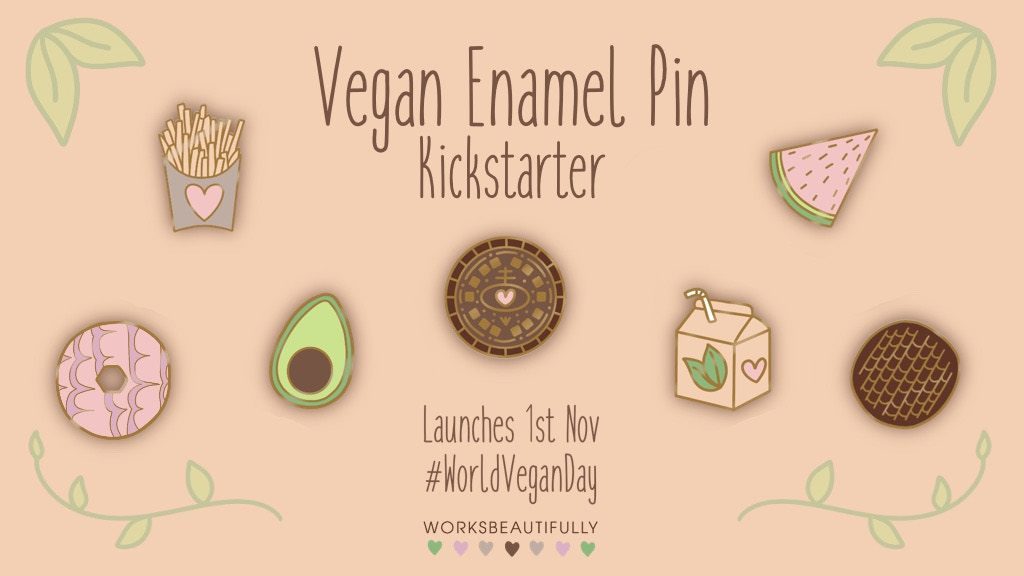 What does a typical day in the studio/at home look like for you?
My day starts a little later than most people's. I have endometriosis and an underactive thyroid, so I tend to need more sleep than most people. Usually, I get up at around 8 am, take my medication, have breakfast, get dressed and aim to be in my studio for 9.30/10 am. I work out of our spare bedroom that we recently decorated. In the beginning, it was crammed full with a spare mattress and old bed and the walls still had old Winnie the Pooh wallpaper on it from the last owner of our house! Now it feels much airier and colourful and my wall of art is an inspiring collection of other artists' illustrations. I love it!
No two days are the same. Mondays are usually spent packing orders and sending them off to the post office. Other jobs include: planning social media content, writing my monthly Rainbow Roundup Newsletter, photographing products, uploading listings to my website, responding to emails and some drawing and designing when I can fit it in! I usually work until about 6 pm, and then I close the door and make sure to have a relaxing evening with my husband and our cat Charlie!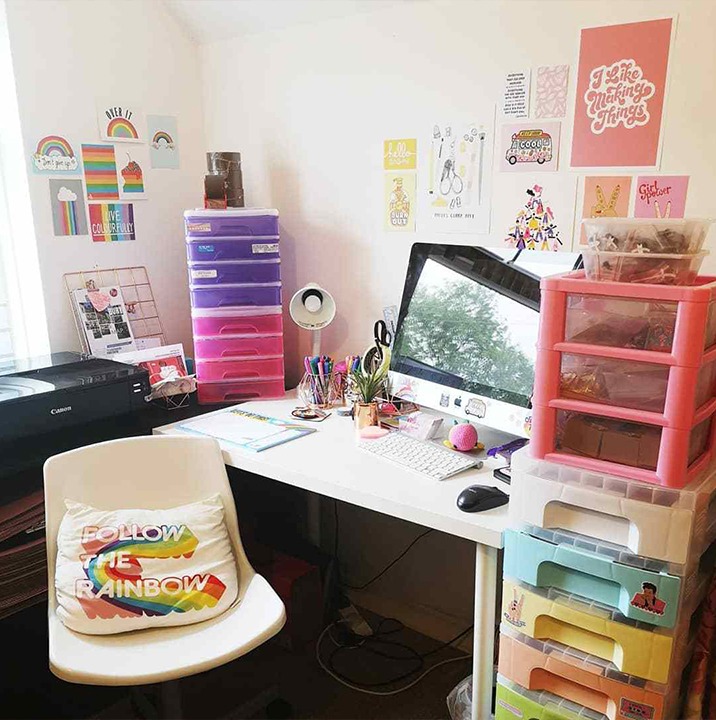 How do you think up new designs for your collection? Where do you get your inspiration?
Sometimes it can be the simplest thing, such as a colour palette or quote. Other times it can build from an experience I've had or be a reaction to something I've loved. My illustrations can be varied, ranging from some colourful lettering for an inspirational quote to a whole collection of Harry Styles' suits from his 2018 tour. Sometimes I will sit down with my notepad and really plan a series as I did for this year's Christmas collection, but other times it can be completely off the cuff!
I think I also look to create collections that people can relate to. My 'I Have A Voice' collection covers topics such as LGBTQIA+ Pride, Chronic Illness, Mental Health and Veganism. It's an incredible thing to make something that allows someone to be openly proud of who they are.
You recently launched a Kickstarter campaign. For anyone that doesn't know what this is can you explain a little further?
Kickstarter is an amazing platform that allows you to run a campaign to get a project, idea or product funded. You create a funding goal and set reward tiers that people can pledge for. If you reach the target, Kickstarter collects and sends you the funds to make the project come to life! If it doesn't reach the target, then you won't be charged. It's a really great way to put an idea out there and gauge interest without the upfront cost of manufacturing.
Enamel pins have to be made in quantities of at least 50, so it can be quite daunting creating them! Running a Kickstarter takes that fear away a little bit. I've run over 10 campaigns and it's always such a lovely way to get your community involved in sharing and promoting your project!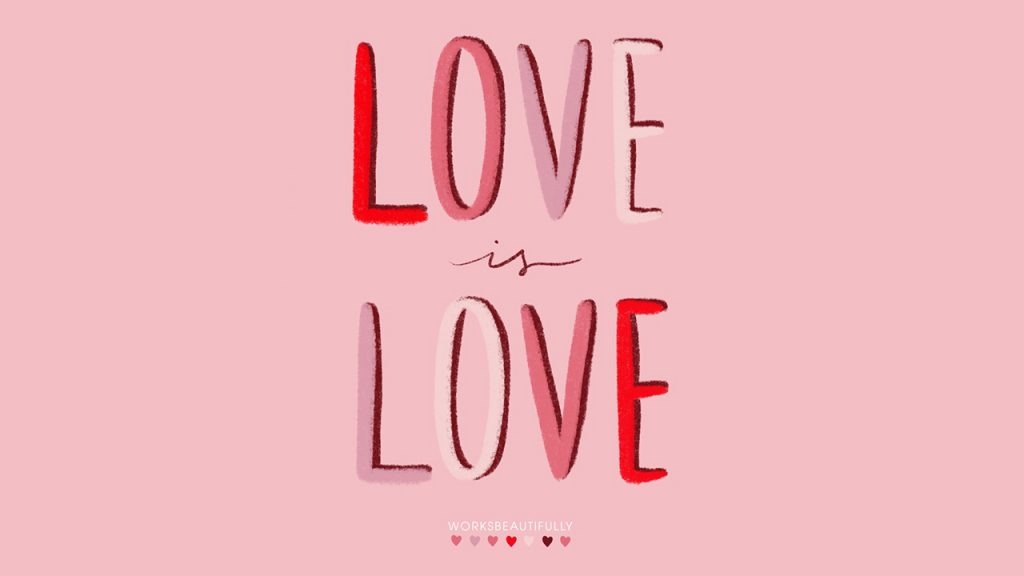 What's been your greatest success so far in your business?
For me, it's the fact I've been able to turn this into my full-time job.
When I started out, I never imagined I could be doing this full time. I grew up assuming I would go to college and then university and then be employed in a full-time job, and that is what happened for a while. However, while I was managing a pre-school in 2017, I was diagnosed with Endometriosis. It's a chronic illness that means I get a lot of severe pain and makes me really tired. All of a sudden, I couldn't cope with an active job and I was having a lot of time off. Eventually, I realised I had to stop focusing on mine and others' expectations of what my life should look like and make it work better for me. So I quit my job, got a part-time job in a supermarket and focused on my business. I slowly dropped my hours, and in September went full time with WorksBeautifully. It allows me much more flexibility and it means I can put myself first!
What kind of challenges do you face running a small business?
I think there are lots of little things that are scary about being a small indie business owner. Sometimes I worry I won't make any money or that people will stop liking or buying my art. I sometimes overthink my decisions and then end up with total art block! Sometimes it's hard to see how I'm going to progress but by looking back at how far I've come, it makes you realise that anything is possible! It can also be really lonely. I'm part of a group called Indie Roller, a great bunch of other creatives who are supportive and helpful. Community over competition is something I really believe in!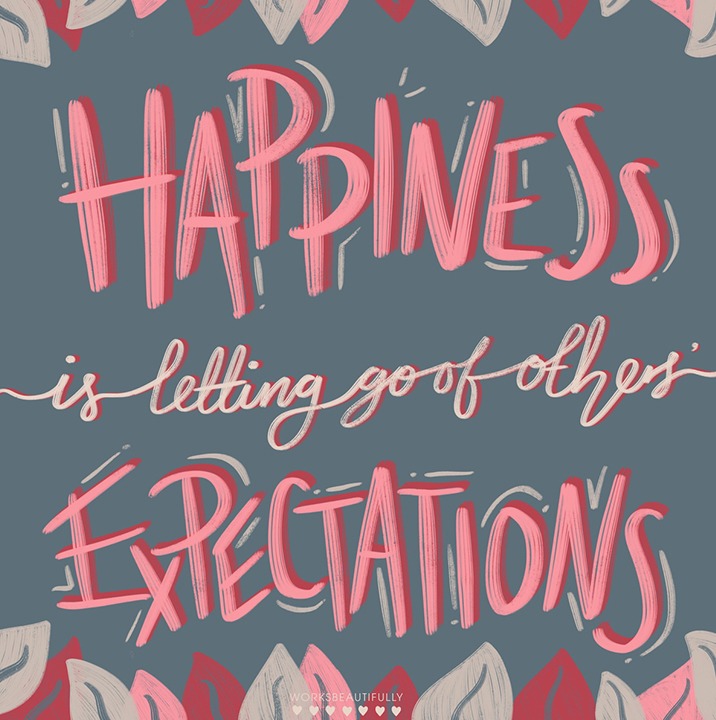 How did you come across Printed.com? What do you print with us?
I think someone in the Indie Roller group that I'm part of suggested you so I could print my posters! There is such a great range of products that I can use you guys for. So far I have printed; A2 posters, business cards (which I also use for enamel pin backing cards), thank you notes that I put into my orders, postcards, wrapping paper for my new Christmas collection, greeting cards and a wedding stationery pack that I designed for a client which included save the dates, invites, envelopes, belly bands and a velum top sheet!
In the run-up to Christmas, was are your top three pieces of advice for other creatives looking to boost their festive sales?
Create something that you love! It will be much easier to promote and sell your products if you have a genuine passion for them! We will be wrapping all of our gifts with my wrapping paper this year and sending our loved ones my Christmas cards!

If you can, do some markets! Unfortunately, they are a little tricky for me due to my health but it's always lovely to see people's reactions to your items and have a chat with customers face to face!

Don't compare yourself to other businesses! Set yourself some goals and focus on what you want to achieve during the festive period. Plan your collections and put together a marketing plan! Build up excitement around your products! I send out a monthly newsletter to my mailing list and always include an incentive for doing so.
Make sure to check out Kirsty's vegan pin Kickstarter as well as her website and Instagram.
Get next-day print on loads of options and products at Printed.com – perfect for when you need to get your print, fast.

London based? Get same-day print on a range of options too! See all of our delivery options here.