#InspirationPrinted- Catching up with About Face Illustration
Here at Printed.com, we've always been proud to put small businesses and creatives at our core, so we'll take any excuse to shout about the amazing work they do.
We recently stopped by About Face Illustration's latest exhibition at the Mall in London and had a good chat with the hands behind the operation- Paulina.
So, without further ado, get to know all about her and her work right here!
Paulina hi! Tell us about yourself
Hi! My name is Paulina Kwietneiwska, and I am the hands behind About Face Illustration. I make commissioned artworks in oil, watercolour and ink as well as creating prints, Postcards and Greeting Cards.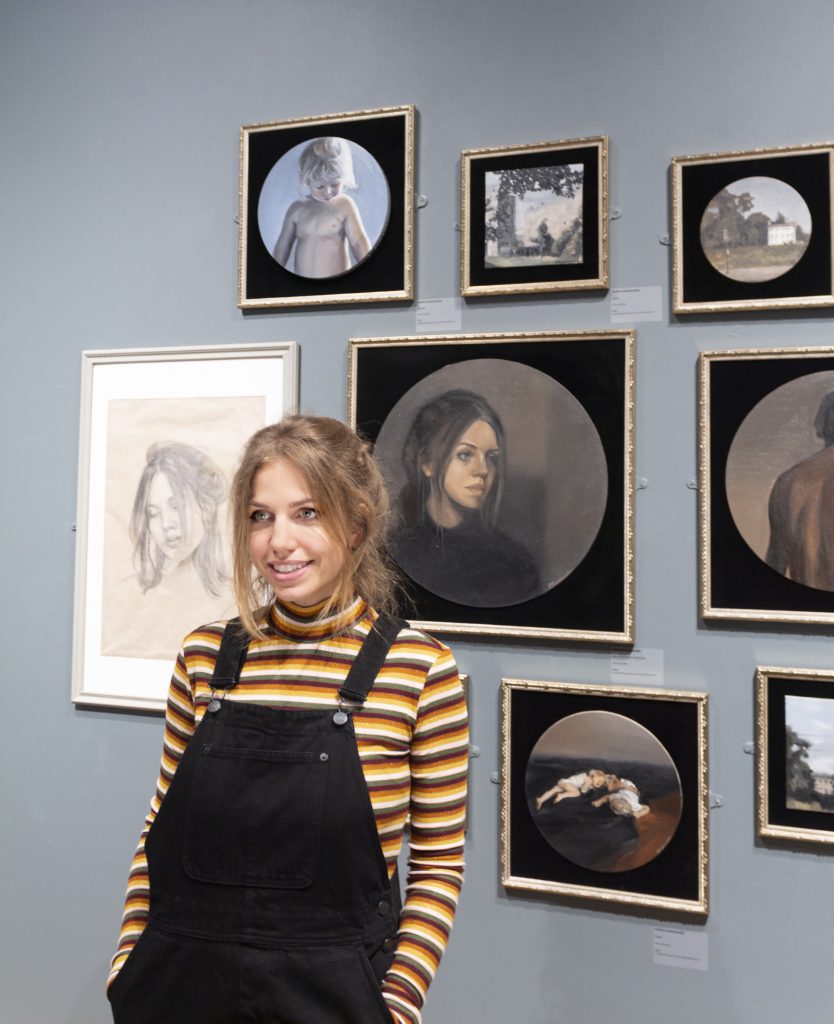 Tell us how you got started as an illustrator
I was always very much into art- I was basically the child that painted all the Mother's Day cards at school for other children that wanted a prettier one.
I set up About Face Illustration when my daughter was about five months old. Sadly, I didn't know much about marketing at the time, but I was on Instagram and I was following some other mums. One day, I noticed that one of the mums I followed was looking for an illustrator to paint her and her son, so I volunteered. After that, I just started taking commissions through Instagram and they started flowing in really. Two months later it basically became my full-time job- and 3 years and 500 portraits later, here I am.
What does a typical day in the studio/at home look like for you?
My husband and I both have our own businesses and we work three days a week, splitting time watching our kids.
When I'm in the studio I come in around 8 am and work constantly until about 4- 5 pm. I normally focus on one type of art at a time, i.e having a watercolour day or an oil day just so I don't have to go and change my clothes. When I use oil and watercolour I can easily make the watercolour dirty, especially if some is leftover on my hands.
Where do you find your inspiration?
Most of my work comes from within really. But I am easily inspired, I recently went to the BP Portrait Awards and I all I wanted to do was go home and paint. I also love literature. I adore Nabokov's Lolita, which I had the pleasure to paint recently. Also, I paint quite a lot from my experience, so all the prints that I print through Printed.com were actually inspired by events from my own life.
Some of them were created for my husband when we were still boyfriend and girlfriend, before being married. Some were based on my family history, or the relationship I have with other people in my family.
We're lucky enough to be joining you at the Mall Galleries 'In the Studio' exhibition. Could you tell us a bit more about it?
The exhibition is a part of a programme called 'In the Studio,' which is supposed to help young creators get into the art world. The Mall Galleries chose 21 people between the ages of 18 and 26 to do this project with them, visit established artists, go to galleries, meet people and speak about how it's all done in the art world. It was a bit of a mystery to me at first, I learnt about it through Instagram just as the applications were closing so I dropped a very quick email and said hi this is my work… And they got in touch!
The exhibition was on for a week. Every piece featured was from emerging artists with the whole exhibition covering a wide range of different styles. Some people went to art school, some other people are self-taught. It was a great mix.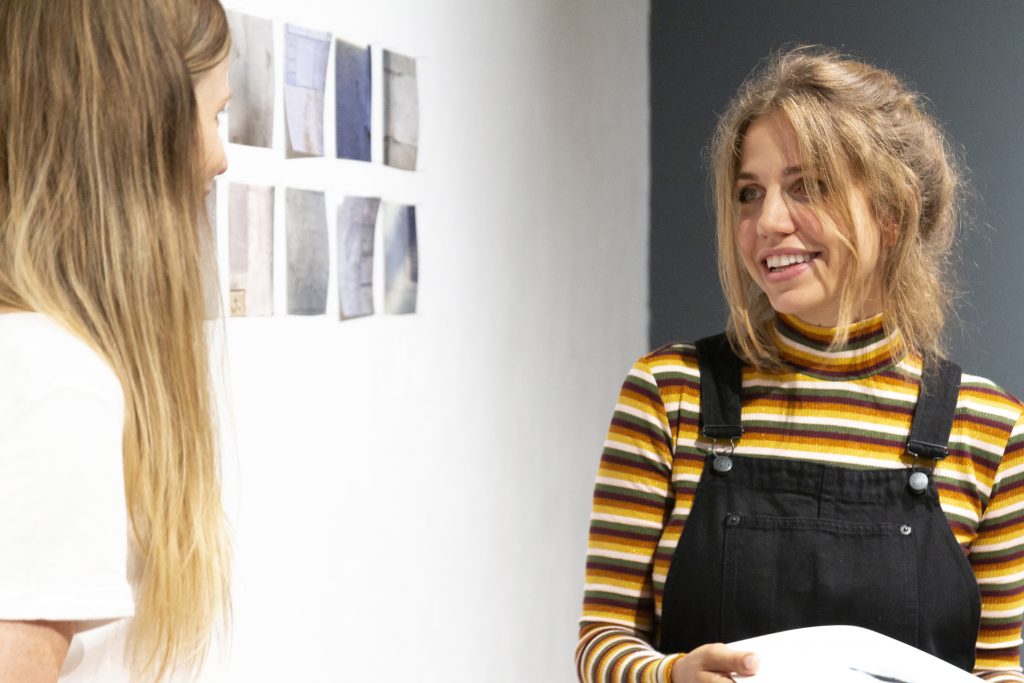 Do you take part in many exhibitions/events?
I was part of a few shows back in Poland, but that was a long time ago and I'd normally only make one piece for them. Then I had the big Lolita show for 3 months which was a solo show in one of the theatres which showcased posters that I designed along with some other illustrations. It's all very illustrative, narrative, books focused- so very different to this exhibition.
I really want to take part in more exhibitions like this one. I think the next competition here is the Royal Society of Oil Painters, so I'd like to try that as well- we'll see how it goes. I'd also like to take in the BP Portrait Awards at least once as it's been my dream since I came to London.
You had some Lolita Theatre Posters printed for our #InspirationPrinted campaign – can you talk us through the designs?
When creating these posters, I had a very odd way of working . Most people these days create their designs on computers but I did everything by hand. I also wasn't sure how to scan it, how to make sure it looks good in print – so I called a few different organisations to find out.
I did four different versions of the design and I'm really proud of all of them with the one I chose for the main poster being inspired by Michelangelo's depictions of the creation of humanity. In that piece there is the hand that sparked the life in humanity and in my piece, there's a hand that sparked life in Lolita, trying to convert her from a girl to a woman.
I went for Giclee Art Prints for these designs because it's the best quality for all art prints. And the papers are also very very good, the blacks looking especially great on them.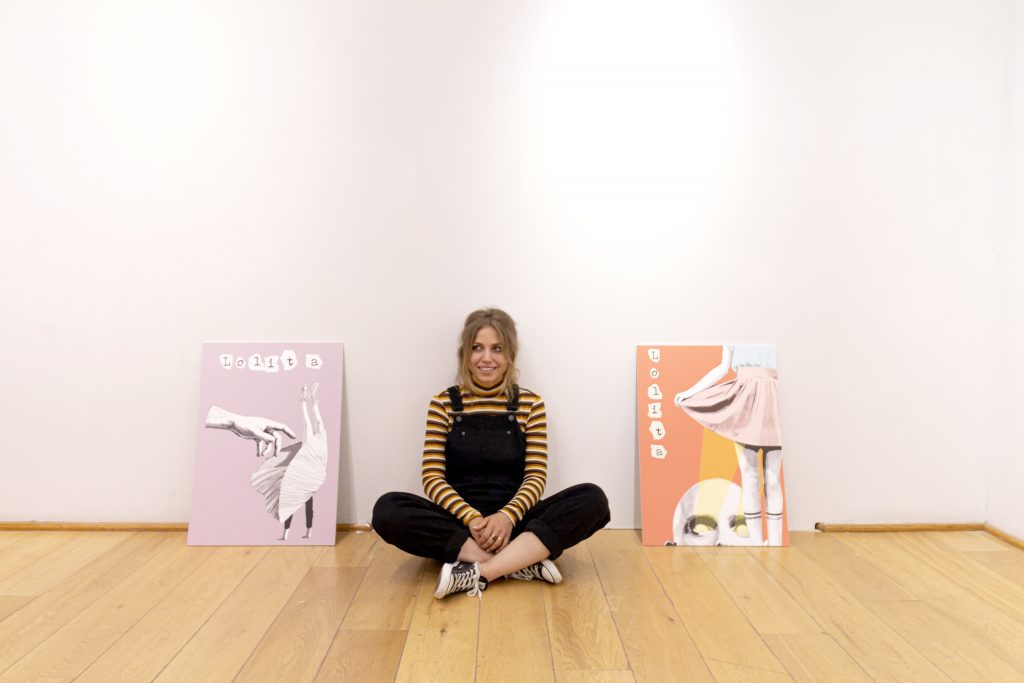 How do you balance your creative work and being a full-time mum? How can other Mum's balance their work/home life?
In my opinion, kids make you very organised. You don't realise how much time you have before you have kids and after, you have to use your free time well. I used to have such a hectic schedule balancing my kids and my art, which really dampened my creativity.
Now, I really enjoy not having to work around my children anymore. I have my own studio which means I can work without distractions and I can take my time doing things. Plus it means that when I'm with my kids I can just focus on them, and when I'm at work, I just focus on work.
When you have kids, the most difficult thing about trying to set up your own business is starting. Someone on my Instagram said when that when they have a bad day, they just have to keep putting one foot in front of the other- and that's what I do a lot of the time. You just have to do your thing and don't compare yourself to other people, because nothing is the same for anyone.
What is your biggest achievement so far?
I really love the piece I painted of both of my kids asleep, on our bed as it's just how I wanted to paint it. The experience of being able to paint the way I really wanted to was a new thing for me a the time- so that's was a real win.
But if I had to pick my biggest achievement- it's just being able to do what I do. When I was a teenager, I really wanted to study at the Florence Academy of Art, which is very expensive. At the time I thought that I'd never be able to go anywhere like that, but with About Face Illustration, I was actually able to pay to attend a very similar school in London! It's something I never thought I'd be able to do before.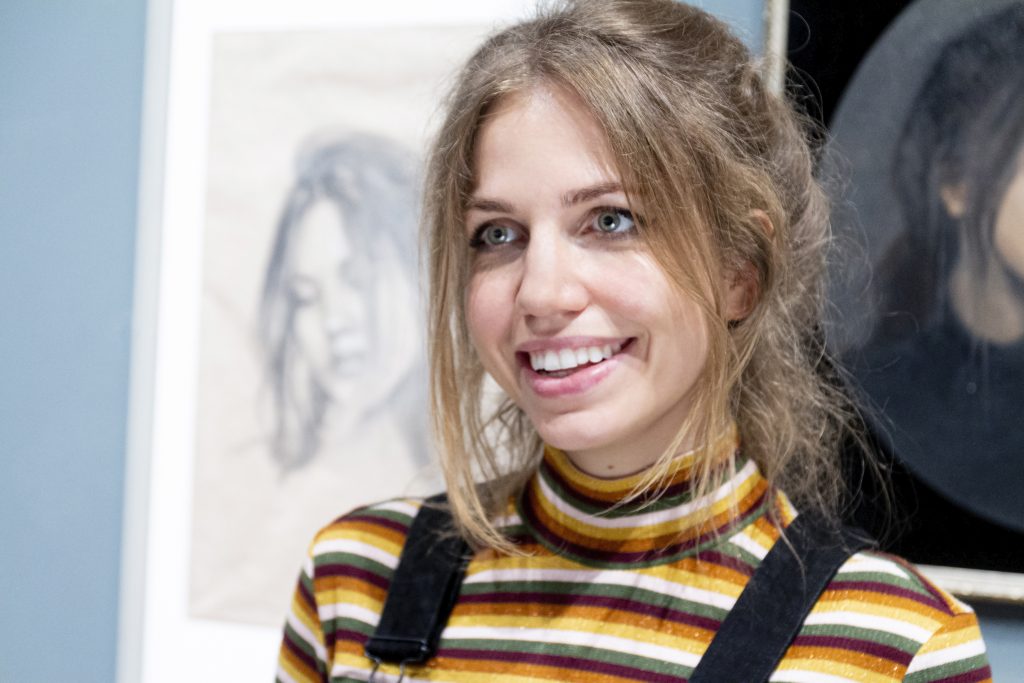 What do you print with us?
Most of the prints I get are either Art Prints or Greeting Cards but I also printed Calendars last year, so I might do that again. What I really like is the quality- it's just perfect and exactly what I expected. I also had some Business Cards printed and they really impress people whenever I give them out. People take them into their hands and their like 'oh, can I really keep this?' and that's what you want from your Business Card as an artist.
The customer service is also really good as well. You just speak to real people and when they respond, they are always understanding.
What's next for About Face Illustration?
What is really good about About Face Illustration is that it's a space of learning for me. I work with private customers who always say if they don't like something I do. When I started, I cried every time someone was critical of my work, but now I always no everything I can to fix the issue and make sure what's delivered is exactly what the customer wants.
I would love to do more workshops. Recently, I did my first painting workshop at the gallery for 12 people and it was absolutely amazing.
I also feel I have a bit of a mission. So, I think that art should be taught in school in a similar way to maths and other such subjects. Most people have creative potential inside them and they could really enjoy doing some art. With About Face Illustration, I'd really like to make art more approachable and teach painting with my workshops. I was also thinking of writing a bit on my blog about painting with my children, which is something I love to do.
Make sure to check out Paulina on her Facebook, Instagram and website!
Get next-day print on loads of options and products at Printed.com – perfect for when you need to get your print, fast.

London based? Get same-day print on a range of options too! See all of our delivery options here.