6 ways to create Wedding Stationery you won't find on the shelf
Let's talk special print finishes!
When it comes to weddings, everyone has a different idea on how to make theirs a little bit different. Even if your priority is keeping costs low, there are so many affordable ways to make sure that your, or your clients wedding day is totally unique – right down to the paper you print your stationery on.
Whether you're a stationer looking for inspiration or a bride or groom to be looking for unique ways to ensure that your stationery stands out, we're here to help. Discover our six easy ways to make sure your wedding print has the wow factor. Oh, and don't worry if you've never used a special print finish before, we've got tons of useful advice, templates, guides and videos to walk you through it, so you can get your print to the presses without a hitch.
Choose a stock to suit you
Did you know that we offer 17 stocks across the Printed.com Wedding Collection? With everything from textured paper to magnetic options for your Save the Dates and even our brand-new Vellum stock – ideal for layering, we've got you covered no matter what your style. If you want to get a feel for what's on offer first, why not order one of our free sample packs?
Go glitzy with Foil printing
For the ultimate fancy finish, you can't beat metallic foil. Available in six colours (Gold, Silver, Copper, Rose Gold, Blue, Red and Green), digital foiling is the easy way to add a touch of luxe glamour to your wedding stationery, no matter what your theme or style. Gold Foil Wedding Invites are a popular choice, or why not try contemporary silver, copper or rose gold instead?
We offer digital foiling for instant upload on loads of products in theWedding Collection (like Save the Dates, Invites and RSVPs) but if you want to add it to something else, there's always the option to go bespoke. Digital foiling is also available on Silk, Uncoated or TruCard paper stocks, but if you're looking to add a shiny finish to a textured stock, Block Foiling is the solution, and our Bespoke team can help you achieve the ultimate finish.
If you're not sure what kind of finish you need, read our blog on foil printing here, or get in touch with the team. They're available on Live Chat every weekday from 8.30am 'til 6pm, or by phone or email.
Don't be square
Or rectangle, for that matter! Print doesn't have to fit a standard format – at least not at Printed.com! If you want to create a unique shape, why not discover Die Cutting? Die Cutting is also great for creating custom favour boxes and – perfect for keeping costs down!
White's not just for wearing
Dress your invites in it too with our gorgeous White Ink finish. We've put together a specially selected range of paper stocks to pair it with too, including the rustic Kraft – perfect for a handmade feel. If you're not sure where to start with White Ink, read our blog on this special finish. It's packed full of everything you need to know!
Sleek and shiny
If sophisticated is your style, Spot UV is your perfect companion. Its subtle shine is ideal for pared back, subtle invites and stationery – less glitzy than foil but every bit as elegant, if it's not on your radar, it should be. Read all about this special finish here.
Paper craft creations
Delicate designs come to life with Laser Cutting – and Wedding Invites make the perfect showcase. Laser Cutting might sound like a difficult process, but it's as easy as supplying us with a couple of extra files (so we know which areas to cut out) and our precise lasers will do the rest! Find out how to get set up with our handy guide.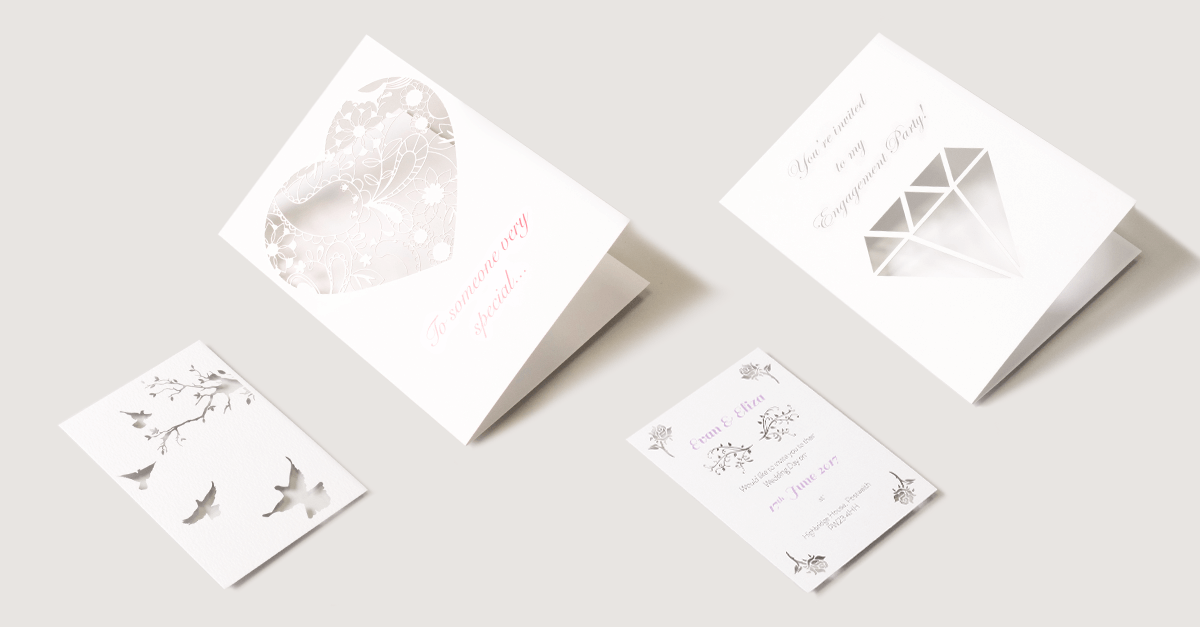 If you're not sure what kind of finish you need, you can meet all of our special finishes here, or just get in touch with the team. They're available on Live Chat every weekday from 8.30am 'til 6pm, or by phone or email.