Bride Spotlight: custom wedding stationery with personality
We've seen a lot of custom wedding stationery pass through our presses and more than a few quirky ideas come to life in our factory! All these designs and styles got us thinking…what makes DIY wedding stationery so unique?
Well, a Snapchat filter and a lot of Rose Gold Foil is one way to make sure yours is memorable… and that's exactly what new bride Caroline did! We chatted to her about all things wedding stationery design to get the lowdown on how she came up with her ideas and carried her theme throughout her entire suite…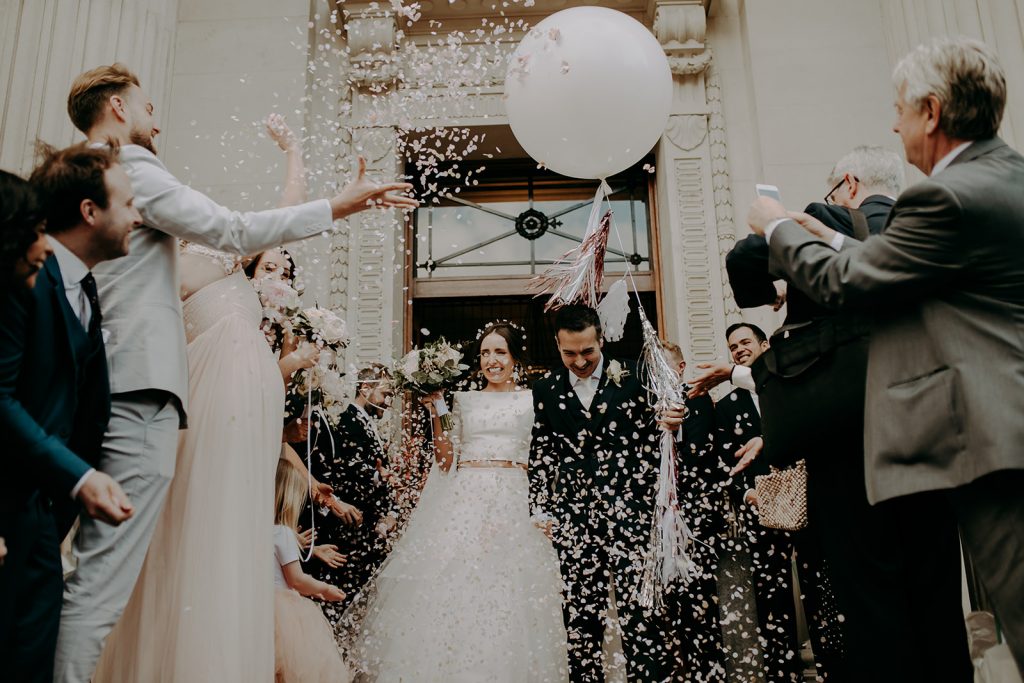 Where did you get your inspiration for your wedding suite?
From the moment we got engaged, I wanted to ensure everything we created for the wedding reflected us at that moment in time. To my Mum's horror, I didn't really want anything about the wedding to be 'traditional', but I did want it to still feel chic, modern and fresh. So, I started out, like most people do, with a 'Save the Date' – but created it on Snapchat (face filter and all) and circulated it as a GIF on WhatsApp!
So, when I started on the Invites, I guess I took inspiration from this and the eclectic world of social media/IG stories – but adding a bit more glam, combined with some of the colours I loved in the venue decor. And the style just evolved from there…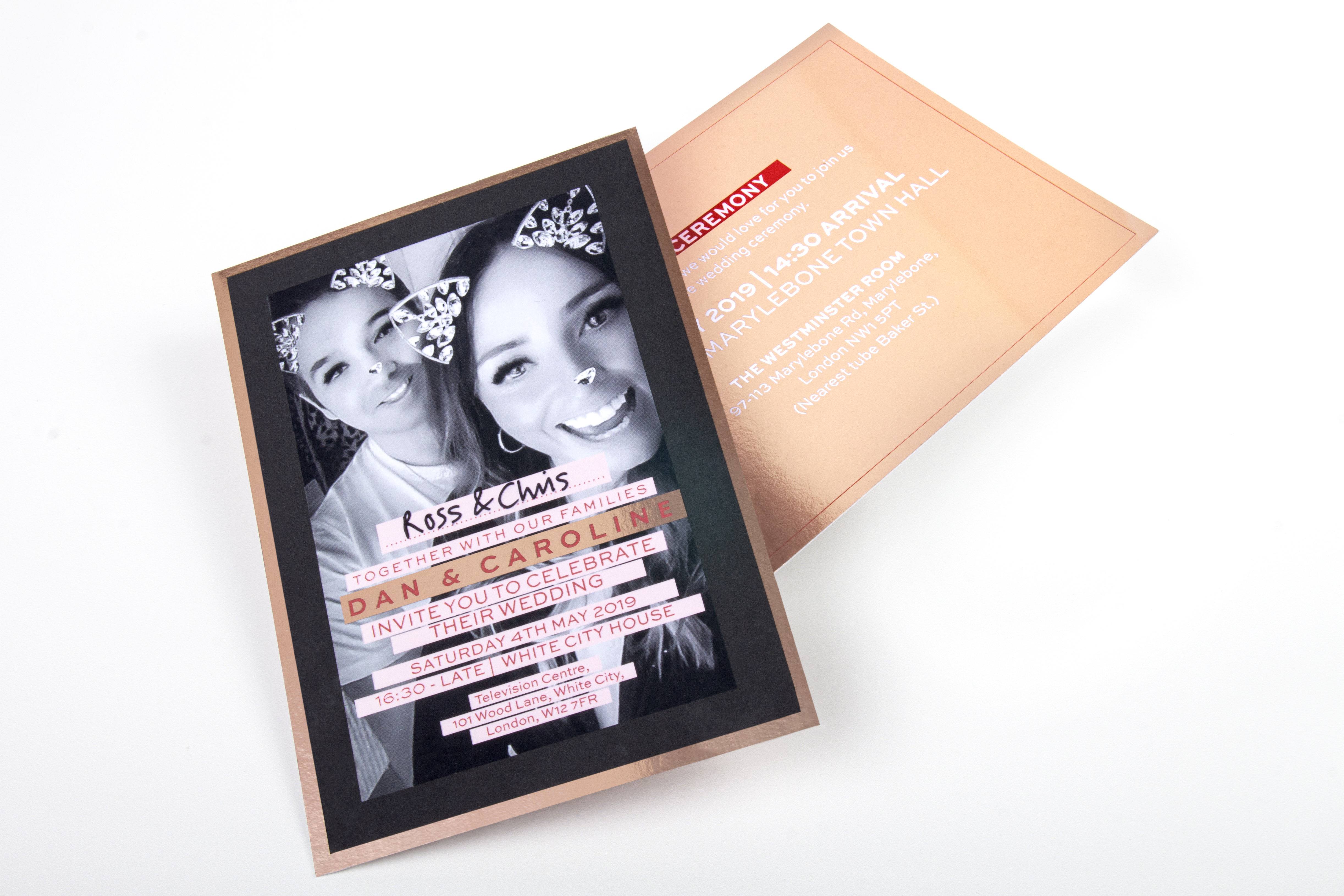 What was the most important element to you, when designing your suite?
Of everything in my custom wedding stationery suite, I felt like the Invite was the most important thing as it would set the precedent for the day. Dan (my now husband) thought that featuring a picture of us with an animal face filter was a bit 'out there'… but that was the name of the game for me!
How did you make sure that your entire suite tied together as a whole?
Not everything we did was perfectly 'matching luggage' – and I liked that. The custom wedding stationery kind of evolved as the vision for the wedding took shape. I used consistent fonts (Sweet Sans), plus some key colours, but because I wanted each piece to feel like it had personality and was right for the purpose, I flexed other elements to suit the space.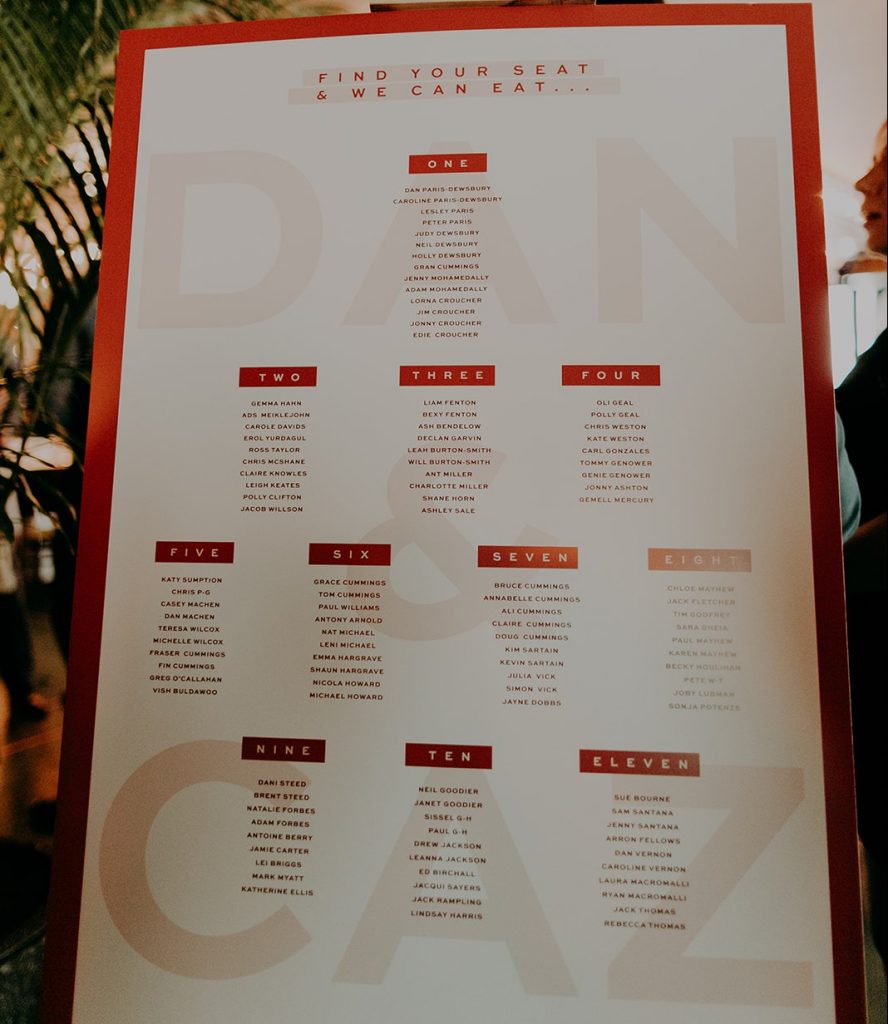 What was the most difficult part about designing your stationery?
Wondering what information to include was the most difficult thing for me! Half of me was thinking, keep it clean/simple and on a 'need to know' basis – which I mainly did. But then I realised that people have a lot of questions about weddings and coming to London, for example, so if I did it again (hopefully I won't!) – I would have added a bit more detail!
How did you choose your paper stocks? Did your papers influence any design decisions?
I chose simple, but quality paper stocks to reflect the non-traditional design. I didn't want too much texture, I wanted sleek and chic – which is why I also went for the foil detail. This was a must for me as I LOVE a bit of sparkle. The fact that you can print foil at Printed.com is amazing!
What was the first thing you designed?
I pretty much designed in the chronological order of the wedding day; Invite, Reserved Signs, Order of The Day, Table Plan, Menu, Table Numbers, Place Cards, Thank You Card etc. It helped me to think logically about each item in the order in which the guest would encounter them. This helped with ensuring I included the right information at each touchpoint as I had the flow of the day in mind.
How did you make sure that you included your personality in your designs?
I feel like we brought personality to the designs by not feeling boxed in by tradition, but also being able to deviate from everything looking exactly the same. It's not for everyone, and there was definitely a strong theme to everything we did, but the use of unusual imagery for a wedding or fun copy in certain places made sure a bit of Dan and I were stamped on everything.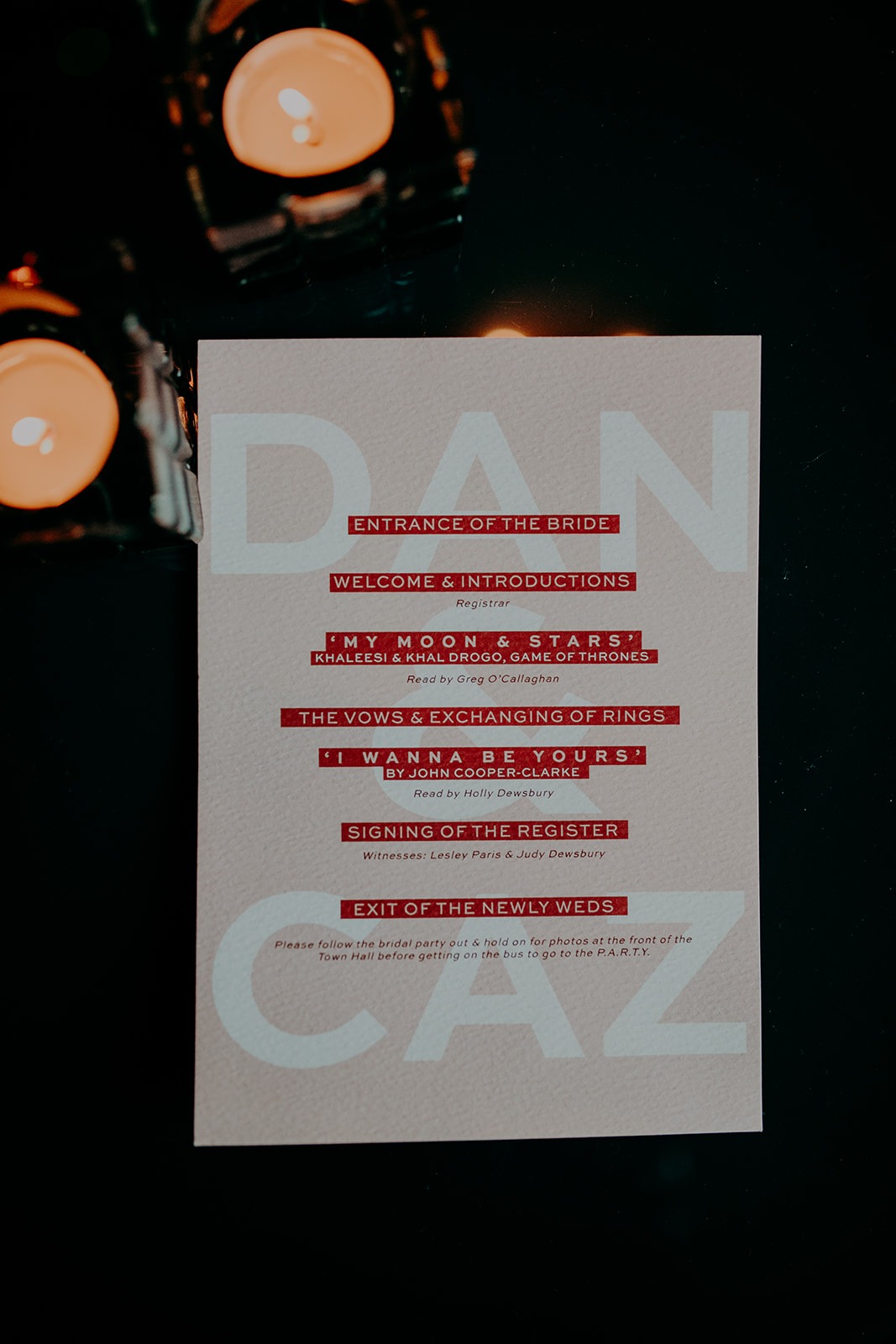 How important would you say the wedding stationery is to the overall experience of the day?
The stationery really helped to bring everything together. It was one of the details that enabled us to reach our guests and hopefully make them smile at every stage, with a little bit of us.
What advice would you give to upcoming brides and grooms who want to design their own stationery, but aren't sure where to start?
I would suggest finding inspiration and collating things you both like to ensure you are both on the same page. Once wedding details start to fall into place, I guess you can feel a bit of pressure to send stuff out instantly and lock those guests in! But as long as that Save the Date is out there, you can take your time to create something you love.
Here at Printed.com HQ, we've helped brides and grooms all over the world to invite over 8 million guests to celebrate their big day. Create something uniquely you, just like Caroline and Dan and start your story at Printed.com.