#ProudlyPrinted – a year in review – highlights from 2018
Welcome to the #ProudlyPrinted Year in Review!
It's our favourite time of the year! And nope, that's not just because we've got a mince pie in hand…
Every year we get to take a look back at some of our favourite #ProudlyPrinted customer creations – and it's finally time for 2018's customers to shine!
You may remember some of these gorgeous creations from blogs gone by, but if you missed any, here's our roundup of the best!
And don't forget, we love to see your designs, so tag us using #ProudlyPrinted for your chance to get featured!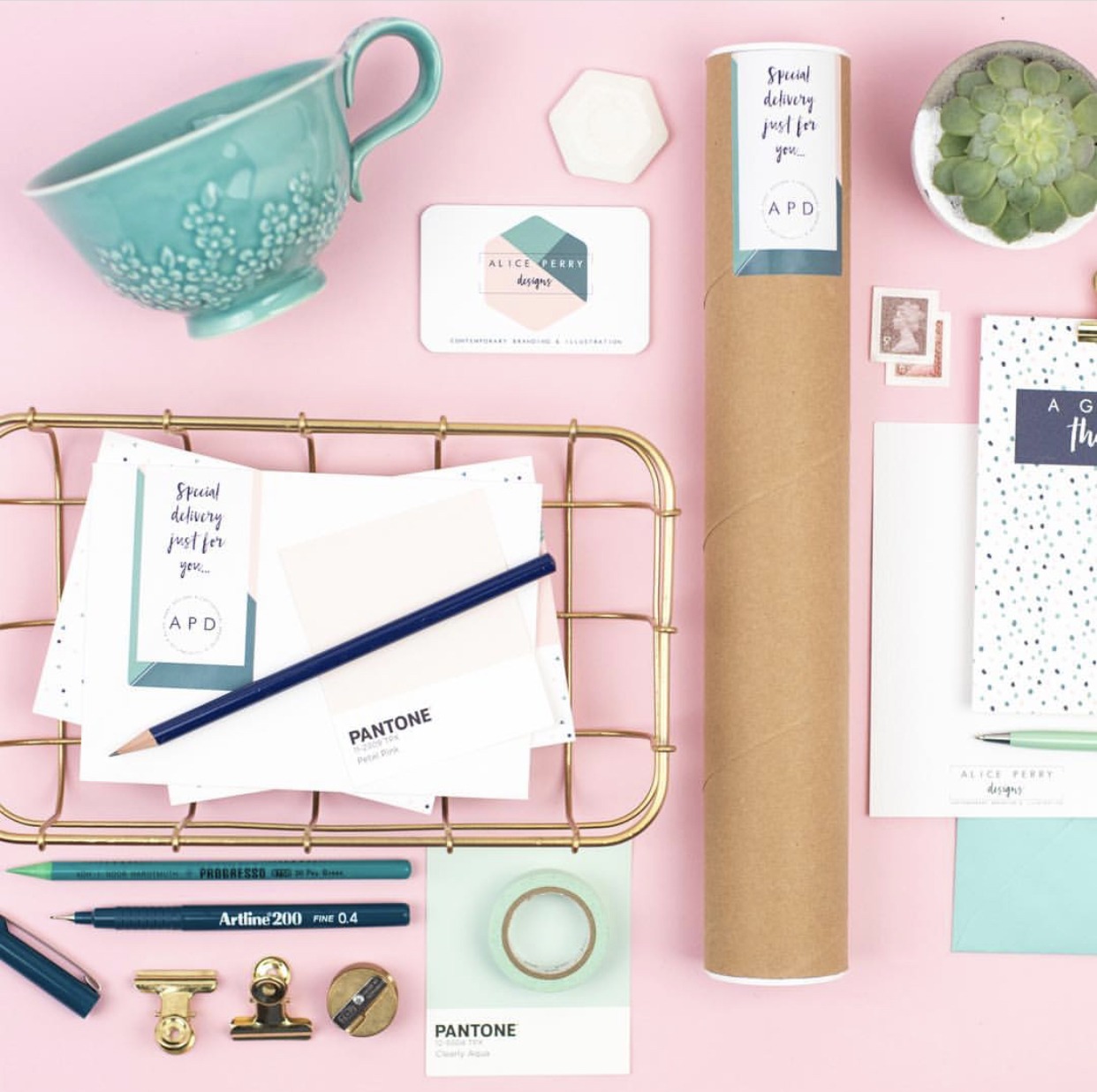 Our first ever customer on to feature on the #ProudlyPrinted series was none other than Alice Perry in our Business Cards Edition.
Not only did her shot of her personal branding give us some serious #Flaylay envy, we loved her gorgeous pastel palette, juxtaposed with sharp geometric lines and shapes.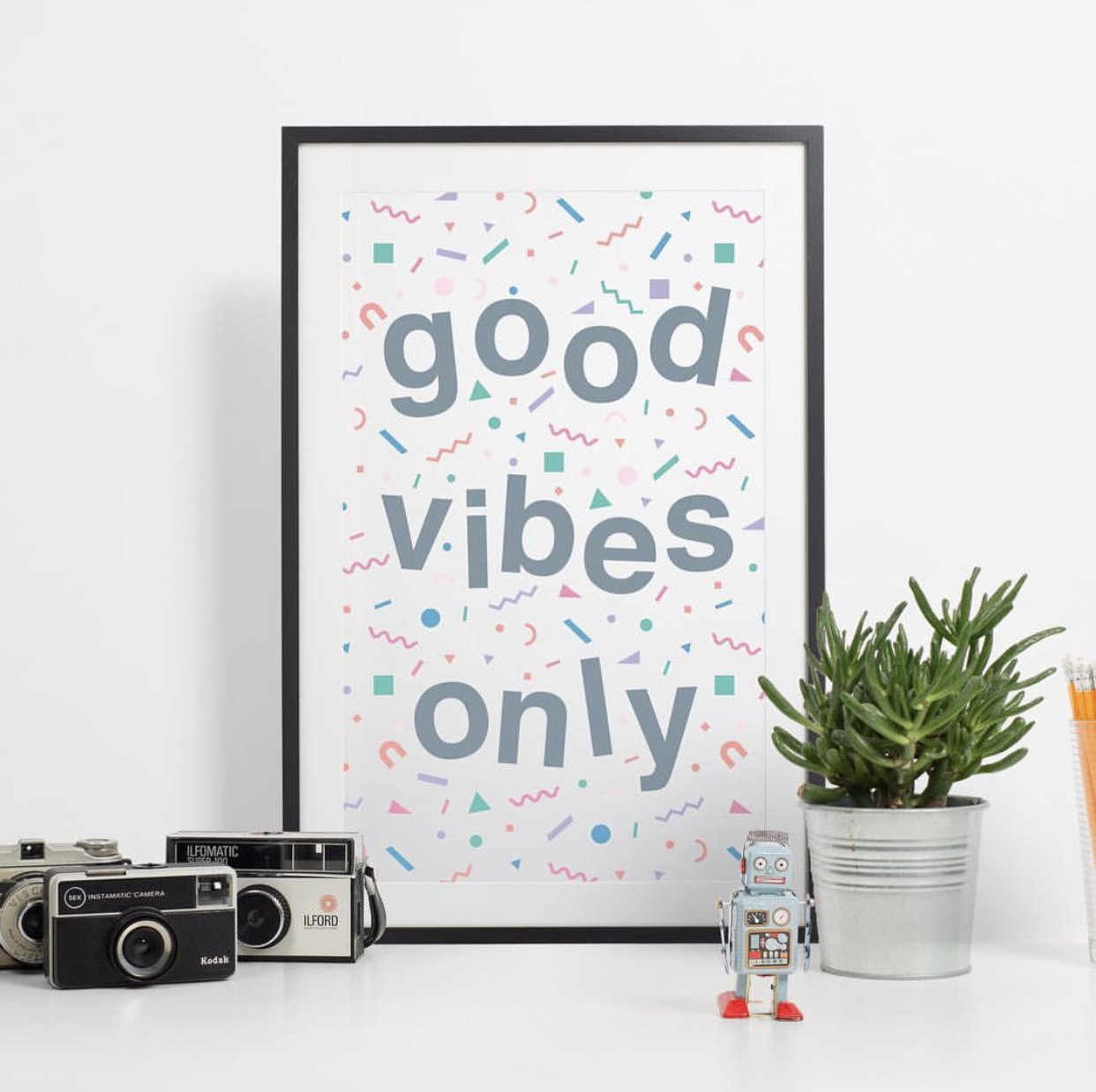 Next up is some seriously Good Vibes from LaLa Stationery! These poster prints definitely spread the feel-good factor with their simplistic Poster design featuring abstract patterns and bold typography. See who else joined them in the #ProudlyPrinted – Poster Edition.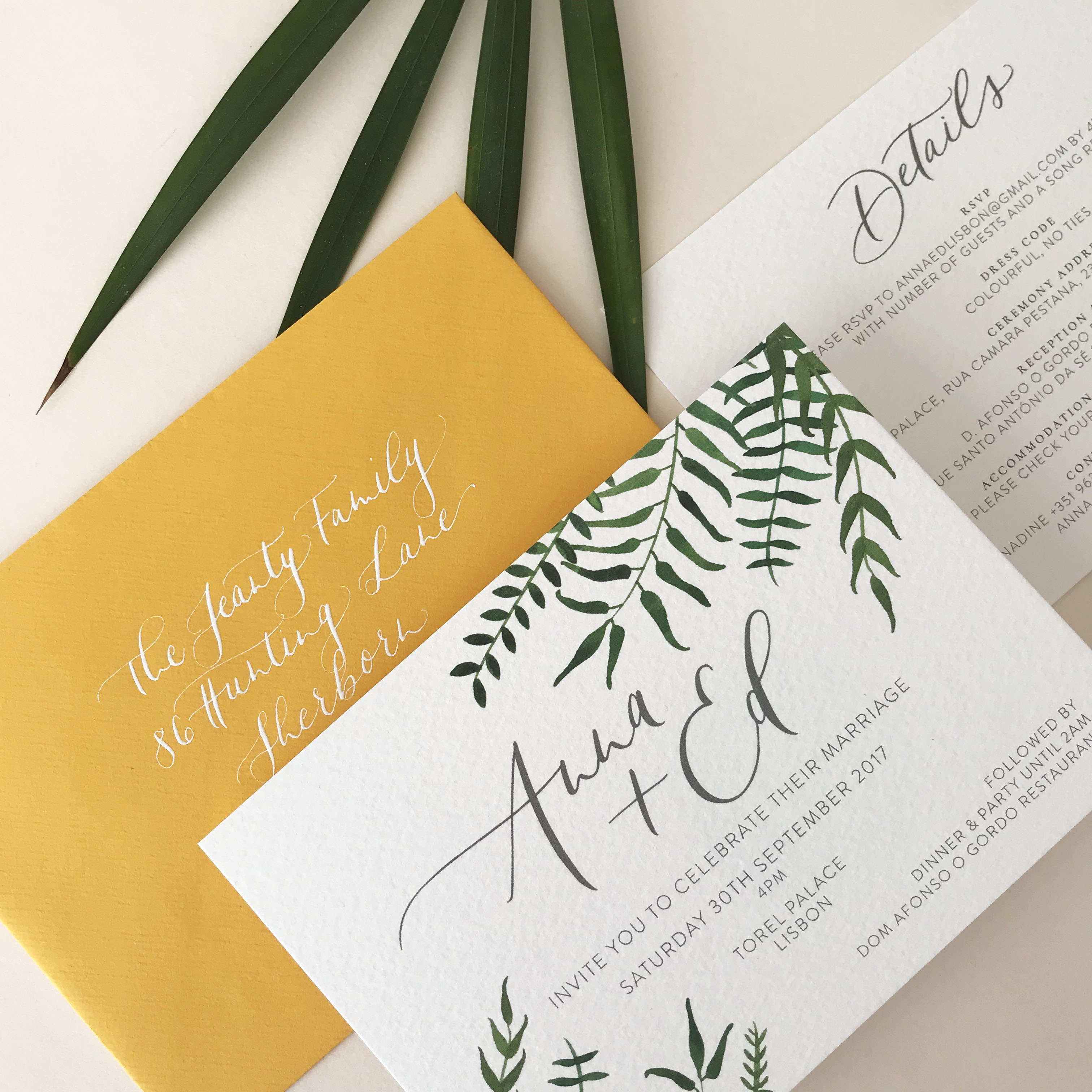 Botanicals were the hot topic of the summer and for our Royal Edition  we featured Natalie Samuelson's gorgeous Wedding Invites – they'd be perfect for even the most regal of events!
We love the way that Natalie Samuelson has added an extra element with vibrant yellow envelopes to offset the green hues throughout her designs. Whilst she's created hers using her own calligraphy and coloured envelopes, you can get a similar effect with our Printed Envelopes!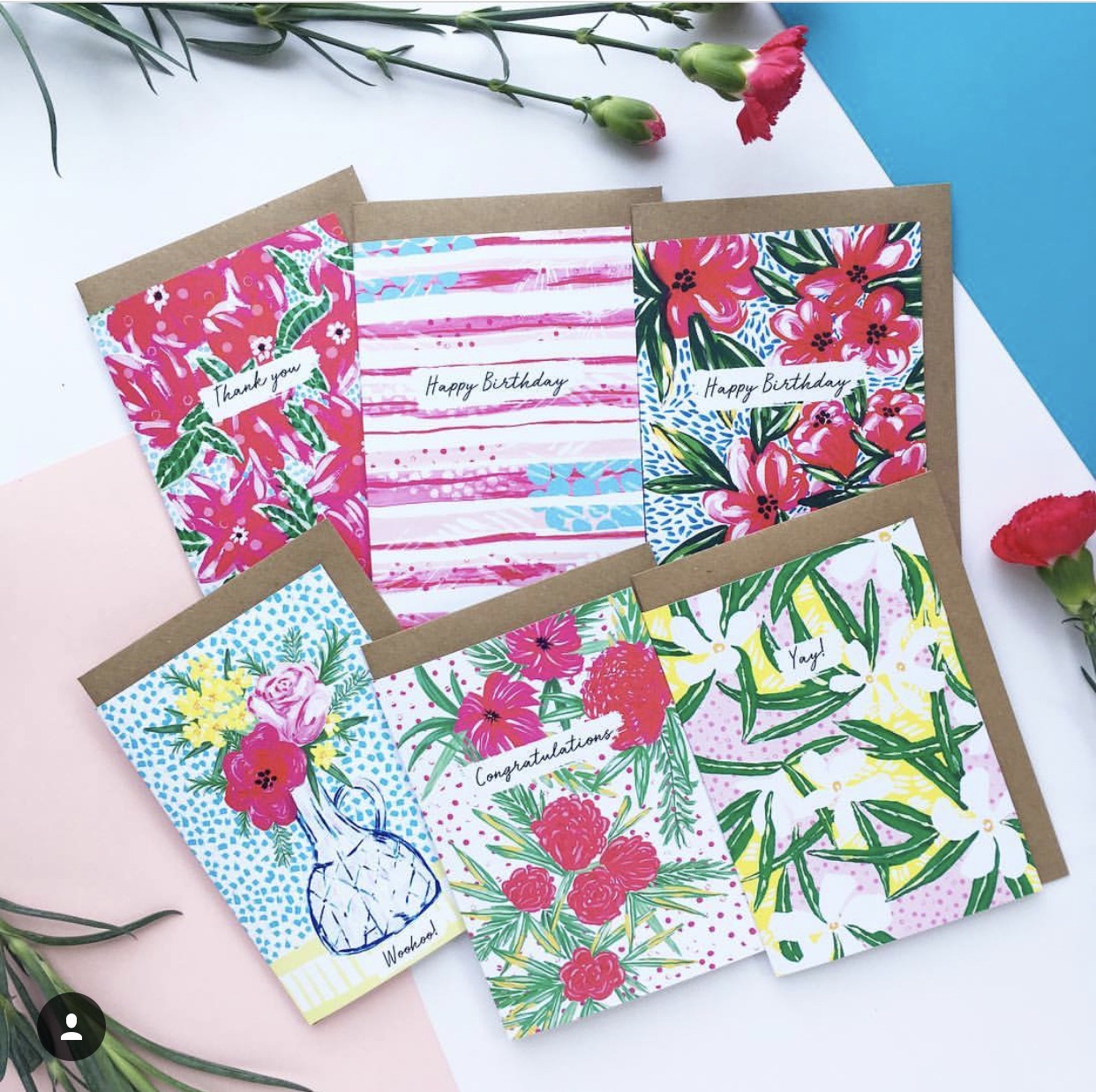 A feast for the eyes here from Harriet Ruscoe in our Spring Edition – we almost feel like we're back at the Chelsea Flower Show with this vibrant array of floral designs. Bold brushstrokes, popping colour and simple typography make her cards a work of art in themselves!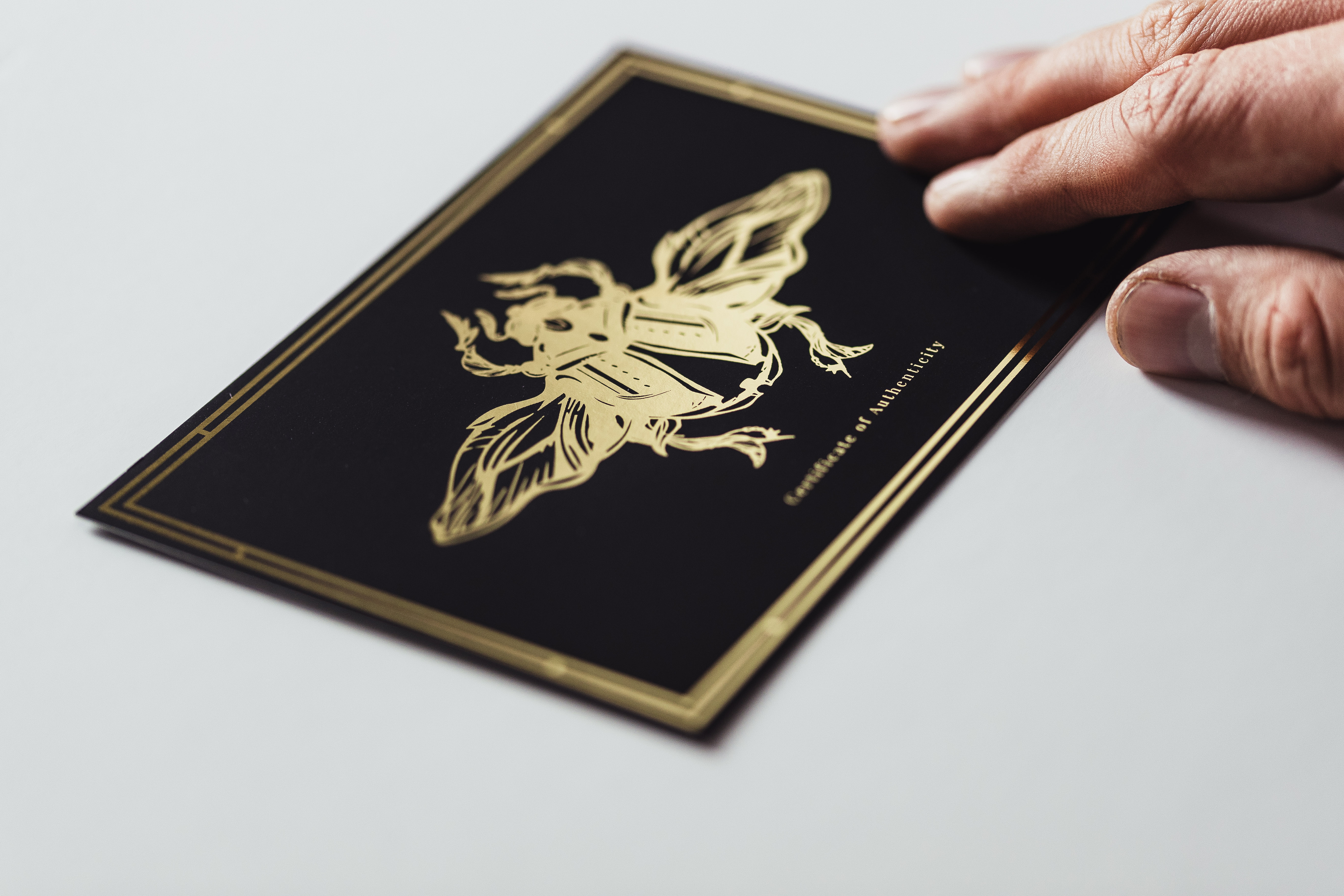 In our Postcards Edition we took a look at how some of our customers use these versatile little prints. From Thank You Cards to promo material, certificates to mini-prints, even we were surprised at the sheer number of unique ways you guys use these prints.
Teaming sleek black Postcards with Bespoke double-sided gold foil, The Curious Department create certificates of authenticity to compliment the products they sell. Acting as a reminder of quality and a neat way to say thanks, they're as eye-catching as the products they partner.
As these swish little cards were created via our Bespoke service, it gave us an idea…. So, in November we launched Foiling on Postcards! (If you want to recreate a double-sided Postcard like these from The Curious Department, you'll need to go Bespoke, as we currently only offer single-sided foil through our standard ordering process).
Illustration doesn't always mean pens and paper y'know…
For the #ProudlyPrinted – Illustration Edition, we featured some gorgeous printed designs by Cairn and Grace. We think you'll agree – how striking is the Elvis Presley print? Printed on 300gsm printed quality Fresco Gesso paper, the hammered texture really makes the vibrant colours of this piece pop.
We called on the artists of the world to show us their stuff – nd they delivered. In our Artist's Edition we featured Lottie Frank and her Illustrated Ladies. Printed on our high quality Giclee paper, each of these gorgeous pieces is hand drawn and created by Lucy Claydon – the creator behind the Lottie Frank Illustrated Ladies.
We asked Lucy to tell us a bit about her illustrated ladies collection, and here's what she had to say…
"The most beautiful people we have known are those who have known ​defeat and have found their way out of the depths. ​These people have an appreciation of life that fills them with great ​strength, compassion and gentleness.​ Beautiful people do not just happen…​Lottie Frank did not just happen…​​​ created from the soul, meet the illustrated ladies who walk to the beat of their own drum. Creating beauty with their attitude, their behaviours, their actions. ​​Fearless, independent and original. ​The dreamers, the thinkers, the achievers, seeking possibility everywhere they turn.​​
​Running wild, looking pretty and above all else ​lucky enough to be different…"
We think that's pretty inspiring!
How adorable are these Saddle Stitched Brochures by Folio that we featured in our Lookbooks Edition? They've gone for a unique square size for their Lookbooks and teamed them with their a bold sloth illustration.

Know a cat lover? These 'punderful' Calendars by Katie Ruby Illustration are just the ticket.
We featured Katie Ruby's gorgeous designs in our Calendar Edition and not only were these Calendar's absolutely adorable, they also featured some on trend colours too –  the Pantone Colour of the Year being her signature colour for her covers. We love her cheeky inclusions of dates like 'make your dreams come true' day and 'ditch new years resolutions day'. And, with each month featuring a different cat pun, you'll never get bored of flipping through the year!
Bespoke's been big news this year! With over 6,000 Bespoke orders processed, our team have certainly been busy helping you get your print, your way this year – we featured just a few of our faves in our Bespoke Edition.
Incorporating acetate into wedding stationery suites is big news right now, and Amanda Michelle Design and Stationery is most definitely ahead of the curve. Using our Bespoke service, we helped her source the perfect chromatic paper to create her foil printed wraps to house her folded Save the Date Cards. These gorgeous designs also feature hand Calligraphy by The Crafthood  on the envelopes, adding that final hand finished flourish.
And, we loved her idea so much we introduced Vellum paper to our range too! You can get it in the Wedding Collection.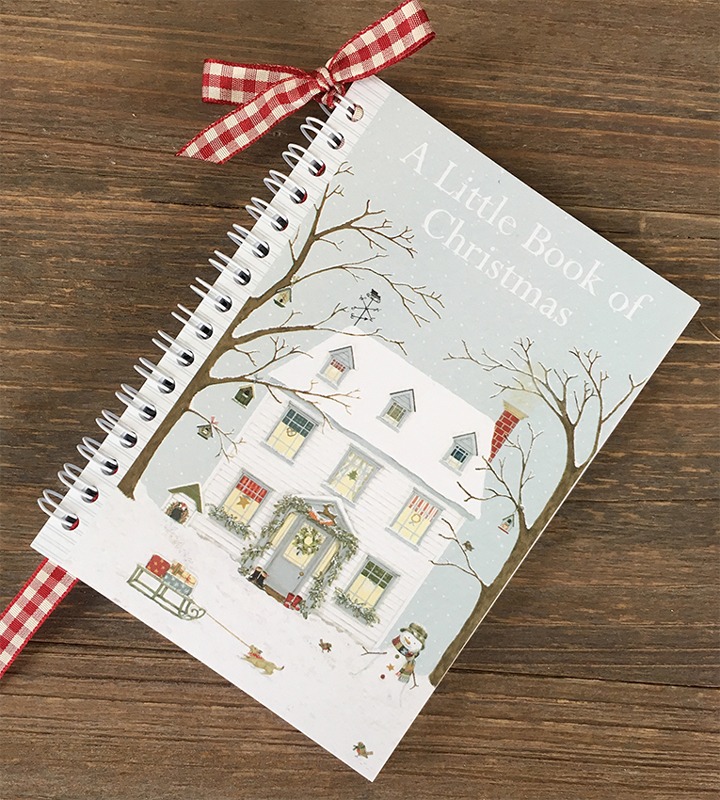 Time to bring out the festive print! Sally Swannel's adorable ittle notebook is perfect for all your Christmas notes, wishes and jotting. In A6 (105 x 148mm), featuring lovely 300gsm textured covers, its wire bound with 100 white, 100gsm, blank pages and it's hand finished with a red and white ribbon bookmark.
Chrostmas Stationery is a little niche, so Sally featured in our Mix 'n' Match edition – see who else joined her here.
We hope you enjoyed our #ProudlyPrinted – The Year in Review!
Remember, if you fancy a slice of the action, just tag us in your printed creations over on Facebook, Instagram and Twitter and use the hashtag: