#ProudlyPrinted – The Illustration Edition
This week our #ProudlyPrinted series takes a hand-drawn turn in our Illustration edition!
From lovely lettering, to vibrant prints, we're celebrating all things illustration! So kick back, relax and get inspired, 'cos we've rounded up our pick of the bunch – and they're all right here for you to enjoy.
From gorgeous handcrafted designs to cutting edge modern minimal, we get to see all kinds of creative pieces pass through our presses. Want to see your designs here too? Tag on social using the hashtag #ProudlyPrinted!
A Letter in Time
This vibrant piece is just a snapshot of some of the fantastic work created by Ampersand Fran. She's an  illustrator/typographer/graphic designer based in London and we're loving her designs here at Printed.com.
We wanted to find out a bit more about what drives this design extraordinaire, and here's what she said…
"I started sharing my doodles back in January and by the end of March I had people wanting to buy my designs so I opened up shop! My style is very eclectic but you can always find my love for colour (especially pink) and typography in my work. I find inspiration everywhere, from street signs to cereal packets, and I love playing around with new ideas until it feels right."
Cairn and Grace
Illustration doesn't always mean pens and paper y'know… How striking is the Elvis Presley print by Cairn and Grace?! Printed on 300gsm printed quality Fresco Gesso paper, the hammered texture really makes the vibrant colours of this piece pop.
We asked Hannah, founder of Cairn and Grace a bit about her work and inspiration…
"I'm the founder of a Etsy shop which I run from my home in the little village of Weldon.
My prints are inspired by the things I love and my everyday life, whether that be something I'm reading, watching, or desperately needing (like coffee, or a good nap), and are designed with an equally bold and soft colour scheme in mind."
Lady Kerry Design
These bold, beautiful, pun-tastic designs are by none other than Lady Kerry Design. Ladykerry is an illustrator/designer based in Edinburgh bringing cute, kitsch and puntastic cards and gifts to the world. If you want to bring a smile to your recipients face, we reckon these are just the ticket.
We asked Kerry to tell us a bit about what inspires her…
"I adore wordplay and use puns in my work as much as possible. All my designs are hand-drawn and then digitally coloured – I love retaining the hand-drawn feel to add extra quirk! Colour plays a big part – the more colourful, the better!
Receiving a card should always be special and resonate with the recipient. I love that my cards can help create that unique moment – whether it's for llama lovers, gin drinkers, unicorn adorers or taco fans!
It's a cliche but inspiration strikes everywhere – overheard conversations, current trends, favourite foods, or when I just let my mind wander. And gin. Gin is always inspiring. Well – ginspiring, obviously."
We love, love, love these designs by Savannah Storm! Perfect for any occasion, her delicate illustration style brings a dose of fun charm that's ideal for her Greeting Cards and products. Plus, we just had to show you her pasta print card… anyone else hungry now? Yup, us too.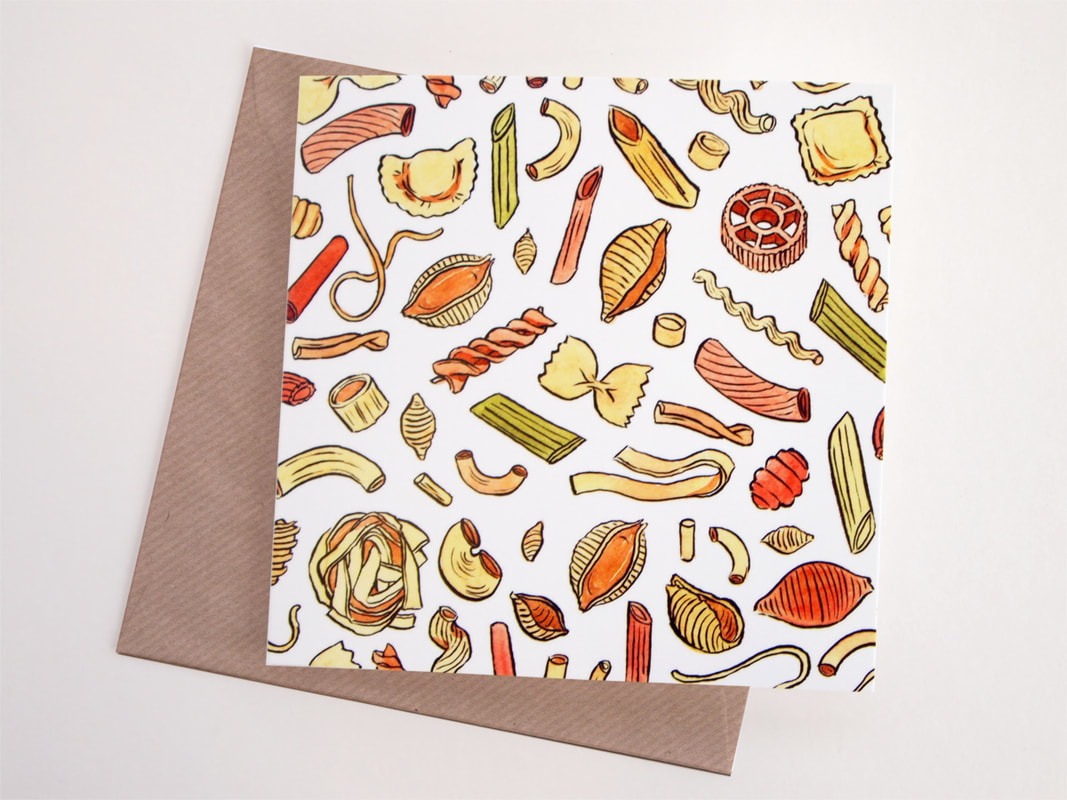 Here's a bit about Savannah…
"I am an illustrator, designer and maker, who loves collecting things, colours, patterns, and the seaside! Seeing my work on a product is so exciting, so I enjoy surface design and pattern-making. I love to draw more than anything and I like to keep that handmade feel throughout my work, whilst still finishing things to a professional standard.
My main inspirations are objects; I like to find and use quite unusual and quirky subject matter in my designs and I'm always fascinated by the stories that objects hold. As an avid charity shop fan, nothing beats finding unlikely treasures. I love detail, busy compositions, a sense of fun and positivity, and finding joy in the everyday!"
We hope you enjoyed our #ProudlyPrinted – The Illustration Edition
Remember, if you fancy a slice of the action, just tag us in your printed creations over on Facebook, Instagram and Twitter and use the hashtag: 
While you're here, why not check out some other #ProudlyPrinted creations with our Summer edition and Positivity edition?