Let's celebrate International Artists Day with Bonbi Forest!
We've always been proud to put small businesses and creatives at our core, so we'll take any excuse to shout about the amazing work they do.
In honour of International Artists Day, this #InspirationPrinted feature is all about the lovely Lee Foster-Wilson and her illustration business, Bonbi Forest!
Get to know all about her right here!
Lee- hi! Tell us a bit about your illustration business
Hello! I have one of those businesses that requires me to wear a lot of different hats, but basically it consists of my shop, Bonbi Forest which is where I sell my illustrated goods, such as jewellery, pins, cards and posters and then there is the illustration side of what I do. I recently signed with my lovely agent, Jehane LTD who is handling all of the licensing of my artwork, but prior to that as well as running Bonbi Forest I took on individual illustration commissions and I have also written two books – 'Creative Marker Art and Beyond' and 'The Grown Up's Guide to Making Art with Kids' with Quarto – that was great fun to do!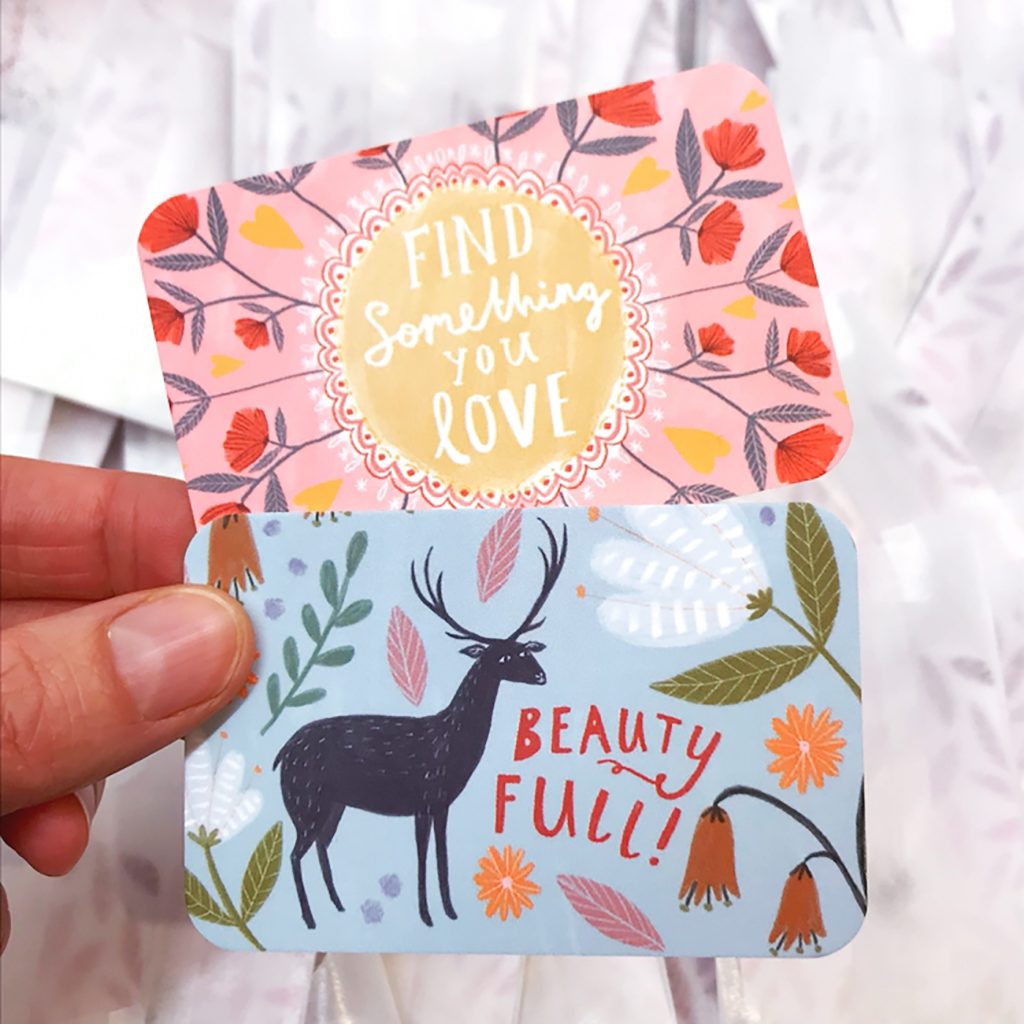 It's International Artists Day! How did you get into art/illustration?
It's so great that it's International Artists Day. I was one of those kids who was always drawing, writing stories and making pictures to go with them, so it was inevitable that I would follow an art route. I gave up all other subjects when I finished school and after doing art, photography and drama at A level. Then I went on to do a foundation at Falmouth University before a Fine Art degree at Brighton.
After I finished my degree I needed a way to monetise my art so I started putting my images on things. In the early days, I hand-printed t-shirts for Bonbi Forest but I also made them for bands as well. This gradually turned into making jewellery from vintage beads to satisfy my love of composition and colour and then I finally figured out a way to put images onto the jewellery with decals and moved away from vintage beads. These days my jewellery and pins are made out of metal and enamel and I sell them alongside a range of cards and posters of my illustrations as well as a few scarf designs.
I have been very lucky over the years and have had several illustration projects come to me via word of mouth, including both of my books which have been great to do alongside running Bonbi Forest. Now that I've signed with Jehane, I have the much-needed help to make my artwork harder for itself. It's all an ever-evolving thing really!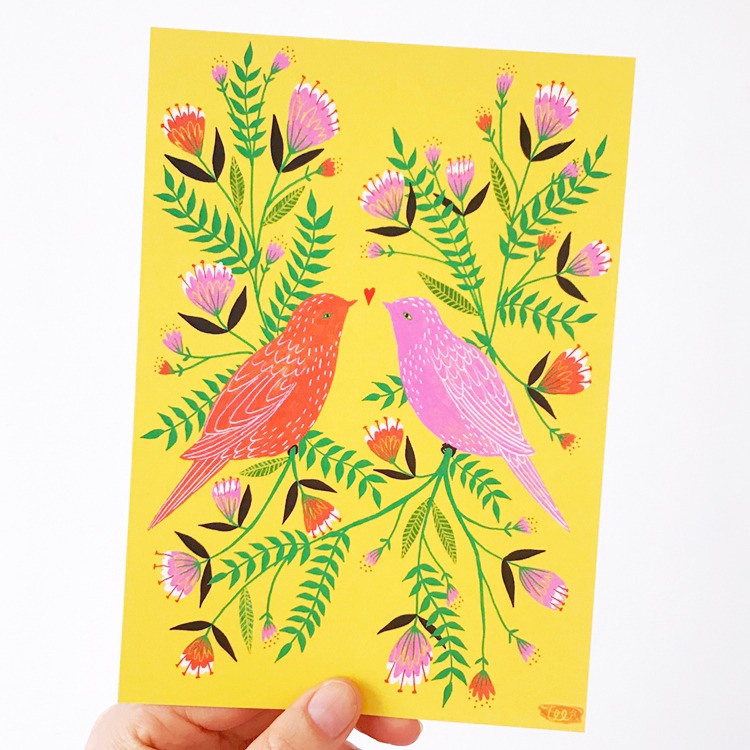 Where do you get your design inspiration?
A good question for International Artists Day! I am very lucky and live in a really rural part of Cornwall near the sea and take great inspiration from watching the seasons change, the animals around us and the things I find washed up on the beach. I like to couple this natural imagery with thoughts and ideas about human relationships with ourselves, each other and the natural world, so I often use words alongside motifs and symbols as part of my designs.
Your products vary from jewellery and accessories to Art Prints and Greeting Cards, how do you decide on your product range?
It all starts with vague ideas and sketches which I develop first into a drawing and then see what else I can make from it…I like my ideas to work hard so I'll often turn that one idea into a card and poster as well as a pin design. Usually there will be 4 or 5 products just from one idea and I like to make them all if I can. People will say to me "I really like that idea but I don't wear jewellery" or " I love this poster, can you make it as a pin?" so if I offer them on lots of things so that there is something for everyone!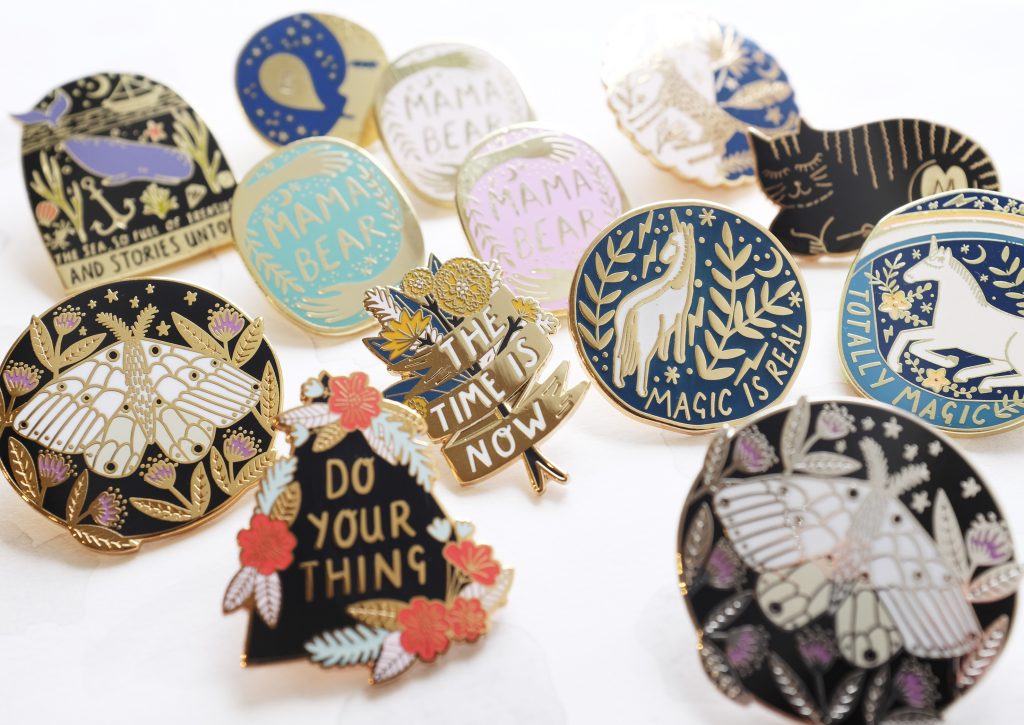 What does a typical day in the studio/at home look like for you?
I have two children so the day usually starts with the usual hustle into uniforms and getting them to school. Once they are dropped off, I settle into work by checking emails and answering enquiries then seeing what I need to do that day. I usually start by getting orders done in the morning and then I will spend the rest of my work time tweaking my online shops, thinking up new ideas or drawing. Twice a week I work right through until about 6:30 pm, but the other three days I will finish at 3pm to go and get my children from school, then I spend the rest of the day with them. It's so lovely to be able to have the best of both worlds!
This nice long time to work every day is fairly recent as my youngest only started school this September. Before that, I would share childcare and work time with my husband who is also self-employed as a web developer. We'd split the day in two, working for one half and then childcare for the other and then make up work time in the evenings as well. Though I miss having so much lovely time with my babies, it is nice to get my evenings back now they are both at school!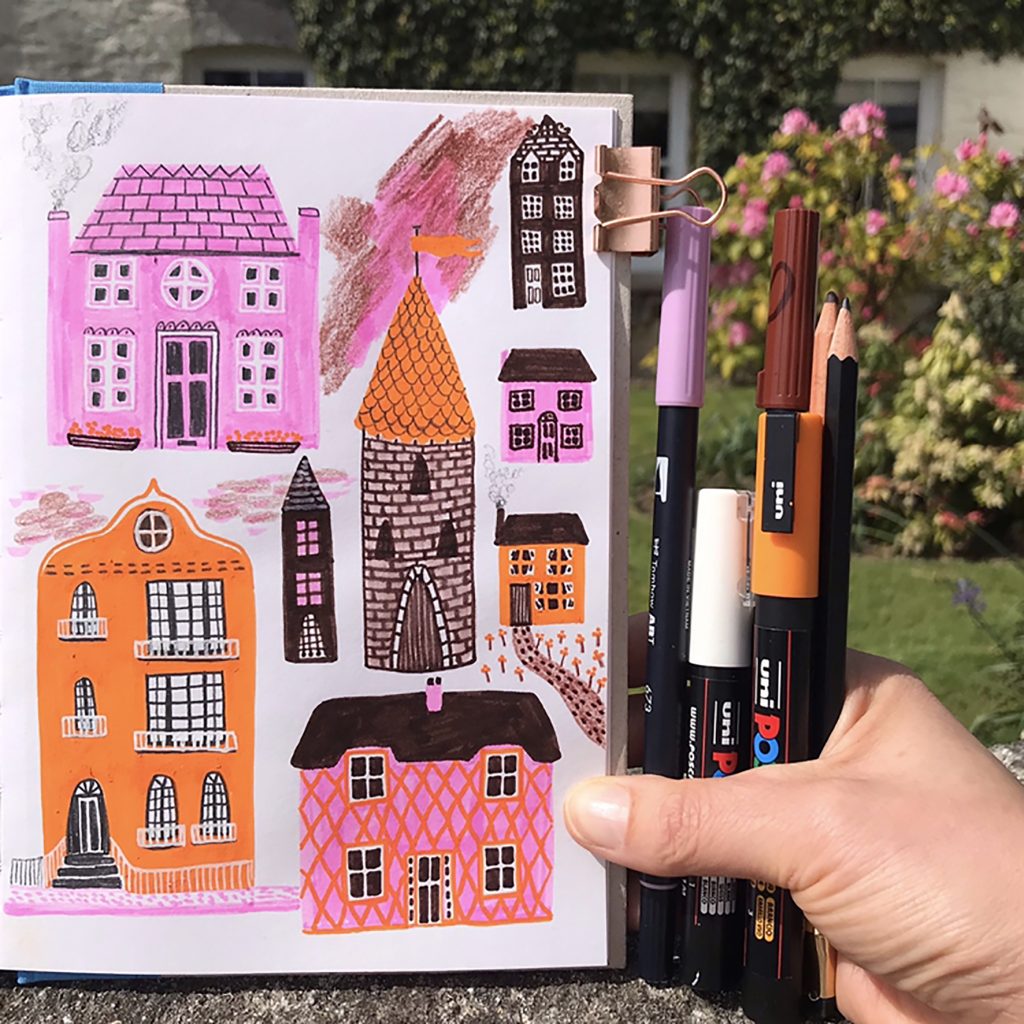 What's been your greatest success so far?
That's a hard one because I am proud of a lot of what I have created. I think the biggest success though is having managed to build a business from my art that is my full-time job and brings in half of the family's income. I can't imagine doing anything else now!
Your designs are beautifully colourful – how do you go about choosing the right palette for your work?
I have a bit of an obsession with using limited colour palettes! My favourite colours to use are dark blues, pinks and oranges and one or all of them can be found in most of the pieces I sell.
I have done a couple of 100 day drawing challenges that revolve around colour. The first one I did involved using 5 random colours that I picked blindly from a pencil case and seeing what I could make with them. I am still very slowly working through the latest one which is making drawings with only three colours and a little bit of pencil. I share the sketchbook drawings from those projects on Instagram under #lees100daysofthreecolours and #100daysofrandomcolours
What kind of challenges do you face running a small business?
Time, mostly! Because of all of the different aspects of my business coupled with childcare I have to be quite structured. For the last few years my sister-in-law has been making up the jewellery for me which is a great time-saver. I give her a big bag of components and then she returns them to me all made up as finished pieces. She lives next door which is very handy!
Sometimes though, I just can't get everything on my list done. I try not to be too hard on myself when that occurs and go with the flow as 'worse things have happened at sea' as they say and tomorrow is always a new day.
Also, promotion. The digital landscape and ways to promote and sell work shifts constantly. I always have to be aware that what worked last time may not work another time and it's a constant case of tweaking things and trying new stuff out. I kind of like that though!
How did you come across Printed.com? What do you print with us?
I think I found Printed.com via a Google search and I ordered a sample pack to see what the papers were like. Of course, I loved what I saw and now all of my printing is done with you! I print my business cards and pin backings, greetings cards, posters and the origami pouches that I send jewellery out in with you. I like Printed.com's green credentials and that I can get very good quality Business Cards printed on recycled paper.
You have a fantastic following on Instagram. What advice would you give to other creatives looking to boost their Instagram profiles?
It's taken quite a while to build up my Instagram following even though I joined before all of the algorithm nonsense. It took me a very long time to realise that people who came to my account to see my art really didn't want to see random snippets of family life popping up in the feed as well. Now I use the feed purely for art and Instagram stories for more personal stuff and things I find inspiring. It's a great promotional tool and a fantastic way to get my work seen by potential clients and customers…I would be very sad if it ever disappeared!
I guess my advice would be to post a mix of finished pieces and work in progress, make sure the lighting is good on your images and post regularly. Also, reply to comments and don't just post and run, Instagram is a social network so engage with other people's posts and you will find that it will come back to you too!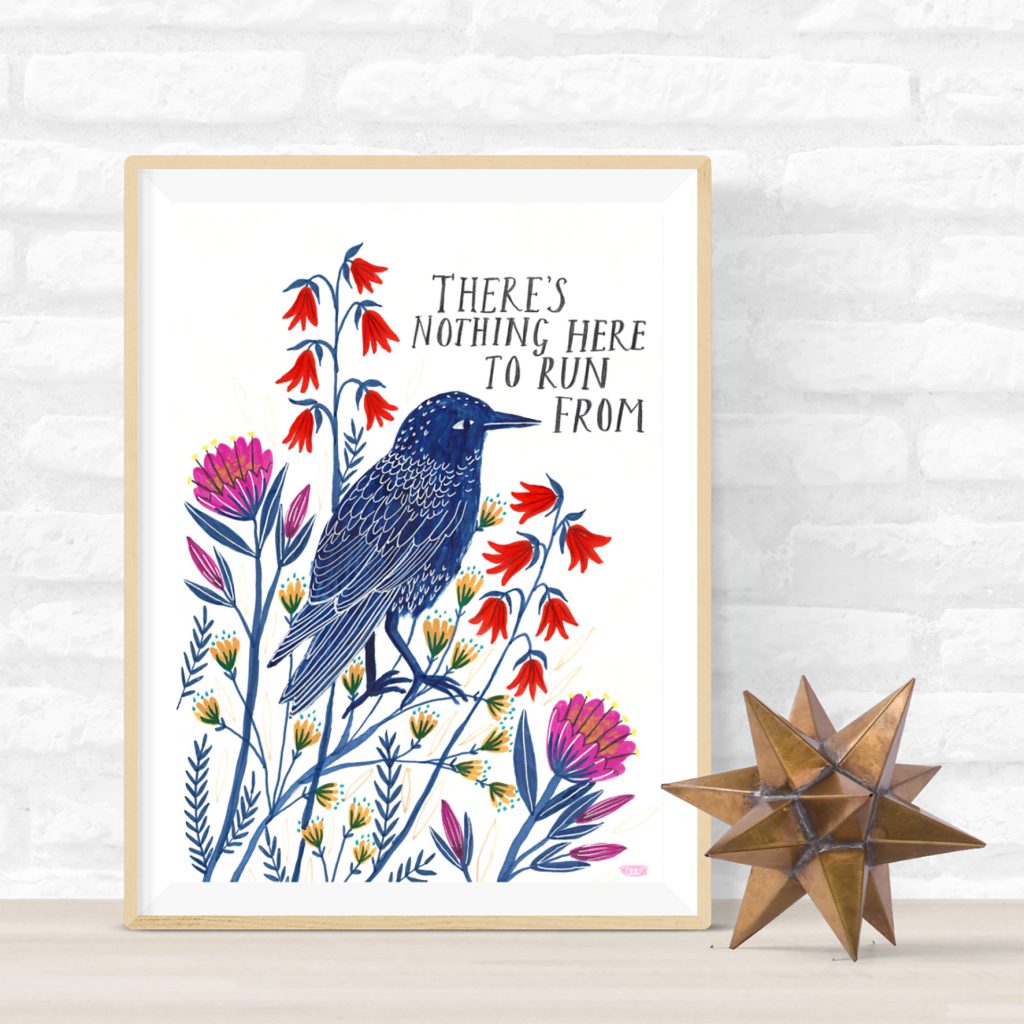 Make sure to check out Lee's art portfolio as well as her website, Etsy, Instagram and Facebook!