#InspirationPrinted- Learning fantasy art with Lisa Curtis
Discover a world of fantasy art with Lisa Curtis!
We've always been proud to put small businesses and creatives at our core, so we'll take any excuse to shout about the amazing work they do.
With London Comic-Con already underway, it's the perfect time to feature someone who's there- Lisa Curtis. Specialising in all things fantastical, get to know all about her and her amazing art right here.
Lisa- hi! Tell us how you got into fantasy art
I've been doing art since I was very small and got into fantasy art thanks to my Dad's love of fantasy films. I remember being blown away watching films like Legend, The Last Unicorn and Willow as well as reading The Lord of the Rings.
It's MCM London Comic Con today! How has Comic Con been part of your creative journey so far?
It's been an amazing experience. I started going to anime/comic conventions about 10 years ago and seeing others selling their art was truly inspirational. For there to be an environment where nerdy artists could share their designs and creations and make a living was an eye-opener. After several years I'm finally able to work conventions full time.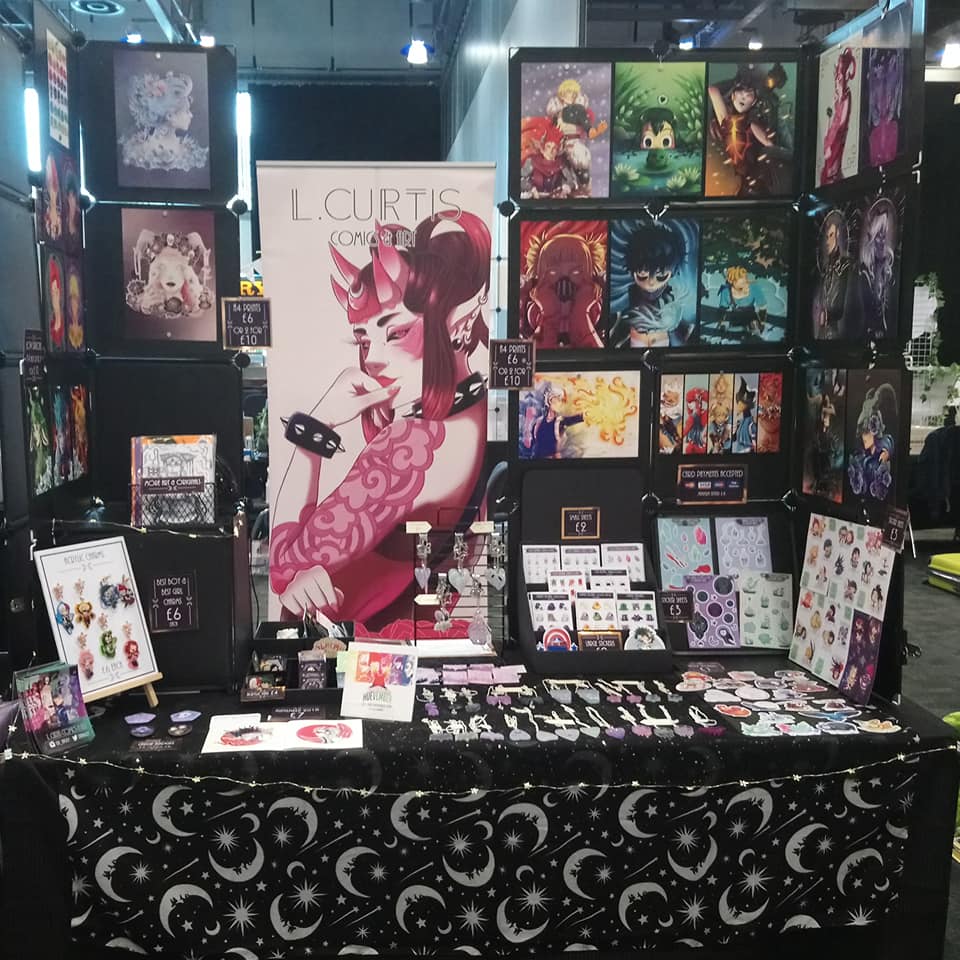 Where do you get your design inspiration for your fantasy art pieces?
Nowadays I tend to be inspired by what I'm particularly interested at the time in as well as artists who share my interests. I've always enjoyed witches and the supernatural, monster girls and creatures of mythology, so going back to my fantasy roots, I tend to gain inspiration from new and old fantasy artists alike.
What does a typical day in the studio/at home look like for you?
I rise when my husband does – it can be tempting to stay in bed, but I've got lots to do. I spend my mornings processing my shop orders, then heading out to the post office or just generally into town for some fresh air, before returning home and hunkering down for several hours working on client work, con prep and commissions. I try to stick to a routine, which is important for workflow but some days are more hectic than others. There will be times where I'm in a real crunch and its just drawing non-stop for days. it's worth it though.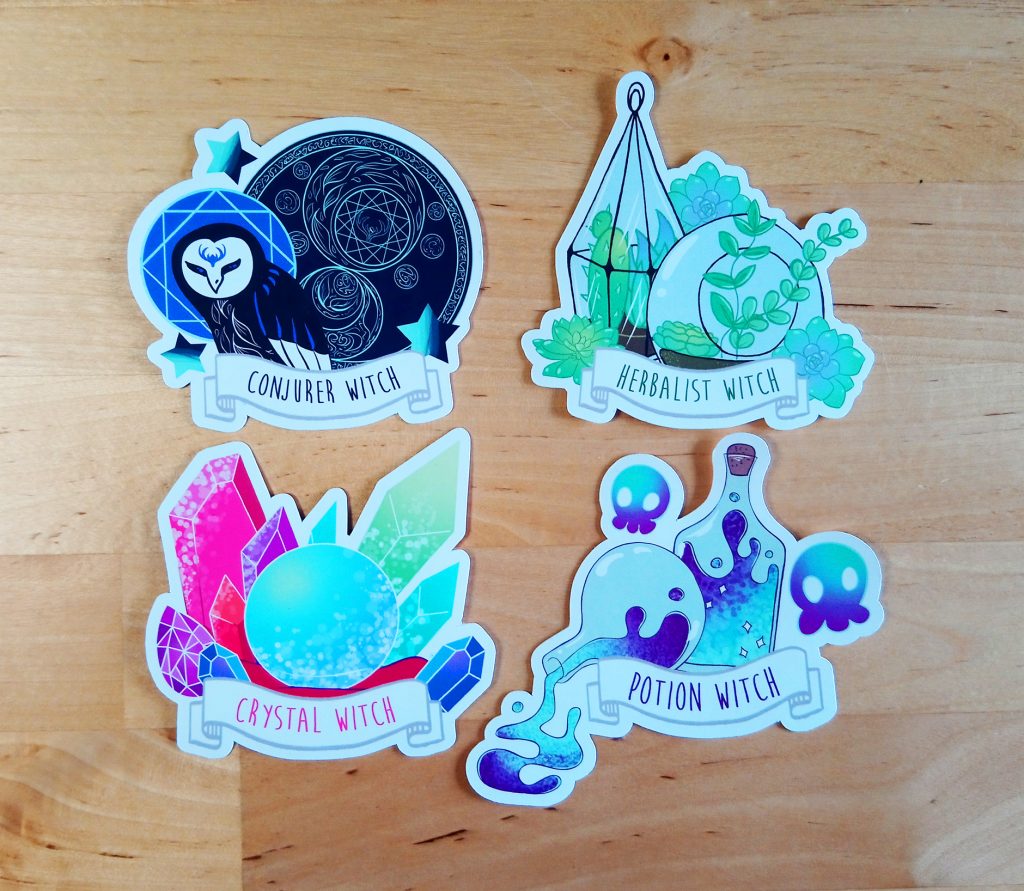 What's been your greatest success so far?
I would say being able to do this full time. As many creatives will agree, it is very difficult to do this and have financial stability. It's taken me years to reach this point but I have had a lot of support from family and friends. To be able to be my own boss is both amazing and terrifying but I love it so much and I'm so happy to be in this position now.
How do you juggle your creative work with day-to-day life?
It can be really challenging. Routine is so important but life does happen and when things go awry, I just try and get back to it. My day to day now is my creative work, so the two really just meld together. I've learnt the importance of taking breaks though. You constantly feel like you need to be working when you work from home and that's a really dangerous mentality. So now I try to not work in the evenings as much.
What kind of challenges do you face running a small business?
The constant need to succeed and the fear of failure. I have felt the sting of burn-out where you wish you could create, but life gets too hectic, so you physically don't have the time to work. I try to not beat myself up when it happens. The key is remembering you're only one person, so it's ok to have that rest day or two. We all fall down and I still have moments where I think "is this right? should I be doing this?" but I persevere and I get through those low moments.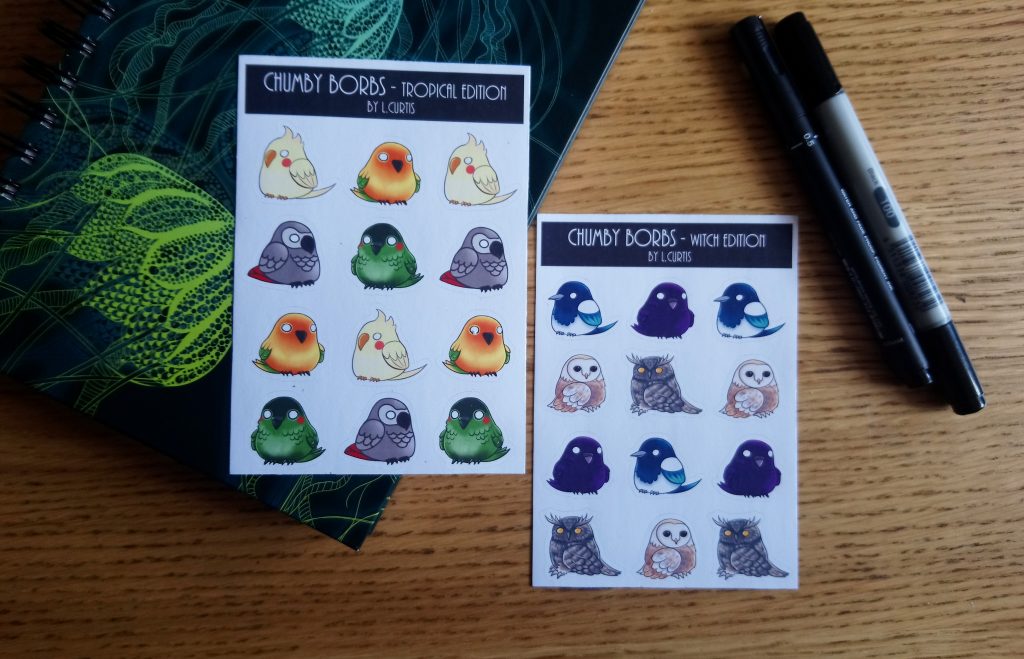 How did you come across Printed.com? What do you print with us?
A friend one convention was showing off her new prints and I was blown away by the quality. She pointed me to you guys and I've been using Printed.com for over 2 years now. I print all of my A4 Prints, Small Prints and zines with you and I recently had some banners made.
Do you have any favourite products/papers/special finishes?
I had some inked pieces printed on Fresco Gesso paper and everyone at the con thought they were originals, not prints, that's how nice they turned out! I also really like the pearlescent finishes.
Make sure to check out Lisa on her Instagram and Etsy!
Get next-day print on loads of options and products at Printed.com – perfect for when you need to get your print, fast.
London based? Get same-day print on a range of options too! See all of our delivery options here.