Talking NHS fundraising with The Native State and Geraldine Tan – #InspirationPrinted
We've always been proud to put small businesses and creatives at our core, so we'll take any excuse to shout about the amazing work they do and the great print they produce.
We recently chatted to graphic design guru The Native State and interior design blogger Geraldine Tan about their collaborative NHS fundraising initiative. Read on to find out more!
Hi guys! Firstly, can you tell us a bit more about your respective businesses?
Frankie: I own The Native State – a small business designing modern and colourful wall art, based in my garden studio in St Andrews, Scotland.
Geraldine: I am a medical doctor, interiors blogger and content creator. I am the also owner of Little Big Bell.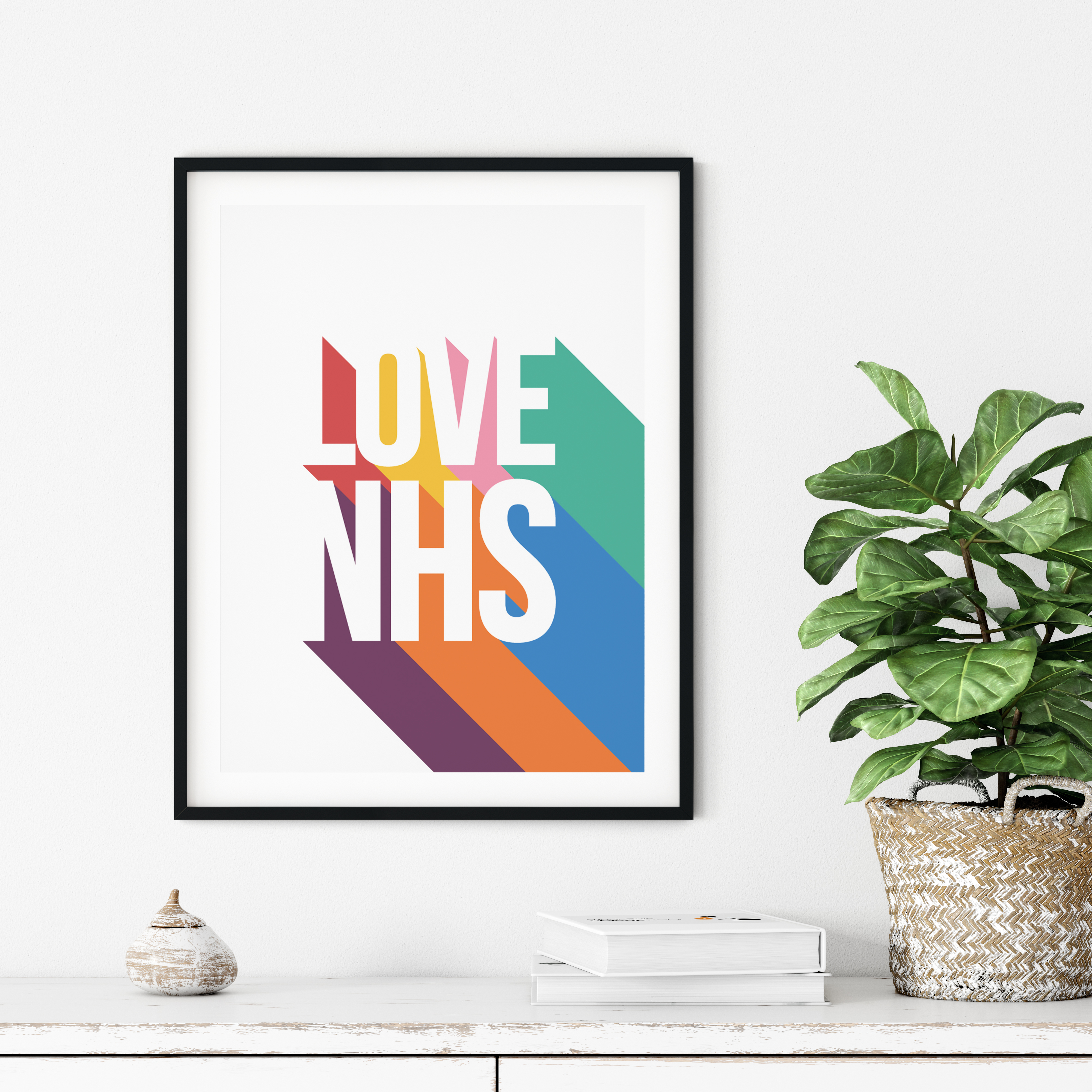 You both recently collaborated on an NHS fundraising initiative, could you tell us a bit more about how this came about?
Frankie: I met Geraldine a few years ago through a partnership she was doing with Etsy. She has kindly supported mine and many other small businesses since then and approached me with the idea for a NHS-based print.
What feedback have you been getting from your customers?
Frankie: The feedback has been amazing. We even managed a shout out on Lorraine a few weeks ago! It's been wonderful to do something that has been so positive during a pretty unsettling time. Seeing the print hanging on walls and in windows has been really special.
Geraldine: Yes – it's all been very positive and supportive!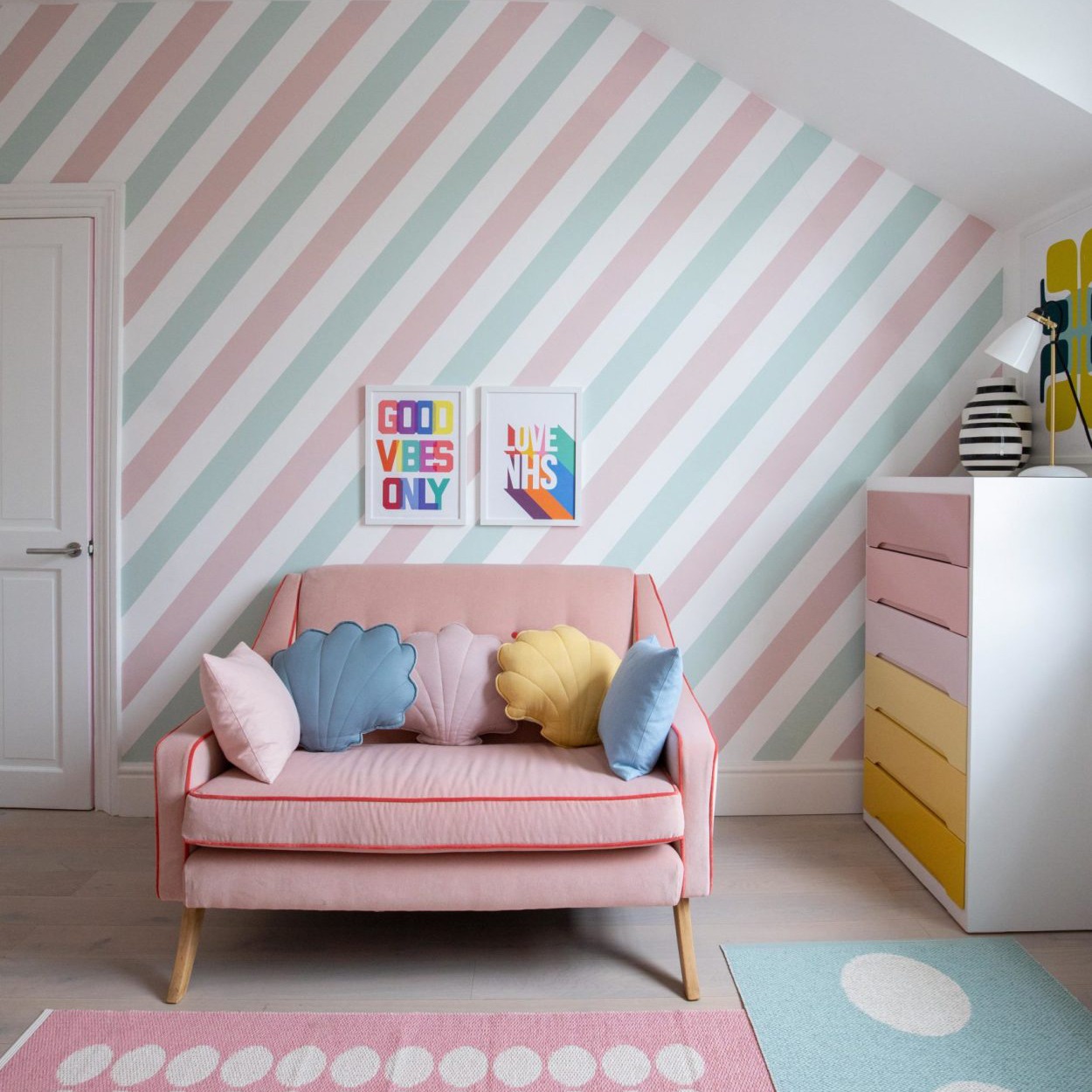 How important do you think it is for small businesses and creatives to support the NHS and other charities through fundraising at this time?
Frankie: I think if you have the time and resources then it's a wonderful thing to do. Charities are suffering at the moment and I'm grateful that I've had the opportunity to be able to help in any way I can.
Geraldine: It's so important. For me, it's part of my DNA as a medical doctor and I feel happy doing it too.
How are your individual businesses coping during this turbulent time?
Frankie: I have a four year old daughter so having to juggle working whilst looking after her has put the pressure on at times. I am used to working in the little pockets I can find and thankfully have a partner (also self employed) who I can tag team with.
Geraldine: The interiors industry is continuing as before, it's my passion so this hasn't stopped me from carrying on!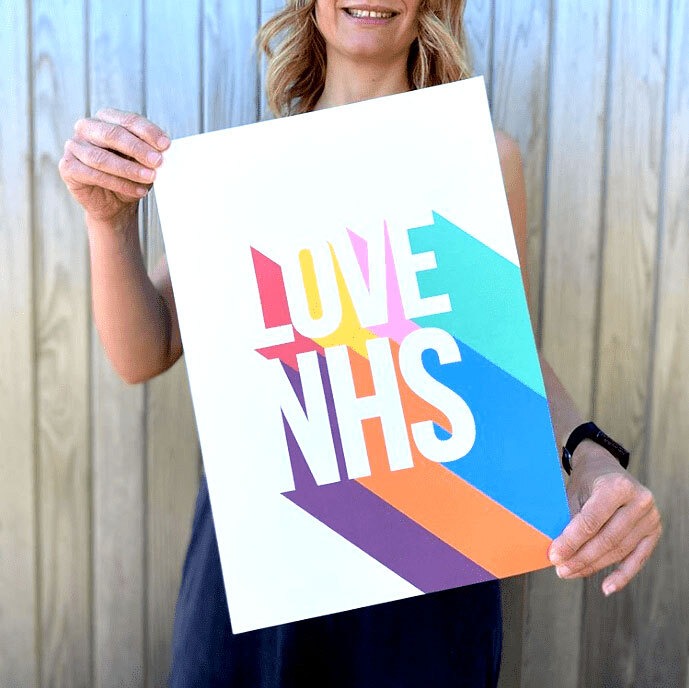 What advice would you give to other creative businesses looking to reach out and support the NHS?
Frankie: Use the skills you have to offer support. It may be in designing a print or product, offering a discount to NHS key workers or a collaboration with other small businesses.
Geraldine: Put simply, I think it's very simply important to support those less fortunate than us, as and when we can.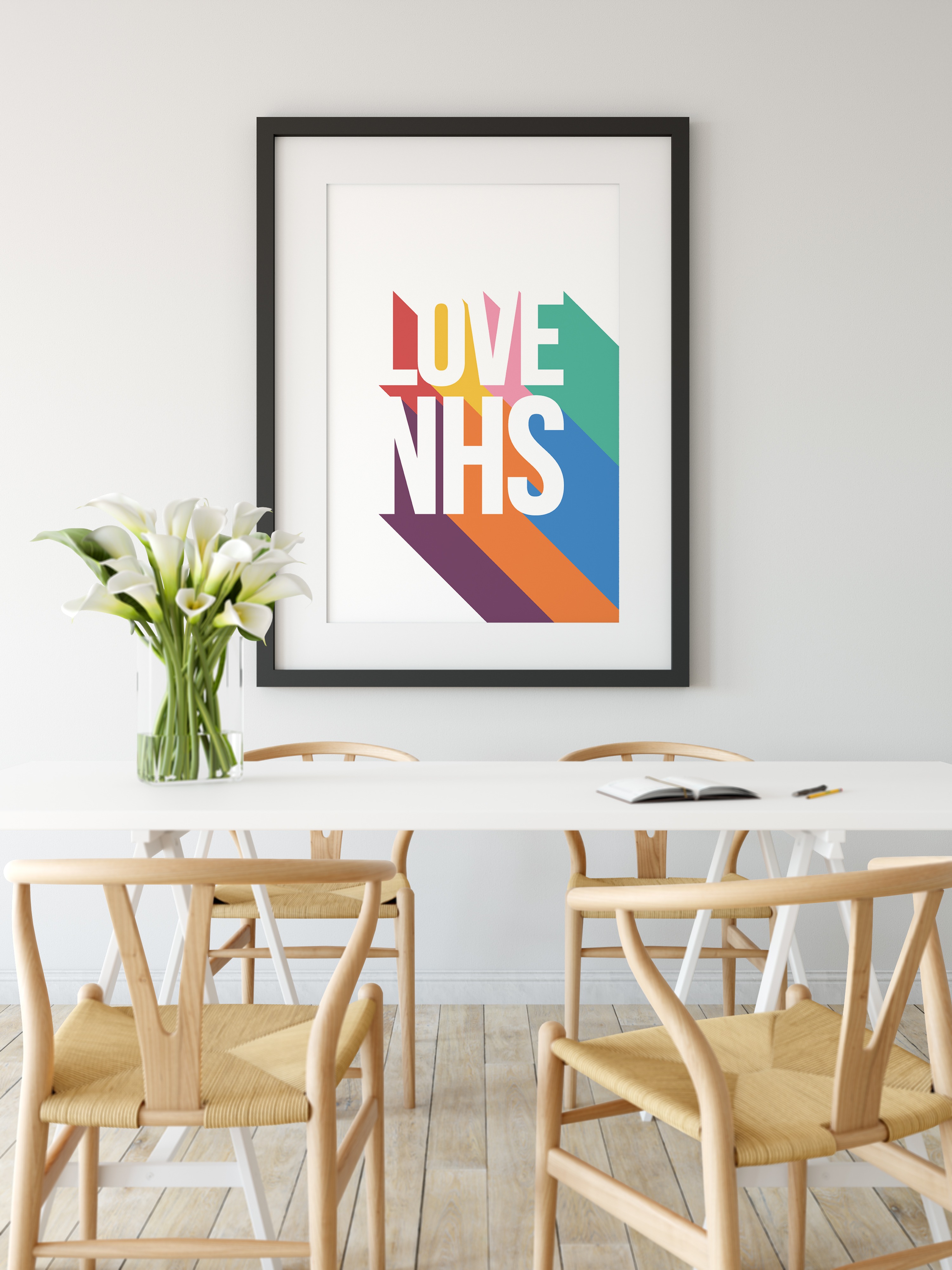 Where do you each get your design inspiration?
Frankie: Everyday life. It could be a flower growing in the garden, a quote I've read or a song I've heard. All are inspiration for my next print collection.
Geraldine: I love colours, so will usually pick things that inspire me. This could be from travels to social media and even online browsing.
What does a typical day in the studio/at home look like for you at the moment?
Frankie: I start the day with a run (I'm re-training for the rescheduled London Marathon). I'll then drive into town to post orders. The rest of the day is usually spent in the garden and then I'll try and steal a couple of hours work in the afternoon.
Geraldine: I have a full day at the hospital emergency department, then home to exercise. My husband is a great cook, so I leave that to him. In the evening I love spending time with the kids and my husband and I love watching movies on Netflix. I spend most of the weekend cleaning the house and doing my interiors work. It's not an exciting life in lockdown!
What's been your greatest success so far in your field?
Frankie: When I first started out I told my husband that I wanted to be stocked in Urban Outfitters. Sitting on my sofa with my laptop in front of me, it felt like a total pipe dream at the time. I think I had designed only 10 prints at the time. Urban Outfitters became one of my stockists three years later.
Geraldine: As a doctor, this would be winning awards for the service I started and lead in A&E. My service was a finalist in the British Medical Association Award for emergency care. As a blogger, my biggest success was being able to collaborate with the brands of my dreams and earning a respectable income.
Where can people buy your NHS print?
Frankie: You can shop the 'Love NHS' and all my other prints here. £10 from every sale will go to Barnardos UK helping vulnerable children in their hour of need.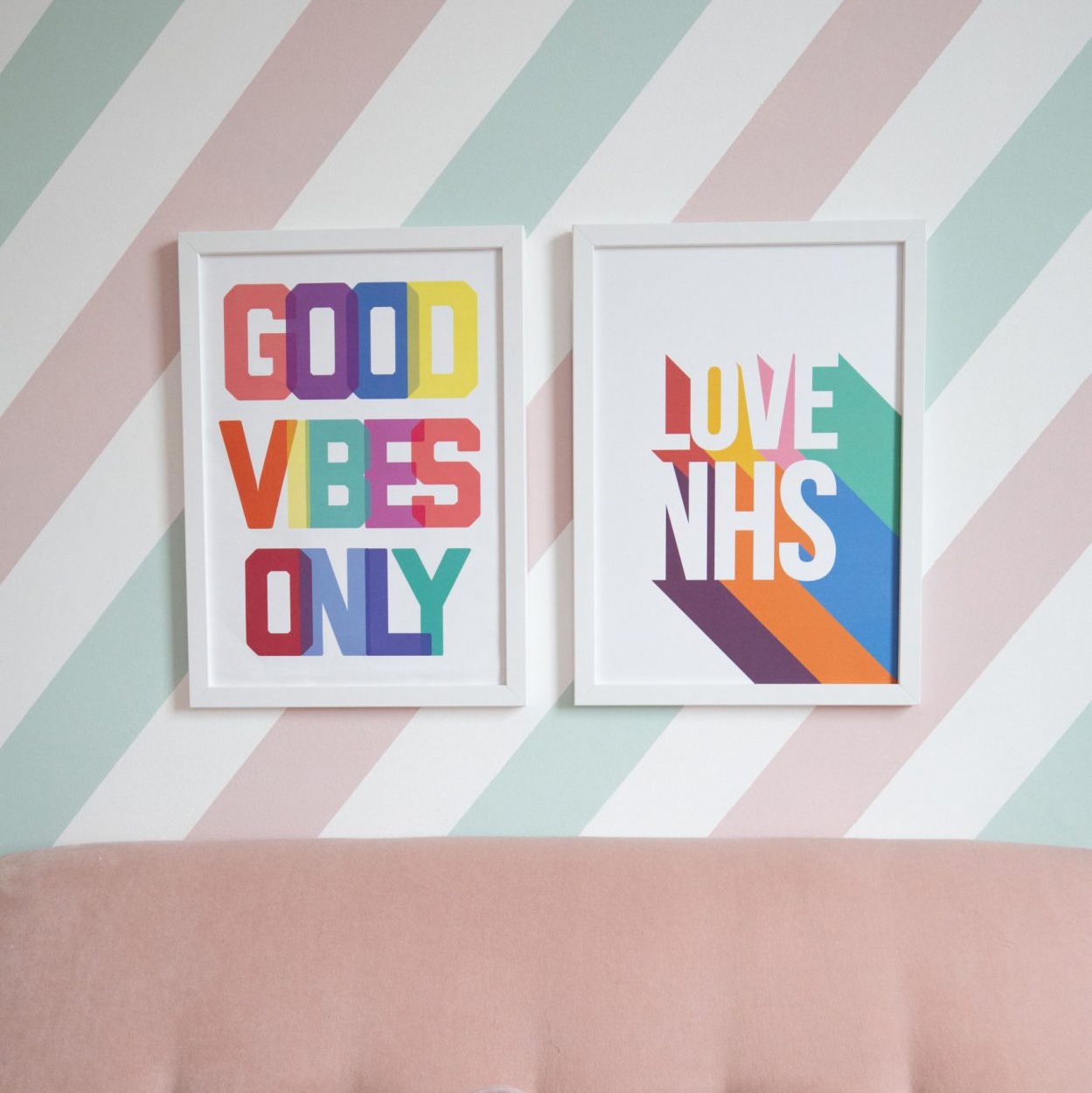 Are you working on any print initiatives to support key workers and the NHS during COVID-19? We'd love to hear your story so get in touch below!