Talking mail orders and social storytelling with Cat Food Cakes – #InspirationPrinted
We've always been proud to put small businesses and creatives at our core, so we'll take any excuse to shout about the amazing work they do and the great print they produce.
We recently chatted to Cat, of Cat Food Cakes. Her London-based bakery business had to adapt quickly when the country went into lockdown, and Cat found herself inundated with online orders for her baked delicacies! Read on for her top tips for social engagement and harnessing online mail orders.
Cat – hi! Can you tell us a bit more about your delicious business and how you got set up?
I started my business from home in 2014. After applying for a few pastry chef jobs I decided to start my own cake business, but I didn't know how to decorate a celebration cake when I started!
I traded at street food markets to begin with, which helped me figure out what I liked making and what customers liked eating. Now I have my own premises near my home in Brockley, South East London and have been growing the mail order side of my business for the past 18 months.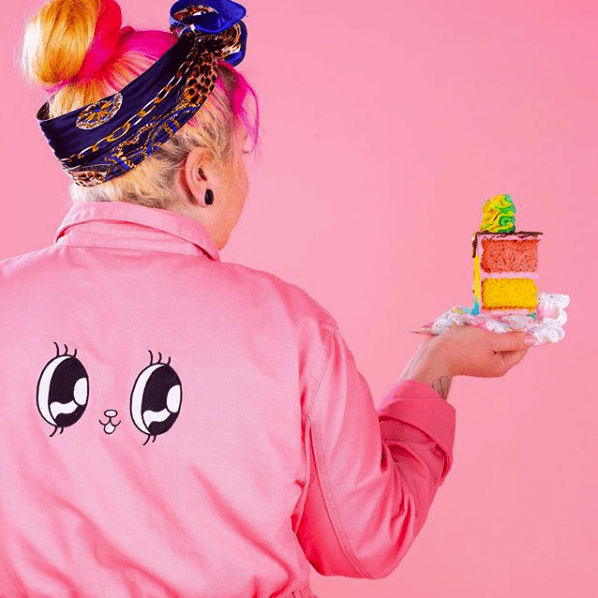 Your sweet treats span everything from brownies to celebration cakes – how do you go about choosing your range?
For my monthly subscription box, I set a theme first and then work backwards to decide on the treats. I love being inspired by films, books and even pop culture. For example, I made an entire box of treats inspired by the US Office back in January.
Your shop in London unfortunately had to shut during lockdown – how has this affected your business?
The pandemic has definitely highlighted to me that my bakery is too small! I felt nervous about opening to the public in the weeks before the lockdown, and have decided to close the physical shop to the public until it's 100% safe for me to open again. I'm losing a lot of revenue because of this, but I'd rather that both myself and my customers are safe and healthy in the long term.
Your mail orders have seen huge popularity lately – how are you coping with the numbers?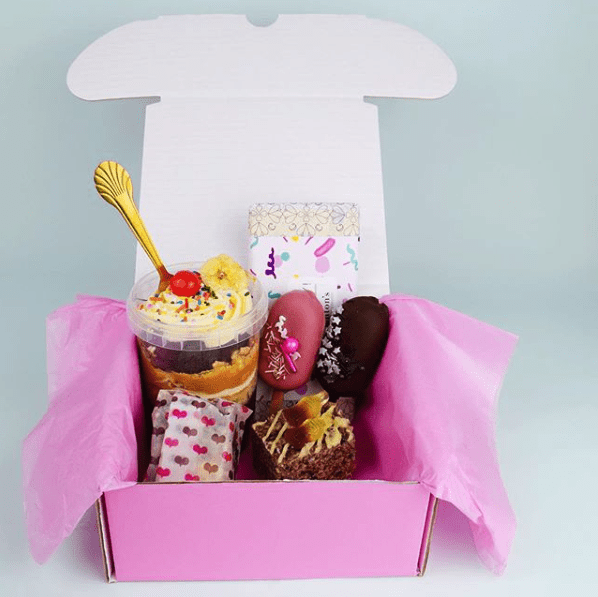 I am genuinely shocked by how much my mail orders have increased! There was one week where I was working 18 hours every day to complete orders and having a Deliveroo for every meal! I'm not able to safely hire anyone to work inside the bakery with me right now, so I'm working on outsourcing as much as I can without risking anyone's health. My friend pops in to pick up boxes of Creme Eggs and helps fold tissue paper while she's watching Netflix. That definitely saves me a few hours every week!
How have you had to adapt your delivery and mail order processes during this time?
My local Post Office closed during the first week of the lockdown, which was probably the most stressful thing that could have happened! By the time they closed, it was too late to get set up with a collection service. I had to figure out how to get my mail orders out with a new Post Office. I'm now negotiating with a courier service and I cannot wait to send my first batch out with them. I feel like I'm a huge success because I'm going to be using a courier!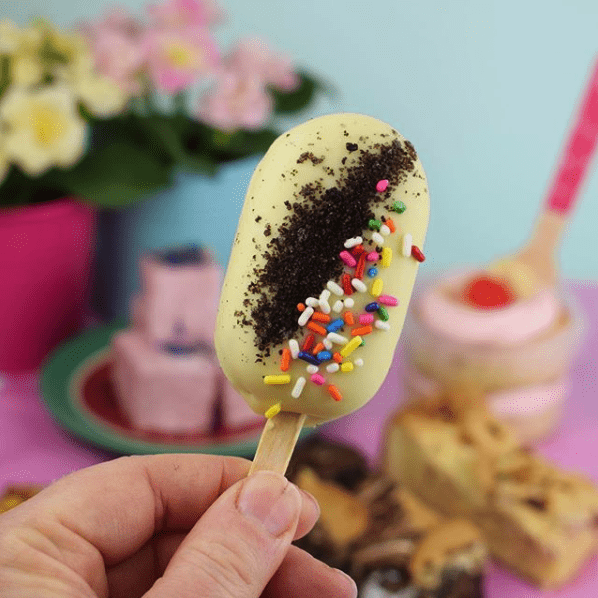 You do a huge amount on social media to engage your customers! What are your 5 top tips for building a community around your brand?
Have a clear idea of what your products are! Make yourself a mood board of similar products and photography that you like. If your content is recognisable it's easier for your customers to engage with more of your content.
Talk to the camera! I love a talky story.
Don't put pressure on yourself to be perfect on Instagram. I often pop on without any make up on, and chocolate all over my apron. Real life is relatable!
Ask for feedback. Use question boxes and polls to ask your customers what they like best.
Make friends with other small businesses to help your community find other products they might like too.
Where do you get your design inspiration for your cakes?
This is a really difficult question! I studied Fine Art at university and my work was always a really bold. colourful, pop art style. And I think this has come through into how I decorate cakes. The degree was pretty useless, but at least I'm alright with a palette knife!
What does a typical day in the bakery look like for you?
I usually go to the gym for around 6.30am (pre-lockdown!) to charge my energy levels, then it's non-stop for at least 10 hours. I sometimes make over 400 items in one day, whilst constantly sharing everything on Instagram. It's pretty full on if I'm honest. I batch every single task, so every few weeks I take a few days off to catch up on my admin.
What has been your greatest success so far?
My created success was being able to afford to move out of my home kitchen was pretty epic! I also made a cake for Billie Eilish once to congratulate her on a sold out tour!
How did you come across printed.com?
I was recommended Printed.com by a few other indie businesses. I print Postcards for all of my mail orders which are designed by Zabby Allen. It's the highlight of my month when they arrive!
How can people shop from you, or find out more?
Website: catfoodcakes.com
Instagram: instagram.com/catfoodcakes
Facebook: facebook.com/catfoodcakes
If you need print for your packaging, we've got you covered. From Leaflets and Flyers about your business to tuck inside to Business Cards, to Stickers you can seal your packaging with- we'll make sure your parcels will stand out vibrantly on the doormat.
For more amazing customer inspiration as well as all the latest news, tips and tricks, make sure to follow us on social!