#SmallBusinessStories – Stationery Spotlight with Sleepy Bee Studio
Let's get to know Sleepy Bee Studio!
Here at Printed.com, we put small businesses at our core. No matter the size of the job, we proudly support each of our clients and work hard to provide more than just print solutions. Whether you're a blossoming creator, Etsy seller, greeting card designer, hairdresser, bar, café, wedding stationery designer or baker – we're here for you. And that's why we're happy to be supporting Small Business Saturday in 2019.

We're excited to introduce you to Sleepy Bee Studio, the next business in our Small Business Saturday showcase!
Hi Charlotte! Tell us a bit about Sleepy Bee Studio to kick us off…
"I started setting up Sleepy Bee Studio in October 2018 and officially started selling this year. The team consists of myself and my husband Gav (and our cat Mister Miaow. I run the business, do the illustrations and product design. Gav is a graphic designer so he does the artwork set-up, manages print production and handles the technical side of things.
Mister Miaow's job is to wait till I'm working on something very important and launch himself ninja-style onto my desk. The he'll flump himself onto whatever I'm drawing or making."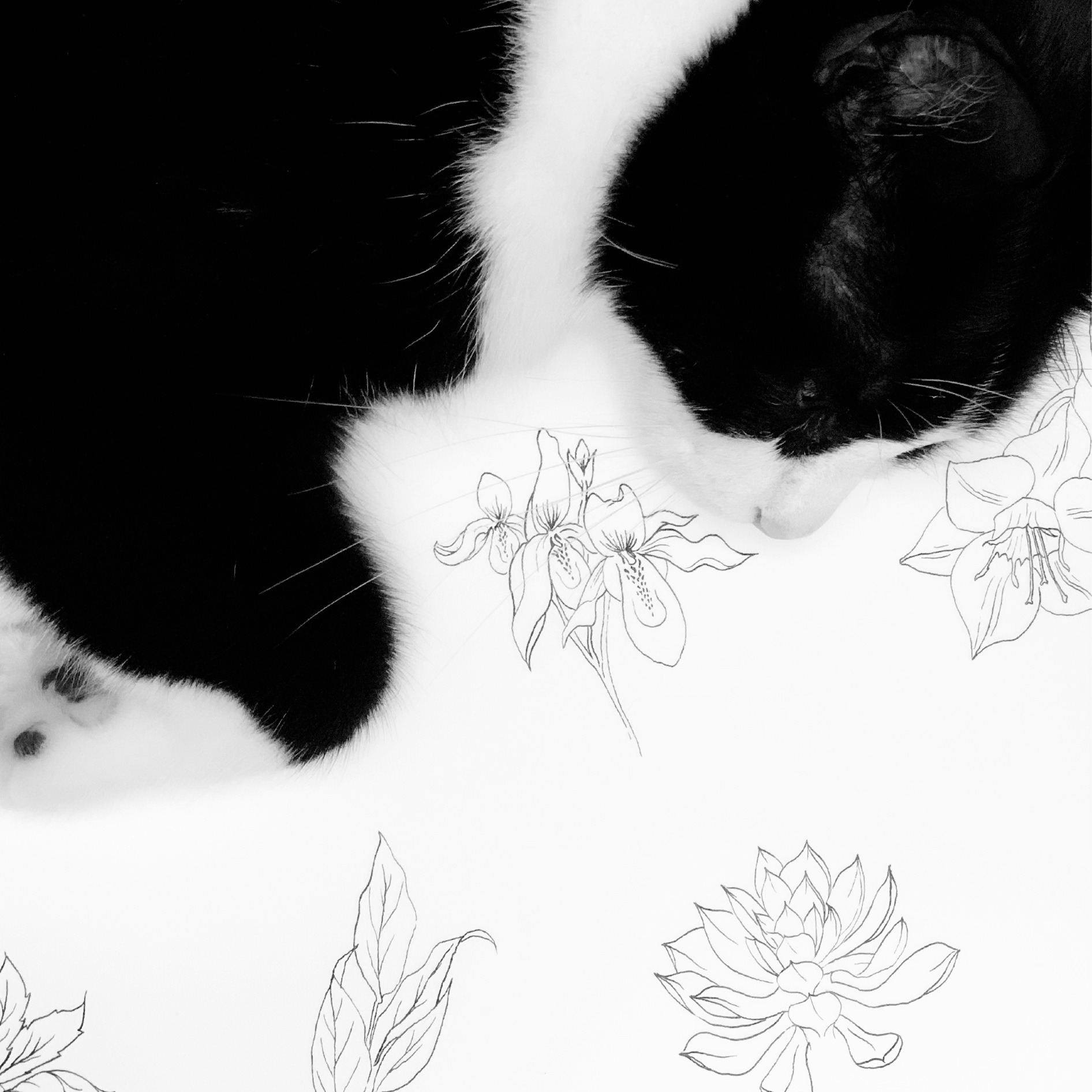 Why did you set up Sleepy Bee?
"There are a few reasons I set up Sleepy Bee, but the main one is simply … communication. Although the world is now fully immersed in all things digital, there is definitely still a real need for stationery. I've asked a lot of people to recall the last time they sent or received a lovely handwritten letter. Hardly anyone could remembe. There's no getting away from the ease of an email, but I really hope that by selling these products I can get as many people as possible taking a little time out of their day to correspond to a friend or loved one with a letter."
Tell us a bit about you – what were you doing before you set up Sleepy Bee?
"Growing up, I always gravitated towards anything arts-based. I studied interior design for my degree, which I enjoyed in terms of designing spaces and making scale models, but the technical side of things was less of an interest. So then after graduating and applying for interior-based jobs that were few and far between in Cambridge, I also did some admin work just to bring some money in and plus a part-time buying & merchandising course in London.
I really enjoyed the product development side of things and had the admin skills for the costs and supplier correspondence, so this led to over 8 years work in the buying industry for two luxury brands. I learnt a lot during that time, but as anyone reading this who also works in the industry knows, it's a very fast-paced environment and often stressful, so I decided last year to step away from it and take the scary yet exciting leap and start my own business from home (not saying that working for yourself isn't stressful, it's sometimes a whole new level of stress! But definitely worth it.)"
"I've always had a thing for stationery since I was little. My best friend is half-Japanese and every year when she was younger, she would visit her family in Japan. One year she brought me back a present of some illustrated letter paper and envelopes. I still have some of them as it was too pretty to give away! Our birthdays are only a few days apart and one year when we were about 6 years old our parents got us both one of the "Petite Post Office" little red cases and we were ridiculously excited! We both loved the mini stationery and said that when we were older we'd open a post office together and sell pretty stationery. So it's taken a fair few years but I've ended up designing and making what I've always loved. It's how Sleepy Bee Studio was born"
Where do you get your inspiration?
"Ah, from so many things! Holidays, home, Pinterest, films, museum visits, going for a walk somewhere. I have got so many lists of ideas in notebooks and on my phone – it's tricky to keep up. As I'm working from home now, I'll be working but also thinking about the next thing I'd like to do. Gav usually gets these ideas shot at him in very quick succession the second he walks through the door!"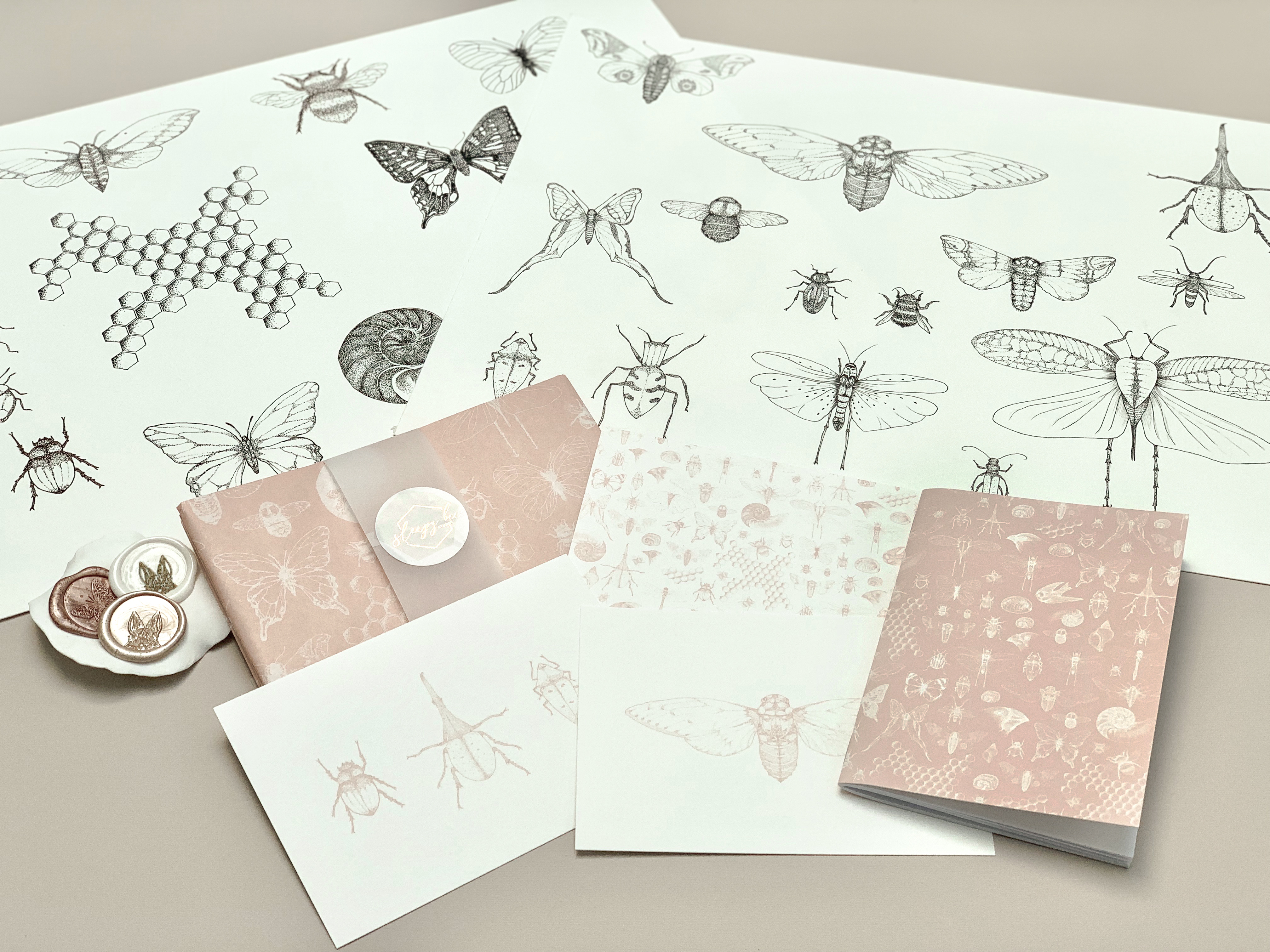 Tell us about your four themes/collections, we'd love to know how these came about…
"I was born in Cambridge and still live there now and so it seemed right for it to be the inspiration for the first four themes. There are so many beautiful and inspiring things that I was able to capture and illustrate but decided to go with an initial collection of for themes named: Cambridge, Darwin, Botanical & Stargazer. Over a series of weeks I put together all the illustrations needed from doing several trips into town, so for instance with all the Darwin illustrations, they were drawn from specimens on display at the Museum of Zoology. Then once scanned into the computer, Gav and I worked through different designs to then get printed by Printed.com.
We print our notebooks, postcards, letter paper, envelopes, belly-bands (for the gift sets), and gold-foiled logo stickers. We used Tintoretto Gesso for everything, as the texture is lovely and so similar to watercolour paper that it suited the look of the illustrations. Next, on the list are fine art prints and greeting cards! For the collections, we've also designed illustrated tissue paper that's printed using soy ink and added in self-adhesive wax seals to the range to give it a lovely finish. The gift sets also come with little handmade faux-leather envelope pencil pouches."
What's your biggest challenge?
"Time management is definitely my biggest challenge. This is the only drawback when you work from home; If I don't like something, I tend to distract myself just to avoid doing it.
So, for instance, I'll know that I really need to add last weeks outgoings to my cost spreadsheet but instead, I'll end up thinking 'first things first, I need a coffee to do this!' So I'll head to the kitchen and while the kettles boiling I'll look out into the garden and think, 'ah I need to fill up the birdseed and it's lovely and sunny so I'll have my coffee outside'... half an hour later I'm on my way back to the office and I'll walk past a book I haven't read in years, which of course I have to read as I loved that book when I was twelve.
Two hours later I'll have finished my book (still love it so time well spent), but then I'll discover I have somehow have ended up on Pinterest. Bam! There go another two hours adding 50+ pins to my 'Inspiration' board.
Then I'll see that the light in the studio is just right so I'll start taking flat-lay photos of these little envelopes and wax seals for an Instagram post. All of a sudden Gav walks through the front door and I realise the day has gone and I haven't touched that stupid spreadsheet!"
What's the best bit about owning your own business?
"I love having the freedom to design and make whatever I like. I also love being able to experiment with new styles based on what's inspired me."
How do you spread the word?
"Instagram, Facebook and Pinterest are the main social media sites I use to promote my products. There's also an app you can download on your phone called "Meetup" that lists lots of meetings and social events that you can search on for things local and relevant to you. It's a really good way to meet other creative types and you can also attend talks with small business owners who discuss how they got started."
What does the future hold for Sleepy Bee?
"Hopefully quite a few things!
The plan is to grow the range by adding new themes (Coastal, Jurassic, Safari, Seasons, Afternoon Tea…you name it, it's probably on the list!), and I think it'd be a great opportunity to do collaborations on certain themes with other brands. My old primary school was really good for creative writing and so once the themes have grown a bit more, I hope to get in touch with them about donating batches of stationery and doing something like a little letter workshop. As for growing the product offer, I'll be adding in prints and resin flower cubes as well as anything else that complements the stationery. Bespoke projects are another aspect that I really enjoy. I've already done a few lovely little jobs combining the stationery with calligraphy which I hope to expand further."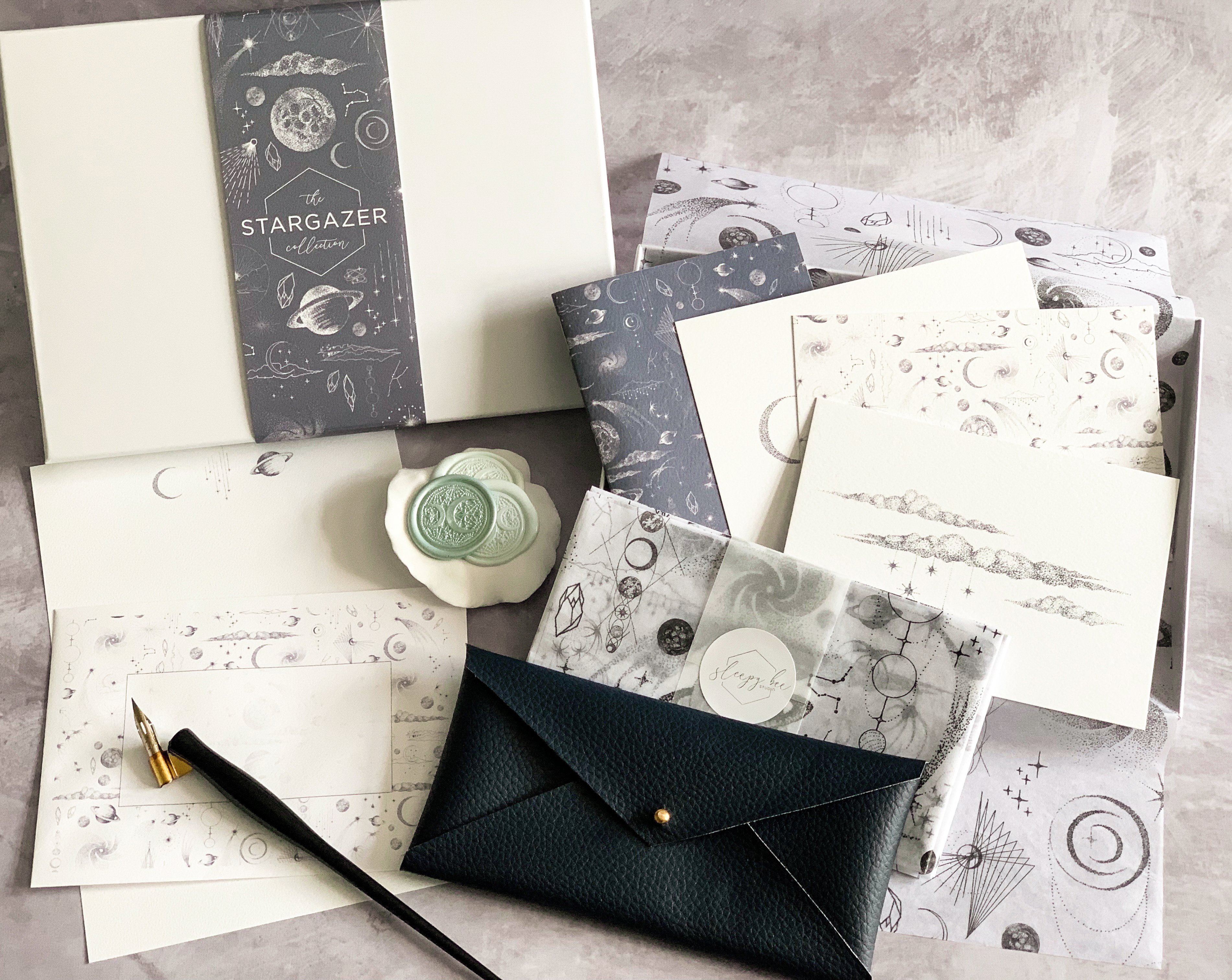 If you could give 3 pieces of advice to anyone starting out, what would they be?
"Do lots of research into the area you're intending to sell to and draft up a business plan. There are a huge number of exceptionally talented creative people out there, so competition is tough. You need to know what you're offering is different enough to sell well.
Take advice from other small business owners. Arrange to have and a good chat with them and have a list of questions ready. I have got some great advice from friends who are sole traders. I've have heard a number of pros and cons as well as the things needed to set up a business. It can sometimes be a bit of a lonely existence working on your own so it's good to have the support of others in a similar situation to help you and guide you.
Don't let social media dishearten you, or be your only source of promotion. I've posted on Instagram for a few months now. While it's a great platform to get things seen, it's hard not to compare yourself to others. Especially if they have thousands of followers. It takes time and patience to build a good foundation of customers for your business I know that, as I've only really just started out, I need to put lots of effort into promoting the brand in different ways as well as networking at events wherever possible."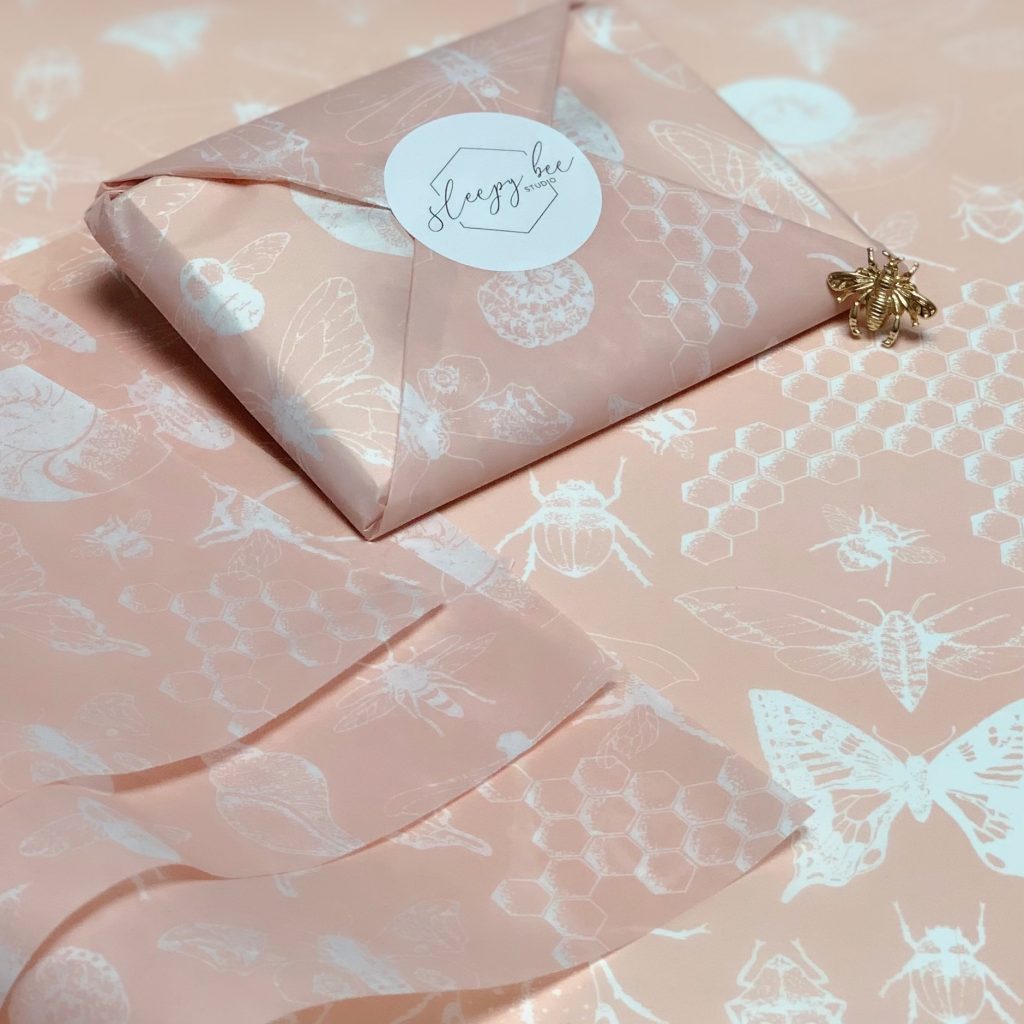 How can people shop from you, or find out more?
"The Sleepy Bee website is very nearly ready so in the meantime, I'm currently selling on Etsy. I'm also on Facebook, Pinterest and Instagram as @sleepybeestudio."
A bit about #SmallBusinessStories…
Here at Printed.com, we put small businesses at our core. No matter the size of the job, we proudly support each of our clients and work hard to provide more than just print solutions. Whether you're a blossoming creator, Etsy seller, greeting card designer, hairdresser, bar, café, wedding stationery designer or baker – we're here for you. From Stickers to marketing materials, Printed.com help small businesses up and down the country to spread the word and create beautiful print and products.
Meet more businesses from our #SmallBusinessStories series… CakeDrop, Little Wrap Co, and Make Do Drink.