#InspirationPrinted- Talking Children's Illustrations with Poppekins
It's Poppekins time!
Here at Printed.com, we've always been proud to put small businesses and creatives at our core, so we'll take any excuse to shout about the amazing work they do.
With that in mind, we're excited to announce that we're back with the third instalment of our #InspirationPrinted collective.
With the revving of a hundred ice cream vans and the delighted squeals of millions of children signalling the beginning of the summer holidays, we thought it only fitting to feature a fantastic children's illustrator: Carla van der Meer, of Poppekins.
So, without further ado, get to know her unique style right here!
Can you tell us a bit more about your children's illustration business and how you got set up?
"Poppekins was born about 3 years ago, just after the arrival of my first little one. I designed her birth announcement and I really loved working on the illustrations.
I also needed a creative outlet for myself, after 20 years of working around the world as a fashion designer, it was a massive change being a stay at home Mum with a little baby. Luckily she did a 3-hour nap a day, which gave me the chance to draw and experiment. My first illustrations were mainly colourful animals, personalised name prints and cartoons."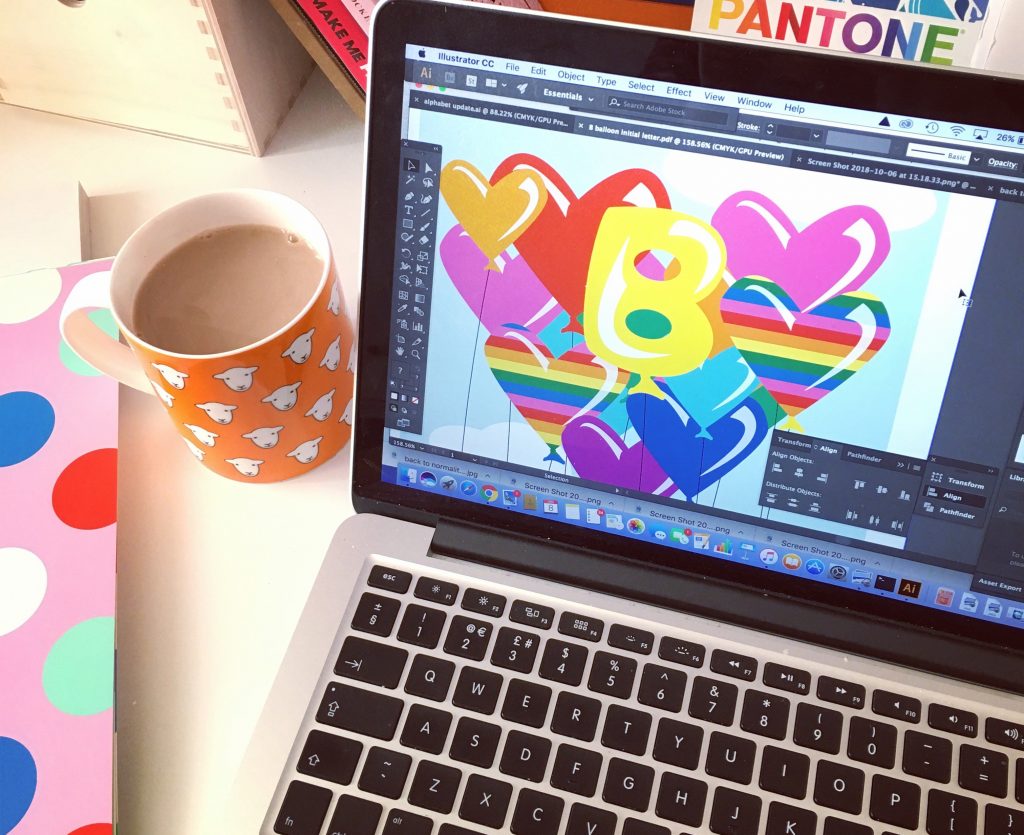 It's the start of the school holidays! How do you stay creative over the summer break as a mama of two?
"My kids are now 4 and 2, and I'm lucky that they generally play happily together, so I can get a bit of work done here and there.
My designs are created on the laptop so I can follow them to the garden where they play a lot at the moment. This way I can keep an eye on them and reply to their many questions, whilst also working on new ideas.
Replying to emails happens after bedtime when I can hear my brain a bit better!"
Can you tell us a bit about where you get your inspiration? Do your children inspire your work?
"They definitely do, they inspire me every day with their curious outlook on life and all the funny things they say!
I've made an Alphabet and Number poster, mainly for them, as this is what they are learning at the moment.
Their colourful toys and books give me so much inspiration too. Dick Bruna is one of my favourites, as well as all the bold colours and patterns from the 70s."
What does a typical day look like for you?
"Fenna and Freddy are in nursery 2 days a week at the moment, and those are the days that I work.
We have breakfast, get ready and I take both kids to nursery. Once I'm back I reply to my emails and order new stock, always with a nice hot cup of tea. I make a priority list for that day, as my time is limited and there's no place for procrastination! My customised work gets done first and sent off to my customers for approval, then for the rest of the day I create new designs and products for my online shop. I have a massive to-do list so never have to think about ideas for too long!
I'm part of a membership FB group for indie businesses called The Rollercoaster • Make It Happen. It's a very supportive community so when I have a spare minute I catch up on some inspiring videos or chat through ideas with my online colleagues.
At 14.45 it's time to go and pick up the kids, then together we go to the post office to post orders. Then it's back home for a relax and dinner. No work really happens once the kids are home, except for when there's something urgent that needs finishing and then I'll do it after bedtime."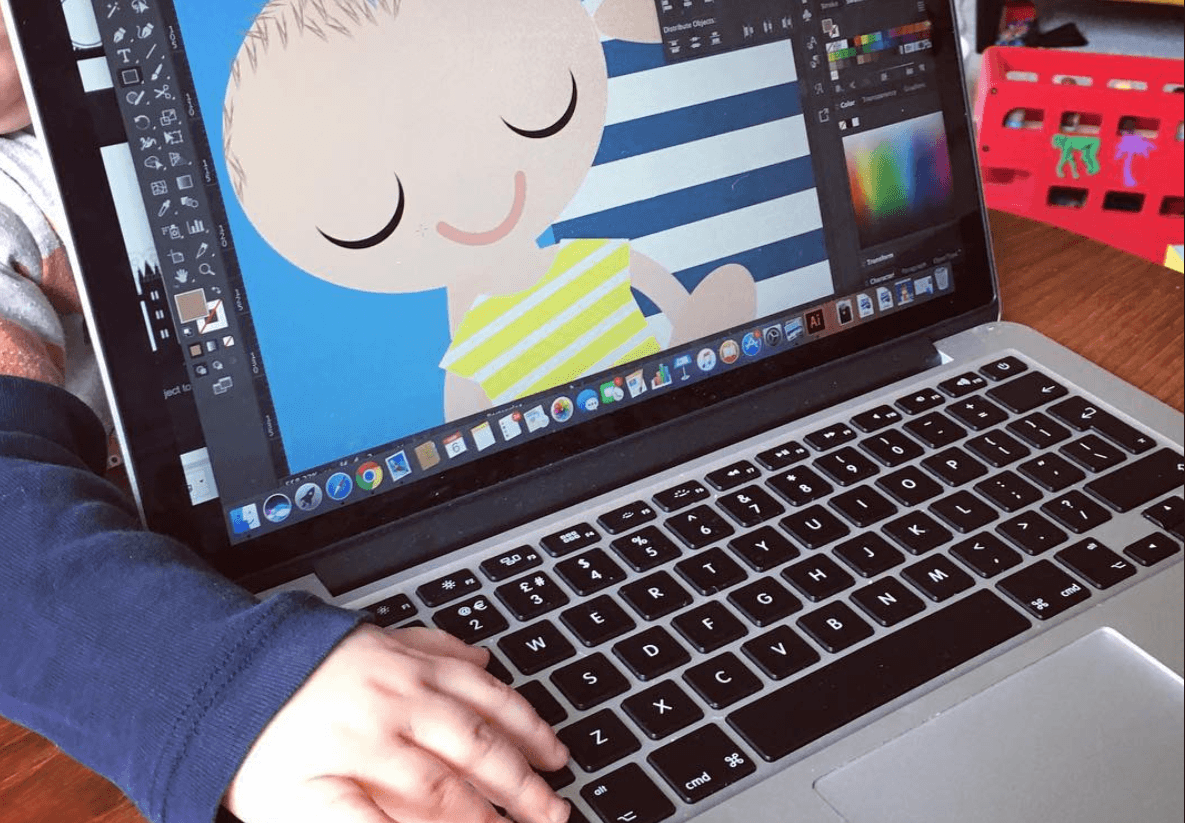 What's been your greatest success so far?
"My biggest achievement is probably keeping everyone happy at the same time, including myself!
And I'm quite proud of myself for illustrating a Dutch children's book one-handedly from beginning to end, all whilst I was breastfeeding Freddy when he was a baby"
What kind of challenges do you face running a small business?
"My main challenge is feeling that I'm spreading myself too thin- wanting to do everything now, and everything perfect, when there are not enough hours in the day. I need to pace myself and be patient with my business, I can't do it all now and spend precious time with my family at the same time."
How did you come across Printed.com?
"Someone in the wonderfully colourful FB group called In Colourful Company recommended you."
What do you print with Printed.com?
"All my postcards, greeting cards, and most of my prints and posters are printed with you."
What advice would you give to other mums/parents looking to set up a creative business?
"Two things.
Number one: join a community. It's easy to get lonely working on your own from home, but there are so many great supportive communities for start-up businesses online.
Number two: just take it one step at a time and take small steps to get where you'd like to be. Make a 5-year plan instead of a 5-week plan, and break it down.
Also, please put everything into perspective, you can't and don't need to do it all now, even when social media shows you all these fabulous accounts of people seemingly doing it all, most people are just winging it!"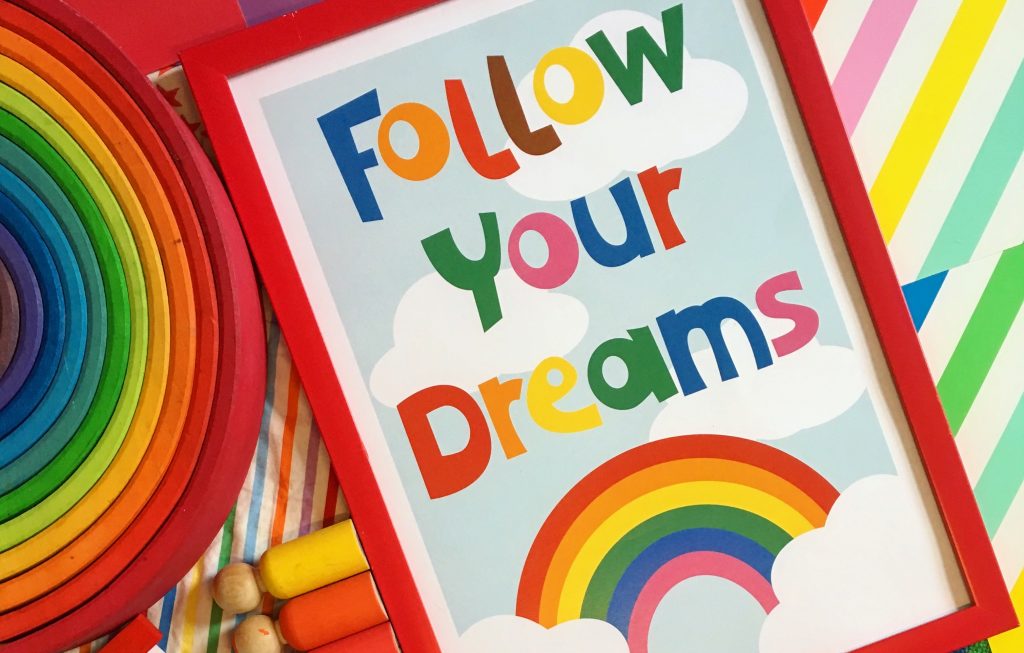 How can people shop from you, or find out more?
If you'd like to find out more you can find me on my:
Instagram, Facebook, Website or Etsy
Feeling inspired by Carla's story in our #Inspirationprinted series? Keep an eye on our social channels for more insights and inspiration from our creative customers.
Want to be featured here? If you're a creative, designer or maker get in touch with us on social, we'd love to hear from you!