#SmallBusinessStories- Staying optimistic with The Positive Page
Here at Printed.com, we put small businesses at our core. No matter the size of the job, we proudly support each of our clients and work hard to provide more than just print solutions. Whether you're a blossoming creator, Etsy seller, greeting card designer, hairdresser, bar, café, wedding stationery designer or baker – we're here for you. And that's why we're happy to be supporting Small Business Saturday in 2019.
We're excited to introduce you to Lauren of The Positive Page, the next business in our Small Business Saturday showcase! So sit back, relax, and get to know a little bit more about this business and her wonderful message.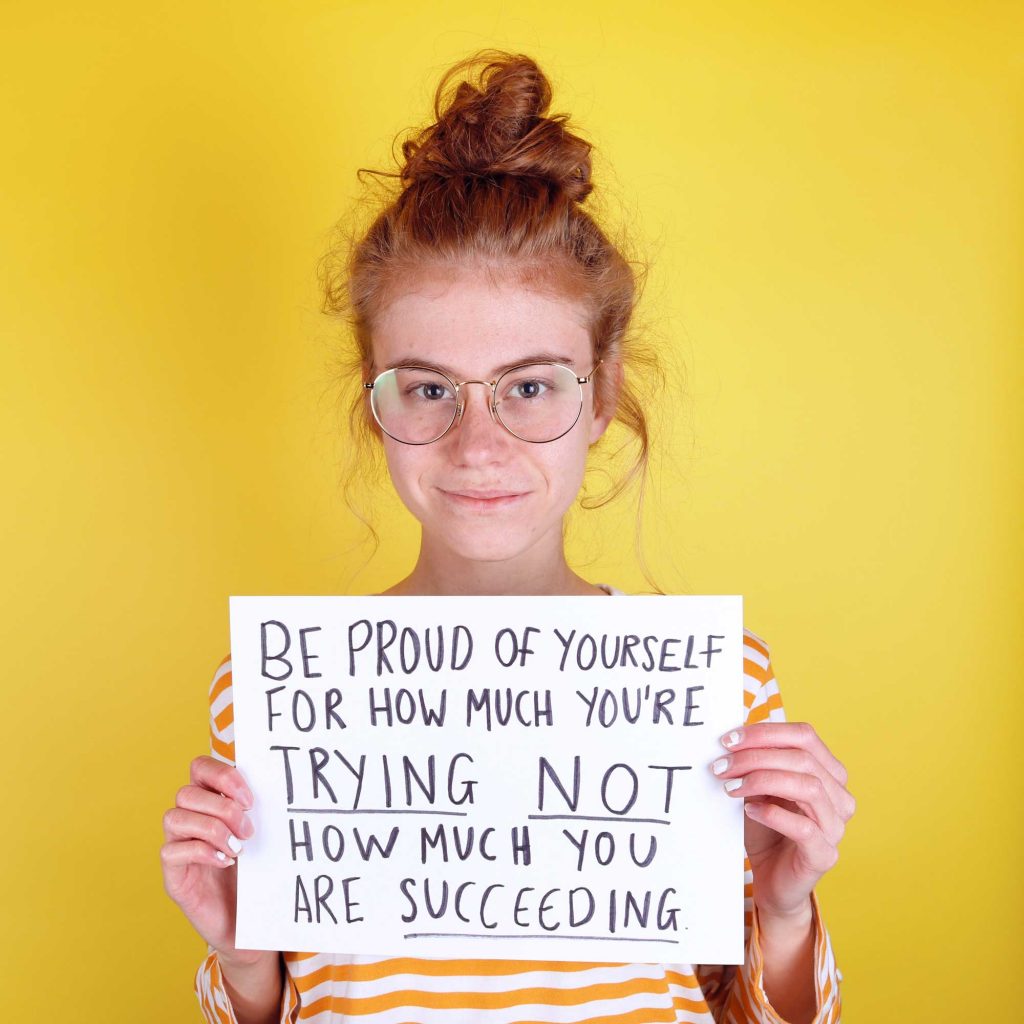 Hi Lauren! Firstly, could you tell us a bit about 'The Positive Page' to kick us off…?
Hello! Of course!
The Positive Page splits into two parts, the community and the shop. The community dedicates itself to improving the communication of mental health through sharing real-life experiences and raising awareness. We create positive reminders to make those suffering with mental illnesses feel less alone. I really want to help people find mental health resources. We do this mostly via our Instagram and website.
The other side, the shop, is where we create positive and helpful products.
Why did you set up The Positive Page?
I set up The Positive Page back in 2017. Growing up I found it difficult to get the support I needed. After talking to other people my age, I realised how this was a problem that stretched further than I ever thought. Thousands of people sit on waiting lists for support and some don't even get in. Although I got support in the end, this endlessly frustrated me. I wanted to create something that everyone could access- to connect to other people with mental illness and to make people feel less alone.
Why did you set up this online community?
I'm currently 19, so before I set up The Positive Page, I was at college. For my A levels, I did Media Studies, Photography and Film Studies and had planned to go into photography. After a while, I decided to run the Positive Page instead. I got inspired by the other support accounts I saw on Instagram and I wanted to create something that could do the same.
What products do you offer your customers?
In the shop, we sell a bunch of things like fabric wristbands with affirmations like 'You are stronger than your thoughts' or 'Anxiety passes, you're gonna be okay.' If someone is having a bad day they can look down at their wrist and just have that constant reminder that the hard times don't last forever.
We also have a collection of badges, the most popular of which says 'You can talk to me about mental health.' We have sent thousands of these out, created with the hope that people will wear them all the time and let those around them know that they can talk to them about how they are feeling. Our other products include workbooks which aim to help people manage both anxiety and self-harm.
We also have daily tick-list journals to help with motivation on hard days and have recently released our 'Mental Health conversation starter cards'. These are a box of 20 cards which each say, 'I am reaching out to tell you…' and then each one ends with a different feeling. For example 'I am reaching out to tell you I am really not okay today.' We created these cards so that people who find it hard to reach out and start a conversation about how they are feeling can use the cards to take that first step. Say someone's feeling really anxious and wanted to tell a parent or friend, they can reach for the card which says that and let the other person know they are struggling. We think it's really important for people to feel able to talk about how they feel, even when it's too hard to actually say the words.
We also run a monthly subscription where we send one postcard out a month. Each postcard has a quote on the front and a written letter- just a paragraph of positivity to help someone if they're struggling.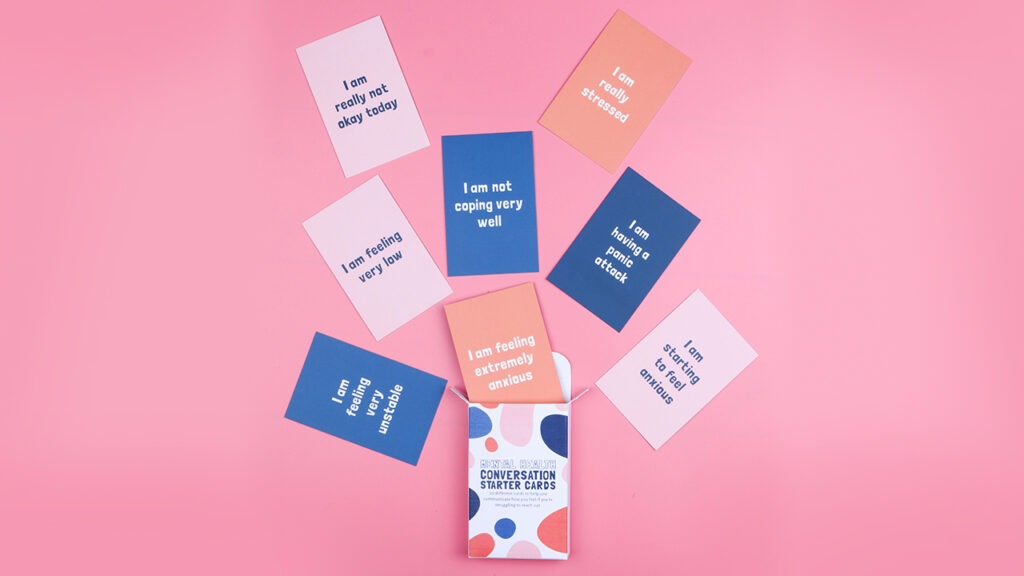 What do you get printed with Printed.com?
I use Printed.com to print most of my card-based products. They are also the supplier for the postcards in our monthly subscription and I've found their print quality to be amazing! Most recently I ordered the cards to go in our product 'Mental Health Conversation Starter Cards' and I was so happy with them! When I opened them, I was shocked to find they were packed in boxes made from recycled card! These boxes were just perfect. They kept my products safe and I could take them in and out with ease.
What is your favourite quote for promoting positivity?
I really like the quote 'be gentle with yourself, you're doing the best you can.' As simple as it is, it's something we often forget. The first thing we often do when we can't do something is get frustrated at ourselves. We have to learn to not beat ourselves up for struggling with things we find hard.
Tell us a bit more about the importance of community support for mental health
Talking about mental health is one of the most important things we can do because it affects every person on the planet. I think, as a nation, things are beginning to slowly change, but there's still a huge gap that needs filling in terms of people understanding and properly helping people with mental disorders. There is still a lot of mistreatment/ignorance when it comes to attitudes towards mental health and it's such a dangerous thing for someone with a mental illness to be poorly received, especially if it's the first time they've reached out. I think we can all do better to actually understand mental health.
What's the best bit about owning your own business?
I find it really exciting to be able to take the brand in the direction I want it to. However, with running The Positive Page specifically, I like that I get to make things that people find helpful. It's a very rewarding job when someone drops me a message to tell me that they found something I did helpful.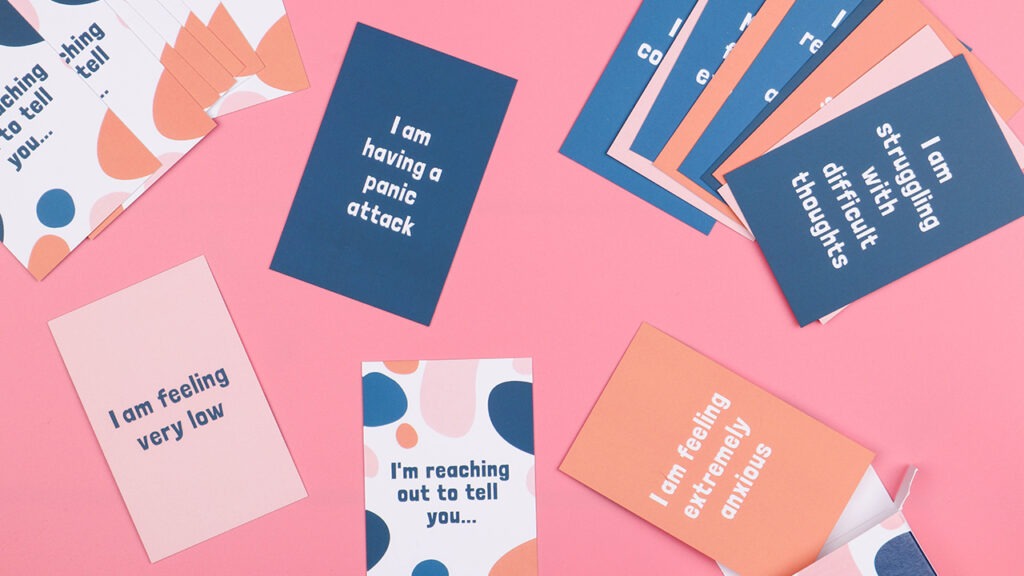 What does the future hold for The Positive Page?
I am always in the process of making new products but soon we are hoping to launch our 'become a contributor' programme. If all goes to plan, we will be able to connect with more people in the community and create awareness about real experiences with mental illness to ultimately help bridge that gap in communication.
What advice would you give to anyone struggling with mental health?
Don't hesitate to reach out because you think that your feelings are not important. They are.
It is possible for things to get easier even when it feels it can't. Keep trying even if you can't see the impact it has right now. If you keep going through the hard days, things will improve.
Do one thing each day that you enjoy. Even if its really small, do one thing. If your life becomes a means of constantly trying to improve, you will lose connection with the fun things. The stuff that doesn't completely exhaust you. Enjoyment is so important.
Make sure to support The Positivity Page on their Website, Instagram and Etsy store!