Menu design ideas for Summer
Summer is the time for alfresco dining, sizzling barbecues, and picnics galore. And a hot summer calls for a seriously cool summer Menu design ideas.
Whether you're a local brewery, small diner or boast a Michelin star, we can help you craft an irresistibly tasty Menu that gets people talking.
To help get your creative juices flowing, we've rounded up some of our favourite Menu designs from our customers. From vibrant colours to floral and fruity illustrations, check out these Menus that look good enough to eat…
Social Pantry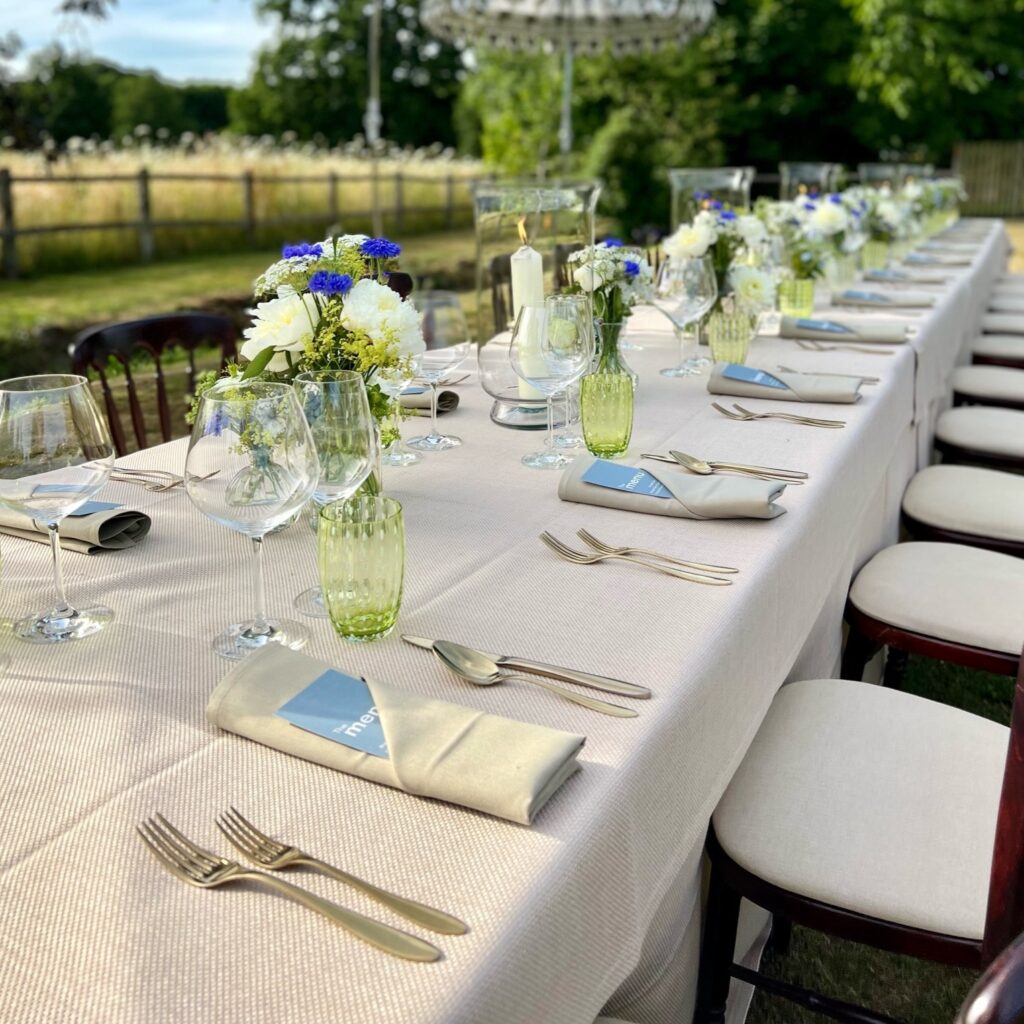 Whether your outdoor space is a city balcony or sprawling fields, eating alfresco always feel special. And Social Pantry shows you how to do it right, with these chic Menu cards and coordinating decor.
What we love: Social Pantry have thoughtfully considered the scale of their Menus to match their space. Small yet balanced, you don't need to go big to make an impact.
If you don't see the size you're after under our Menu printing options, why not try shopping our Postcard or even Gift Tag products for a more bespoke size?
Rosa's Thai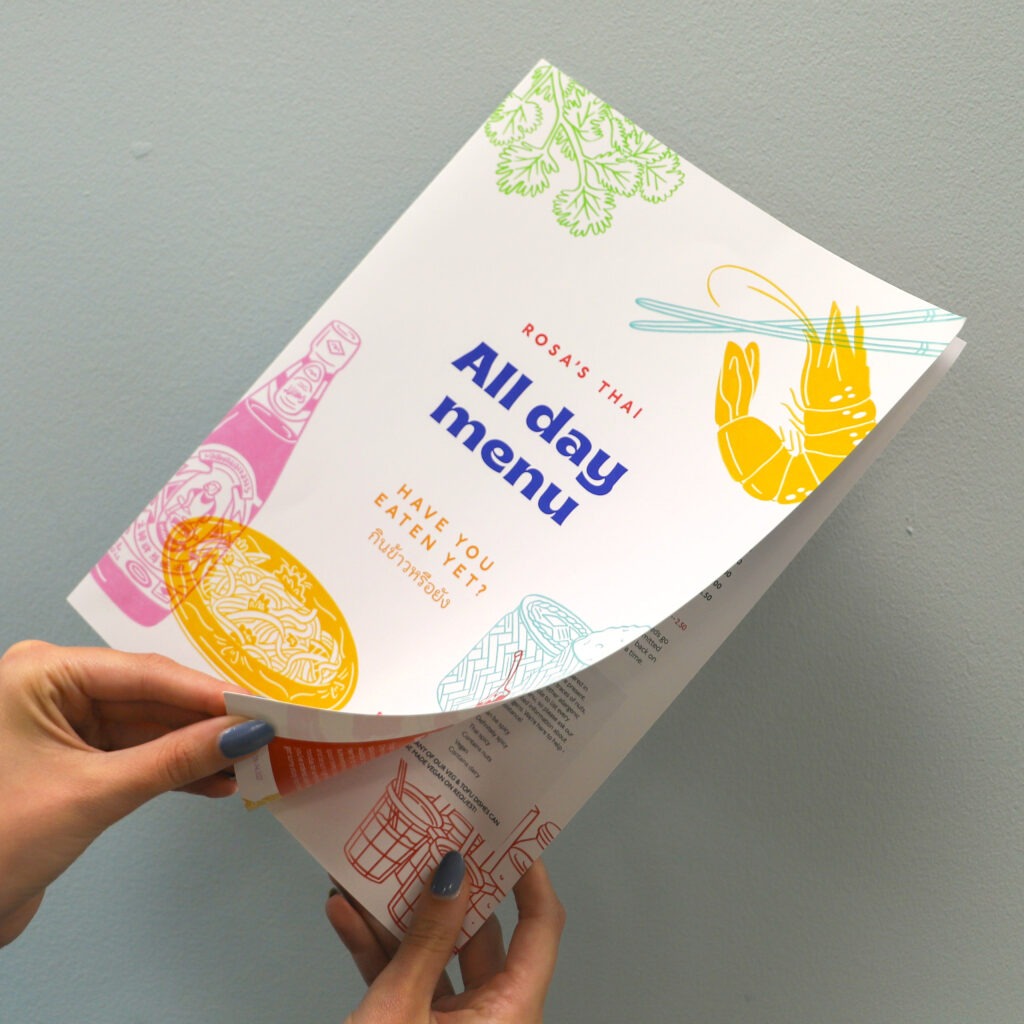 Got an extensive summer Menu? A Folded Menu is a great option. Whether it features a luxury paper for your fancy cocktail list, or a traditional roll fold for your takeaway offering, our Folded Menus cover all bases.
What we love: The colourful illustrations on this Rosa's Thai Menu would look amazing translated across other prints. Whether it's on a Table Talker, Indoor Poster or Display Board, the possibilities to create a consistent dining theme are endless with this design.
Chloë Designs Things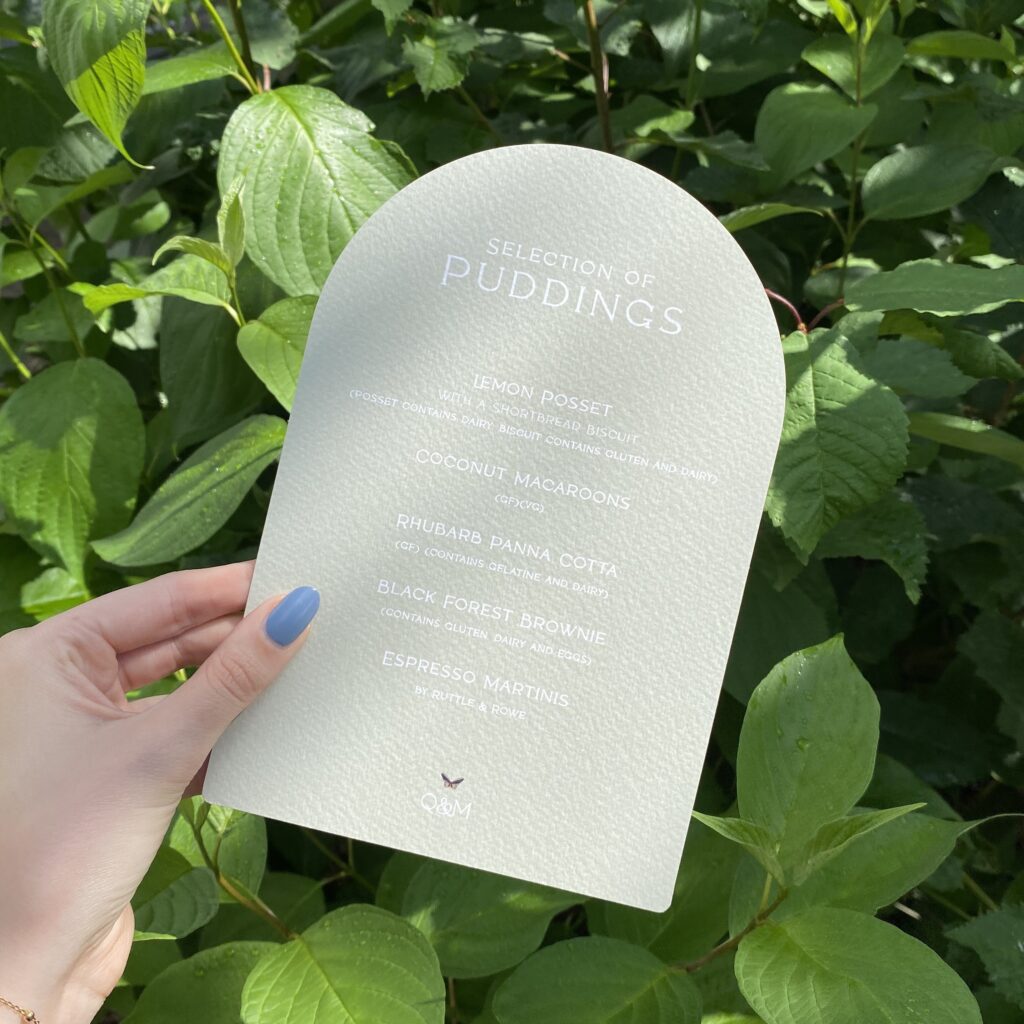 Chloë Designs Things really raised the bar with this recyclable Wedding Menu. Not only do we love the sleek arch-shaped design, it's also got our bellys rumbling with that dessert line-up.
What we love: Perfect for weddings, formal events or those fancy garden parties, creating a unique custom-shaped print with a little help from our VeloBlade is a sure way to make it memorable.
Peeld
Make the most of your table space with a double-sided Menu, like Peeld who have displayed their tasty food and drinks on alternating sides.
What we love: Printed on our Tearproof paper, this 100% waterproof and tear-resistant stock can make your Menus last a lifetime. Making it a great go-to option if you want to protect against greasy fingers, liquid spillages and tattered edges.
RockFish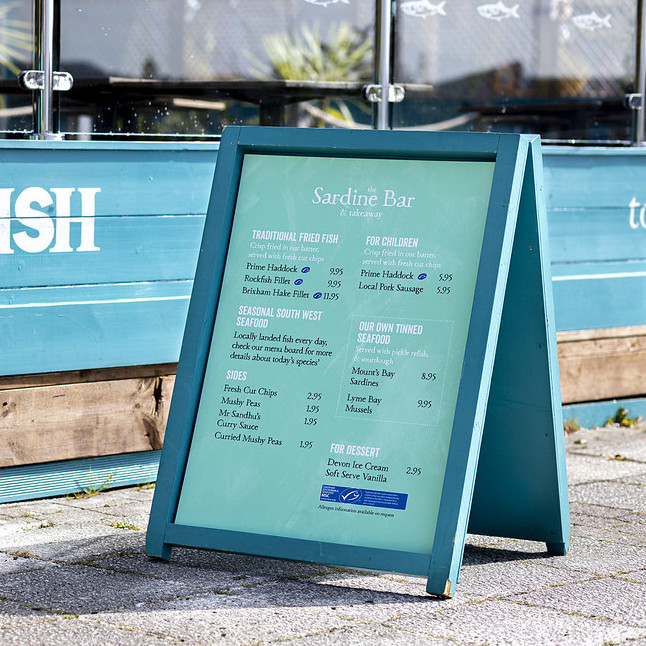 Get your customers tastebuds tingling from afar with our Menu Boards, like The Sardine Bar. Printed on our 3mm Foamex stock, this is a sturdy and fun way of enticing customers in from outside your venue.
What we love: This Menu is clear and easy to understand. We all know the feeling of being completely overwhelmed by the number of dishes to choose from. Often, the simpler…the better!
With a little help from us, create your very own mouth-watering Menu today.