The ultimate Father's Day gift guide
Father's Day is fast approaching – and that means it's time to think gifts!
If you don't fancy buying dad another pair of socks, or yet another aftershave set, why not take a look at our fun and creative ideas to help him feel special this year?
1) The card
The most important part of any celebration is the card, right? Whatever kind of guy your dad is, show him you did more than make a pitstop at the local petrol station by choosing your card with care. We love this gem from our customers Squaire.
2) Wrapping paper
Why not print your dad some awesome personalised wrapping paper this year? It doesn't matter what you wrap up inside, he'll be so impressed with the outside that it won't matter.
3) Power Bank
Is your dad always on the go?… Make sure he's always reachable with a rechargeable power bank. Don't forget to add a cute message – 'dad, you've got the power' or similar, should do it.
4) Reusable water bottle
We're all about sustainability here at Printed.com – and we reckon a reusable water bottle or coffee cup is one gift that'll keep on giving. Don't forget to team it with a recycled card for maximum eco-loving impact.
5) Fancy chocolate bar
Is your dad a chocolate fiend? Yes, chocolate as a gift is pretty, well.. naff. But, we guarantee he'll love these incredible creations from our customers Creighton's Chocolaterie. With creative combinations like rhubarb and custard, chai, coffee, elderflower, champagne, chilli, jammy dodger, custard cream and even cereal – you can spoil him for choice! (If you're interested in Creighton's, take a read of our recent interview with them, here).
5) Phone case
If your dad is like most, his phone case could probably do with a bit of an upgrade. Why not buy one of these bold and bright cases from our very own customer, The Completist? Shop it (and loads of other styles, here)
6) Art Prints
Art makes a great gift – not only will it help dress up Dad's space (something for the office, perhaps?) it also shows you've really thought about your gift.
7) A portrait of yours truly
Make sure dad never forgets about you – by giving him your face to hang pride of place. About Face Illustration offer a wonderful personalised portrait service – and there's no sitting still for hours involved. Just send over your photo and they will work their magic. How good is that?!
8) A little extra
Show dad he's your favourite with these cute pin badges from May Blossoming. Then, take him to lunch and make him wear it all day, so everybody knows your fave.
9) Photo gifts
A Photobook is a great way to capture all the memories you and Dad have shared. And the best bit is that it will last a lifetime. You can create your own photo memory book right here at Printed.com too, using our sleek Hardback Books. Or, if Dad's a little camera shy, a Canvas Print makes an ideal gift too. If you want to add that handmade touch, why not try your hand at scrapbooking? Our guide walks you through the process – read it here.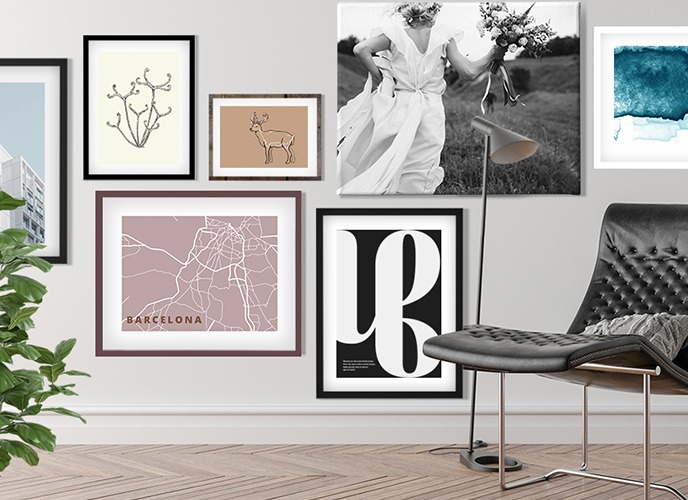 10) Experience day
If your dad is one of those 'impossible to buy for' kinda guys, why not gift him with an unforgettable experience? Whether it's race car driving, a hot air balloon ride or even something different like an art workshop, he'll love the gesture and the experience in equal measure.
Found Dad the perfect gift? We'd love to hear what you think of our guide. Or, if you're still not sure, why not take a read of our creative gift guide, for more quirky and fun gift inspiration?