#ProudlyPrinted – The Father's Day Edition
Welcome to the #ProudlyPrinted Father's Day Edition! This weekend sees Dads across the nation celebrated, and what better way to show you care than with a special card? Here at Printed.com, we're lucky enough to see thousands of Father's Day designs pass through our presses – we've rounded up a handful of our favourites right here.
Remember, if you'd like to see your designs featured here, tag us on Instagram,.using #ProudlyPrinted.
This cute yet imposing fellow is another of Gemma O'Neill's fabulous creations. Hand drawn, painted and reproduced on luxury textured card, her cards are the ideal choice for an animal loving dad.
Say it loud, proud and simple with this typographic card from Sarah Frances. Her designs are always eye-catching and this one's no different!
We've all been there, right? Dippyfish Cards perfectly sums up that dad-daughter relationship with this hilarious card, and of course, it comes complete with an awesome anecdote on the back too!
If you're looking for something a bit risque, tongue in cheek or even a little more ambiguous, she's got loads of other designs too, perfect for your father-figure, best friend or just a celebration in general.
This foxy fellow is courtesy of Lisa Parker and the super bold colours are sure to catch attention. We're a huge fan of bold illustrations like this one, and we can't wait to see even more from Lisa.
Who doesn't love a pun? If you want to say thanks for 'raisin' me, or tell dad you love him in a fun way, Charlotte has you covered. Combining cute illustrations with hand-lettered calligraphy on thick, luxury cards, we reckon dads all over would be pretty 'hap-pea' to receive one of these!
Capturing those unique 'new dad' moments, Inclusivitwee's cards help you to appreciate the parts of fatherhood that make dads so special. From stolen moments of sleep to playing dress up we've all been there, so why not celebrate them with an adorable illustrated card?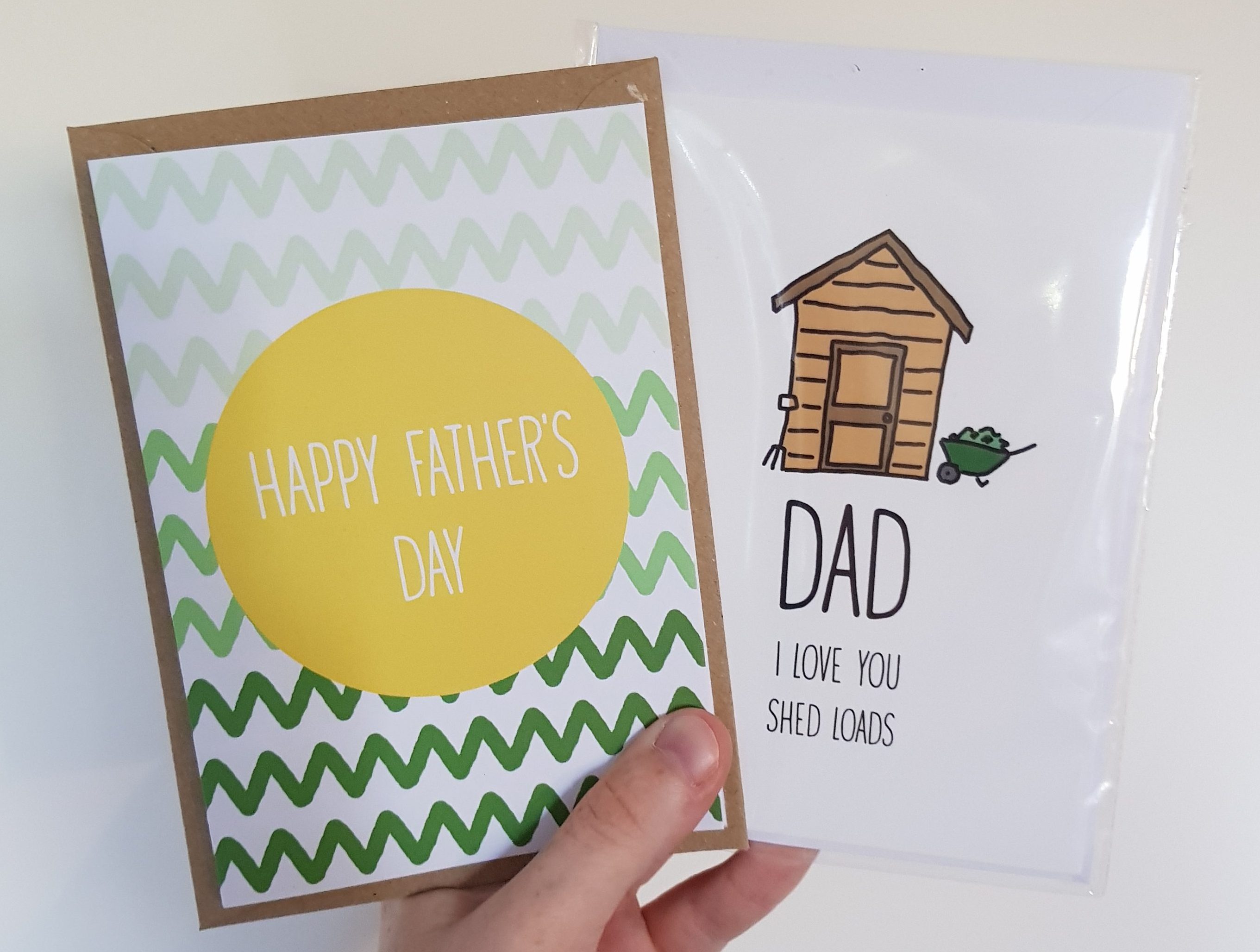 Love your dad shed loads? Drawn by Emma has just the thing! Or, if your Dad's less 'shed' and more 'style', her simple yet snazzy patterned Father's Day card is just the ticket!
Tell dad he's 'flippin' brilliant' with Charli Tatit's fun BBQ card. At least if Father's Day is a washout, Dad can get his grill fix with this card instead!
Squaire never fails to impress with their range of fun, bold, bright and beautiful cards. 'Hip Pop' is the latest in their collection – and we love the contrasting colours and cute little bearded 'Dad' making an appearance. Nice work Squaire!
We hope you enjoyed our #ProudlyPrinted – The Father's Day
Remember, if you fancy a slice of the action, just tag us in your printed creations on Facebook, Instagram and Twitter and use the hashtag:
While you're here, why not check out some other #ProudlyPrinted creations with our Monochrome and Motivation edition?