Covid weddings – The wedding stationers guide to making the most of your big (or small) day
It's no secret that small weddings are in, with brides and grooms continuing to adapt the plans for their Big Day in 2020. But fewer people doesn't necessarily have to mean sacrificing high-quality wedding stationery. If anything, less can mean much more for a Covid wedding!
We've been chatting to a pool of our own wedding stationers to get their thoughts and advice on the future of wedding print. Read on for some BIG ideas for your small (but perfectly formed) wedding day from our friends at Foxes on Boxes, PaperGrace, Dapper Creative and Paper Cactus Prints!
It's official – small weddings are in! As a stationer, what is top of your list of print essentials for the day?
Foxes on Boxes: Our essentials for a Covid wedding are stunning Invitations, a big statement piece like a Sign to welcome guests and personalised Place Cards which can easily double as favours!
PaperGrace: Layering your table stationery is a great way to create a modern look. individual Wedding Menus, with personalised Place Cards and Order of Service Booklets are a good start. Then you can double those with your Large Format wedding items like Signage and Table Plans all completed with an on-trend arch-shaped Sign. It would be the perfect look for a small wedding.
Dapper Creative: A smaller guest list doesn't mean your wedding has to be short on style! I would say take every opportunity to personalise (whether it's Invites, table settings or favours) and invest in a good photographer and/or videographer so you can still share your special day with your wider family and friends – or better yet, stream it!
A small wedding doesn't mean sacrificing on quality… how can brides and grooms jazz up their stationery?
Paper Cactus Prints: Envelope Liners and wax seals! I see these as the complete finishing touches to a beautiful set of stationery, it makes everything look super expensive and premium – and who doesn't want that for their wedding!?
Foxes on Boxes: To add a bit of luxury to your wedding stationery, I highly recommend Foiling! There are so many different colours to choose from, you can find something to suit every wedding style. Aside from Foiling, I think a textured paper such as Fresco Gesso gives a rustic yet professional look to your Invitations.
PaperGrace: We are a huge fan of using heavier cards such as a 540gsm or 700gsm to create luxurious stationery that can be treasured forever. To help create a jaw-dropping set of stationery I would also recommend Die-Cut items (such as the previously mentioned arch) and layering of several pieces to create a high impact look and luxurious combination which your limited number of guests will love.
Are small weddings an opportunity for your clients to get even more creative with their stationery?
Dapper Creative: Absolutely! Smaller quantities mean you can make your budget go further. Subtle changes in paper type and weight can make all the difference to the overall look of your wedding stationery.
Paper Cactus Prints: Having a smaller wedding and therefore printing less means we should work together to create something even better – Covid doesn't mean that your wedding shouldn't still be amazing and you shouldn't have to dim it. Having 15 guest means you can get personal, which presents a great opportunity to go the extra mile. I'd also say with less printing, we can really go big on Signage around your wedding – Health and Safety Signs can still look beautiful!
Foxes on Boxes: Remember, less quantity doesn't have to mean less quality! If you're only printing a small amount of wedding stationery, it's likely that your previous budget will now suit something a little more luxurious, such as Foiling, or Stickers, or adding in Envelopes with personalisation for your guests.
If you were having your own small Covid wedding, what would be at the top of your wedding stationery wishlist?
PaperGrace: I would want to set the tone for my contemporary modern wedding right from the beginning so I would send a layered, stylish Invitation bundle. My on-the day-stationery would make each of my guests feel really special with personalised items that can be kept as keepsakes forever.
Dapper Creative: If I were sending out my Invitations again (my original ones featured a custom comic book illustration for my marvel-obsessed husband) I would definitely go for a bold typographic style with bright colours and White Ink for an ultra-modern look. I'd want Stickers, Envelope Liners– the works! Maybe we should renew our vows…
Paper Cactus Prints: Top for me is still the Invitation suite: a beautiful Invitation, info card and RSVP – its the first time your guests will see your wedding vision after all!
With government guidelines constantly changing, how have you supported your clients?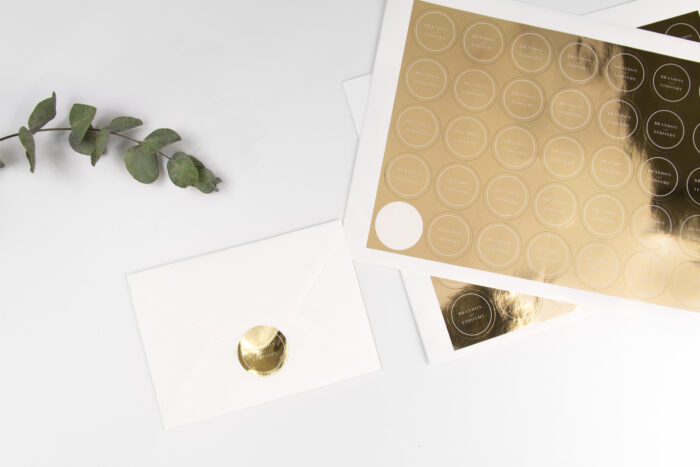 Foxes on Boxes: We can totally sympathise with the couples who have had to postpone their weddings. With guidelines that are confusing at the best of times, and constantly changing at the worst, we've tried to do our bit to help out our clients. We've offered discounts on any stationery that needs to be reprinted, including postponement cards. The clients that we had booked into the diary for a 2020 wedding we've moved to future dated slots completely free of charge, without any loss of deposits paid.
PaperGrace: I have felt so terrible for all of my customers that have had to postpone their weddings recently and I have wanted to help them in any way I can with regards to their wedding stationery. Right from the beginning I have offered a free 'change the date' digital PDF design (in the style of their original Invitations) to any of my past customers that have had to postpone their wedding. Or alternatively, if they still wanted to send a printed version to their guests, I have offered to print the cards at a heavily discounted price.
Dapper Creative: I've tried to offer as much flexibility as possible and push print deadlines in case of any last-minute changes. It's great that Printed.com offer discounts on reprints that can be passed onto clients – that's a really helpful initiative!
What other projects have your been working on while UK weddings have been on hold?
Paper Cactus Prints: I decided to launch a small collection of positivity Postcards; completely non-wedding related but so much fun to create. It was actually really lovely writing everyone's messages to friends and family in quarantine and lifted my spirits!
Foxes on Boxes: Whilst Wedding Invitations and on the day stationery were certainly off the table for 2020 weddings, we saw the birth of 'Postponement Cards'. This isn't the first time we've had to design postponement cards for a couple before, but we've never had to do it on such a big scale. It was certainly a 180 on what we'd usually be creating.
PaperGrace: During the last few months we launched seven bold new wedding collections and quite a few of them having a nod towards monochrome weddings (which are still such a huge wedding trend!), with black, white and grey featuring heavily within these modern designs. Our new showcase Invitation is the Die-Cut arch shape, which is an absolute must-have for 2021 weddings.
What advice can you offer to other wedding stationers who are having to adapt their businesses this year due to Covid-19?
Dapper Creative: I think this year has brought a lot of opportunities to see and do things differently. I have tried to push myself to be brave and take chances when they come, whether it's launching a new product or a potential social collaboration. They won't always pay off but there's an amazing community of couples and wedding creatives to take inspiration from – so send that Instagram message – what have you got to lose?
Paper Cactus Prints: Keep designing! A positive of the situation? I found I had time to add to my collections and it really did help get me through! Also be patient, kind and most importantly flexible!
Foxes on Boxes: Trust the process! This is a tough time for everyone, whatever industry you're in, and know that you're not alone. Some days you might have more sales than you did previously, and other days it's cobwebs and crickets. Just remember that approximately 65% of weddings have been postponed or cancelled due to Covid-19, so 2021 and 2022 will be a huge boom for our industry! Just give Covid weddings some time.
What does the future of wedding print look like to you?
Paper Grace: I have seen strong interest for heavier weight cards and Die-Cut items such as Invitations, Place Names and Signs and I expect this to continue into 2021, with the arch and half arch shape still playing a key part.
Dapper Creative: I really love the acrylic Invitation trend and I can see that hanging around for a while yet. I'd also love to see more Die-Cut Invitations, I recently had a request for lemon-shaped save the dates for a Sicilian wedding…pass the limoncello!
Paper Cactus Prints: I think a big thing will be Signage – in day to day life there has been a huge increase in the Signs we see and I suspect weddings will be the same – but let's make them beautiful! I also think we'll see an increase in personalised touches for 'on the day' stationery – especially table settings! You can have a load of fun with personalised prints!
Foxes on Boxes: If having Health and Safety Signage at a wedding becomes the norm, it doesn't have to be industrial and radioactive looking! The great thing about working directly with a stationery company is that they can design your signs to match the decor of your wedding – rather than the typical neon yellow hazardous signs you'd see elsewhere. We'll also see more quantities of 'on the day' items such as Table Menus, where previously a whole table could share one menu, will now require one per person. And Personalised Face Masks for your bridal party and family – you might as well match for the photos!
Are you ready to restart wedding planning in style? Check out our full Wedding Print Boutique and discover a world of exceptional print for the Big Day- as well as some of our favourite stationers!