A creative interview with visual artist Roxanne Williams – #InspirationPrinted
We've always been proud to put small businesses and creatives at our core, so we'll take any excuse to shout about the amazing work they do and the great print they produce.
As part of our #InspirationPrinted campaign, we recently spoke to Roxanne Williams. Roxanne is an interdisciplinary visual artist and designer who explores identity and celebrates self-worth. Her vibrant paintings showcase predominantly women with black features, mirroring her Jamaican heritage and the beauty in being 'other'. Roxanne founded Crazivity, a platform to focus on the collaborative aspects of her practice including curating group shows, cultural pop ups and live art events.
Scroll down to find out more about her!
Hi Roxanne! Firstly, can you tell us a bit more about Crazivity?
Crazivity is a freelance based design studio on a mission to celebrate self worth through creativity. Whether that be via art, graphic design or events, it's a home for collaborative projects and experiments. What's more, it's also a place for designing visuals such as brand identities and illustrations for passionate entrepreneurs.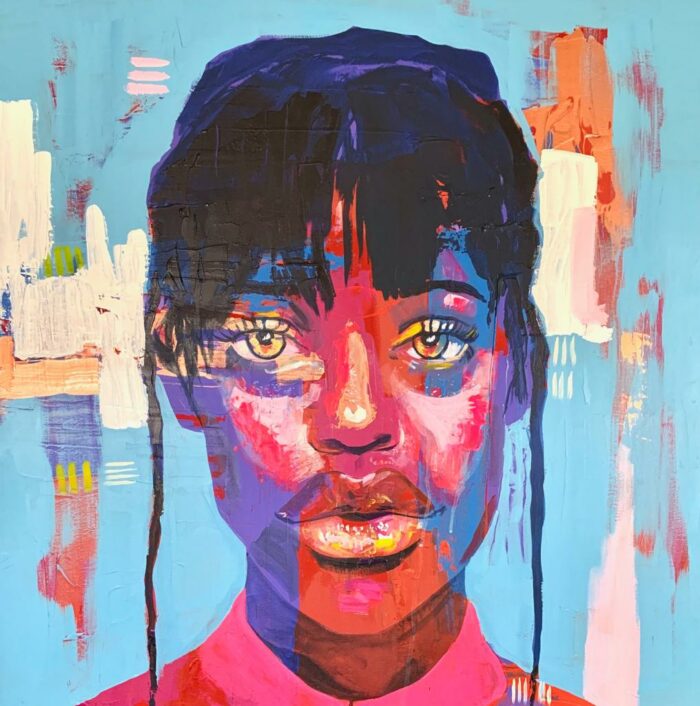 What inspires you as an artist?
When it comes to painting, I am mostly inspired by current events. I'm largely inspired by the moments in which the many masks we wear daily slip and we reveal our true selves. I love to paint eyes as they can convey so much, and the difference between expressions can be a simple stroke or dot. The features I choose to paint often mirror my own heritage; women with full lips, bright eyes and vivid characters – often emulated through bold colours and expressive strokes. Representation matters! I grew up where there weren't many galleries and museums to visit where I could see a reflection of me to inspire or relate to, so this has translated into a recurring theme in my artwork. Now, I am that reflection for the next generation.
You say that there are many 'wannabes' and not enough 'I ams' – how do you celebrate individuality as an artist?
An example would be the first Crazivity project made almost 10 years ago. This was a range of personalised illustrated portrait t-shirts with QR codes. When scanned, these would reveal the person's website or favourite song. In my approach it has always been important to create what I call 'eye candy for the ego'. Embracing what makes someone unique, helps them to standout in a society that expects you to conform to it's standards.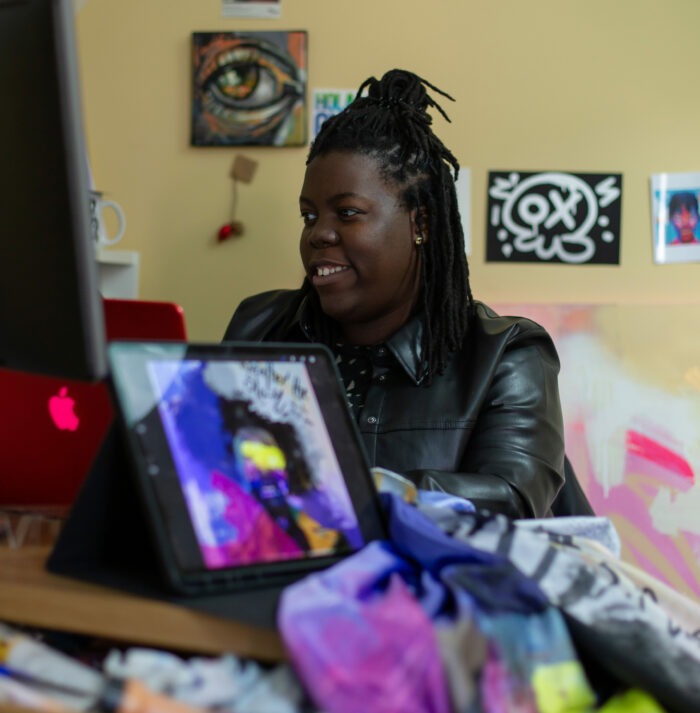 As an artist you work with a variety of materials, what's your favourite to work with?
That's a tough one, variety is what I thrive on. I love creating on my iPad Pro or sketchbook and then getting lost in some paint. Mixing media is a typical part of my process. Most recently during lockdown I got reacquainted with clay and sculpted a bust. However, nothing beats a good palette knife and some heavy body acrylic paint to create cool vibrant textures.
You organise live events for artists, What's it like having multiple people working on a piece?
Yes, the event is Merging Inks! It's fascinating to watch different types of artists merge styles and ideas on one piece. You don't know whether it will be successful or just a clashing mess. Or even whether the artists will be able to perform under the pressure of having the audience watching! That is also part of the magic, enabling the unknown to occur and demystifying the creative process for the public. Too much creativity happens behind closed doors and live art makes it more accessible and leaves all inspired. Even as a seasoned artist you could see a technique or material you then absorb into your own work.
Do you have any favourite projects?
Collaboration and cross-pollination mixed with a bit of tech are my favourite elements in a project. So other than the 'Merging Inks' events my favourite has to be my last exhibition, Energy Wonderland. The theme was a snapshot of the emotional rollercoaster that I've experienced in the past. Including lust, loneliness, depression, conflicting emotions and joy. To depict falling in love I collaborated with phenomenal spoken word artist Miss Yankey to bring the painting to life through AR. The painting told her own story using the voice, words and facial expressions of the poet. It was amazing to watch the response on the opening night as everyone keenly followed the painting's every word. Usually we are left to wonder what a subject is thinking or feeling. But by simply hovering your phone over the image you could instantly find out. I like that deeper layer to the art!
What have been the biggest artist influences in your work?
I am influenced by individuals that have broken the mould, are discipline fluid and push the boundaries of their art forms. A favourite of mine is Jean-Charles de Castelbajac, the Parisian artist who puts an over the top twist on pop culture and every day objects in his runway collections and collaborative projects. Visiting his retrospective at the V&A Museum and seeing his jacket and sofa made of Teddy bears was inspiring. He applies his expression to any surface not just canvas, and that encouraged me to explore more.
I also love the colour palettes and expressionism of figurative abstract painter Frank Bowling. The vivid emotion conveyed through his approach is simply amazing. I'm also inspired by musicians such as Nina Simone, who was compelled to be herself and express what mattered to her despite the obstacles she faced. Taking up space and believing in herself was a great influence growing up. Furthermore, watching Missy Elliott's experimental creative direction and owning her art form and appearance in a male dominated industry without compromise was also inspiring.
Lastly the people that surround me over the years pursuing their careers and passions. This has probably been the biggest influence on my work.
What projects are you working on at the moment?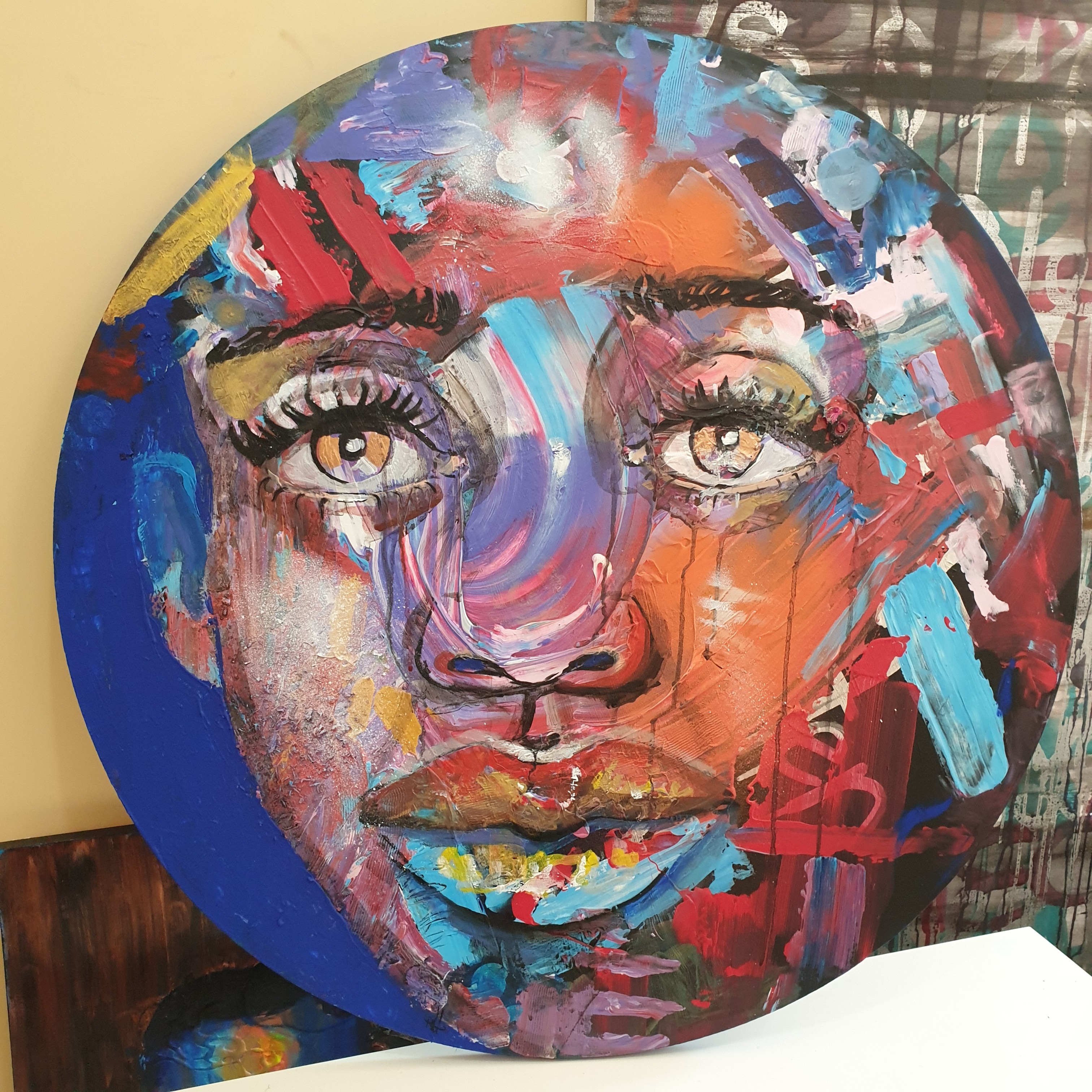 I've written and illustrated my first children's book during lockdown titled 'Colour my dreams' which forms part of a toolkit to encourage children to aspire higher. In the current climate we can see how the black and brown community are disproportionately affected by the pandemic and racial profiling. This is due to many things including economic disadvantage and widespread stereotypical narratives. The aim of the project is to seed and inspire ideas from a young age that can become a reality starting with the power of imagination, expression and self belief.
What are your plans for the future?
I hope to release the 'Colour my dreams' project in the next few months. Longer term, I am planning to launch a capsule collection of 'art wear', as well as collaborate on a global series of live art events and retreats.
Lastly, where can we find you online?
Instagram: https://www.instagram.com/crazivity/
Website: https://crazivity.com
Merging Inks Events: https://merginginks.com