Unmissable wedding stationery trends for 2019
With wedding season drawing to a close, it's time to get thinking about all the wedding trends for 2019…
At Printed.com, we're lucky enough to see every piece of print that passes through our presses – and that means we get to see what's trending – so grab yourself a cuppa and get yourself inspired for a whole host of new ideas to start working with in 2019.
Check out our predictions below, or head to our dedicated Wedding Collection to start shopping right away!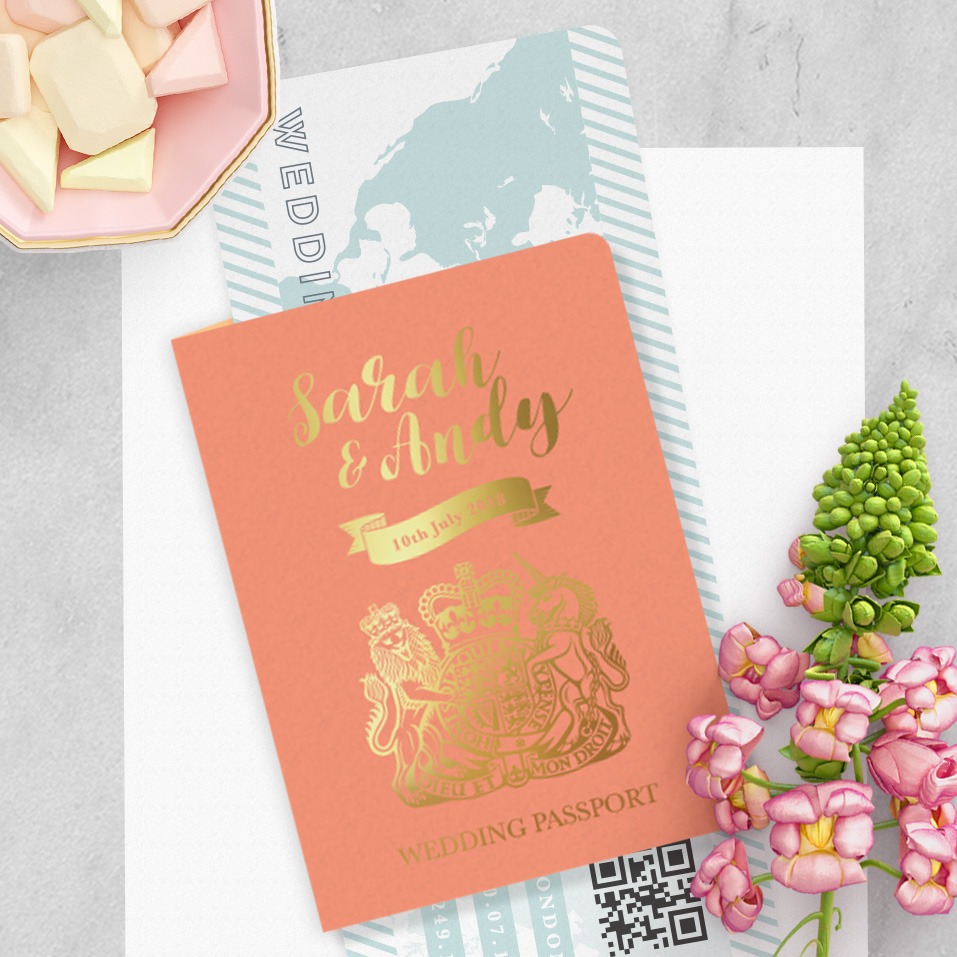 Shaping up
More and more couples are looking for something a little different when it comes to their stationery – a unique size or shape could be the perfect fit! Whether you choose Laser or Die Cut to achieve a standout shape, or you create yours in the shape of something else like a passport or event ticket, the only limit here is your creativity!
Serious about sustainability
As the world wakes up to a more sustainable way of living, we predict that it'll make a huge impact on wedding trends for 2019. More and more people are choosing a sustainable way of life, and we predict that more and more couples will be looking to incorporate sustainability into their weddings too.
To keep ahead of the curve, offer recycled paper, (read more about ours here), consider upcycling and incorporating hand-made elements into your designs to bring that sustainable feel to your suites.
Tactile textures
We've seen a huge rise in textured print for wedding suites, and we don't think it's going anywhere in 2019. Whether you're letting your paper do the talking and stripping your designs back to basics, or you're using your textures to add a tactile feel to your designs, the possibilities are endless. Why not consider bringing hints of texture through your suites with Table Names and Belly Bands for a subtle, yet on-trend final flourish?
Thinking outside the box
It's not just texture taking the spotlight though! Non-traditional materials like wood, agate rock and even tiles and plant pots are all worthy of a mention here. If you're handy with a brush or calligraphy pen, you can transform the moist mundane of objects into stunning centrepieces, and as an added bonus you'll be ticking off the sustainability trend too! We love the designs above by Pixel and Ink London!
Dark and romantic
Summer weddings love pastel and floral shades, but we've noticed something a little darker creeping into wedding stationery suites (in a good way, of course). The wedding trends in 2019 include adding an injection of mystery by offering deeper colour schemes and shades and pairing them with Foil for on-trend opulence that oozes elegance and sophistication. Jones and Joy nail the trend effortlessly – and we love the addition of the Envelope Liners andBelly Bands for the ultimate finishing touch to this romantic suite. 
All about ombre
Ombre is a strong trend that shows no sign of slowing when it comes to wedding trends for 2019. Perfectly suited to watercolour designs, ombre also loves textured paper (again ticking off yet ANOTHER trend – phew!). If you really want to show you know your stuff, why not consider creating your ombre colour schemes based on the Pantone colour of the year – Ultraviolet (yep, that's yet another trend ticked off).
All tied up
From velvet or silk ribbons to natural twine, hand finishing your invitations or suites adds that personal feel that's anything but off the shelf. At Printed.com you can print your designs onto Flat Unfinished Sheets (and even add Foiling!) and finish the job in house just like Little Lights (pictured below) – making for a totally unique stationery suite that guests and couples will cherish forever. 
Raising the bar
Blind embossing and debossing adds a unique, tactile touch to Wedding Stationery – elevating your designs to something truly breath-taking. From bold embossed typography on textured paper for a luxurious feel, to simple debossed elements (like monograms), this is a trend you'll want to explore for 2019!
Clearly printed
If you're not aware of the acetate trend that's 'clearly' sweeping the industry (geddit?) you are now – and here's why you should be getting set for an influx of orders printed on acetate next year. Not only does acetate printing add flexibility to your designs (you don't have to compromise on your patterns and themes), it adds an extra dimension that simply can't be replicated with a flat print. Just take a look at these gorgeous wedding Save The Dates below, by Amanda Michelle Design and Stationery, printed using acetate paper via our Bespoke service.
Seen any more trends you think we've missed? Let us know in the comments section, and don't forget to tag us in your printed creations too, so we can see the trends in action! Just use: