First time exhibiting? Follow these steps to success
Need some exhibition tips?!
A trade/industry exhibition is the perfect platform to acquire potential new customers. It's also your opportunity to launch your brand, new collection and complete offer to your industry. Both fellow creatives and buyers will be in attendance, so it's important to be fully prepped and ready to network. But, what if this is your first time? How do you know what you're doing is right?
Take a look through these tips for making the most of your exhibition and get ready to showcase your brand to the highest level.
Before the exhibition: setting your objective
As Benjamin Franklin once said… "Failure to plan is planning to fail…" so make sure that before you do anything at all, you set yourself a measurable objective.
Write down exactly what you want to achieve by exhibiting with your business growth front of mind. Consider objectives like how many leads you aim to generate, establish and enhance brand and company awareness to your target market, generate sales revenue post show, generate market feedback and identify new partners to work with.
Getting prepped
Exhibition success requires good preparation. There are few things you can do in advance to ensure you are as prepared as possible…
1) Prepare an 'elevator pitch'
You'll have approximately 30 seconds to one minute to engage the attention of your potential customers. Yep, that's it. Just 30 seconds to make an impact. In this timeframe you need to introduce your brand, product offer and inspiration, so don't leave it to chance. Prepare your pitch in advance so your delivery is smooth and consistent.
What will buyers ask?
What inspires your designs?
What makes your product different?
Tell us a bit about your story and how your business came about.
What is your product price?
Do you offer a sample run?
What is the lead time on orders?
Do you solely operate in the UK?
Do you have a minimum order policy?
Can you offer exclusivity on your products?
Where is your product stocked/available?
Has your product price been affected by Brexit?
2) Print plenty of marketing support material
At the exhibition, buyers will come to meet and browse through products from potentially hundreds of creative stationers. Having some engaging giveaway items that your potential customers can look through after their visit will help them remember your brand and product. This'll also support follow-up efforts after the exhibition.
Shop everything you need in our dedicated Exhibition Collection.
What to include in your exhibitor marketing support tool kit?
Business Cards – have some close by and easily accessible in your hand or pocket so you can easily hand them out. Don't be afraid to freely hand them out, some visitors might be too shy to ask for one!
A look book
A promotional give away item
3) Spread the word
Don't keep it a secret… Let as many people as possible know that you're exhibiting and generate a buzz! Publish a website news post, use your social media platforms and email your database of existing customers and invite them to visit you at the exhibition. When posting remember to also include the event hashtag or tag them in your post to reach even more people too.
During the exhibition
Exhibition day has arrived. Here's a handful of tips to make sure you get the most out of exhibiting.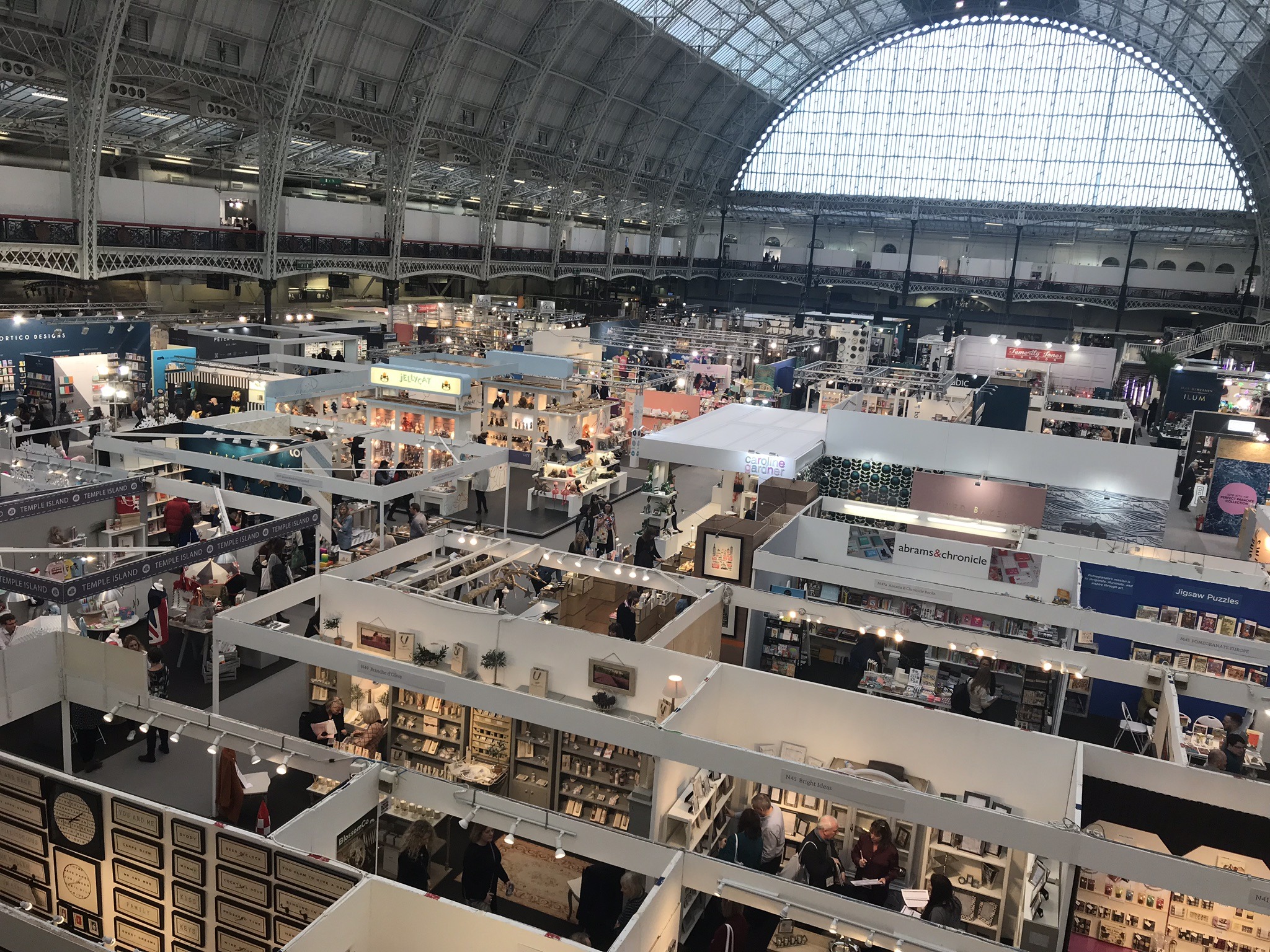 1) Talk to strangers – they are potential buyers!
Throughout the exhibition hundreds of visitors will be walking through, so grab the opportunity and talk to them! Think of a few ways to get their attention and keep it.
Don't open with a questions that requires a one-word response (e.g. Can I help you?)
Start an open conversation that encourages dialogue. (Think: how are you finding the show? That is one of my favourite designs… or what brings you to [Exhibition name] today?)
Although not everyone will be interested in talking you'll be sure to increase your chance of starting a conversation by opening with questions that require more than a yes or no answer.
2) Track and record leads
Crucial to exhibition success is quality lead generation – after all the main objective is to acquire new customers. Have a prepared system in place on how you would like to track leads with some additional information about what the potential customer is interested in. Just collecting business cards will not arm you with the best possible information for a follow up call, so spend the extra time making notes and recording key information. Don't just jot down their name, include a bit about them and the reason for the visit. This will make your follow-up call more personal e.g. 'Hi John, I hope the trip back up to Manchester went without delay…'. It's a good idea to have a pre-printed sheet or notebook to use for this.
3) Make sure you've got kerb appeal!
Your product display is a representation of your business. Not only should you arrive a little early every day to make sure everything looks perfect, but throughout the day in quieter time double check your display is neat and tidy.
Avoid
Using your mobile on the stand
Eating on the stand
Sitting down when buyers are walking round
After the show…
1) Say thank you
Once the show is over, there's still work to be done! Email your database and use social media to thank all of those who visited you on the day, adding what a great success it was. It's important to make those who didn't visit, feel like they missed out. Who knows, you might attract interest from unexpected places.
2) Follow-up your leads
You will be amazed how many exhibitors don't bother to follow-up their leads. If you don't follow-up your leads why on earth would you bother exhibiting in the first place?
Don't only follow up once. Picking up the phone to the leads you generated at the show once, twice, or even three times doesn't make you a nuisance. Closing the sale might require you to speak with a potential customer more often than you'd think – quite often it can be anywhere between 5–10 times.
Not only is this your opportunity to close the sale but you can also get some feedback from the visitors – what they thought of the exhibition, what they liked about your designs and if they would visit the exhibition again. You can take this knowledge and improve your offering ready for the next time around.
Enjoyed our exhibition tips for success? We'd love to see how you exhibition goes, so make sure you tag us in your stand/stall photos! Just use:
While you're here, why not take a look at Exhibition 101 Survival Guide too?