Discover professional photo printing with our Photography Collection
Not sure what kind of photo printing is right for you? Our dedicated Photography Collection is here to help.
Whether you're a seasoned photographer, fine artist, a selfie master or just want to create an album of treasured memories, our range of products has all your online photography needs in one convenient location.
Read on to find out more about our Photography Collection and discover the right photo printing solution for your next project
Giclèe photo printing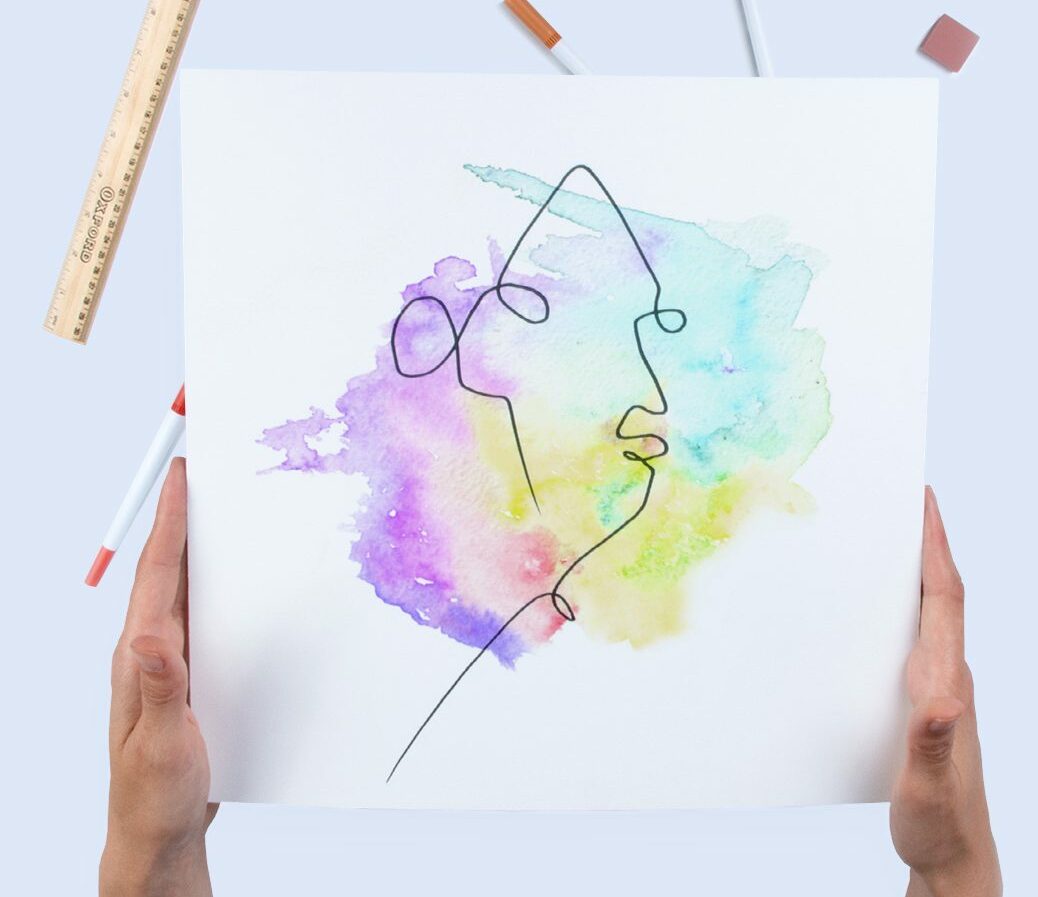 Giclèe photo printing is the ultimate choice if you want your photos or artwork printed to the absolute highest standard. Unlike standard CMYK printing, a specialised 12-colour printer will colour match your artwork exactly for a perfect recreation of your photos. Plus, every photo paper we use for Giclèe has been carefully chosen from the experts Hahnemühle, each with their own specialities.
Hahnemühle Fine Art Pearl: With a triple-coated surface and an excellent resistance to aging, this photo paper works well with both black and white and colour designs.
Hahnemühle Photo Rag Pearl: This paper is 100% cotton and has a unique pearl-coating giving it excellent age resistance. This is THE paper choice if you're printing in black and white.
Hahnemühle Baryta FB: This fibre-based paper is coated with baryta for the sharpest image definition around. Choose this stock for bright colours and stunning detail with a high-end edge.
Hahnemüle German Etching: If your artwork or photography has a high level of detail, this paper is the perfect choice. It's acid-free, mould-made and has a unique texture- like Tinteretto Gesso.
Much like with Photographic Prints, Giclée isn't usually used for bulk printing either. Due to the higher price point and special printing method, it's a great choice for short high-quality runs of extra special photography, like wedding and occasion photography, as well as for anyone who wants to see their pictures printed to the best standard possible.
Photo Greeting Cards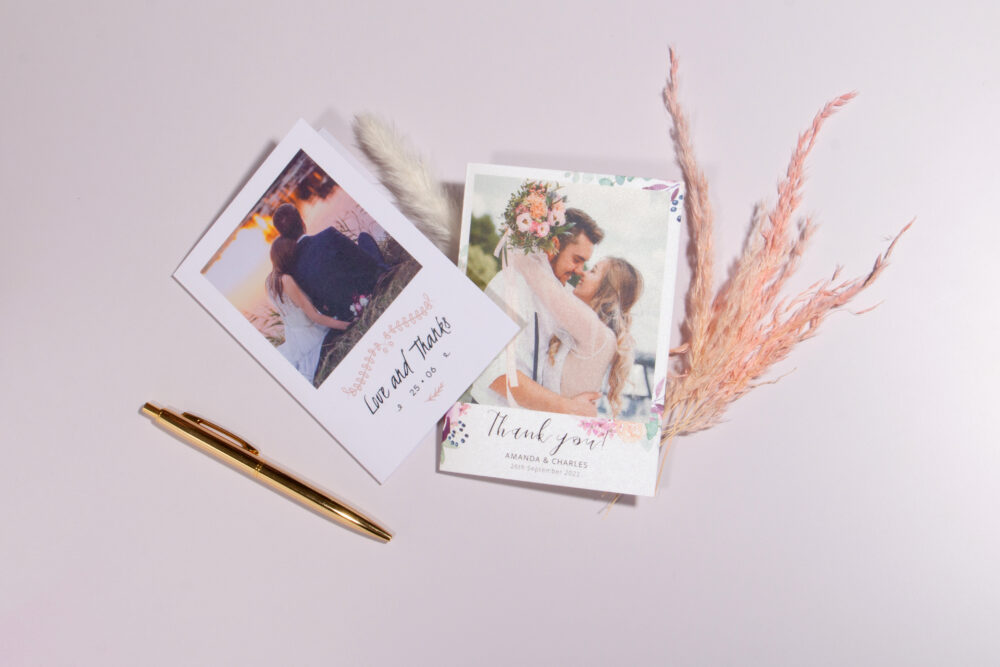 What could be more personal than adding your own photography to a Greeting Card? From choosing photos from your big day for Wedding Thank You Cards, to printing a team photo on your company Christmas Cards, a picture is worth 1000 words after all, so don't underestimate the power of the right photo.
Plus, with our Personalised Photo Editor, all you have to do is upload your favourite picture to one of our templates and you're ready to go!
Photographic Prints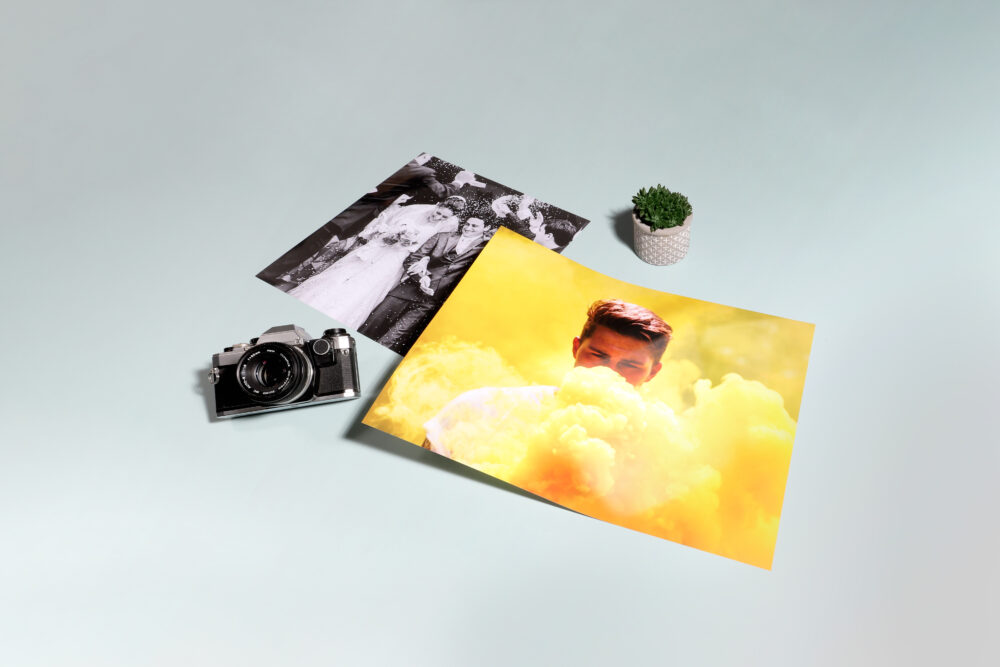 Another high-quality choice is Photographic Prints. From the hallways in your home to the walls of an art gallery, these are a classic photo printing choice for everything from family portraits to stunning landscapes. Usually used to print short runs of pictures, we'll reproduce your photos on specially designed presses for a bright accurate colour match and a glossy finish. Both our Epsom Premium Photo Paper and Kodak Gloss Paper give bright colour contrast, with Kodak giving better depth for black and white photography and Epsom breaking up any unnecessary surface shine in coloured shots.
We have three different finishes to choose from, so consider which is right for you.
Flat Photography Prints: Flat photos will be printed precisely on your choice of photography paper without any mounted background. This is the best choice if you're planning on mounting or framing your photo yourself or folding or rolling your print at any point.
Mounted: For a thicker and sturdier finish, you can have your photos specially mounted on your choice of Foam or Card. This makes hanging your photos much easier and is a great choice if you're ditching the frame or presenting your picture somewhere.
Wrapped: This is similar to the mounted option, but your picture will be wrapped all the way around the board and end at the back so no one will be able to see the edges of your mount, even from the side. It's also a great choice for hanging prints, but just remember that any details at the edge of your photos will be extended around the mount.
Canvas photo printing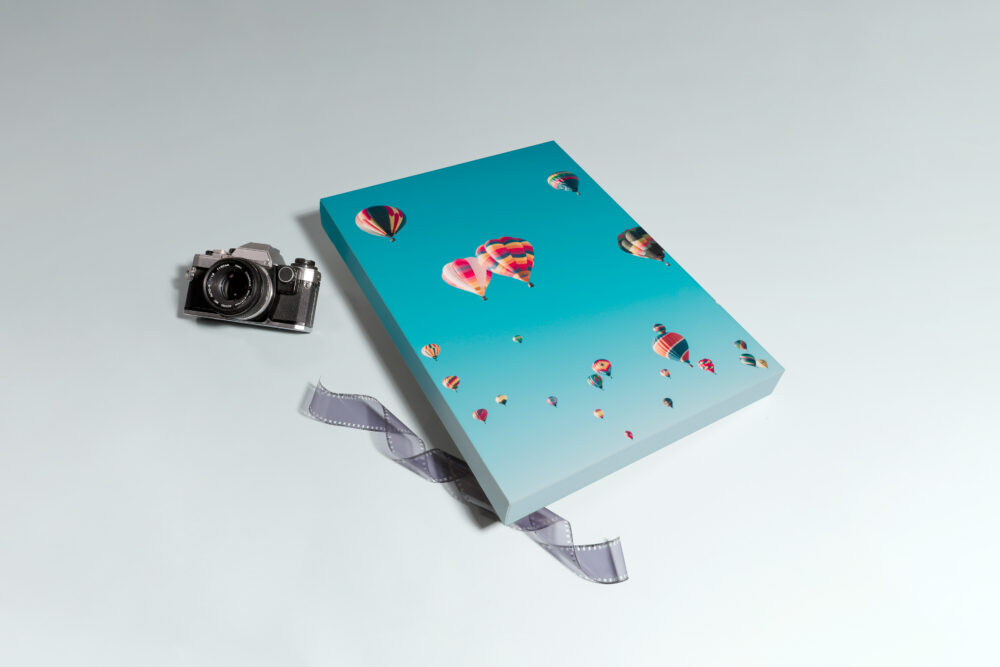 One of the most traditional ways to showcase photography, Canvas Prints are a simple but effortlessly interesting way to liven up any space. Not to be confused with a canvas painting, canvas photographs are printed directly onto the material and then stretched over a frame. It's a popular choice to give photos longevity thanks to how durable canvas is. Our synthetic canvas is bright white with a matt finish and has a scratch-resistant coating to protect your design. It features a subtly textured surface, so prints will stay looking rich and vibrant for years under the proper care. We've even got a handy image resolution calculator, so you can make sure your finished print will look flawless.
These are especially popular for wedding photography as well and are a great way to decorate any space with your favourite shots from the big day.
Top tip: To make sure your Canvas Print stays as vibrant as possible, keep it out of direct sunlight and dust gently every once and a while to keep clean. Avoid heavy rubbing or wiping as this could affect the printed colour.
Photo printing Brochures
If you've got a range of photos that you'd like to show off, why not print them together in a glossy high-quality Brochure? Ideal for photography portfolios or wedding albums, nothing quite says quality like a sturdy bound document. Simply choose your best pictures and fill the pages of your own Perfect Bound, Saddle-Stitched or Wiro Bound Brochure. Or, if you really want to go all out, you can always print your best shots in a Hardback Book instead. If you're not sure which binding is right for you and your project, never fear. We've got a full guide for you to check out here.
Photo Posters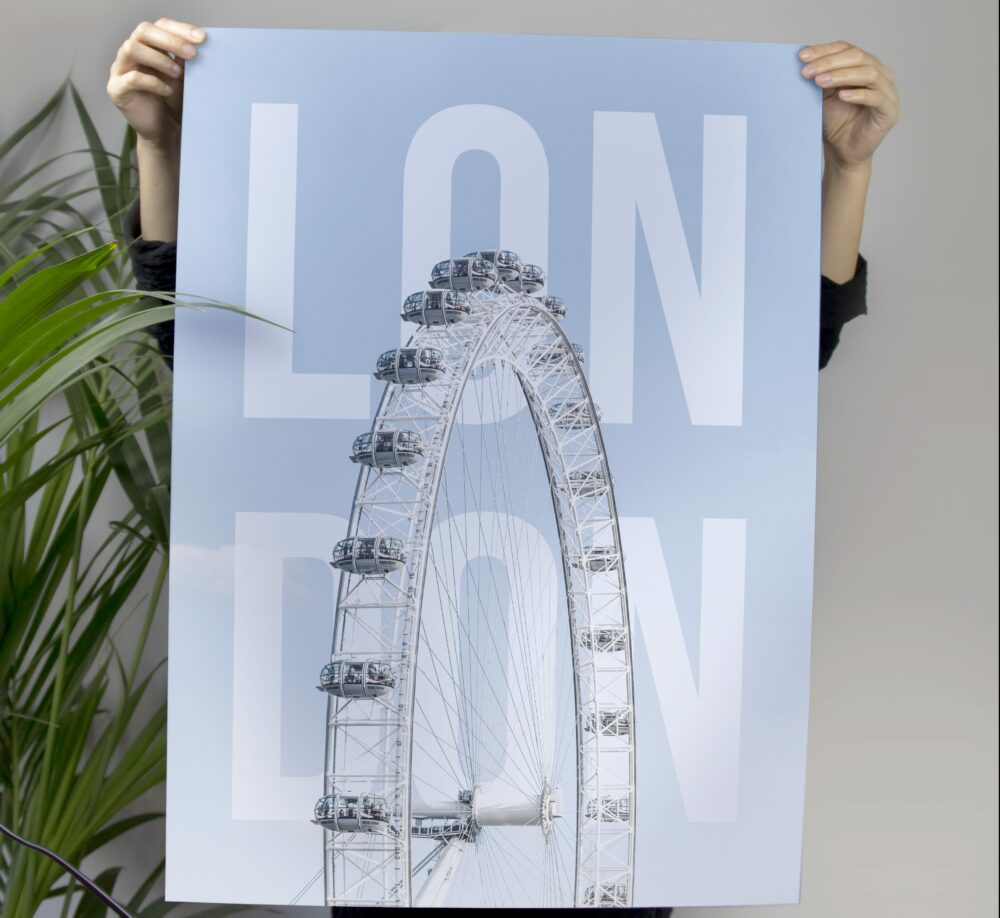 So all of the above options are great for special photos and short print runs, but what if you want to share images in bulk? That's where Posters come in. Versatile and unmissable, Posters are perfect for when you want to show off your photography to the fullest, but you need to keep your costs low. Available in a range of sizes, we even have our version printing service so you can print up to 100 different photo designs in one order.
Photo Display Boards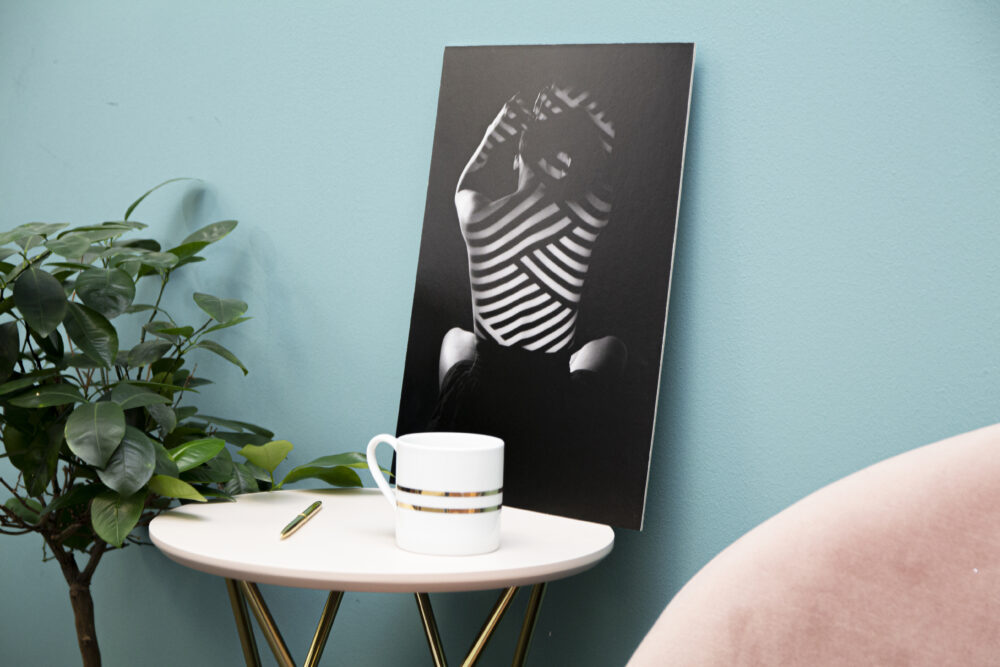 Another affordable way to show off your favourite pictures is with custom photo Display Boards. Printed directly onto your chosen backing with no need for additional mounting, you can choose from a range of core options to fit your project. Plus, with pre-drilled holes available, precise hanging is easy.
These are a great choice for displaying artwork on a budget, showcasing photography outside with our weatherproof options or using your photography for advertising.
Photo Postcards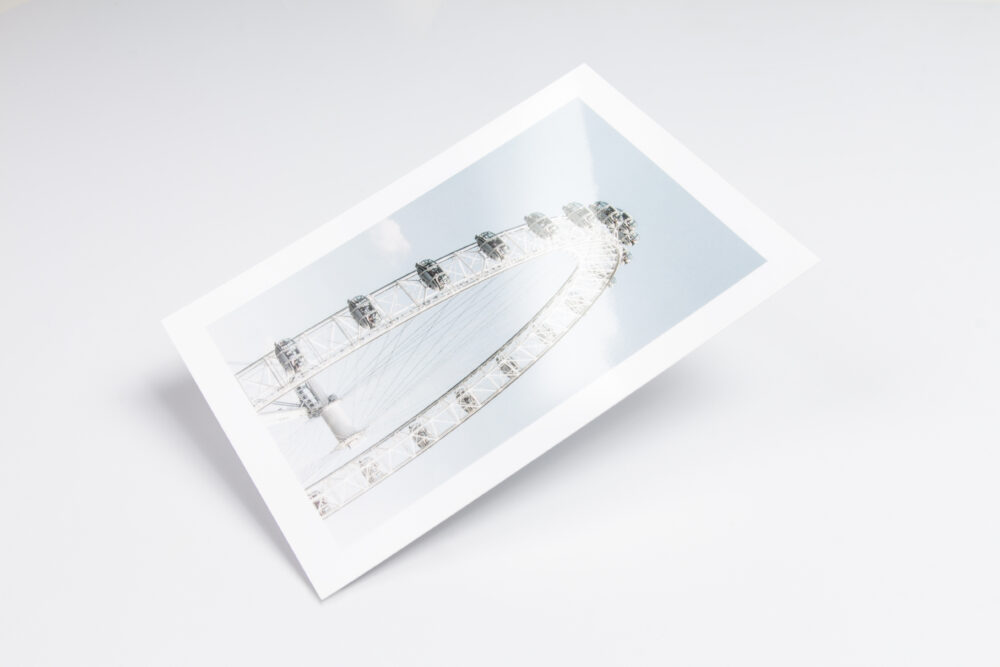 Need something a little smaller for printing your photos? Look no further than photo Postcards. Another popular choice for ordering photography prints in bulk, they're great for everything from making affordable prints to sell, to creating promotional photography handouts and direct mailers, to transforming your best shots into a stack of portfolio mini prints.
That's it for our photo printing services! Are you ready to bring your photographs to life? If you'd like a deeper dive into any of our papers, you can check out our blog here, or if you'd like to have a feel of any of our photography products for yourself, make sure to order a free sample pack.