Reinvent your brand with luxury Business Stationery
Refresh your brand in 2020 with new luxury Business Stationery.
As cliché as it sounds, the new year is the perfect time for a new start. With January bringing a whole new decade to make your mark, why not brush off the dust of the 2010s and let your business slide in 2020 in style with some brand-new luxury Business Stationery.
Your business suite is more than just stationery. Everything from your Business Cards to your Envelopes are a reflection of your brand and could possibly the first impression people will have of your business. A few scrappy bits of paper and cardboard simply won't cut it. With the new year giving you the perfect opportunity to reinvent yourself, it's time to explore some sophisticated options. You'll be leaving the right impression every time.
Creating a Business Suite
First things first. What should go in a Business Stationery set?
Let's cover the basics.
If you're stuck for what your business needs, we have a variety of Business Stationery Packs to help you promote, reorder and network your brand.
Choose the right paper
Before you go choosing papers without thinking, you'll want to consider what each paper type will do for each piece of print and what your choice will say to a potential customer.
Are you going to write on it? Display it? Hand it out to clients? This is where choosing quality over quantity is really important.
For products like Letterheads, keep in mind that coated papers (like silk, gloss and pearl), won't work as the ink will just smudge right off! A textured paper like Nettuno or Tinteresso Gesso make a great choice instead. Much thicker than your average stationery, they practically drip with prestige and show that your business takes all its written commutations seriously.
Print like Business Cards you'll be handing out a lot, so standout with paper that's as amazing to touch as it is to look at. For that 24-karat undertone, explore paper stocks like Ice gold which takes on a warm, subtle shine that will make your design bright and defined. From something cool and textured, try Rives Shetland. This is a strong white paper has a delightfully dimpled feel, like the weave of a fine fabric.
For Business Cards, it's always good to choose a thicker paper stock. Not only will they feel high-end and sturdy to the touch, but they'll also last longer against everyday wear and tear.
Foiled Business Stationery
A finish that always wows, blind your competition with the shine of precious metals using Foil.
While Foiling is perfect for adding glamour to a range of print, a simple metallic accent can really elevate your Business Stationery as well, without being overpowering. Looking especially good for typography or highlighting logos and graphics, adding it has the added bonus of giving your Business Stationery a more high-end feel.
White Ink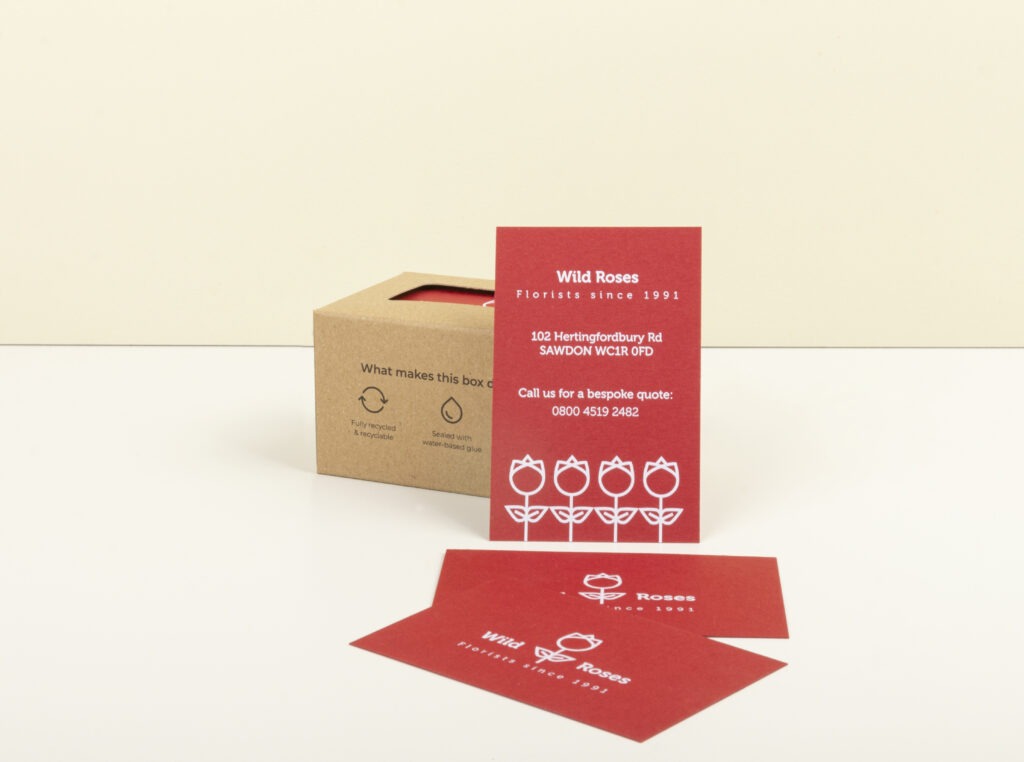 Become a business print big shot with the wonders of White Ink. There's no better way to make your designs stand out, and with the choice of seven thick, richly coloured paper stocks, suddenly your Business Stationery goes from bland to striking.
To print White Ink, we add layer upon layer of it so the card behind won't shine through, giving you that true 'rabbit-in-a-snowstorm' shade.
Cut it out
Sometimes it's not about what you add, it's about what you take away. By shaping your print with Die Cutting, you can create exactly what you need- any shape, any size, any design, all cut for you with a custom steel blade or Die.
Something as simple as cutting out a letter or logo on a Flyer or Business Card can add a new level of intrigue to your print while also giving it a razor-sharp finish.
Find out all about Die Cut requirements here.
Whatever you want
Print can never be one size fits all. If there's a design vision you're aching to bring to life for your Business Stationery, we're always here to accommodate.
Whether it's Block Foil for a luxury paper, Spot UV for some subtle shine or a completely unique size and shape, our dedicated bespoke team will always help. It's a simple as just filling out a form!
From Business Cards to Letterheads, to the Stickers you put on your packaging, your business print could make or break you as a brand… explore luxury Business Stationery so it really leaves the impact you deserve.