Getting Inspired at the London Illustration Fair
Find out all the hot gossip from the London Illustration Fair right here!
We recently had the pleasure of visiting the London Illustration Fair on the Southbank! This annual exhibition is a fantastic way to see some amazing designs, meet of the most creative artists around as well as learn new techniques at the classes being run! With three separate floors of art, it was almost impossible to say hello to everyone… but we certainly tried.
We caught up with a few of our customers to share their insight on the event as well as get their best tips and tricks for preparing for an exhibition like this.
Let's get started.
Underway Studio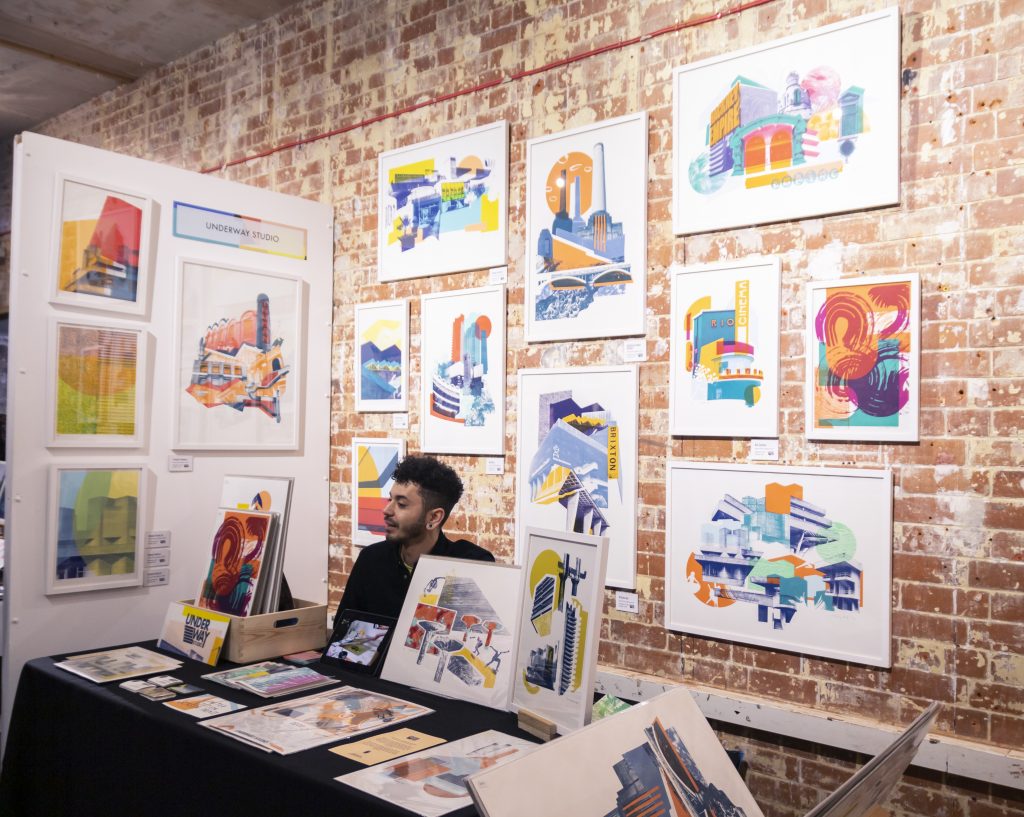 Firstly, we stopped to look at some amazing Prints and Calendars by the fantastic Underway Studio.
Tell us about your time at the London Illustration Fair
"We always look forward to doing the London Illustration Fair. We have come to know quite a few of the regular traders over the years so it's always nice to see how their work has progressed each time and just to have a general catch up about how their year has been. The organisers have created a really friendly, welcoming and fun atmosphere for traders and visitors alike. Our favourite part is definitely speaking to people visiting our stall and talking to them about our work. We now have returning customers so it's great to hear about where our prints have found new homes.
This year we have done more fairs than before and have also ventured out of London to Liverpool and Cambridge. They're important to do not only to sell products but to get our work out there and in front of people. Our work so far is quite London centric so it was refreshing to hear positive feedback from audiences outside the city who just had a general love of architecture and could see how our aesthetic could be applied to other places."
What advice do you have for exhibiting at this kind of event?
"Presentation has to be the main thing to consider when doing these types of shows. Make it easy for people to browse your work and help them to visualise how it might look in their home. We were lucky to be able to have a larger stall at the illustration fair this year where we could have a lot of framed work up and that definitely helped people to imagine how our prints would look on their wall. If you don't have anywhere to hang work, table stands are really handy to prop smaller framed pieces up on."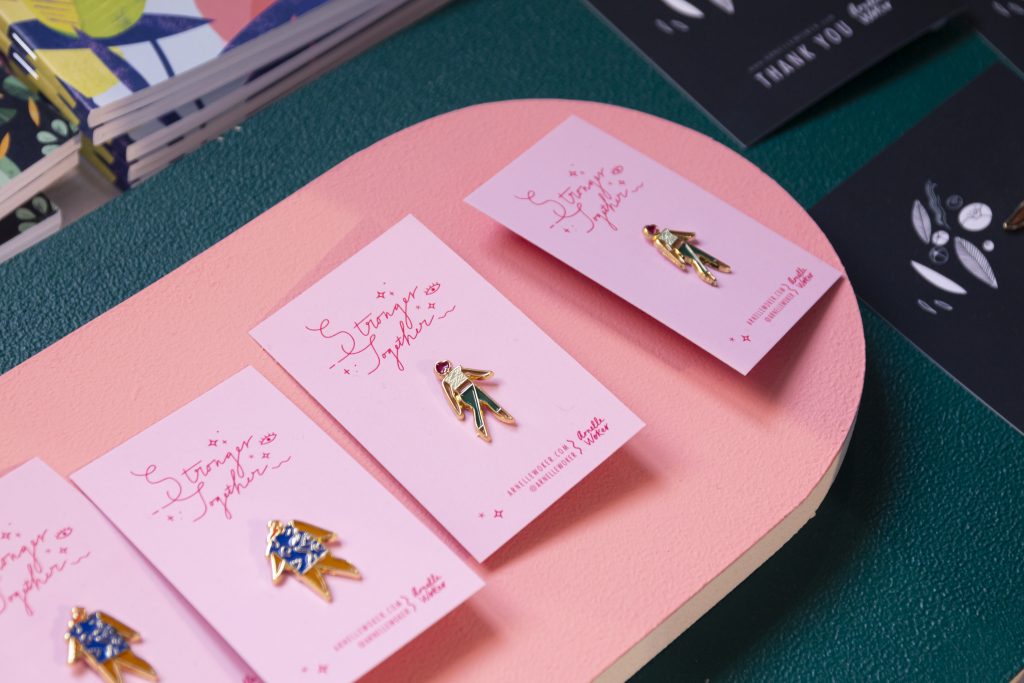 We also had a lovely chat with Arnelle Woker. As a seasoned exhibitor, she had plenty of advice to share!
Tell us about your time at the London Illustration Fair
"The London Illustration Fair is always such a great vibe! The organizers are incredible and supportive. My favourite part is always the atmosphere, interacting directly with lovely customers! And, of course, getting to connect and catch up with the other wonderful exhibitors. I've been taking part in more trade fairs this past year. But definitely planning to do more in the year ahead!"
What advice do you have for exhibiting at this kind of event?
"It's all about the planning. If you're able to visualize and possibly do a test set up at home before then time, then all the better! Sometimes it's so helpful to lay it out to give you a better idea of what you can exclude and what you might have missed."
We also couldn't resist checking out the hilariously creative Greeting Cards by the equally hilarious Elsa Rose Frere
Tell us about your time at the London Illustration Fair
"I love the Illustration Fair, this was my 4th year as an exhibitor and every year is different. They are always busy but so rewarding. My favourite part has to be the people, not only the visitors but the other exhibitors and the organisers. Everyone is so friendly and everyone loves Illustration! It's a really unique space that brings people from all across the industry together.
At the moment the London Illustration Fair is the only fair of its size that I exhibit at but I do occasionally take part in local markets or art fairs as it's a nice change of pace from my studio."
What advice do you have for exhibiting at this kind of event?
"I would say that it is always important to look at examples of previous exhibitors to check your work will complement the overall target market. You should also take time when getting your products printed to make sure they are of a professional standard that you would like to reflect business and work ethic."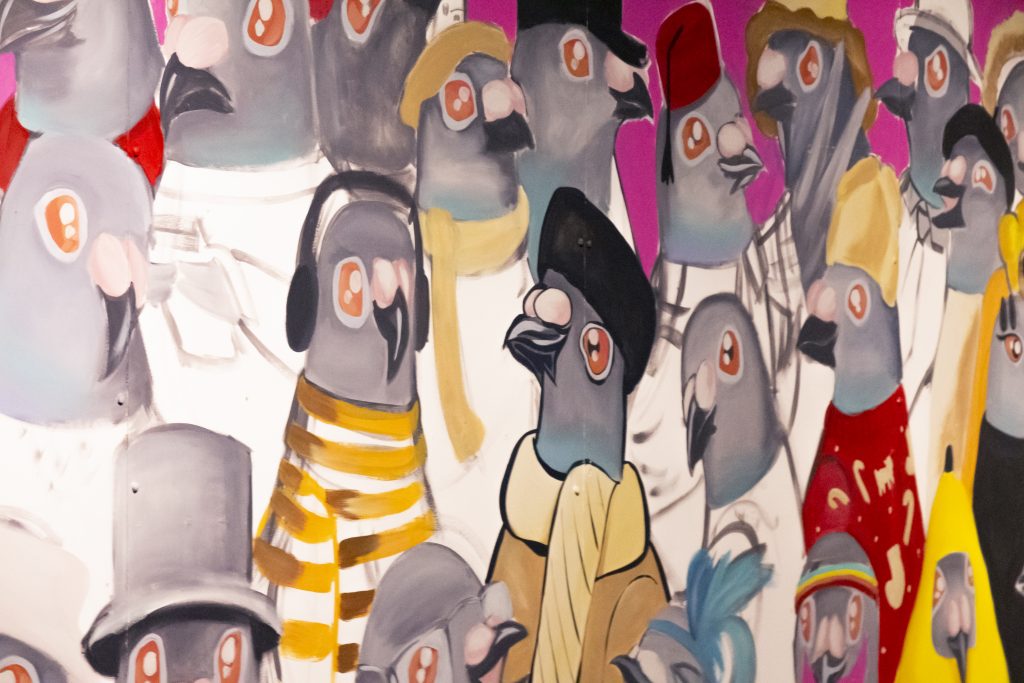 And, of course, we couldn't leave without getting a good look at pigeon mural being painted on the top floor by the amazing Alice Tams. Printing a variety of items with us including Display Boards and Stickers, we made sure to get her thoughts on the fair as well.
What advice do you have for exhibiting at this kind of event?
"It's always great being at the London Illustration Fair as you're surrounded by so much great talent and you know everyone visiting is already a fan of illustration. My favourite thing is having chats with everyone about art! I used to do loads but I've been travelling a lot in the past few years and now I only do a special one or two each December when I return to London. "
What advice do you have for exhibiting at this kind of event?
"Make sure you have your brand name or artist's name nice and big, a Sign, Banner or Poster will all do, just make sure it's obvious and memorable as lots of people will come to browse and then shop online later – you need to make sure it's obvious who the work is by in any photos people take."
We're going to be taking a tour around a whole heap of other great events in the coming months, so make sure to check out our Instagram so you don't miss out!
Get next-day print on loads of options and products at Printed.com – perfect for when you need to get your print, fast.

London based? Get same-day print on a range of options too! See all of our delivery options here.