#InspirationPrinted- Discovering Pigeons of London with Alice Tams
We've always been proud to put small businesses and creatives at our core, so we'll take any excuse to shout about the amazing work they do and the great print they produce.
Recently, we were lucky enough to visit the 'Pigeons of London' exhibition in Carnaby Street run by the ever-lovely Alice Tams. Known and loved for her fabulous bird portraits, we got to see what inspires each of her creations.
Our copywriter Charlotte was even lucky enough to get her own feathered portrait!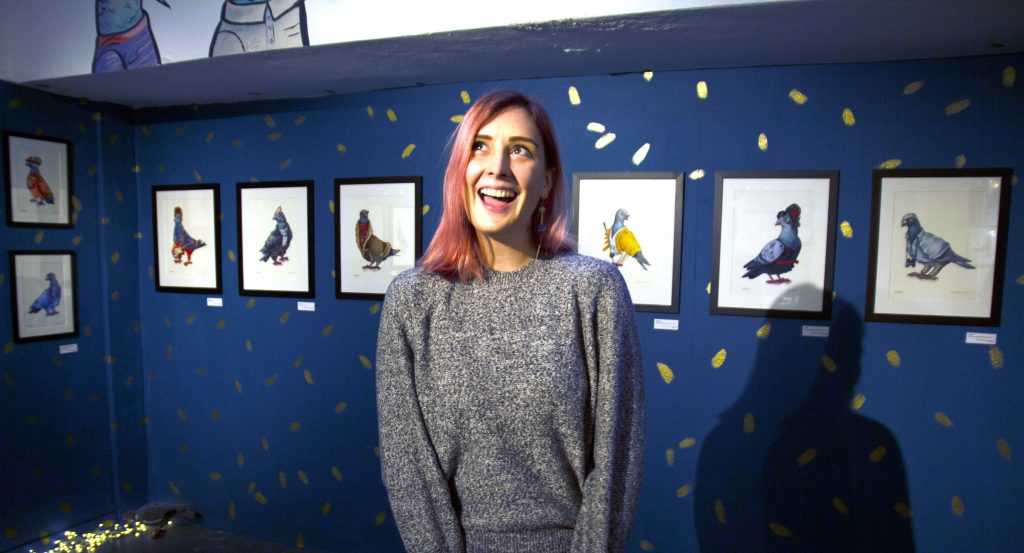 1. It's great to come and visit your exhibition 'Pigeons of London'. Can you tell us a bit about it?
Pigeons of London is my first solo exhibition in London. I've been based here as an illustrator for many years so I knew that when I got the opportunity to show my work independently, I'd have to make it very London-centric. It's based at 'We Built the City' which is an amazing location.
I've travelled all around the world, but coming here I knew I had to get back to basics. I thought about doing lots of different kinds of birds to represent all the different characters in London, but eventually I decided that it had to be pigeons.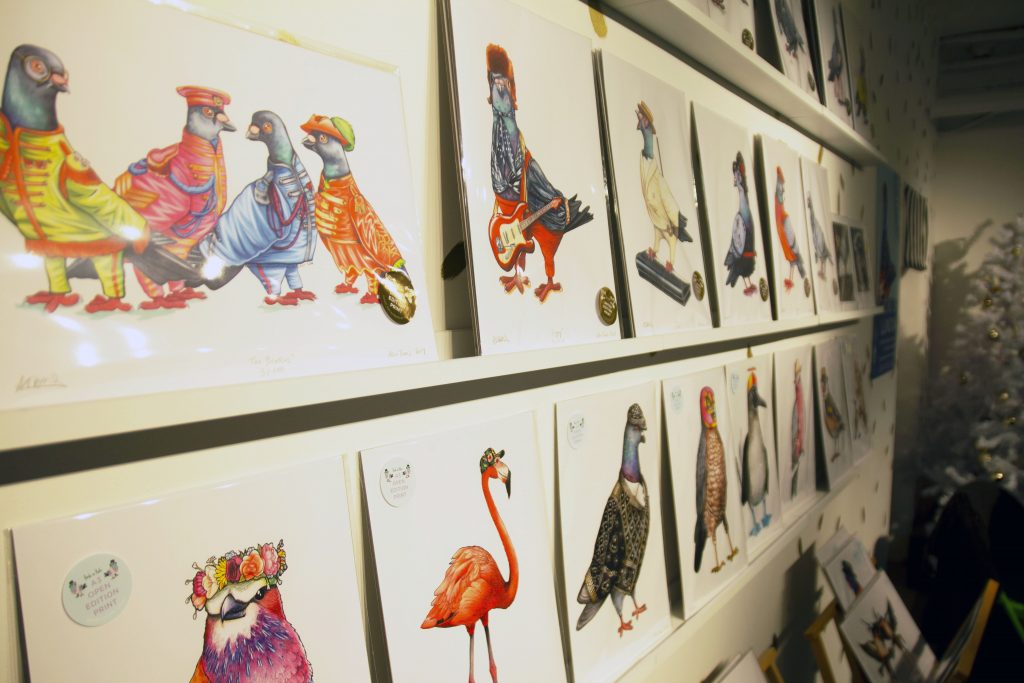 2. Why did you choose to focus on pigeons in your artwork?
I just love them and I think they're so underrated and unfairly maligned. They have such personality and grit and I really feel like they can take on any character which made them perfect for me. I basically ended up doing a very intense character study and I think it turned out super well with the pigeons.
3. Is Pigeons of London your first solo exhibition?
I've had a couple of solo exhibitions. I had a small one in Australia, but I'd love to do a much bigger one as there are so many great birds to capture! I also had a solo exhibition in Taiwan this year that went surprisingly well. I didn't start travelling to spread my art around, I started travelling to learn new techniques and, of course, see more birds. I think birds are beloved all over the world, so my Birds of Taiwan exhibition went really well.
4. How do you come up with ideas for Pigeons of London?
Generally, I just try to think of characters. Originally, I was aiming to create 40 pigeons for this exhibition but that just wasn't possible. I tried to prioritise my favourite people- I actually created pigeon Delboy from Only Fools and Horses first and David Bowie is also one of my favourites. They're such London characters that I knew I had to have them in my collection. I spent so long on the illustrations for this exhibition I had to scale it back and do 20 instead.
5. Do you have a favourite pigeon in your collection?
I'm pretty happy with Shakespeare. Putting a beard on a pigeon was quite difficult, but I think he turned out really well. It was funny to work on as beaks work slightly differently to mouths so when I was doing the live bird portraits of people coming in I'd have to get creative when they had facial hair or piercings.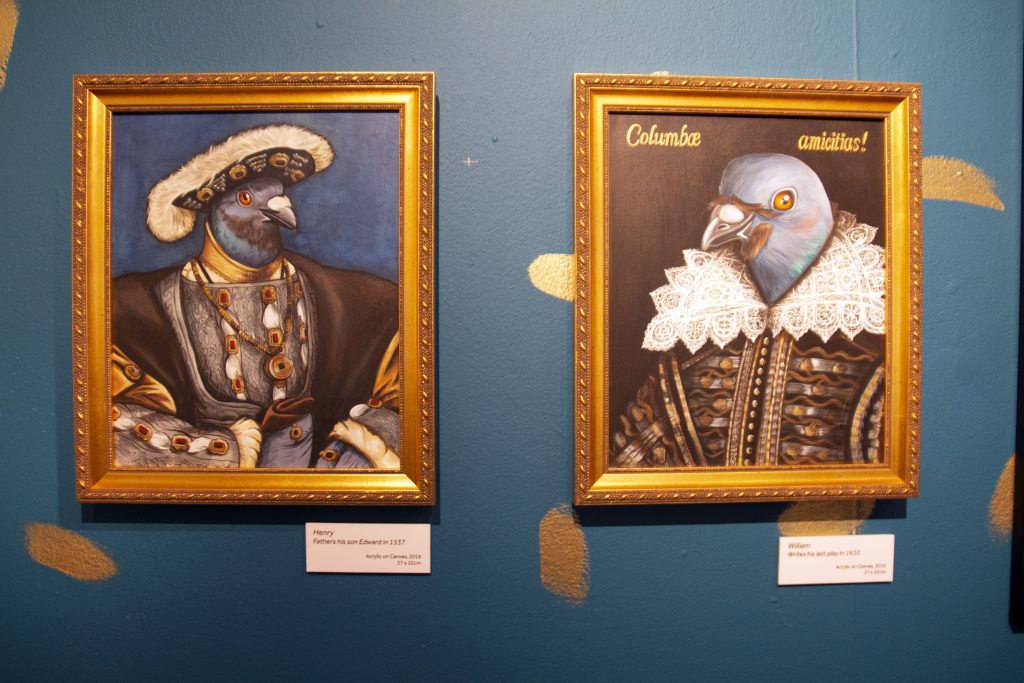 6. What's a typical day in the studio like for you?
At the moment I'm working from a rooftop in Taipei. It's usually quite nice even though in the summer I have to wake up at 6AM to beat the subtropical 40-degree heat that hits at midday. A lot of the works for Pigeons of London were drawn in a swelteringly hot environment.
If I'm travelling, I'll be drawing from a hostel where I'll clear a desk or any kind of surface and get to work. One of the reasons I've started doing murals is because I just keep wanting to go bigger and bigger and studios sometimes restrict me. One day, I'd love to paint something as big as a house, but I'll always keep my Cards and my prints available too.
7. We recently saw you at the London Illustration Fair. How did you find the event?
I didn't have much time to look around unfortunately as I spent so much time on my mural. Saturday was really busy and thankfully I had an assistant helping me as I sat and worked, but I was still chatting to people that came and saw me. Quite a few people who were featured in my mural came to say hello, so I didn't get as much done as I would have liked. When I got in on Sunday, I realised I had so much to do before the fair finished! Luckily, I got it done and it's been donated to a children's hospice.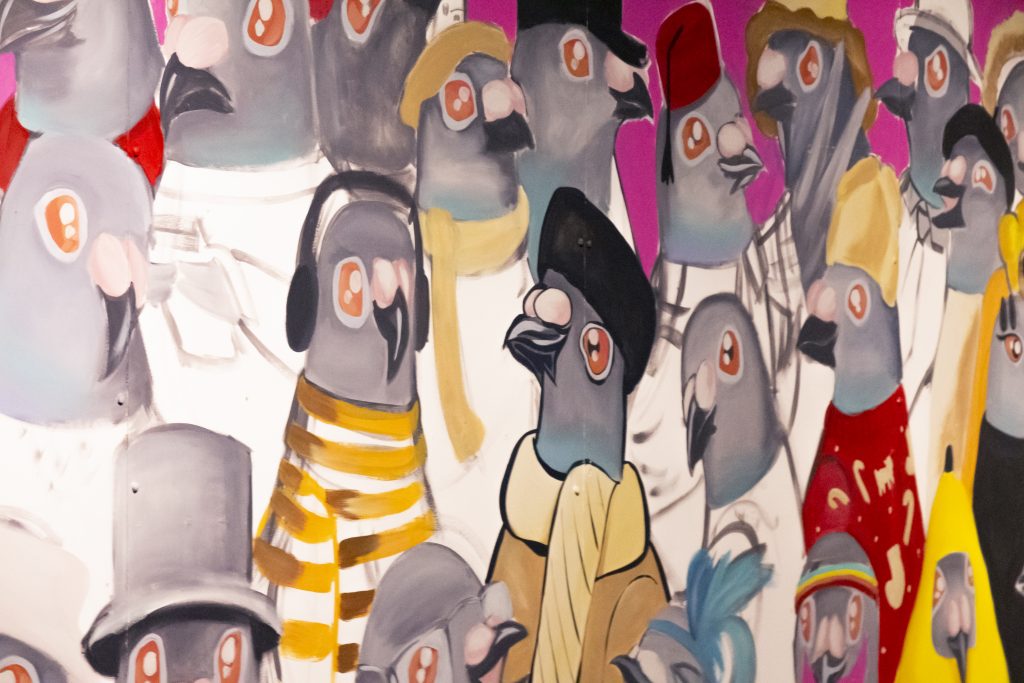 8. What's been your greatest success so far as an illustrator?
For Pigeons of London, people seem to think that my upside Santa pigeon is my greatest success as I've never had so many compliments on one of my works.
If I had to pick a favourite pigeon, it would probably be David Bowie but overall, I'm very proud of this exhibition. I'm definitely testing myself in terms of my skills.
I'm also really proud of the mural I made in Taiwan in three days. Someone gave me an abandoned wall and I somehow pulled it off!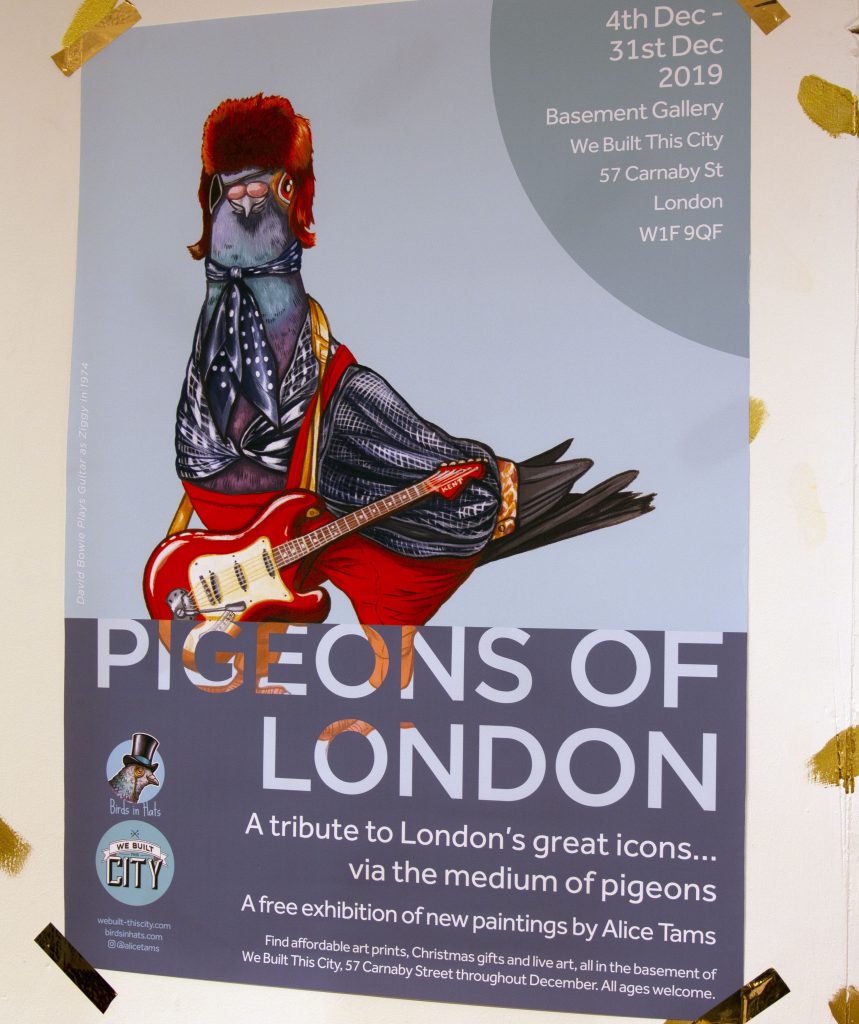 9. What kind of challenges do you face running a small business?
It's been a lot of trial and error. I've made a lot of mistakes along the way, it's how I learned. For example, when I first started out I was working in a pub in Mayfair and going to markets every Sunday, so I just used the first printer I came across without really shopping around. I ended up spending about £1 per Card and I had to score them myself which gave me callouses. I also broke my printer trying to fold them…
10. How did you come across Printed.com and what do you print with us?
I actually came across you when I was selling at a market. The person next to me asked if I printed my stuff with you and afterwards I went and checked your website out. I've been buying most of my products with you ever since!
I printed all my point of sale stuff for Pigeons of London with you. All the Posters from A1 down to A3 as well as the Display Boards I use to talk about me and this exhibition. I also get all my Stickers for my prints. I use the Gold Foil ones to show which ones are my limited-edition prints. They're my favourite thing at the moment.
I also printed some Postcards that I'm giving away to everyone here as well as Business Cards that I'm using as backing cards for my pin badges and patches. They're cheap, recyclable and really elevate these products for me.
Make sure to check out all of Alice's pigeons on her Instagram, Facebook and Twitter!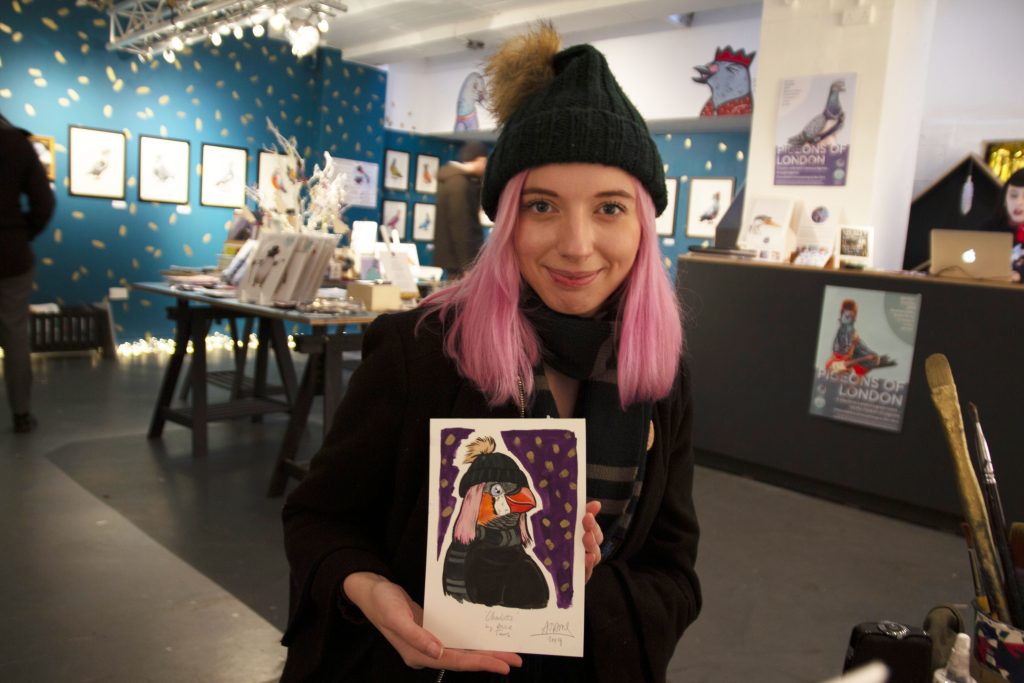 Get next-day print on loads of options and products at Printed.com – perfect for when you need to get your print, fast.

London based? Get same-day print on a range of options too! See all of our delivery options here.