#InspirationPrinted- Talking nature and nurture with Dainty Forest
It's time to find out all about the brains behind Dainty Forest!
We've always been proud to put small businesses and creatives at our core, so we'll take any excuse to shout about the amazing work they do.
Today we're talking to Emma of Dainty Forest! With a passion for nature, it's no wonder her designs absolutely ooze with colour and charm.
Get to know more about her work right here!
Emma – hi! Tell us a bit about Dainty Forest and how you got started?
Hi Printed! I've always loved to draw so I knew I wanted to spend my days drawing beautiful things. I studied illustration at uni and then went on to do a Masters. After graduating I worked in London for several years as a designer for a big giftware company. Here I learned lots about how to run a business and create collections. After gaining this experience I really wanted the freedom of working for myself so took the leap into freelance, launching my illustration and giftware business, Dainty Forest, in July last year. I create bright, cheery prints, cards and gifts that aim to bring joy and colour to your home.
Where do you find the inspiration for your designs?
I find lots of inspiration in nature. You can find so many beautiful colours, patterns and shapes out in the wild! I also try and get to exhibitions, craft fairs and galleries as much as I can. I love seeing other people's creativity and find it really inspiring!
How do you juggle being a full-time mum and running Dainty Forest?
I'm not going to lie, this has been such a challenge this year! It's hard work running around after a toddler all day and then sitting down at the end of a day to start my work! However, I feel incredibly lucky that I get to spend my days having quality time with my little boy and doing a job that I absolutely love. It's really important to me that I still get to be creative and build my business whilst also being a mum. I hope that it inspires my little boy to chase after his dreams too.
What does a typical day in the studio/at home look like for you?
I'd love to say it's an insta worthy dream full of coworking in coffee shops and a beautifully curated desk, however it usually involves lots of running around after my little boy, copious amounts of coffee and a regular post office run to ship out online orders. I get all of my work done in the evening once my son is in bed and, depending on what I'm working on, this will involve designing new collections, sending stock out to lovely independent retailers or creating work for freelance clients. I love working with other small creatives and have been fortunate enough to work with lots of lovely independent business owners.
What kind of challenges do you face running a small business in this day and age?
I think it can be really hard as a small business to be seen when you don't have a giant marketing budget and when you're a one-woman band! However, I do think people are becoming more aware of small businesses and are choosing to spend their hard-earned money with local businesses and smaller companies which is great! I think it will always be hard to compete with big online retailers and high street chains but it's important to keep working hard to promote the 'shop small' message.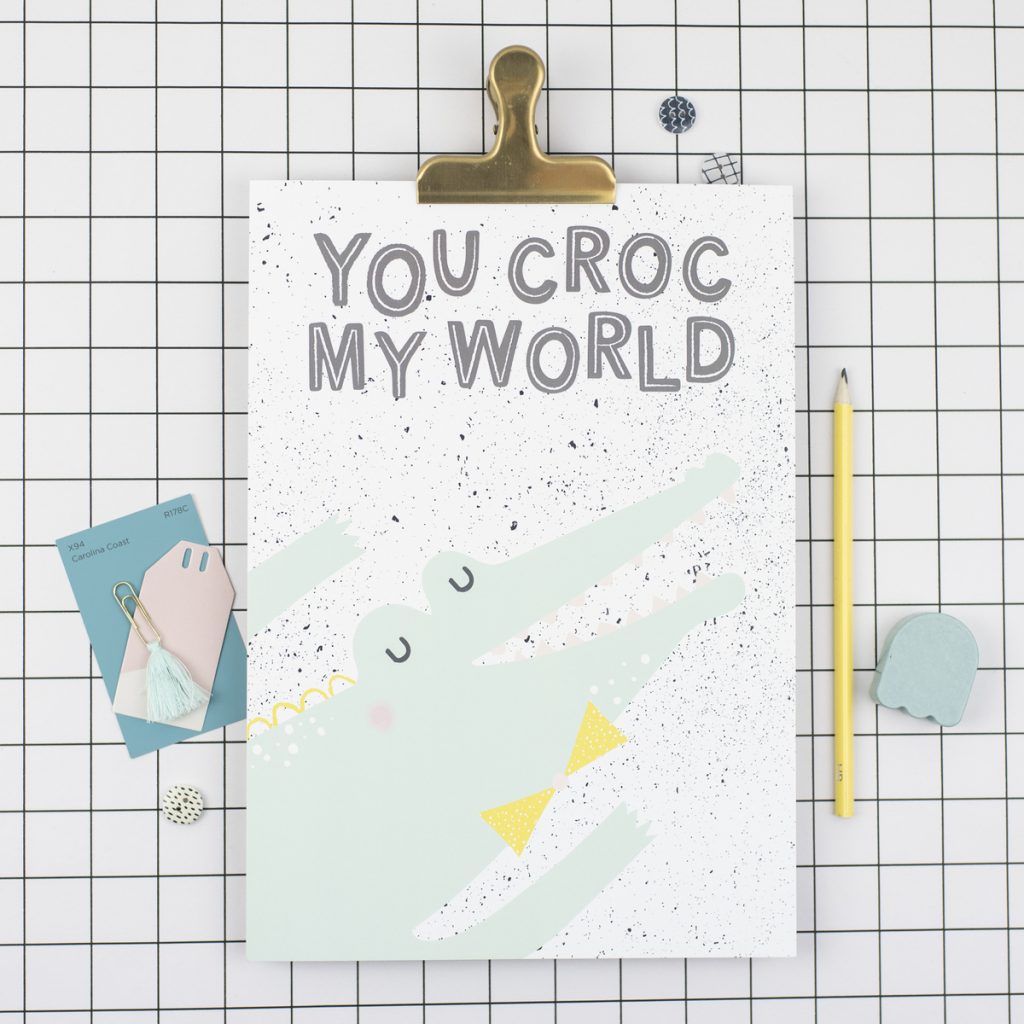 How did you come across Printed.com?
I researched a lot of printing companies and came across Printed through several recommendations from other small business owners. I did a small run of prints for Dainty Forest and was so impressed, I now print all of my products with you! It's nice to know that all of my products are printed in the UK and that Printed are working to reduce their use of plastic. I really love the loyalty scheme too. It's nice to feel like a valued customer!
Do you have any favourite paper stocks or special finishes for your pieces?
I love using silk paper as it makes the colours of my work really stand out. I'm hoping to create some foiled artwork next year – can't beat a bit of foiling!
Have you done many creative collaborations with other illustrators? Tell us about them!
I collaborated with Fi, from Stellar and Cloud, earlier this year on a rainbow cloud combo. I created a print and Fi created a gorgeous keyring. We think they make a great pair. I've also had the opportunity to create work for lots of lovely indie business owners this year, including The Yay Makers, Isabella and us, Holly booth, And So To Shop and Lucy and Lolly to name a few.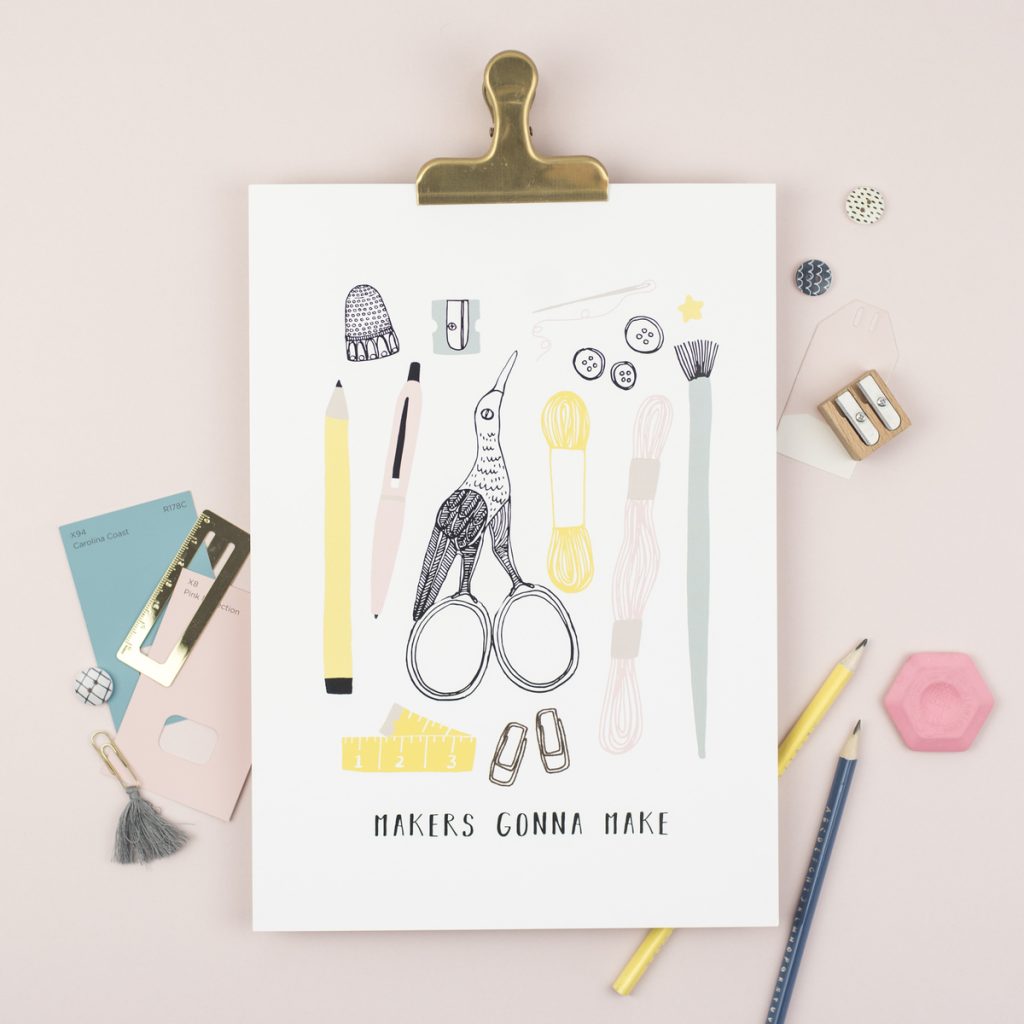 What 3 pieces of advice would you give for selling on Etsy?
I think Etsy gives sellers a great online platform but I really love it for the community that is formed beyond the screen with the local Etsy teams. I'm part of the Nottingham Etsy team who work really hard throughout the year to put on training and events that help to grow our online shops. Etsy is a great way of showcasing your work and getting yourself out there to potential customers. I took part in the Etsy Made Local Christmas market last year and will be there again this year – it's such a great way to meet customers and to find other local creatives too!
I think the most important piece of advice is to have your own voice. It's easy to see what other people are doing and to imitate it but it's important to create work that tells the customer who you are – people want to invest in you and your work so it's important that you create work that has integrity and stands out as your own.
Photography is so important for selling work online and really does make all the difference in creating sales. I outsource all of my photography to the fabulous Holly Booth who does amazing things with my products!
Finally, make sure you don't undersell yourself. It's easy to do but it's important to remember that what you are doing is valuable and worth paying good money for! People are paying for your product but also your skill, knowledge and passion. You've worked hard to get your products out there into the wild so make sure you price them with all that hard work, love and skill in mind.
Make sure to check out the rest of Emma's work on her website, Instagram, Facebook and Etsy store!
Feeling inspired by Emma's story? Keep an eye on our social channels for more insights and inspiration from our creative customers.
Want to be featured here? If you're a creative, designer or maker get in touch with us on social, we'd love to hear from you!